Prices and availability are subject to change from the time and date that you print this page.
4/18/2014 12:14:02 PM. For Customer Service, please call 800.967.6696
2-Piece Calphalon® Contemporary Nonstick Frypan Set
is rated out of
5
by
115
.
Rated

5

out of

5
by
leg21
from
Love these pans!
I bought these in January because I needed to replace my old non-stick pan that had seen better days. I like the two sizes and find that I can cook anything in these two sizes, eggs in the small one and an entire dinner in the larger one. They also seem to do a good job of heating evenly, which is always a plus.
Date published: 2014-04-04
Rated

5

out of

5
by
cgraham
from
Amazing Quality for price!
I bought these pans as a Christmas gift for my mom, and I'm so glad i did! These pans were incredible quality for only $50! She could definitely use a slightly larger pan considering her entertaining schedule - but overall these can not be beat!
Date published: 2014-04-04
Rated

5

out of

5
by
Elissa86
from
Awesome Set!
We received just the Frypan Set off of our registry and we cannot wait until the rest of the Contemporary set arrives! Awesome pans - not too heavy.
Date published: 2014-04-04
Rated

5

out of

5
by
Angela27
from
Great pans, user friendly
Great deal for the quality pans; sizes are perfect for most recipes; non-stick surface makes cooking and cleaning no problem
Date published: 2014-04-04
Rated

4

out of

5
by
paik
from
Great quality for the price
Bought this roughly 2 months ago. Is very easy to clean. It is slightly heavy. Just be careful not to scratch the non-stick.
Date published: 2014-04-04
Rated

4

out of

5
by
2010Bride
from
Good quality for the price
I bought this pan set when I got my first apartment, and it was a great buy for the price if you are just starting out and want some decent quality, relatively inexpensive cookware. They are AWESOME in terms of the non-stick coating, wonderful release on everything, the handles feel great and stay cool, and the pan conducts heat well. Just make sure you follow the washing instructions to the letter (not always obvious to us new young cooks!) - if you put these in the dishwasher or use an abrasive scrubber sponge, the nonstick coating will start to flake off.Definitely get the set of Calphalon glass lids to go with these pans. The lid from the Calphalon sauce pan also fits.
Date published: 2014-04-04
Rated

4

out of

5
by
peekaboo
from
Great Price + Great Performance = Great Deal
I received these as a gift a couple of months ago. The pans conduct heat well and yet the handles have stayed cool-to-touch every time I've used these on my stovetop. Cleanup is a cinch. The affordable price and excellent performance of these pans make this set a great deal. Nonstick coatings are not supposed to last forever - that's why I plan to invest in a quality set of stainless steel cookware for the long haul - but at this price I would happily buy this set again every few years. I love these pans so much that I'm buying several sets to give as holiday gifts this year.
Date published: 2014-04-04
Rated

4

out of

5
by
mntgirl
from
Every-day & durable
We received these from our registry two years ago and work just as good as they did on day 1.I use these as my everyday pans and very durable. They remain even to the stove which was an issue with older pans in my pantry which allows for even cooking.They are also very light and easy to clean which I find a necessity for everyday use.I have not had problems with any peeling as other reviewers luckily and they have had a ton of use in the last two years so give them thumbs up for durability.I'd consider them an essential, especially at this price, for starting a kitchen set.
Date published: 2014-04-04
Rated

4

out of

5
by
CAMommy
from
Awesome pans but...
I have had these pans for two years and had to send them back to Calphalon. I have over 10 pans from this awesome company but had problems with these, the non-stick surface started to peal off the inside of the pan and I had to send it back for a replacement. I gave them four stars because I do love the pans and all that you can cook in them, they are truly my everyday pans. Luckily Calphalon pans do have a life time warranty and I had no problem getting a replacement so be sure to register your pans on Calphalons website.
Date published: 2013-09-16
Rated

3

out of

5
by
rika99
from
Mixed feelings about these
We got this set of pans in 2006 for our wedding, and they were great for 3 years, until we moved to a place with a flat electric cook-top and they wobbled like crazy. It turned out that they had warped. (We had the same experience with our Calphalon griddle.) Luckily, Calphalon honored the warranty and sent us new pans, but the new ones we got last month weren't nearly as high quality as the original set. We ended up getting the Calphalon One non-stick frypan to replace the set (12", the same price as the set), and it's much more substantial. If you don't mind sending these back every few years, then they're ok.
Date published: 2009-06-22
Rated

5

out of

5
by
rachbabe
from
Best nonstick ever!
I was very hopeful when I ordered this set. I was not disappointed. They are perfect for omelets and things that are a huge pain to clean up after. They do not come with lids but I have a set of regular pots and pans and the lids from those fit perfectly on these. The pans are a good depth so you can really make a lot of food even in the smaller one. The larger one is my go -to -pan. Love it!
Date published: 2014-04-04
Rated

5

out of

5
by
hugo and ohana
from
Chocolate
This set is our very first Calphalon. Now, we know why our cousin and others are fans. What a difference from cooking with a bargain nonstick pan. No more turning the pan around on the burner so the food would cook evenly. Stir fry, curry, and crispy pan fried noodles encouraged experimentation melting dark chocolate (at very low heat) for dipping strawberries. It was a yummy messy success. Cleanup without having to soak the pan is a treat, too. Thanks!
Date published: 2013-10-13
Rated

5

out of

5
by
Stells
from
My Favorite Frying Pans
I had been looking for a good 12" frying pan and when I saw this set I bought it right away. Who could go wrong with a 10" and a 12" for such a bargain and made by a reputably quality manufacturer. I am very particular with nonstick pans. I don't like the ones that have the coating that eventually peels off. These pans are great to cook a lot of things in and cleaning is a cinch! I especially love the heavy gauge metal that cooks things with an evenly distributed heat. I was very happy with my buy, because I reach for these pans all the time when I cook.
Date published: 2009-05-31
Rated

5

out of

5
by
umaped
from
Great Nonstick Frypan
I have been looking for a new frying pan/griddle for a while now, and this Calpalon product really met my needs. It is lightweight, and heats up really quickly. The non-stick is surface is so good, it doesn't even require a drop of oil. I saw this product in other stores, but was unable to buy it a single unit (had to be purchased as part of a set). I am recommending this to anyone who needs a new frypan/griddle.
Date published: 2011-08-12
Rated

2

out of

5
by
RRK
from
cheap but not lasting
I loved these pans at first and congratulated myself on a good buy. The finish worked off within a year (yes thank you we treated it really well and didn't use metal spatulas on it) and we ended up replacing it with a wrought iron pan ($$$) instead which is real heavy but hey it'll last. Don't waste money on something that you will just replace that soon. Save a little more and buy a pan that lasts.
Date published: 2013-08-16
Related Products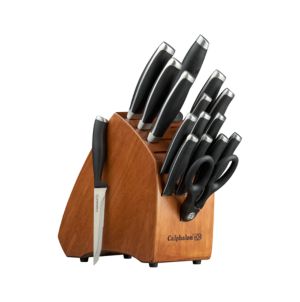 A complete cutlery collection—including santoku, shears and steak knives—with Calphalon's renowned construction,...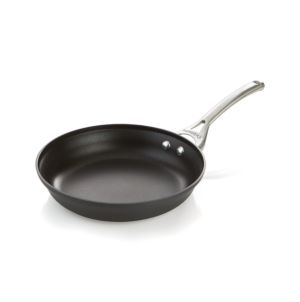 Unique modern shapes combine a hard anodized, heavy gauge aluminum exterior and...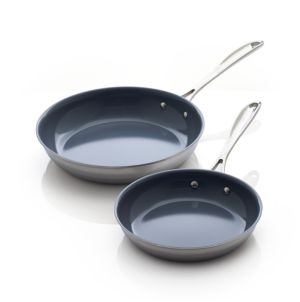 We've partnered with Zwilling J.A. Henckels, the standard bearer for premium cutlery...