Prices and availability are subject to change from the time and date that you print this page.
10/30/2014 12:41:34 PM. For Customer Service, please call 800.967.6696
Store a stack of leftovers or premeasured ingredients in these convenient clear glass bowls. Bowls have a finished look without lids, suitable for table service. Sold as a set of four. Bowls nest when not in use (see additional photos).


4-Piece Round Storage Bowl Set
is rated out of
5
by
189
.
Rated

4

out of

5
by
Jbeesch
from
Like a lot
I had Pyrex glass bowls with lids and bought these a few weeks ago. We really like the size and quality of the lid. I will be getting another set.
Date published: 2014-03-29
Rated

4

out of

5
by
ashleyeme
from
Nice Sizes
We recently purchased these bowls to use for food storage since we are trying to get rid of our plastic containers. They came very well packaged and seem to be nice enough quality to use as serving dishes when needed. The variations in sizes are handy. My husband broke my nice large mixing bowl, but I can now use the largest bowl to mix batters, etc.
Date published: 2014-03-26
Rated

5

out of

5
by
EHank
from
Great product!
I bought this set of nesting glass containers for leftovers. I love the fact that they nest and the lids can lay right on top of the nested containers. Being clear glass, I can see what is in them in an instant. They are microwave friendly and come out sparkling after the dishwasher. I use them all the time!
Date published: 2014-03-25
Rated

4

out of

5
by
Iowa1983
from
Great storage containers!
I got these for Christmas and LOVE them! They clean very easily, sturdy glass, and look really nice. I bring dishes over to friends' houses in these. The only complaint I have is that the lids seem to stain a bit.
Date published: 2014-03-25
Rated

4

out of

5
by
smoore129
from
Better than ANY Tupperware
My fiancé and I hate storing leftovers in plastic Tupperware containers because the food has a tendency to leave stains. We were at C&B when we came across these gems... They are wonderful containers! Easy to store, and easy to see what is in the container once it makes it to the fridge. However, we have had trouble with a couple of the lids not fitting properly. We do not microwave the containers with the lids, nor do we put them in the dishwasher. It's a minor issue; I just have to be careful when I'm taking the bowl out of the fridge!
Date published: 2014-03-25
Rated

5

out of

5
by
GinnyO
from
My best bowls
Two years ago in March, a friend gave me a set for my b'day. I always hand wash the lids and the bowls go in the dishwasher. I find the lids to fit tightly and have no problem. Today the 2nd smallest bowl fell and cracked. I've stored lettuce in the big one and it was in there for a couple weeks and came out fresh and crisp. I plan to get another set
Date published: 2014-02-12
Rated

5

out of

5
by
KimLee
from
Excellent Storage Containers
I have used these storage bowls for many years … I just bought another set for myself and a set for each of my daughters!!   I stopped using plastic many, many years ago (not a healthy choice) and these have bowls have been a perfect alternative.  
Date published: 2013-12-23
Rated

5

out of

5
by
Marywi
from
Great for salads and leftovers
Have had this set along with the tall round, square and rectangular bowls. I use the large round for salads that I typically prepare on Sunday to enjoy during the week. My salads stay incredibly fresh through the entire week! I also cut up celery and store it in the rectangular bowl with water and enjoy fresh, crunchy celery for more than a week. Love these bowls and now give them as gifts to friends and family members.
Date published: 2013-10-13
Rated

2

out of

5
by
kcwedding13
from
Don't apply heat
I was really excited to receive these bowls as a wedding gift for easy leftovers storage. Unfortunately, the 2nd largest bowl cracked while reheating soup in the microwave and the large bowl cracked when I put it in the dishwasher.These bowls are great... unless you add heat. 
Date published: 2013-10-11
Rated

2

out of

5
by
Grover86
from
Lids
Very nice bowls but the lids don't stay on securely.  Very disappointed, to lazy to send back!
Date published: 2013-09-20
Rated

2

out of

5
by
sscrate
from
Disappointed
I have a similar set from many years ago... still doing great. I asked for this set as a replacement to broken pieces from the earlier set... LIDS DO NOT SEAL in food well... they bubble up, come lose, and just don't secure food well. So disappointed.
Date published: 2013-06-12
Rated

5

out of

5
by
pianophile
from
Great, simple storage
I bought this exact set of glass storage bowls from C&B (online, of course) back in 2006, and they are still going strong... except for the next-to-largest bowl, which broke after endless use. I bought another set, mostly just to replace that one bowl, and was happy to see the same bowls, shipped the same way, and at the same price, no less.Strongest recommendation!
Date published: 2013-05-27
Rated

4

out of

5
by
shopperllg
from
One chipped
I've used these set for about a year now and I store them stacked in my cabinets. I was pulling one out to use and it was kinda stuck in there and it chipped as I pulled it. So now I'm down to 3 bowls and a little leary about using the rest. Also, because the lid is a white, it can stain more easily than other similar storage lids I have.
Date published: 2013-03-06
Rated

5

out of

5
by
green girl2
from
Love these!
I've used these bowls for over a year now and are one of the best purchases I've made!They have been in the freezer and microwave several times without issues (since they are glass, you do need to be careful of sudden temperature changes)...when I take them from the freezer, I microwave using lower power at more time (defrost) to avoid this. The only chips or breaks that have occurred were from my own clumsiness.I also have several other sizes of this product and have noticed that the lids will tend to lose their snug fit over time, especially after being heated in the microwave (I don't have a dishwasher, but would image the heat from it would do the same).Overall I have been very satisfied and will be buying more in the future.Go green!
Date published: 2013-03-06
Rated

5

out of

5
by
Snady B
from
Best bowls ever
Received a set of these bowls for Christmas a couple of years ago, and they are terrific. I have not used them for freezing or microwaving, so I can't comment on that, but for serving and storing leftovers they are fantastic. Every time I use them for company, someone always asks where I got them. They look beautiful and with the 4 sizes, I always seem to have the perfect sized bowl for the job!!
Date published: 2013-03-04
Rated

5

out of

5
by
little skittles
from
Reuse! Reheat!
Great product! Perfect assortment of sizes and great lids! Product can stack inside each other for easy cabinet storage when not in use! Highly recommend this product. Hoping it will last and last! I have no doubts that it will! Go Green!
Date published: 2013-03-04
Rated

5

out of

5
by
chrisa
from
2nd set...
Perfect! Use them ALL the time for EVERYTHING! I often cook large batches of foods such as Gumbo, Turkey Chili, Beef Stroganoff, etc for scheduled houseguests. I love that I can do all the tedious prep work and cooking at my convenience then freeze it in the 100 oz (that's a gallon and a half of liquid!) Good for so much more than storage! Great for making and serving salads, serving dishes on the buffet or table, etc. Clean style looks great! Leftovers? Pop on the lid, stick it in the fridge and get back to your guests! Oh. Did I say I LOVE these bowls? Got rid of everything else and work with two sets of these. Now what to do with all the empty cabinet space?!
Date published: 2013-01-25
Rated

2

out of

5
by
AliciaB0923
from
Bad buy - will crack after microwaving
I received these bowls as a registry gift. I got them with the intention that I could use them to store leftovers in and then reheat the leftovers in the same bowl (without all the worries of reheating in a plastic container). BIG DISAPPOINTMENT! The first time I heated up leftovers in this bowl in the microwave, the bowl cracked once I pulled it out and set it on the counter. It seems the contrast in temperature (hot food / room temp counter) makes these bowls crack. If you have any intention of reheating food in these bowls, DO NOT BUY!
Date published: 2013-01-13
Rated

5

out of

5
by
Sculi
from
Excellent product!
My husband gave me this set for Christmas last year, and it was a GREAT gift! We use them daily, and the lids fit perfectly! I usually wash the lids by hand, but have tossed them in the dishwasher, too. They've worked well in both the freezer and the microwave. Highly recommend them, and bought an extra set as a bridal shower gift.
Date published: 2012-11-26
Rated

1

out of

5
by
Melissa C
from
Lids don't fit
My husband and I received these storage bowls for our wedding. When we tried to use them we discovered that the lids didn't fit properly. We can't get them to stay on any of the bowls. Sorry to say these will be going back.
Date published: 2012-11-01
Rated

2

out of

5
by
IlliniAmy
from
Potentially fabulous, but disappointing
We registered for these and received them as wedding gifts. The variety of sizes is terrific and useful. They claim to be freezer and microwave safe, but my experience is that they are NOT. Like a previous poster, one of them cracked after being reheated in the microwave. Another shattered from the center outward in pie-slice shapes after being in the freezer. They did replace the freezer one, but we had thrown away the pieces for the microwave one so I didn't even ask. I'll keep using glass storage but it won't be these containers.
Date published: 2012-10-29
Rated

5

out of

5
by
jehannarc
from
Durable and Useful!
I love these! We got them for our wedding as a gift and we use them all the time. They probably get more use than anything else in the kitchen. I love how they stack up for storage. I have the rectangular set too and I plan to add more because they are so fabulous.My favorite thing is that they are super easy to clean and because they are glass and not plastic, they still look brand new! They don't stain and you can throw them in the dishwasher for easy cleaning. (I put the lids in the top rack, but after years, they still hold up and fit just fine).We ALMOST bought these for a friend's wedding shower last weekend, but went with something else off their registry instead. We may just get these for the actual wedding, they are too versatile and useful to pass up!(My only complaint is that I wish you could bake directly in these, so they could go from oven to table to fridge, but as durable, gorgeous, long-lasting storage, they are fantastic!)
Date published: 2012-09-10
Rated

5

out of

5
by
ParisReally
from
Built To Last
I have had this set for over 5 years and despite being in and out of the dishwasher a few times a week the lids still fit perfectly. They are my go to storage bowls for marinating, and still function like the day I bought them. A great quality item.One thing to note though. Do not store a chocolate cake in them overnight on your balcony in the winter. A squirrel can chew right through the lid. Trust me on this!When I called customer service and told them the story they sent me a replacement lid.Lucky squirrel.
Date published: 2012-09-08
Rated

2

out of

5
by
MitchL28
from
Chip way too easily
I love the idea of these bowls. They are light, functional, great covers but unfortunately ALL of mine have chipped. I received two sets off my wedding registry just last year and they are no longer any good. I would recommend Pyrex instead.
Date published: 2012-09-01
Rated

2

out of

5
by
atlanticslipper
from
Disappointed
I have had these bowls (and the square set) for about 2 years. I love the different sizes and the lids. Unfortunately most of them have chipped. I will be replacing them with tempered glass containers.
Date published: 2012-05-29
Rated

2

out of

5
by
LCDesign
from
the lids are not functional
i didn't like these at all. the lids do not come off easily and so spills happen easily. definitely not something i would recommend.
Date published: 2012-05-06
Rated

1

out of

5
by
overabarrel
from
Not So Microwave Safe
I loved these bowls until one of them (5.25") cracked in half after being microwaved (no lid) for only one minute. They're nice but shouldn't claim to be microwave safe.
Date published: 2012-04-30
Rated

5

out of

5
by
denvermom
from
Great purchase
I have owned these for a few months now and still can't believe how great they are. I love that they stack inside each other, we have limited storage space in our kitchen. I never have to go searching for lids, that is so great. So far I haven't had any problem with staining either, the lids are a nice sheer white and I hope they stay that way! Very practical!
Date published: 2012-04-26
Rated

5

out of

5
by
ocsurfmama
from
Most versitile
I bought these a year ago and use them all the time. They have held up beautifully, and so versatile. Freezer or refrig to oven. These are my go to containers when doing make-a-head meals and for travel.
Date published: 2012-04-24
Rated

5

out of

5
by
Katiejo
from
Great product!
I love these bowls and am going back for another set.They are the perfect sizes. The bowls wash well in the dishwasher and even come out sparkly clean (no water spots)!
Date published: 2012-04-24
Related Products
Nesting green and yellow bowls are a breakthrough in food prep for...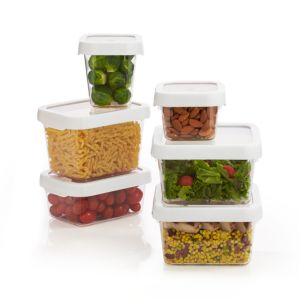 Lock down your prep ingredients and leftovers with these airtight sealing storage...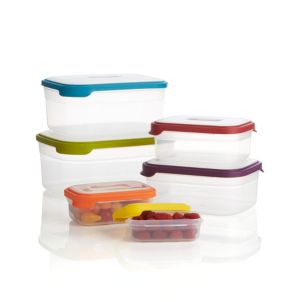 Space saving modern design neatly nests six storage bowls with airtight, color...