Tabletop

Kitchen

Accessories

Furniture

Helpful Tips

Care and Glossary Information

At Crate and Barrel, we've spent time baking in the kitchen to bring you this edited collection with choices for all skill levels, whether you're using store-bought cookie dough or whipping up an authentic tarte Tatin. Today's pantry of bakeware includes more than just a few baking sheets. There are many options in metal, non-stick finishes, ceramics—even flexible silicone that can withstand oven temperatures up to 625 degrees.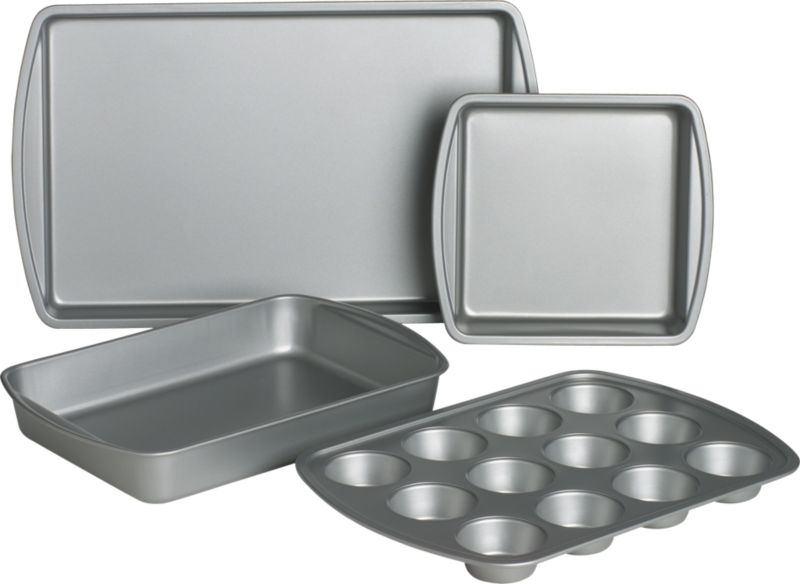 We are pleased to offer a choice of three finishes in metal baking pans, depending on what and how frequently you bake. Our non-stick pans feature two layers of coating bonded to aluminized steel, and can reduce baking times by approximately 10%. Our uncoated pans for the more experienced baker meet even commercial kitchen standards. Which to choose? You'll find most home kitchens are outfitted with a combination. As you make your choices, remember versatility—baking sheets can also roast asparagus or crisp up a pizza, a round cake pan can bake a frittata, and a loaf pan can do banana bread one day, meatloaf the next.
Basic
Our Basic collection offers a durable non-stick finish for the home baker. Its medium-weight aluminized steel heats evenly and is rust- and warp-resistant. A non-stick finish provides a quick release.
Pro Line
Our Pro Line collection offers a superior non-stick silicone finish for the frequent home baker. Heavy-gauge aluminized steel heats evenly with an ultra durable finish that's rust-, corrosion-, chip- and peel-resistant. A uniquely fluted surface facilitates air circulation for easy release and even baking. Folded construction and reinforced rims prevent warping.
Commercial
Our Commercial collection brings bakery-quality standards to the home. Heavy-gauge aluminized steel is uncoated and provides excellent heat distribution for consistent, even baking. Insulated baking sheets have an air cushion to help prevent burning. Our commercial pans are rust- and corrosion-resistant, and tri-reinforced corners won't warp.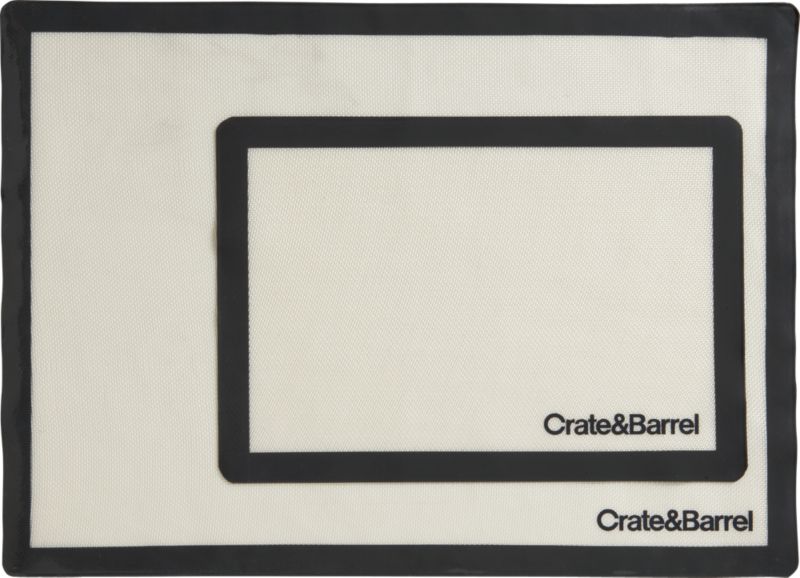 Originally used by bakers in France, silicone mold technology brings interesting definition and detail to baked goods, but with a flexible non-stick surface you just twist and press for a quick release. Food-grade silicone can withstand up to a 625-degree oven and conducts heat evenly, but unlike metal it stops transferring heat the minute you remove it from the oven.
We've found the most useful everyday items to be our free-standing muffin cups and versatile French silicone woven mats that protect pans, eliminate burning and keep delicate cookies or sheet cakes intact. You can also use these reusable wonder mats to knead and roll dough without flour. Almost all silicone items can go in the oven, microwave or freezer, and dishwasher cleanup's a snap.

If you haven't discovered our legendary white wares, you've really been missing out on some of our favorite things in the store. Beautifully crafted of porcelain or stoneware, they're so wonderfully simple and they do so much. You can mix in them, bake in them, store in them. They do weeknight casseroles, but serve beautifully at the table when company's coming. They're everyday durable and can go right from the oven to the table to, yes, the dishwasher. In a word, you'd be wise to collect some.
While we're fans of classic white, we occasionally introduce colorful stoneware pieces. Check in often, especially with a change in season, to see what's new.
Browse Items
Bakeware
Bakeware


Bakeware Set
Baking Sheets (4)
Round Cake Pans (2)
Square Pans (2)
Cupcake/Muffin Set
Mini Cupcake/Muffin Pans (2)
Mini–Muffin Pans (2)
Cupcake/Muffin Carrier
Pie Plate
Loaf Pans (2)
Springform Pan
Bundt® Pan
Tart Pans (2)
Soufflé Dish
Baking Stone
Crisper
Baking Mats
Cooling Racks
Download Gift Registry Checklist