Tabletop

Kitchen

Accessories

Furniture

Helpful Tips

Care and Glossary Information

Your bed and bath provide a natural setting for self-expression. Whether you're looking to rewind or recharge, you'll find exactly what you need at Crate and Barrel to make it personal. We have a new specialty linen closet, top to bottom, which includes the larger than life color and pattern of the Finnish textile design house Marimekko. If solids are more your style, you can wake up to luxuriously soft sheets and plush cotton towels in a contemporary palette ranging from fresh new neutrals to confident pops of color. It's also the finishing details that set our textiles apart. We appreciate and take time to finesse the finer things like elegantly finished hems, beautiful hand-dyed yarns and hand–stitching on quilts. Just a little something we dreamed up, just for you.
Sheets and Pillowcases
Choose your bed linens according to the design, type of weave and feel preference. Our fitted sheets are a generous 16″ deep to accommodate even the new plush mattresses. If your preference is for patterns and solids, it's a good idea to also have one or two sets of white or neutral linens that can work as a simple underlayer. We recommend two sets per bed…and don't forget the guest room.
Our essential, everyday 100% cotton percale sheets have a tight weave for a crisp feel. They are cool to the touch and feel barely there against your skin. We offer solids and prints, including the bold and graphic patterns from Marimekko.
Our softer 100% cotton sateen sheets have a lush feel that wrap you in luxury. They're extra smooth and silky to the touch and feel cool against the skin. Unlike glossy, high silks they do not "slip" and offer superb breathability. Look for our newest selection of sateen sheets in rich solids and vibrant Marimekko designs.
The number of vertical and horizontal threads per square inch determines thread count. Contrary to what higher numbers suggest, extremely high thread counts can be too delicate a weave and may not be as durable over time. Our experience is that the softest, longest-wearing bedding begins with high-quality cotton, which you can count on at Crate and Barrel.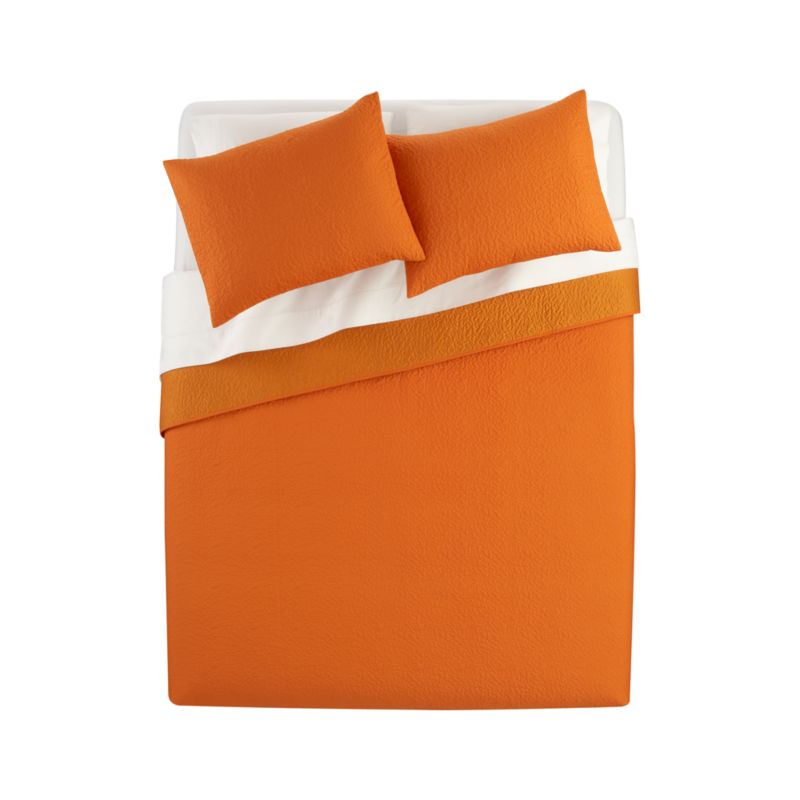 Our contemporary spreads make the most versatile beds. They are a comfortable lightweight that can replace quilts or duvets in warmer climates. You can also layer these spreads under quilts or duvets, folded over at the top edge for a more interesting look. Or use them folded to dress the foot of the bed. Coverlets also store more compactly and are great to have as a standby for guests.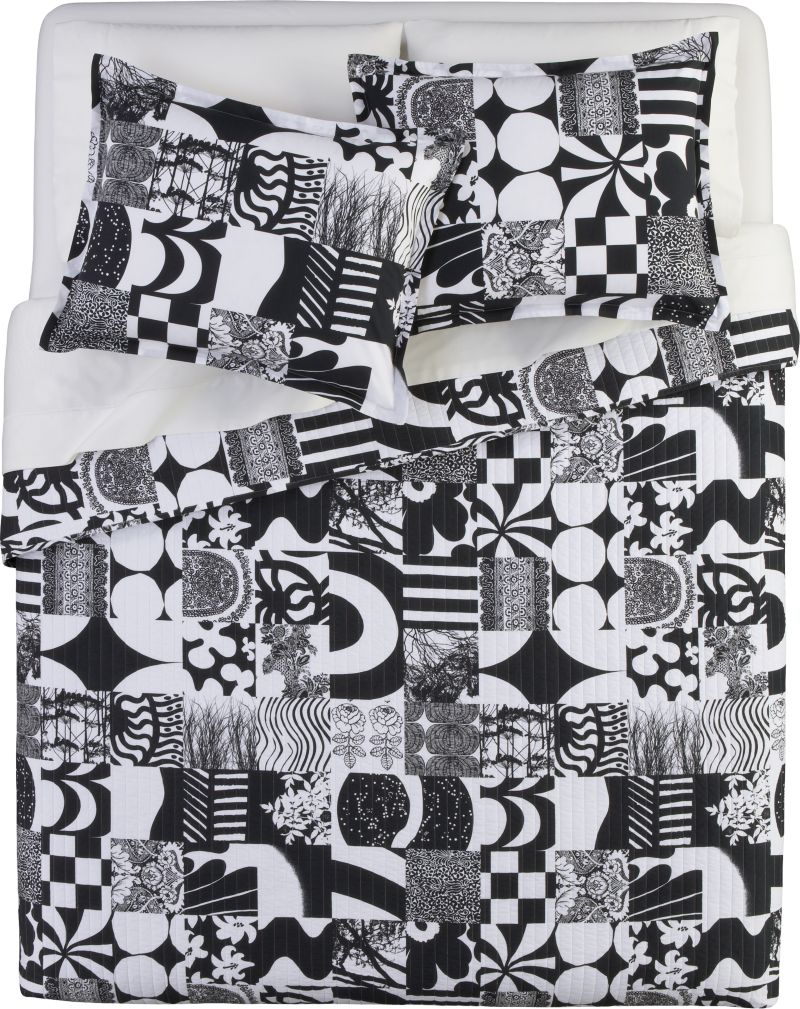 At Crate and Barrel, our quilts are art for the bed. Many of our quilts display skillfully stitched patterns to keep the mid-weight inner batting in place. Featuring a fresh use of color and pattern, our quilts offer a modern take on traditional comfort.
Our European-style poufs top the bed in either a premium, snow-white domestic down fill or an allergy-free, Italian synthetic microfiber alternative. While they add a luxurious fullness to the bed, our medium-weight duvet inserts are perfect for all seasons, adjusting to body temperature for just the right degree of warmth. We prefer a 10″ baffle block construction for maximum down loft and minimum shifting; down alternative duvet inserts have a sewn-through construction.
Think of the duvet as your central statement piece, the focus of your space. Dress it up or down with pillows, accessorize with a rug, add lighting, art and furniture to complement and complete the look. From bold Marimekko patterns to woven stripes and soft florals, our decorative duvet covers set the style and mood of your room.
A variety of pillows adds depth and dimension to the finished bed. Our designers suggest you arrange them in the following order starting from the headboard: Euro, standard pillow, sham and optional decorative pillows.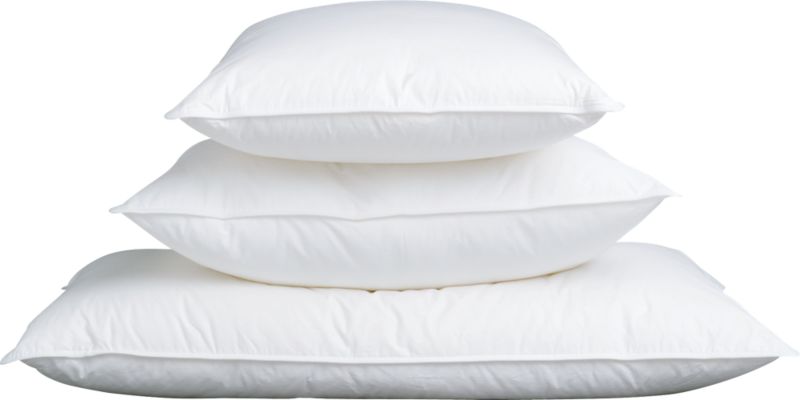 We prefer pillows with a core support of feather wrapped in the fluffy luxury of down. We prefer a combination that's 80% white duck feather and 20% snow-white domestic down for its great fluff. Allergen-free, plump down alternative pillows are filled with Italian synthetic microfiber for a down-like experience. We offer Standard and King pillows, as well as 26″ square Euro pillows. Keep your pillows clean and fresh with our pillow protectors in soft, white 300-thread-count cotton sateen.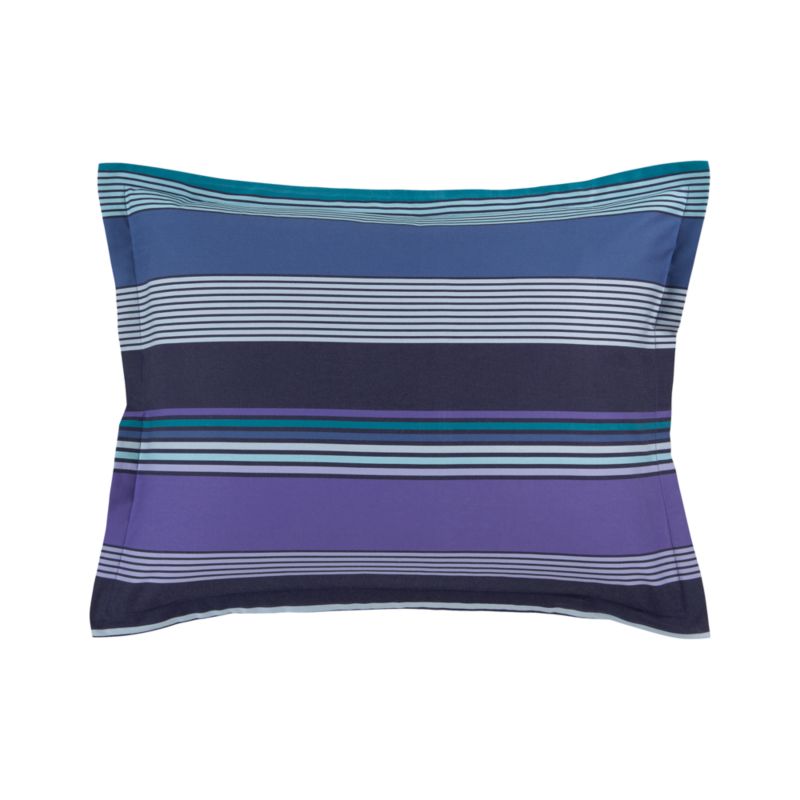 We tailor our pillow shams with details such as flange seaming or piped edgings to add depth and dimension. While shams traditionally match the top of the bed, our designers also like to contrast a solid bed cover with print shams. We also like to give a queen bed a more contemporary look with the extra width of king or Euro shams.
The Crate and Barrel Special Edition mattress by Simmons® requires no flipping, no rotating, no maintenance. High-quality construction features a patented, individually pocketed coil system to reduce the transfer of weight and movement from one side of the mattress to the other. The plush mattress top has a layer of Visco™ memory foam that adjusts to individual body contours. Edges are constructed with a thick coil design for a more stable sleeping area. Each mattress is covered in a luxurious stretch knit fabric that conforms to contours and enhances motion separation.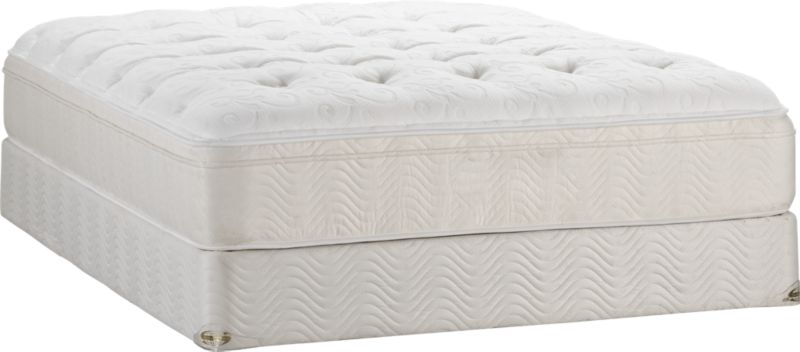 The foundation system replaces a traditional box spring with high-carbon steel struts that do not bend or respond to pressure. This rigid structure transfers all energy back up into the coils of the mattress improving back support. A center wooden "L" beam provides both horizontal and vertical strength, more than tripling the weight support. Covers are rayon damask with an off-white tone-on-tone wavy stripe ticking. One-piece and two-piece foundations are available for queen and king sizes.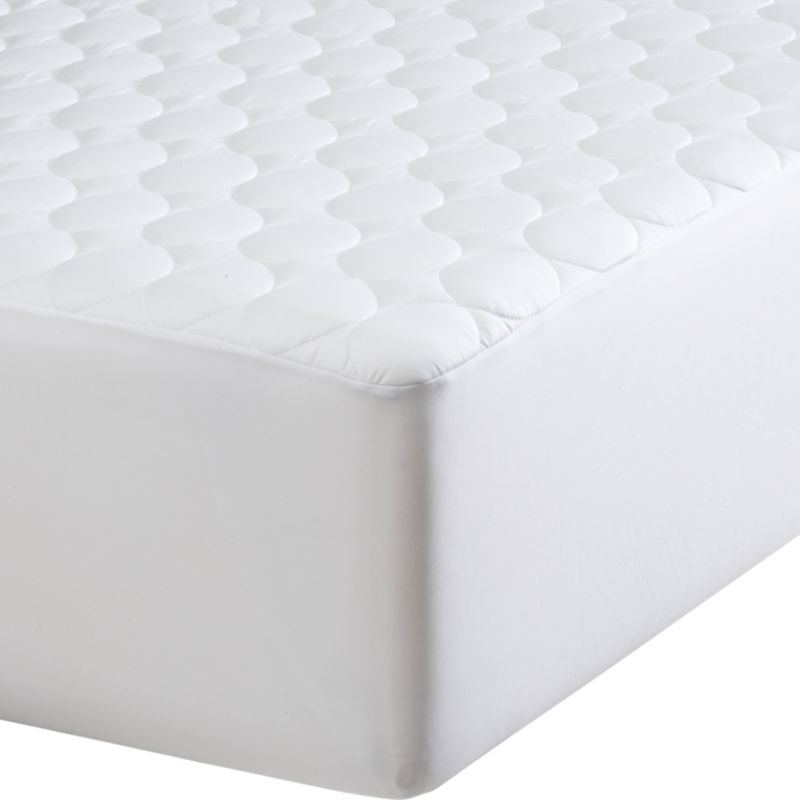 Sleep in cushioned, hygienic comfort with our luxurious, soft-as-silk 300-thread–count pad. The plush, quilted polyester fill is topped with Tencel®, a high-tech fiber that keeps you warm in winter, cool in summer, wicks moisture away, and naturally inhibits mold and dust mites. A 15″ fitted nylon elastic skirt fits up to 17″ extra–deep mattresses.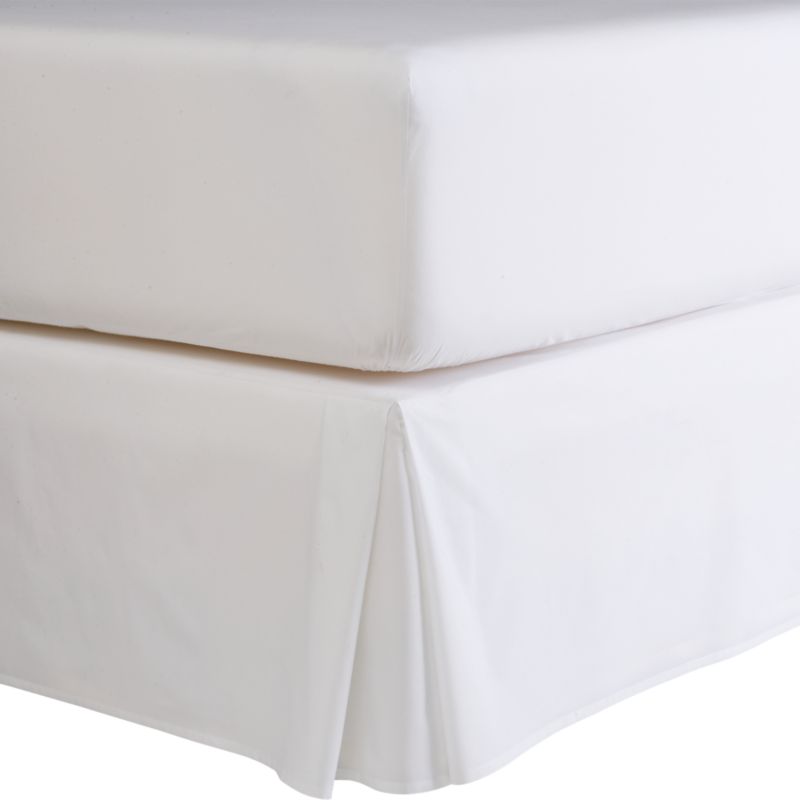 For a pristine presentation, skirt the issue of unsightly framework and under-bed storage with simply tailored cotton bedskirts. Our solid white cotton white matelassé skirt is tailored with split corners to work with most bed frames as well as a range of bed linen solids and patterns. We also offer a white cotton matelassé cover to protect your box spring.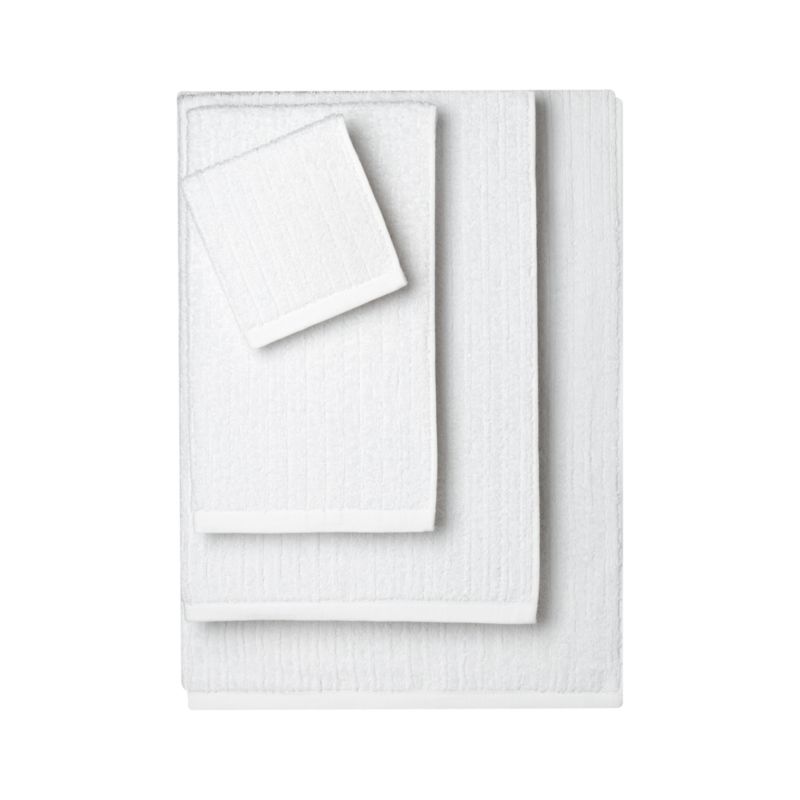 Our exclusive towel collection features high-quality cottons, including several Turkish varieties, tightly woven in durable double-ply yarn with soft terry loops customized in size, length and diameter. A complete set of towels per person (and don't forget guests) should include two each: bath sheets or bath towels, hand towels and washcloths.
Grams per square meter is a fabric standard of measurement for weight and quality, ranging from 300 grams up. Crate and Barrel bath towels are a plush 500 to 650 grams in weight. We find this to be the perfect balance for a thick, luxurious feel, yet light enough to dry quickly.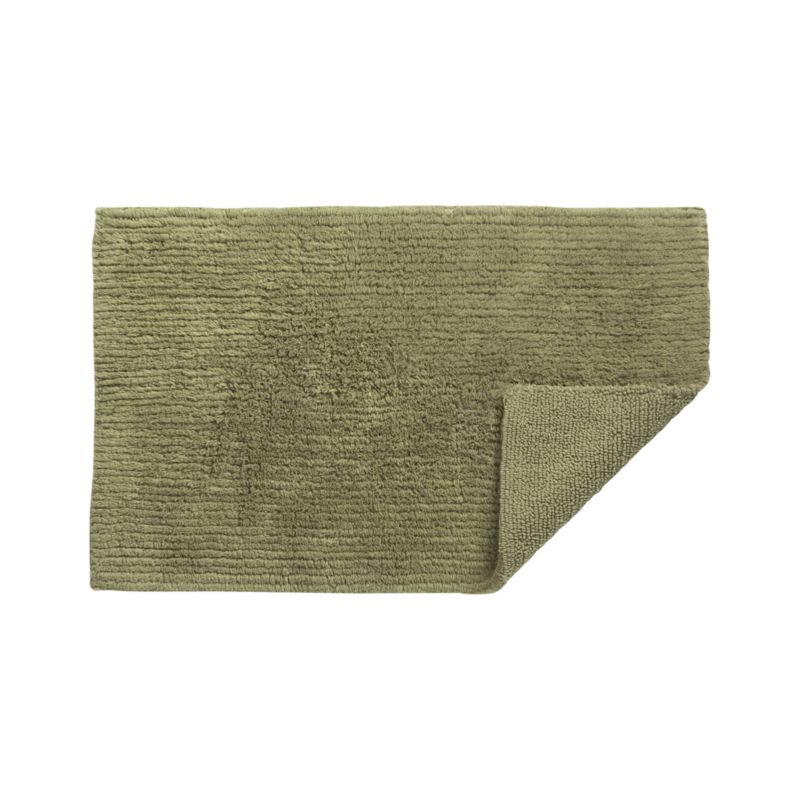 Step out onto 100% cotton bath rugs in a thick 3,000-gram weight that reverses from a textured loop on one side to a velvety plush on the other. For a modern spa feel, try our wood bath mat made from recycled, sustainable tropical hardwood that's smooth and therapeutic underfoot. You'll also find round rugs that are perfectly suited for smaller bathrooms.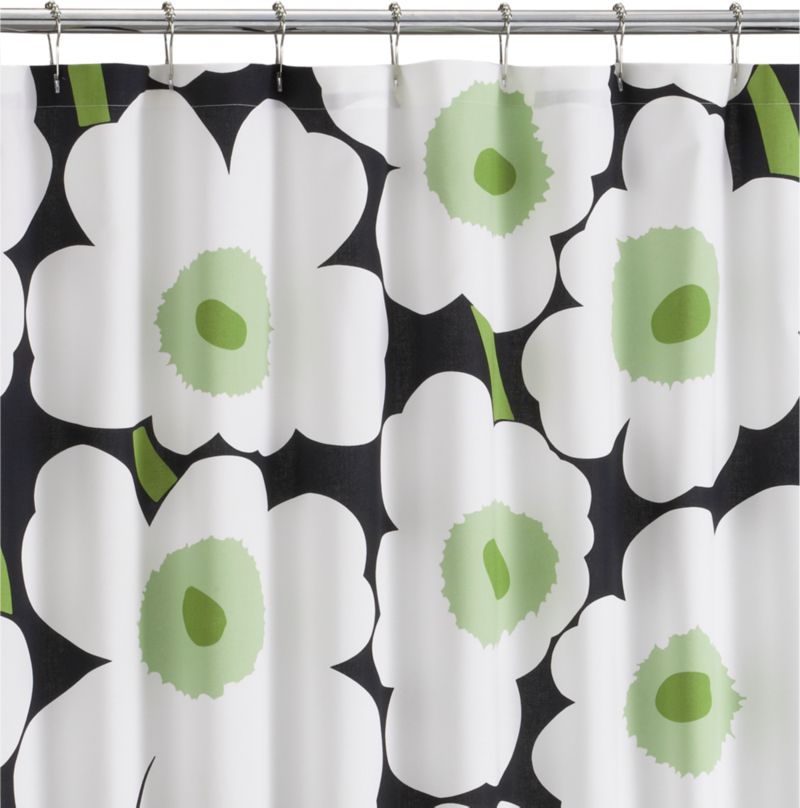 Whether you choose a shower curtain designed to coordinate with our bath linen collections or a versatile neutral, take time to notice the details that create a more luxurious finish. The high-quality fabrics we choose drape beautifully with the fullness of window curtains. Our collection includes printed twills and textured matelassé designs. Reinforced buttonholes handle the stress of everyday tugging and pulling.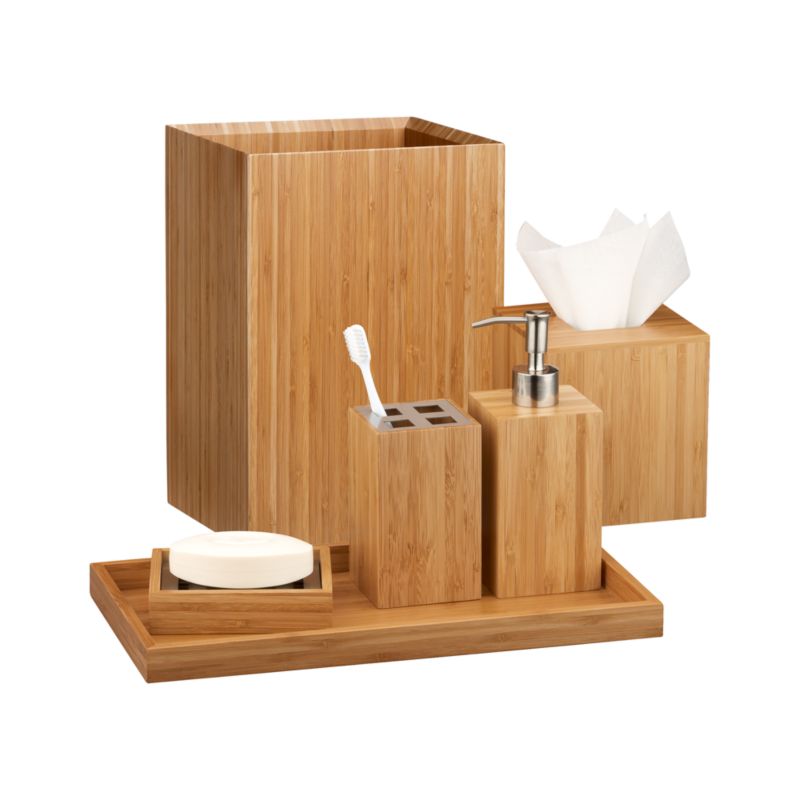 Complete the master bath, guest bath and powder room with contemporary amenities designed to complement our textile collections. Clean white porcelain or new eco-friendly bamboo reside sink-side as soap dishes, bottle pumps, tissue holders, trays and wastecans. And remember spa upgrades like glass apothecary-style canisters, a digital bath scale, decorative hamper…and our very own pampering soaps and lotions made with natural oil essences.
Browse Items
Bed and Bath
Master and Guest Bedroom
We recommend the following
per bedroom:
Sheets/Cases (2-3 sets)
Pillow Shams
Duvet Cover
Comforter
Coverlet
Bedskirt
Throw
Accent Pillows
Rugs
Curtains/Hardware
Bed
Mattress/Foundation
Mattress Pad
Pillows
Pillow Protectors
Duvet Insert
Dressers/Chests
Nightstands
Armoire
Accent Seating
Mirrors
Lamps
Closet Storage
Bed Tray
Master and Guest Bath
We recommend the following
per bath:
Bath Towels (4)
Hand Towels (4)
Washcloths (4)
Shower Curtain
Curtain Liner
Shower Hooks
Bath Rugs/Mats (2-3)
Bath Accessories
Weight Scale
Bath Tower
Download Gift Registry Checklist