Home
>
Adjustable Office Chair
Adjustable Office Chair
Featured Categories
Shop Chairs
QUICK LOOK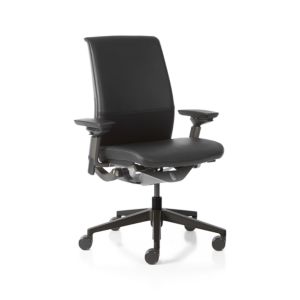 Steelcase ® Think ™ Ebony Leather Office Chair
$1,099.00
When is a chair not just a chair? When it stays one step ahead of you. The Steelcase Think office chair is intelligent enough to understand how you sit and adjusts itself intuitively, yet it's thoughtful enough to minimize its environmental impact. It has even been awarded gold level Cradle to Cradle certification by an organization that measures environmentally intelligent ...
QUICK LOOK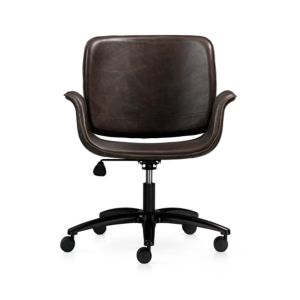 Hughes Office Chair
$599.00
The concept for this curvy, inviting chair came from playing with business cards, bending them to form the shape of a seat. Upholstered in naturally grained leather in deep saddle brown with baseball stitching detail, the U-shaped, adjustable-height seat and rounded back hugs the occupant in stylish comfort with space for the arms on graceful, integrated rests. Curvaceous, sleek design ...
QUICK LOOK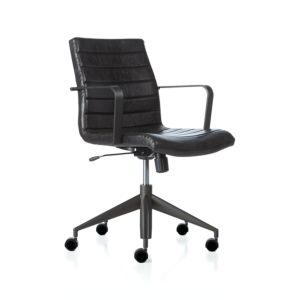 Graham Black Desk Chair
$349.00
Full-featured desk chair scores modern style points with a streamlined profile in basic black. Seatback flows to seat bottom in contour curves with a sculptural flair that also adds ideal back support. Handsome, channel-seamed faux leather upholstery is complemented by sleek gunmetal arms and tapered base. A workplace or home office classic by designer Daniel Stromborg.
QUICK LOOK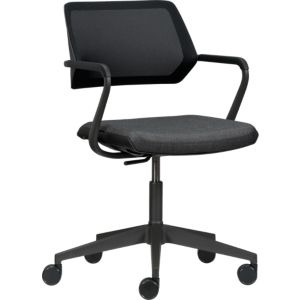 Steelcase ® QiVi ™ Office Chair
$549.00
Our exclusive mix of deep blue fabric and black mesh in a sleek, minimalist design adds high style and exceptional comfort to the office workspace. Seat is upholstered in wool-nylon blend with self-welt detail and adjusts for height as well as moving forward and backward. Pivoting mesh backrest supports multiple postures. Combined features ensure an individual approach to superior comfort. ...