Prices and availability are subject to change from the time and date that you print this page.
7/23/2014 1:23:17 AM. For Customer Service, please call 800.967.6696
Great for grabbing hot breads, these bamboo tongs are traditional multi-taskers for grilling, tossing, pinching and spreading a variety of foods. Naturally stain- and heat-resistant.


Bamboo Toast Tongs
Wood and Bamboo Care
Bamboo Toast Tongs
is rated out of
5
by
36
.
Rated

5

out of

5
by
gigigirl
from
So Glad I Got These
My friend has a set of toast tongs and I had been keeping my eye out for a pair. They are so helpful when removing toast, etc. from my toaster.....no more burned fingers or using a fork! This is a great product!
Date published: 2011-09-11
Rated

5

out of

5
by
DoseofRose
from
Neat tool!
Bought this immediately when i saw it on the C&B website. Have always had trouble flipping chicken nuggets, fish sticks, pizza rolls....and other small sized snacks in my toaster oven with larger tongs. This forces me to use a metal fork.....not the safest method.These bamboo tongs solve the problem! They are small enough to handle small-sized jobs, yet sturdy and well constructed. Bamboo=ecofriendly.....bonus!Would highly recommend this product.
Date published: 2011-08-26
Rated

3

out of

5
by
Juyunni
from
Great for toast....Not for bagels
I am a huge fan of breakfast. Every morning I make toast or bagels from my toaster oven. A couple times I've managed to slightly burn the top of my hand and purchased the tongs. Perfect size for toast (hence the label "Toast" tongs). But they're too narrow for bagels unless you use them to simply slide them out which is what I do. Good price tho and goes great with my bamboo kitchen utensils
Date published: 2011-08-17
Rated

5

out of

5
by
mepeartree
from
Totally worth it
There was a minor scuffle over whether to add this to our registry, and I won, thank goodness!! These are super-helpful for getting hot toast out of the toaster (I fear electricity and have been duly warned against sticking metal into a toaster) and are also perfect for flipping bacon in a non-stick pan. I catch my husband using these tongs all the time, so even though he resisted, even he has embraced the tongs. :)
Date published: 2010-08-23
Rated

5

out of

5
by
grandma of 5
from
Date published: 2010-06-17
Rated

5

out of

5
by
mls46
from
Great Toast Grabbers
I definitely would recommend these. They're very handy, no more fishing out small pieces of toast and burning yourself. I like to toast bakery bread, which is not perfectly square and suited to fit a toaster. These work great.
Date published: 2010-04-16
Rated

5

out of

5
by
chefmom1
from
fun and functional
We bought eight of these for a cookie buffet at a reception...now if we can just get the reception over with, we can use them for what they were intended, and it will be great since our large family eats toast every single morning!
Date published: 2010-02-18
Rated

5

out of

5
by
Lily Fleur
from
C&B has thought of everything!
This was a fantastic find for my husband, who was always using wood chopsticks to get his toast out of the toaster. These were a little hard to squeeze and use at first, but if you hold them down closer to the open end they're easier to maneuver with. A very handy tool to have around and now we can save the chopsticks for eating!
Date published: 2010-01-31
Rated

5

out of

5
by
Mimimaria
from
Better than expected
I bought these for my kids as stocking stuffers attempting to duplicate a pair I have had for years and love. The surprise was that these are of far better quality......larger, sturdier than the ones I have and based on the price came as a total happy shock. Wonderful to have to use as toast tongs or ice tongs or sugar tongs or anything tongs really. Very happy with the unexpected standard of quality.
Date published: 2009-12-30
Rated

5

out of

5
by
donx
from
Nice Tongs
They are very useful. Have a great grip and it makes it easier to grab my toast and my bagels out of the toaster.
Date published: 2009-08-03
Rated

5

out of

5
by
C and B DEVOTEE
from
Toast your bagel, not your fingers!
These tongs are really a finger-saver. It now is easy to get my bagel out of the toaster oven. A great and inexpensive solution to a painful problem.
Date published: 2009-07-06
Rated

5

out of

5
by
Amanda23
from
Love them!
I first saw the infamous "toast tongs" at my sister-in-law's house & had to have them. They're great for getting english muffin's out of the toaster.. also the "bagelful's" that lean over to the side... I used to stick my knife in there (big no no)... and now I use my toast tongs... and just leave them on top the toaster so they're always there when I need them.. people see them & are like... "what's this".. i tell them & they end up buying them & loving them too!
Date published: 2009-07-03
Rated

4

out of

5
by
lacook
from
More than just toast
I use these for toast...and tons of other things like vegetables, pizza and anything else too hot to touch. I don't think I would put it in the dishwasher, but they hand wash pretty easily since the bamboo is so smooth.
Date published: 2009-07-02
Rated

5

out of

5
by
LadyofLight
from
Toaster Tong Multi Tasker
Not only is this item good for the toaster, but it's great for the toaster oven... I use it when making chicken nuggets or chicken breast patties... anything that I need to turn over on baking sheets or terra cotta baking plates that fit into the toaster oven and don't have to use a spatula... such as onion rings, jalapeno poppers, baked instead of fried battered mushrooms... the reach is good, you don't get burned. The toaster tongs stand up to the heat, they're easy to clean... they're safe for the grandkids to use, especially my 9 year old... and I don't have to worry about them breaking. Good product, inexpensive, multiple uses... that's value!
Date published: 2009-07-01
Rated

5

out of

5
by
rjs8
from
not just for toast
great as serving tools for appetizers and other small foods. stylish and very grippy and useful. i hand wash them, but the bamboo is very durable. great look and texture as well. totally worth the price, buy several, especially for summer parties!
Date published: 2009-06-30
Rated

5

out of

5
by
Dren
from
Cool Fingers!
This seems like a lame thing to put on your wedding registry, and many of my college friends thought it was pointless when they saw me open them at my shower. However, I keep these right next to my toaster and use them everytime we toast something - it is great for getting stuff out of the toaster right away without burning your fingers! I would definitely recommend these to all of my friends, even the skeptics. :)
Date published: 2009-06-29
Rated

4

out of

5
by
cjsc
from
practical to have
I got 2 of these tongs and they are worth having because not only can I get hot bread out of a hot toaster/toaster oven. I can set them out to grab certain appetizers at parties. They are good for many things, think outside the box. They work well for me grabbing mini pickles as well.
Date published: 2009-06-22
Rated

4

out of

5
by from
Very Useful Item
these tongs have come in handy with my waffle iron (CB purchase, also) because it proects it from being ruines. they don't have enough give to them but they are perfect for getting my perfectly cooked and delicious belgian waffles onto my plate! you shouldn't get one without the other!
Date published: 2009-06-20
Rated

5

out of

5
by
tootie
from
Must have it
This little item should be in every kitchen. It has saved my fingers from hot toasters numerous times. It is made from a renewable wood, which fits the "green" lifestyle of today.
Date published: 2009-05-28
Rated

3

out of

5
by
photogal21
from
Useful device that I never use
I got this with the cute retro toaster for a wedding shower gift. It is a useful device but I always forget to use it. If I remembered to use it for the toaster I would recommend it. It is cute to put on the outside of a wedding gift to decorate but it is not really the best use of money. I would not use it for grilling since it is wood (not easy to disinfect as other products) or any of the other uses Crate and Barrel says you can use it for. It is a toaster tong and that is it.
Date published: 2009-05-27
Rated

5

out of

5
by
Mandy
from
Really Handy
These Bamboo Toast tongs have saved my fingers from getting burned when I grab my toast on the run. They look nice and are very affordable!
Date published: 2009-05-27
Related Products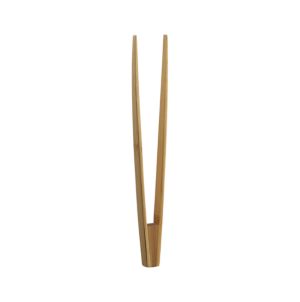 Great for grabbing hot breads, these bamboo tongs are traditional multi taskers...