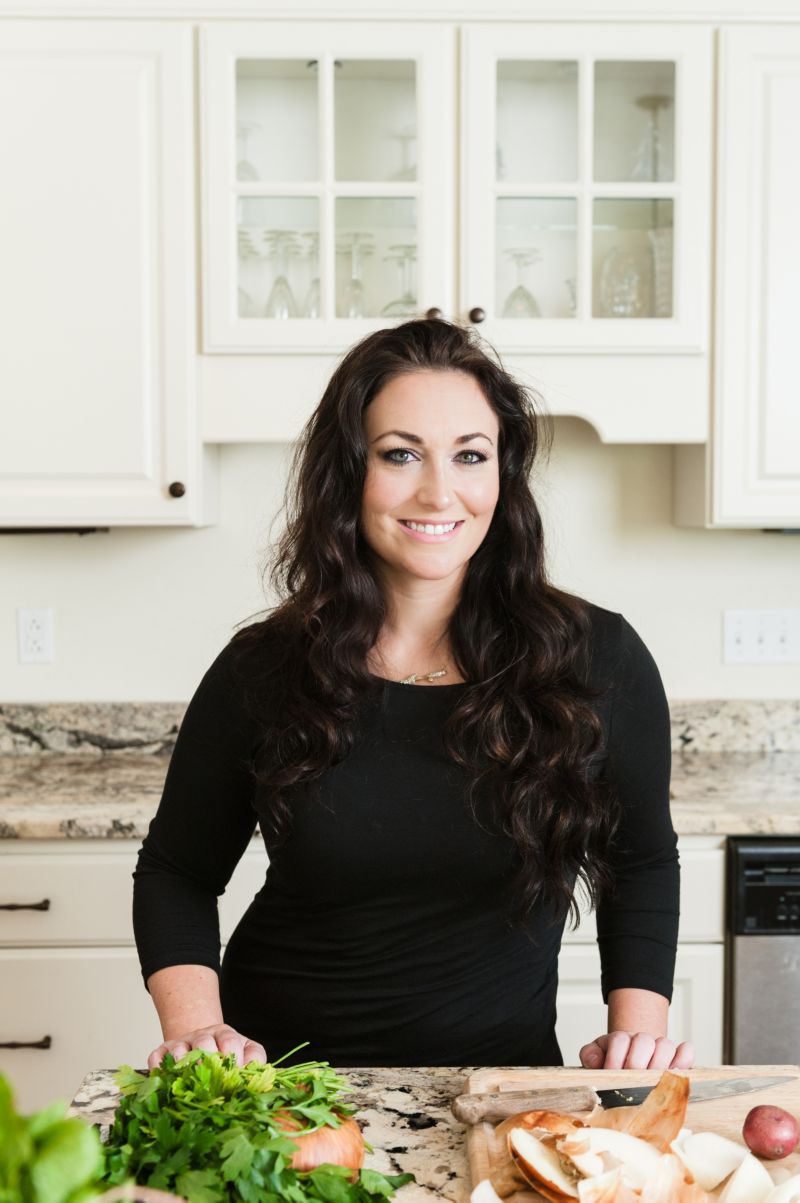 howsweeteats.com
With summer officially on its way, we're already dreaming about our ideal menu for that first meal out on the porch. We've partnered with Jessica Merchant, founder of How Sweet It Is, to plan a meal of classic dishes with a sweet summertime twist.
With warmer weather and BBQ season right around the bend, I wanted to share a few of simple and delicious staples. Perhaps even more than just the food, I'm wildly excited about being able to dine al fresco again. I'm telling you, eating dinner outside after a long weekday? Yes.
It's just so lovely. It can turn the entire day around. Fresh air, a spring breeze, maybe a cocktail… it's perfect.
So what's on my list to make as soon as we can start setting up our patio table?
First up, ribs! Okay, so I was never a rib person until I made my own at home. I rarely order them out because, let's be honest, it's a lot of mess for your meat, regardless of how delicious it is. It wasn't until the last few years when I made my own that a full-blown obsession with baby back ribs happened.
We are talking like – I could make a rack every weekend in the summer. And in the winter! I'll grill them whenever, no shame from me.
So this is my go-to method: I make a spice rub, usually just throwing together the spices that I can find in my pantry, and cover the meat. I wrap it in a double layer of foil and bake it low and slow for a few hours. At this point, the meat is starting to fall off the bone, but I still love that good old char and smoky flavor that a grill gives. So, I'll throw them on the grill for a few minutes (and very carefully since they are super tender!) until they develop the signature grill char.
While the ribs are on the grill, that's when I go to town with the cola glaze. I brush it on both sides the entire time while grilling (Well, okay, ALMOST the entire time. Let's go with every few minutes.) to enhance the flavor even more. Sweet and smoky is the name of the game.
I love to serve them with extra glaze and BBQ sauce of course. What's a rib without sauce?!
Next up, a great cornbread that is super cheesy and cut into squares for easy grabbing. I'm always on the fence about what I prefer to eat with ribs: cornbread or creamy, cheesy polenta? In this case, with the temperatures warming up, I like to go with the grab-and-go option of cornbread.
These ones are also laced with diced green chilis which lend the most wonderful authentic flavor, a slight kick and just something extra. And also, cheese. Lots of white cheddar! No complaints from me.
To keep things on the lighter side, I love to serve these with a mixed greens salad, and when I say mixed greens, I'm talking lots of greens! We're going with a mix of spinach, kale and spring greens, served with lots of avocado. Sometimes I'll toss in some sliced scallions. Even a few herbs. I love to call this my "all greens" salad, because obviously it's all green.
Makes me feel better about the copious number of ribs I consume. Plus, it adds a nice, refreshing contrast to the caramelly, crunchy top of the ribs. I drizzle it with olive oil, salt and pepper and squeeze in a bit of lime juice. Mouth watering deliciousness is all I can say.
Finally, a super simple dessert! Homemade cherry cola popsicles – classic soda mixed with cherry syrup and maraschinos, then dunked in a float. We love to use a cane sugar soda with some unbleached cherries and if you're feeling it, you can even add in a few shots of booze! Into the popsicle or… into the float. Do it, do it.
I can hardly wait until my weekends are full of wonderful BBQ recipe ideas like these. What is your go-to BBQ recipe? What do you always take to picnics? I want to add a few extras to my list.
Cola Glazed Ribs
Makes 4 pounds of ribs, serves 4 to 6
2 racks of baby back ribs, roughly 2 pounds each
1 1/2 tablespoons coarse sea salt
1 tablespoon brown sugar
1 tablespoon smoked paprika
1 tablespoon ground mustard
1 tablespoon garlic powder
1/2 tablespoon black pepper
1/2 tablespoon onion powder
2 teaspoons chipotle chili powder
½ teaspoon crushed red pepper flakes
¾ cup your favorite BBQ sauce
Cola Glaze
¾ cup soda
¼ cup water
2 tablespoons apple cider vinegar
1 cup brown sugar
Preheat the oven to 300 degrees F. Place each rack of ribs on a doubled sheet of aluminum foil.
In a bowl, whisk together the salt, sugar, paprika, mustard, garlic powder, pepper, onion powder, chipotle chili powder and red pepper. Rub the mixture all over both sides of the ribs, then wrap the ribs up in the aluminum foil. Place the racks on a baking sheet and put them on the center rack in the oven. Bake for 2 1/2 hours.
After 2 1/2 hours, gently pour the juice in the foil packets into a large bowl or measuring cup. Whisk in the BBQ sauce.
Heat the grill to the highest setting and remove the ribs from the foil. Once the grill is hot, place the ribs on the grill and cook for 10 to 12 minutes, until they are charred and slightly crisp on the outsides, basting and brushing the cola glaze mixture on top liberally. Let cool slightly before serving with the BBQ sauce.
Cola Glaze
Combine ingredients together in a saucepan over medium heat. Whisk until the sugar dissolves and the mixture starts bubbling, then remove from heat and let cool completely.
Green Chile Cheddar Cornbread
Makes one 8×8 inch pan; 12 squares
1 cup all-purpose flour
1 cup finely ground cornmeal
1 tablespoon baking powder
3 teaspoons brown sugar
½ teaspoon salt
1/2 cup butter, melted
3/4 cup milk
1 egg
1 (4-ounce) can diced green chiles
1/3 cup freshly grated cheddar cheese
Preheat the oven to 425 degrees F. Spray an 8×8-inch baking dish with nonstick spray.
In a large bowl, whisk together the flour, cornmeal, baking powder, sugar and salt. In a small bowl, whisk together the melted butter, milk and egg. Stir the wet ingredients into the dry, mixing until just combined. Stir in the diced green chiles and cheese. Don't overmix!
Spread the mixture in the baking dish and bake until set in the center, about 20 to 25 minutes. Let cool before cutting into squares.
Cherry Cola Popsicles
Makes 6 popsicles
¼ cup maraschino cherries,
2 bottles cola
1/3 cup maraschino cherry juice
for serving: extra cola and vanilla ice cream
Fill each popsicle mold with a few cherries each. Fill up the molds ¾ of the way full, then fill them up with cherry juice, just a few tablespoons, leaving a little room at the top of the mold. Fit with the popsicle sticks and freeze for at least 4 hours. To serve these, I love making a soda float and dropping the popsicles in!
Want more summer entertaining ideas perfect for the grill? Check out these tailgating recipes.