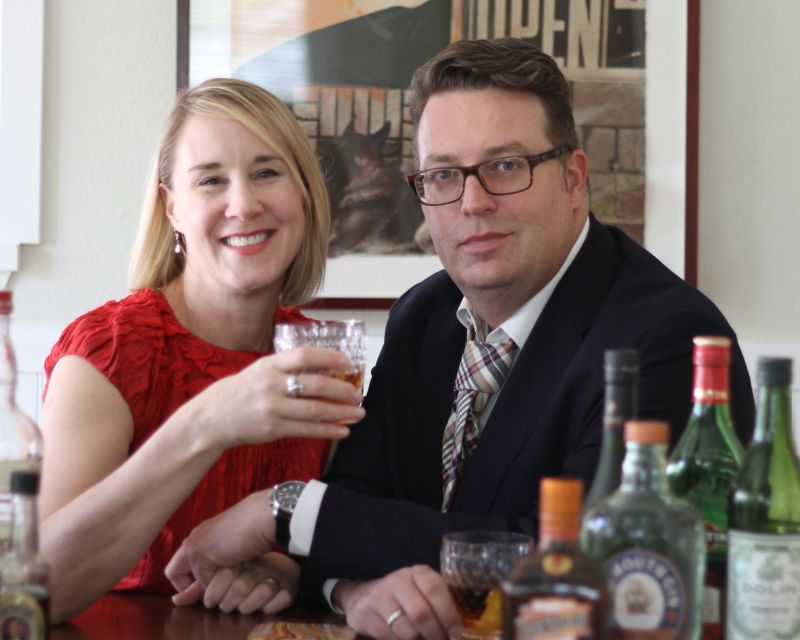 12bottlebar.com
This holiday season we've partnered with some of our favorite bloggers who will be showing you new and inspirational ways to bring the holidays home.
Entertaining this holiday season? We've partnered with David and Lesley Jacobs Solmonson of 12 Bottle Bar to bring you 12 new cocktails to try, one each week from now until New Years. Cheers!
One of the easiest and most effective ways to create a cocktail is to take an old standard and riff on it. Change up the base spirit, maybe the type of citrus, or switch out traditional sugar for another sweetener. The classic Bees Knees cocktail is a gin sour with honey in place of simple syrup; it's a small change, but one which dramatically alters the profile of the original. Go one step further and replace the gin with rum — now your Bees Knees becomes a Jamaica Honey Bee.
About the Jamaica Honey Bee Cocktail
As the name of the drink implies, a nice amber Jamaican rum works perfectly here, as does a Barbadian. For the honey, you want something savory, like wildflower, lest the drink become too "soapy" tasting. If you know your way around a cocktail, the proportions of citrus and sweetener to booze may seem very low, but trust us. If anything, the drink errs on the sweet side. Another key technique here is to double strain the shaken drink to filter out all the citrus pulp, which makes for a smoother drink. When pouring the drink from your shaker, simply pass it through a fine mesh strainer as it pours into the glass.
At 12 Bottle Bar, sours are our favorite class of drinks. The combination of spirit, sour citrus, and sweetener lends itself to an infinite catalog of variations. From hot weather thirst quenchers like the daiquiri to three-season tipples like the Honey Bee, sours cover all seasons and moods. Silky smooth, the Honey Bee cocktail warms as it goes down, making itself very much the cold alternative to a toddy. If you're not a fan of big rum drinks or strong cocktails, this is certainly a drink for you.
Here, we feature the Jamaica Honey Bee in the Camille Champagne Coupe, along with the Orb Copper Shaker and Jigger and Olivewood Coaster—all selected by us to compliment the simple and natural elegance of the Honey Bee cocktail. The right glassware and accessories can go a long way toward your enjoyment of a drink.
Jamaica Honey Bee Recipe
Ingredients
2 ounces amber rum
1/2 ounce strained, freshly squeezed lemon juice
1/2 ounce honey syrup (dissolve a measure of honey into an equal measure of water)
Combine all of the ingredients in a mixing glass, and fill the mixing glass three-quarters full with ice cubes. Cover with a shaking tin and shake vigorously for 15 seconds. Double strain (through a cocktail strainer and a fine mesh strainer) into a cocktail glass. Garnish with a lemon twist.
Want more recipes from 12 Bottle Bar? Check out their new book!