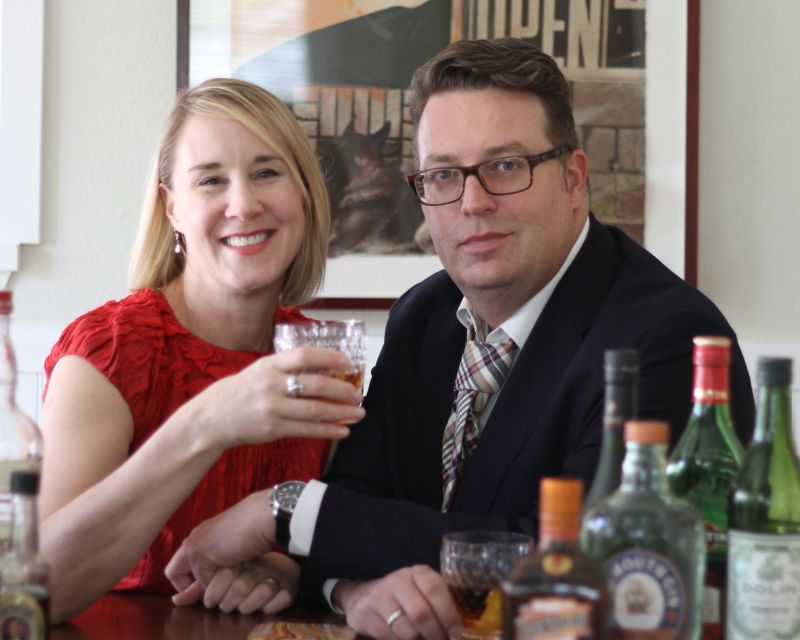 12bottlebar.com
The perfect holiday, Just Like That™. This holiday season we've partnered with some of our favorite bloggers who will be showing you new and inspirational ways to bring the holidays home.
Entertaining this holiday season? We've partnered with David and Lesley Jacobs Solmonson of 12 Bottle Bar to bring you 12 new cocktails, one each week from now until New Years. Cheers!
The Soother is one of those drinks that just screams autumn. Simultaneously crisp and warming, the drink evokes a brisk stroll down a country lane surrounded by apple orchards. Do we have your attention? Excellent.
About the Soother
In the catalog of mixed drinks, the combination of rum and Cognac-style brandy is a familiar, not to mention tasty, favorite. The measure of sweetness is split between traditional simple syrup and orange liqueur, giving the drink depth but never allowing the liqueur to overpower the occasion. Finally, a bracing dose of fresh lemon juice — the drink falls into the category of "sours" after all — and a scant measure of apple juice bring in crispness and bouquet.
If you believe the chief benefits of sours are daiquiris and margaritas, you would be missing the whole autumnal/winter wonderland of drinks such as the hot toddy and the Soother. If you're not leaning toward a cold drink at this time of year, the Soother warms up nicely over a medium-low flame. Just be sure to use a heat-resistant mug. It's the perfect companion for a scratchy throat or to take off an evening chill.
Undoubtedly, the most interesting aspect of the Soother is the quality a mere teaspoon of apple juice brings to it. If you're a subscriber to the "go big or go home" mantra, the Soother will likely change your mind about the power of small things. Any more apple juice, and the drink would become too cloying. As is, it's just right.
On a cold winter's night, we like to curl up and listen to some music by the fire, so when we saw the Viv Martini Glass and a set of Record Coasters, we knew we had the perfect application for them in the Soother. This brandy cocktail recipe is a classic that's also a little bit rock-n-roll—exactly our kind of drink.
Soother Recipe
Ingredients
1 ounce Cognac-style brandy
1 ounce amber rum
1/2 ounce orange liqueur
1/2 ounce strained, freshly squeezed lemon juice
1 teaspoon apple juice
1/2 teaspoon simple syrup (dissolve a measure of sugar into an equal measure of water)
Combine all of the ingredients in a mixing glass, and fill the mixing glass three-quarters full with ice cubes. Cover with a shaking tin and shake vigorously for 15 seconds. Double strain (through a cocktail strainer and a fine mesh strainer) into a cocktail glass. Garnish with a lemon twist.
Want another fall-inspired cocktail idea? Get the recipe for the Montpeculiar from 12 Bottle Bar.