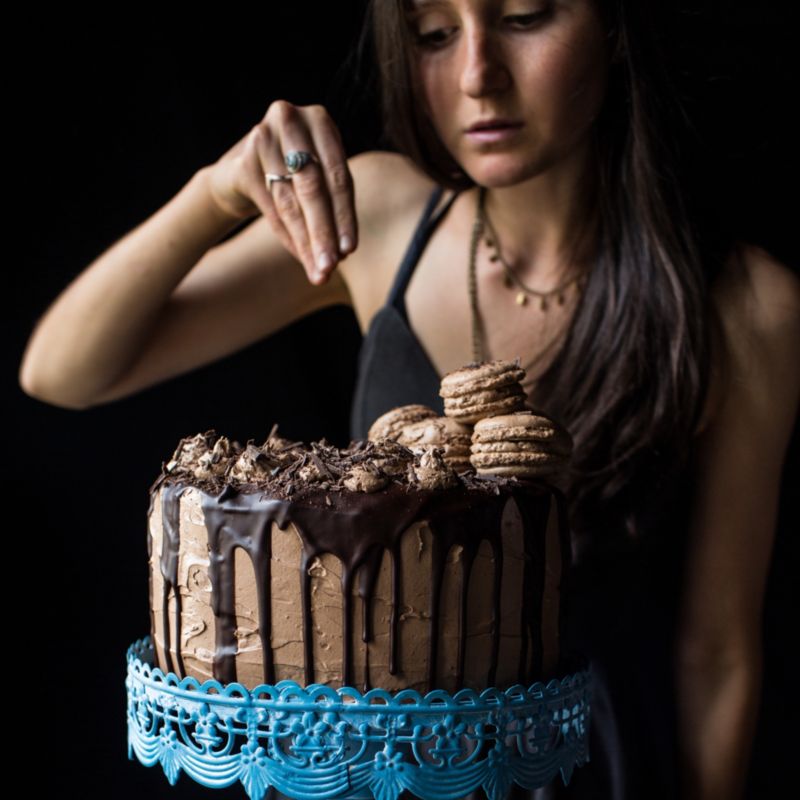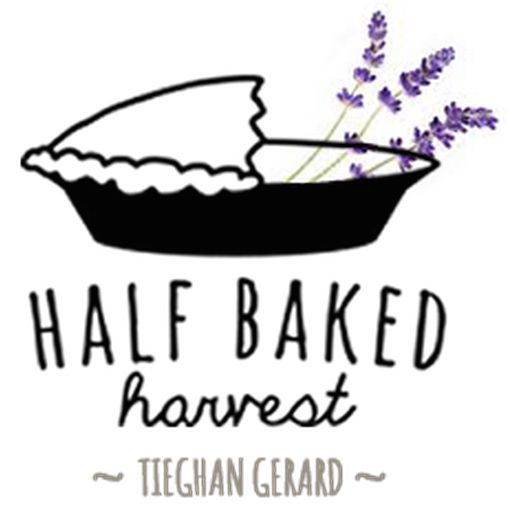 halfbakedharvest.com
This holiday season we've partnered with some of our favorite bloggers who will be showing you new and inspirational ways to bring the holidays home.
Here's a feast that's both merry and bright. We've partnered with Tieghan Gerard, founder of Half Baked Harvest, to throw an ornament party that will fill your home with Christmas cheer and your kitchen with delicious dishes, including these desserts.
Finally, we've made it to dessert!! Possibly my favorite part…I mean, you just cannot have a good Christmas party without one or two really good desserts!
I've already told you in previous posts that I am a huge fan of the traditional Christmas. With that said, you can still do traditional but with a few new twists! Enter this Gingerbread Cake filled with Whipped Chocolate Ganache and Cream Cheese Frosting and this Coconut Spiced Eggnog. They both still have those classic Christmas flavors, but just with a fun, updated spin.
I adore the combo of ginger and chocolate, so I thought it was time to bring the two together and make one killer Christmas dessert. I filled my cake layers with whipped chocolate ganache, but frosted the outside of the cake with a classic cream cheese frosting. I then decorated the cake with gingerbread cookies, edible gold leaf and gold pearl sprinkles for an extra festive touch.
---
TIP: if you're not much into decorating cakes, adding a dusting of edible gold sprinkles is all you really need, they're classy and simple! You can find these sprinkles online or even at your local grocery store.
---
The eggnog is possibly my favorite. I know that people either love or hate eggnog. I am actually somewhere in the middle. I like eggnog, but only homemade, and only if it's made REALLY well. I know, snobby much? But really, you don't want to have a bad eggnog experience or you'll never try it again! I like to use coconut milk when making my eggnog. I love the flavor and the creaminess it gives the drink, and it pairs so well with the vanilla and nutmeg. I also love adding a touch of cinnamon to my to eggnog. I think it just makes it extra special.
---
TIP: Prepare the desserts at least a day, or even two days, before your party. Just like setting the table, desserts are typically something that can be prepared the day before.
---
---
TIP: A dessert table not only displays your dessert but also doubles as a decorative piece for your party. Make sure to set/decorate this table before the day of your party. Remember, everything is about good prep!
---
We all enjoyed our desserts while admiring our brightly lit and newly decorated Christmas tree. The little ones cozied up in blankets, we ate cake and sipped on eggnog and talked until the wee hours. Perfection.
The final piece of this Christmas dinner party was the Homemade Cookie Decorating Kit. I think it's nice to send a guest home with a little something. It's certainly not a necessity, but it's definitely nice, and so fun! Plus, who doesn't love going home with a bowl full of Christmas cookies just waiting to be decorated?!?!
I assembled these fun kits using Crate and Barrel's large red mixing bowl, some Weck Jars and homemade gingerbread and sugar cookies. They are fairly simple to put together, and like I said, so much fun for guests! I figured since they had helped me to decorate the tree, I should give them a little something as a way of saying thanks! If you are not up to making everyone a gift, try sending them home with an ornament of their own to help inspire them to decorate their tree…FYI Crate and Barrel has plenty of gorgeous ones to choose from!
Chocolate Filled Gingerbread Cake with Cream Cheese Frosting Recipe
Prep Time: 1 hour
Cook Time: 35 minutes
Total Time: 1 hour 35 minutes + 2 hours to chill
Gingerbread Cake Ingredients
3 ¼ cups all-purpose flour
1 tablespoon baking powder
2 teaspoons ground ginger
1 ½ teaspoons ground cinnamon
¾ teaspoon nutmeg
¾ teaspoon ground cloves
¾ teaspoon salt
1 ½ cups hot water
1 tablespoon baking soda
2 sticks unsalted butter, softened
1 cup packed brown sugar, light or dark
1 1/3 cups molasses
3 eggs, at room temperature
gingerbread men/women, gold sprinkles + rosemary, for decoration (optional)
Chocolate Ganache Filling Ingredients
2 cups heavy whipping cream
16 ounces bittersweet chocolate, chopped
2 teaspoons vanilla extract
pinch of salt
Cream Cheese Frosting Ingredients
16 ounces cream cheese, softened
2 sticks (16 tablespoons) unsalted butter, softened
2 cups powdered sugar
2 teaspoons vanilla extract
Directions
Preheat the oven to 350 degrees F. Grease three 8-inch (or 9-inch) round cake pans. Line with parchment paper, grease with butter or cooking spray.
In a medium size bowl combine the flour, baking powder, ginger, cinnamon, nutmeg, cloves and salt. Thoroughly whisk to combine. Set aside.
In another bowl, combine the hot water and baking soda.
Using an electric mixer, beat together the butter and brown sugar until light and fluffy. Beat in the molasses until completely combined and then add the water/baking soda mixture alternating with the flour mixture until everything is combined. Beat in the eggs, one at a time, until combined.
Divide the batter evenly among the three prepared cake pans. Bake until a toothpick inserted into the center of each comes out with moist crumbs attached, 30 to 35 minutes. Let the cakes cool in the pans for 15 minutes and then turn the cakes out onto wire racks to cool completely before frosting.
While the cakes are cooling, make the ganache filling. In a microwave safe bowl add the chocolate and heavy cream. Microwave on high for 30 second intervals, stirring between each until melted. Once melted stir in the vanilla extract and salt. Cover the bowl with plastic wrap and place in the fridge for 30 minutes or leave on the counter for one hour.
Once the ganache is chilled (but not solid), remove it from the fridge and beat it with a mixer on medium-high speed until fluffy, two to four minutes. You now have whipped chocolate ganache!
To assemble, place one layer, flat side up, on a plate or cake stand. With a knife or offset spatula, spread the top with half of the whipped ganache. Place the second layer on top, rounded side up, and spread with the remaining whipped ganache. Add the third cake layer and carefully place the cake in the fridge to chill for 30 minutes to one hour.
Meanwhile, make the frosting. Add the cream cheese and butter to a large mixing bowl. Using an electric mixer beat until the mixture is light and fluffy, about two minutes. Add the powdered sugar and vanilla. Beat another two to four minutes or until the frosting is light and fluffy.
Remove the cake from the fridge and cover the top and sides of the cake with frosting. Decorate as desired. Cover the cake and chill in the fridge until ready to serve. Bring to room temperature 30 minutes prior to serving. Enjoy!
*Gingerbread cake adapted from Martha Stewart.
Coconut Spiced Eggnog Recipe
Prep Time: 10 minutes
Cook Time: 15 minutes
Total Time: 25 minutes plus 2 hours to chill
Serves: 4-6
Ingredients
2 (14 ounce) cans light coconut milk
1 (14 ounce) can full-fat coconut milk
1 cinnamon stick
6 whole egg yolks
½ cup granulated sugar
½-1 cup coconut rum
2 teaspoons vanilla extract
freshly grated nutmeg (between ¼ – ½ teaspoon)
toasted unsweetened coconut, for serving
Directions
Add the light coconut milk and full-fat coconut milk to a large pot set over medium heat. Add the cinnamon stick and bring the coconut milk to a simmer, stirring often.
In a small bowl, whisk the egg yolks with the sugar until smooth. Once the coconut milk is steaming, gradually whisk in about one cup of the hot coconut milk into the egg mixture, then pour into pot with remaining coconut milk, whisking as you pour.
Once the coconut milk is steaming, gradually whisk about one cup of the hot coconut milk into the egg mixture. Once incorporated, pour in the remaining coconut milk, whisking as you pour.
Cook over medium heat, stirring, until the mixture has thickened and coats the back of a wooden spoon, around two to three minutes.
Remove from the heat and strain the mixture through a fine mesh strainer. Stir in the coconut rum and vanilla, cover and chill in the fridge until cold, about two hours. You may also serve this warm if desired.
To serve, ladle the eggnog into mugs and top with toasted coconut. Enjoy!
*Coconut milk adapted from Martha Stewart.
Cookie Decorating Kit
Makes: 1 Kit (can easily be multiplied)
Ingredients
1 large red and white striped mixing bowl
½ pound red or green, shredded crinkle cut paper
12-18 freshly baked gingerbread and/or sugar cookies (recipe below)
3 (2.7 ounce) Weck Jars
1 (10 ounce) Weck Jar
1 cup white icing
Holiday sprinkles and holiday candies
Clear cellophane wrap
Holiday ribbon
Cookie cutters (optional)
Add the shredded paper to fill the your large Crate and Barrel mixing bowl. Decoratively arrange the cookies towards the back of the bowl. Fill the small Weck jars with holiday sprinkles and candies and place towards the front of the bowl. Fill the large Weck Jar with white icing and arrange towards the middle. If needed, add more shredded paper to fill. You can also get creative and add other things to the bowl such as cookie cutters or the recipe for homemade sugar or gingerbread cookies. I used the latter.
Spread a large piece of cellophane on the counter and put the bowl in the center of the wrap. Cover the bowl with cellophane and tie with a festive holiday ribbon. Attach one of your favorite ornaments to the ribbon. Gift away!
Gingerbread Cookies Recipe
Ingredients
1 ½ cups all-purpose flour
1/2 teaspoon baking soda
1/2 teaspoon cinnamon
1/2 teaspoon ground ginger
1/4 teaspoon ground cloves
1/4 teaspoon allspice
1/4 teaspoon salt
6 tablespoons butter, at room temperature
1/4 cup brown sugar
1/3 cup molasses
1 egg yolk
Line two cookie sheets with parchment paper or a slipmat.
In a small bowl combine the flour, baking soda, cinnamon, ginger, cloves, allspice and salt. Set aside.
In a large mixing bowl, using a hand mixer or the bowl of a stand mixer, cream together the butter and brown sugar, beating for about three to four minutes until light and fluffy. Add the molasses and egg, beat until combined. Gradually mix in the dry ingredients until no streaks are showing in the dough.
Remove the dough from the bowl and flour a clean work surface, adding flour to the dough as well. Roll it out as thin or thick as you like. If you want the cookies crisp roll thin, if you prefer them softer roll the dough out thicker. Cut out shapes with a cookie cutter, cutting them as close to one another as possible to minimize waste.
Transfer the cookies to the prepared cookie sheets. Cover the baking sheets and place them in the fridge to chill for 30 minutes.
Preheat the oven to 350 degrees F.
Bake the cookies for eight to 12 minutes or until just set. Cool on a cookie sheet.
Easy White Icing Recipe
Ingredients
3 3/4 cups powdered sugar
2 tablespoons meringue powder
6 to 8 tablespoons water
Add the powdered sugar, meringue powder and six tablespoons water to a large mixing bowl. Using an electric mixer, whisk on high speed until the icing is glossy. Add more water, one tablespoon at a time until your desired consistency is reached. Keep the frosting covered at all times or it will harden.
Hosting? Get Half Baked Harvest's recipes for a Christmas feast, plus appetizers and cocktail.