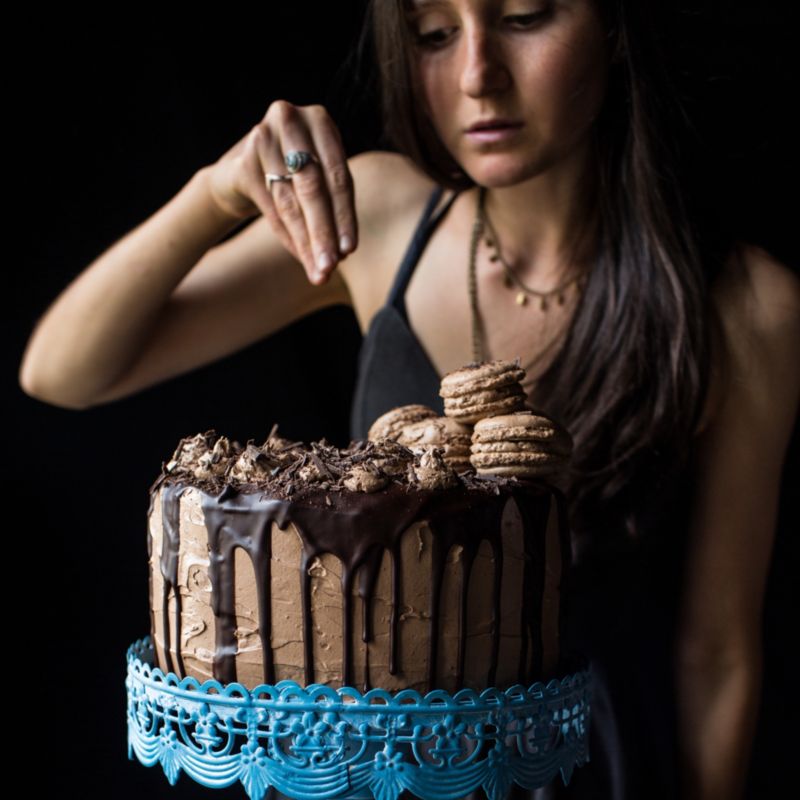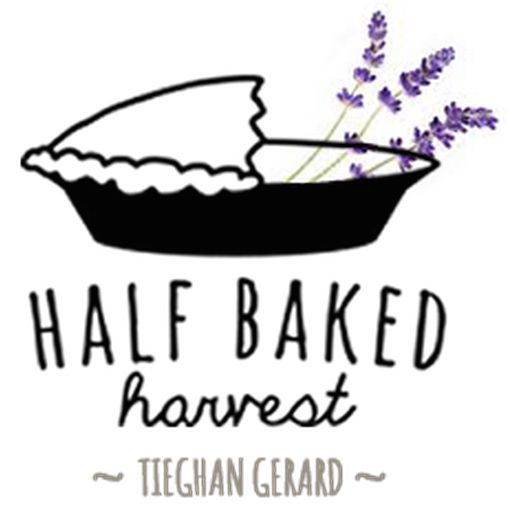 halfbakedharvest.com
This holiday season we've partnered with some of our favorite bloggers who will be showing you new and inspirational ways to bring the holidays home.
Here's a feast that's both merry and bright. We've partnered with Tieghan Gerard, founder of Half Baked Harvest, to throw an ornament party complete with a tasty menu, including this main course and sides.
Many people are intimated at the thought of hosting a dinner party. However, I promise, with a little planning and some advance prep you can host an amazing party…and even enjoy it too!
The key to Christmas party success is prepping everything you can in advance. Decorate the table in advance, have the dishes that you will be using set out, and create a list/schedule of when things need to go in and out of the oven. Honestly, this is the only way to host a dinner party and be calm and happy while doing it.
So let's start with our table. I wanted to create a beautiful, but simple holiday table that just screamed Christmas! Luckily Crate and Barrel had me covered because I found the most gorgeous pieces that were perfect for my party.
For the centerpiece, I went with classic Christmas greens with red berries and flowers. I added two fun Christmas tree candles to give the table a bit of a romantic feel.
---
TIP: Fresh fruits such as pomegranates, oranges, apples, persimmon and cranberries all make great additions to your holiday centerpieces. They are colorful, festive and cheap!
---
For the dishes, I mixed and matched. I'm not a huge fan of matchy-matchy, so this mix and match combo of simple white and cheerful holiday colors worked great. Having a bowl of ornaments tied the ornament party theme right into my table setting.
---
TIP: Set your table a day or two before your party to help get things prepped and ready to go. Remember, the more you can get done BEFORE the day of your party, the less frantic running around you will do the day of.
---
OK and now for the recipes. I went with a classic Christmas feast…but with a little twist! Pancetta Wrapped Beef Tenderloin with a Boozy Plum Sauce, Chestnut Mushroom Soup with a Sage Pesto Swirl, Parmesan and Thyme Roasted Acorn Squash and Crispy Roasted Potatoes with Oregano Salt. Sounds pretty delicious right?!? It was incredible, and while it does involve some prep work, these main course and side recipes are simple and perfect for entertaining.
---
TIP: Test out any new-to-you holiday recipes BEFORE your party, just to make sure you really love the recipe and that the recipe will be easy for you to prepare and serve.
---
The Chestnut Mushroom soup is something extra special. I served this before the beef and side dishes were brought out and several people told me it was the best mushroom soup they'd ever had. Yay! What a great way to begin the feast! The soup is extremely easy to prepare, plus it can be made a couple days in advance and reheated just before serving.
The beef tenderloin paired with the sweet boozy plum sauce is equally delicious. I love the combo of savory beef with a sweet sauce like this. It's one of my favorites, and a perfect choice for special occasions.
Of course the potatoes were the perfect compliment to the beef, and the acorn squash rounded out the menu beautifully!
Pancetta Wrapped Beef Tenderloin with Boozy Plum Sauce Recipe
Prep Time: 20 minutes
Cook Time: 45 minutes
Total Time: 1 hour 5 minutes
Serves: 6-8
Pancetta Wrapped Beef Tenderloin Ingredients
2 cloves garlic, minced or grated
1 tablespoon fresh thyme, chopped
1 tablespoon fresh rosemary, chopped
1 (4-5 pound) beef tenderloin, fat trimmed
Olive oil, for brushing
Salt + pepper, to taste
7 ounces thinly sliced pancetta
Boozy Plum Sauce Ingredients
6 red plums, chopped
½ cup fresh cranberries
¾ cup red wine
½ cup orange juice
½ cup brown sugar
½ cup water
Pepper, to taste
Directions
Preheat oven to 450 degrees F.
In a bowl, combine the garlic, thyme and rosemary.
Heat a large skillet over high heat. Rub the beef all over with olive oil and then generously sprinkle with salt and pepper. Add the beef to the hot skillet and sear all over until browned, about three to five minutes per side. Remove the beef from a skillet and place in a roasting pan with sides.
Rub the garlic herb mixture all over the beef and then layer on the pancetta, overlapping the layers until the pancetta covers all but the bottom of the beef. Lightly brush the top of the pancetta with olive oil.
Roast for 30 minutes or until pancetta is crispy and a meat thermometer inserted into the center of tenderloin registers 120 degrees F (rare). If your beef is on the large side, it might need closer to 45 minutes. If the pancetta is getting too crisp before the beef is done, cover with foil. Let the beef sit 10 to 15 minutes before slicing.
While the beef is cooking, prepare the plum sauce. Combine all the ingredients in a medium sauce pan and bring to a boil. Reduce the heat to low and simmer for 15-20 minutes or until the sauce thickens and the pears are very soft. If the sauce gets too thick, add water to thin. Keep the sauce warm until ready to serve or if making ahead of time, re-heat just before serving.
Slice the beef and serve with plum sauce.
Chestnut Mushroom Soup with Sage Pesto Swirl Recipe
Prep Time: 20 minutes
Cook Time: 20 minutes
Total Time: 40 Minutes
Serves: 6
Chestnut Mushroom Soup Ingredients
2 tablespoons butter
1 tablespoon olive oil
½ of a small onion, chopped
6 ounces cremini mushrooms, sliced
2 ounces wild mushrooms
1 clove garlic, chopped or grated
1 tablespoon fresh thyme, chopped
1 (15 ounce) package shelled, roasted chestnuts
6 cups low-sodium chicken broth
2 cups water
1 cup heavy cream
Salt and pepper, to taste
Sage Pesto Ingredients
16 (1/3 cup) fresh sage leaves
1/2 cup raw kale
1/3 cup shelled pistachios
1/3 cup grated parmesan cheese
1/2 cup olive oil
Salt, to taste
Directions
Heat a large, heavy-bottomed soup pot over medium heat. Add the butter and olive oil. Once hot, add the onion. Cook for five to eight minutes, stirring often until the onion is soft. Add the cremini mushrooms and the wild mushrooms, cook another 5 minutes or until the mushrooms are caramelized. Add the garlic and thyme, and cook another minute longer. Remove the pot from the heat and pick out half of the wild mushrooms and set aside for garnish. Transfer the remaining ingredients to a food processor. Add the chestnuts and process until smooth, about 5 minutes.
Return the mixture to the soup pot, and add the broth and water. Bring the mixture to a low boil. Stir in the cream and warm throughout. Season the soup with salt and pepper. Simmer the soup for 5 to 10 minutes.
To make the pesto, process the sage, kale, pistachios, Parmesan, oil and salt in a small food processor until combined.
Ladle the soup into bowls and drizzle with pesto. Top with the reserved wild mushrooms. Enjoy!
Parmesan and Thyme Roasted Acorn Squash Recipe
Prep Time: 10 minutes
Cook Time: 30 minutes
Total Time: 40 minutes
Serves: 6
Ingredients
2 medium acorn squash, halved and seeds removed
4 tablespoons olive oil
14 fresh thyme sprigs
Salt and pepper, to taste
1 cup grated Parmesan cheese
Arils from one pomegranate
Directions
Preheat the oven to 400 degrees F.
Cut the squash into small wedges and place on a baking sheet. Toss the squash with olive oil, thyme, salt and pepper. Sprinkle the parmesan over the squash.
Roast for 25-30 minutes or until the squash is tender. Serve with pomegranate arils.
Crispy Roasted Potatoes with Oregano Salt Recipe
Prep Time: 10 minutes
Cook Time: 30 minutes
Total Time: 40 minutes
Serves: 6
Ingredients
3 pounds mixed baby red and white skinned potatoes
2 tablespoons olive oil
2 tablespoons butter, melted
1 tablespoons salt
2 tablespoons fresh oregano, chopped + whole leaves for roasting
Pepper, to taste
Directions
Preheat the oven to 400 degrees F.
Arrange the potatoes in a single layer in a roasting pan. Pour the olive oil over the potatoes and turn to coat well. Add the butter. Sprinkle with the salt, a good pinch of pepper and oregano. Turn the potatoes again and tuck in a few fresh oregano sprigs. Roast until the skins are slightly wrinkled and the insides are tender and soft when pierced with the tip of a sharp knife, about 30 minutes.
Now that we have enjoyed our appetizers and cocktails and feasted on our main course, it's on to dessert! Get the recipe for Chocolate Filled Gingerbread Cake with Cream Cheese Frosting.