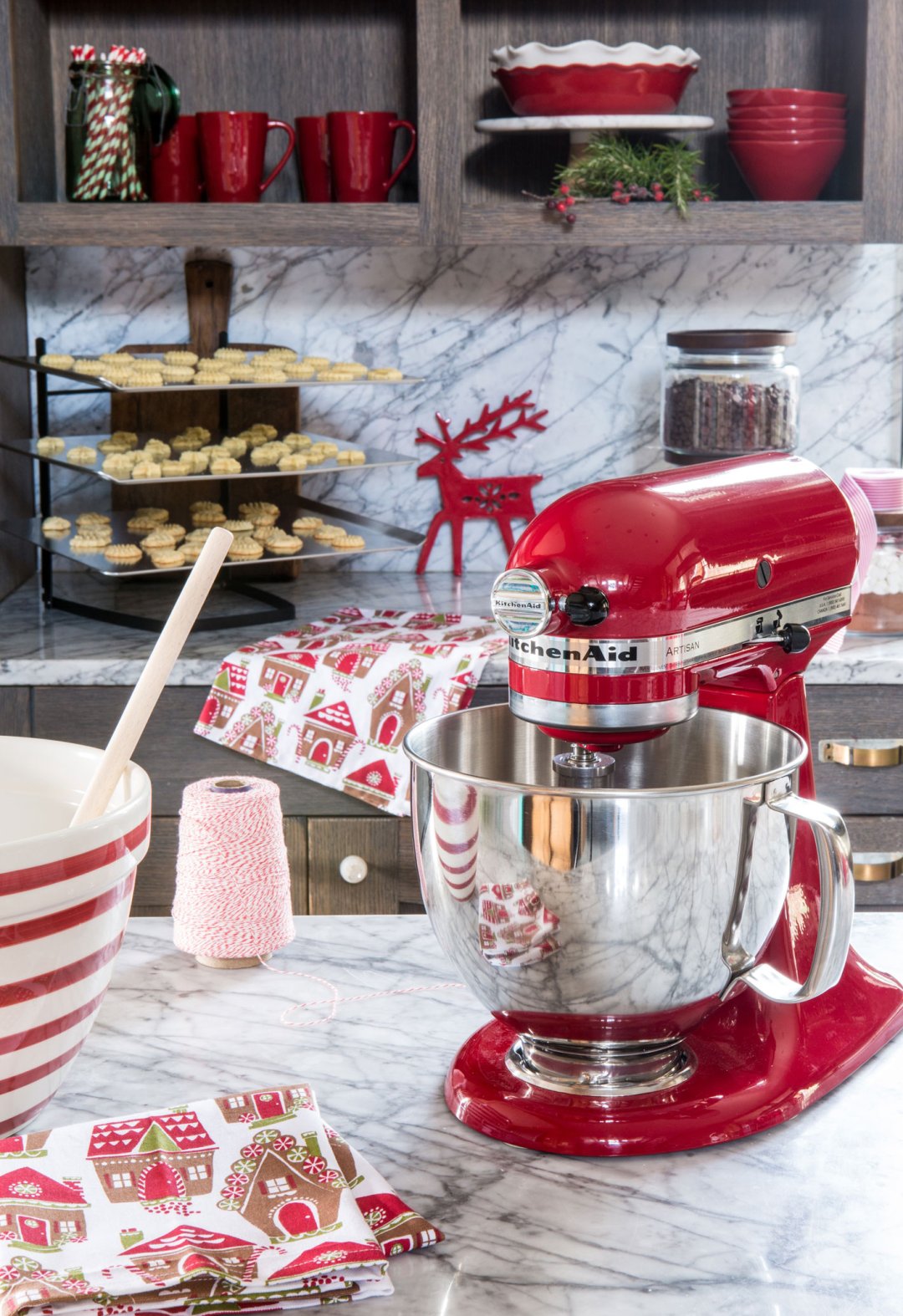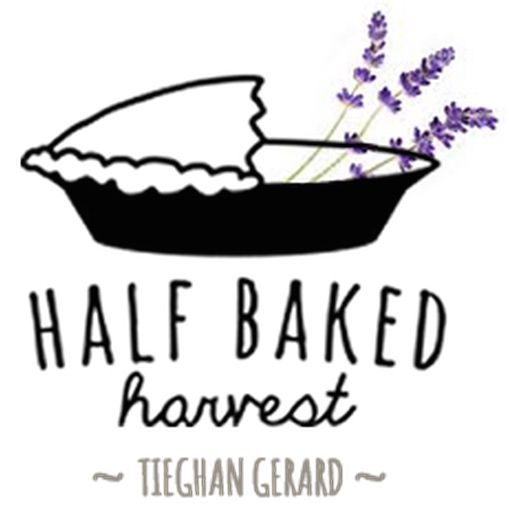 halfbakedharvest.com
Have someone on your list with a serious sweet tooth? We've partnered with Tieghan Gerard of Half Baked Harvest to create three delicious gifts that your guests will love to receive this season.
I couldn't be more excited that the holidays are upon us. To me, Christmas is all about being with family and close friends, baking sweet treats, and cozying up by the fire with a big mug of hot chocolate (preferably my gingerbread hot chocolate). Oh, and we can't forget the sugar cookies for dipping!
When it comes to holiday gifting, I really like to get crafty and have a little fun. This year I'm making all homemade edible gifts. Yum!
I'm all about giving a gift that someone will really love. For me, there's nothing better than receiving a present that someone put time and effort into making. And what gift says that better then something freshly baked? I mean who can resist a tin full of delicious Vanilla Bean Christmas cookies, a jar full of homemade Gingerbread Hot Cocoa Mix, or intensely fudge Milk Chocolate Truffle Brownies. Honestly, these will be the most cherished gifts you'll give this holiday season.
Ok, so let's dive into each gift one by one:
Gift One: Vanilla Bean Spritz Cookies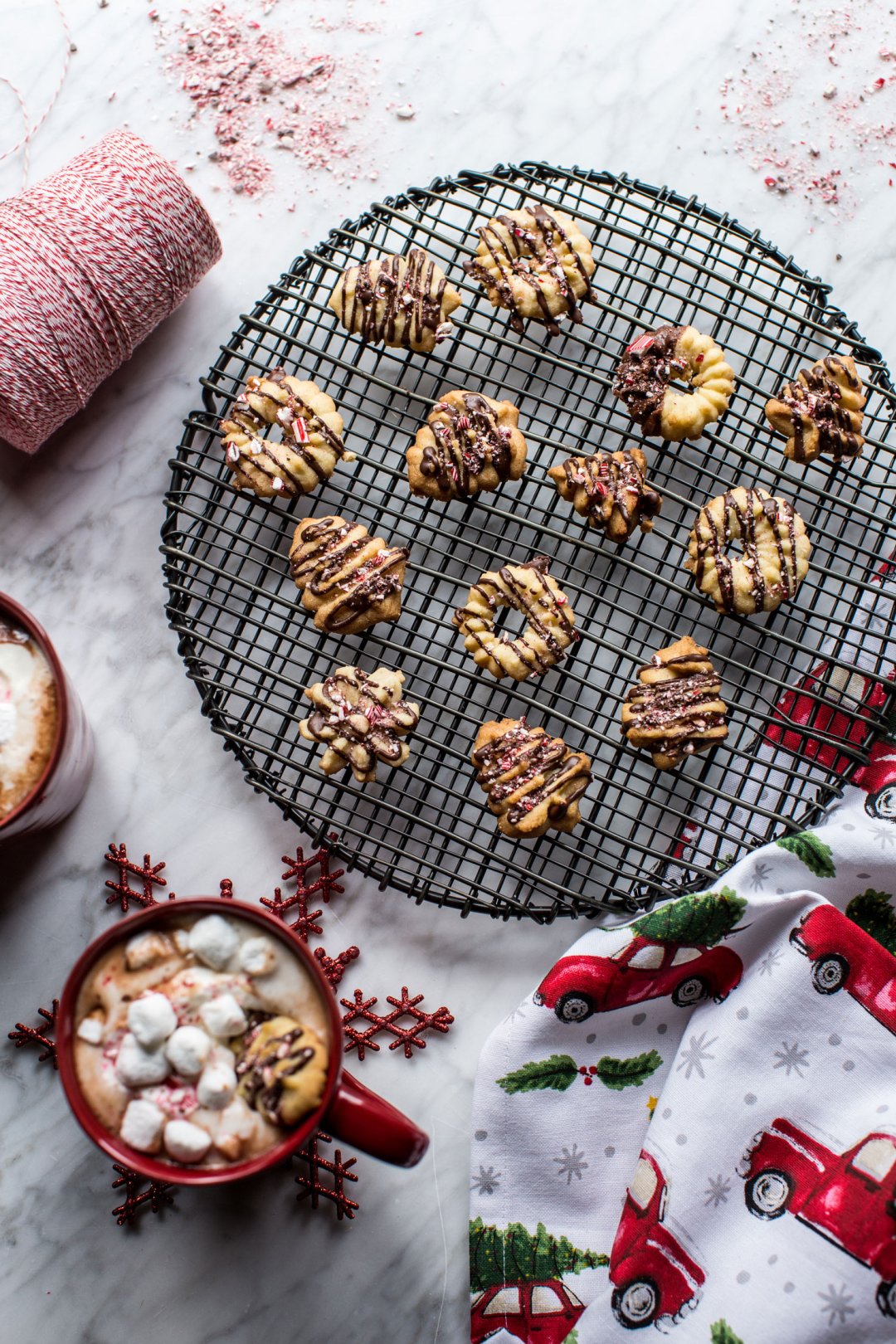 Look at these cute little Vanilla Bean Spritz Cookies!! Oh how I love these cookies. They're buttery, sweet and all kinds of deliciousness. The best part…decorating these cookies is a breeze.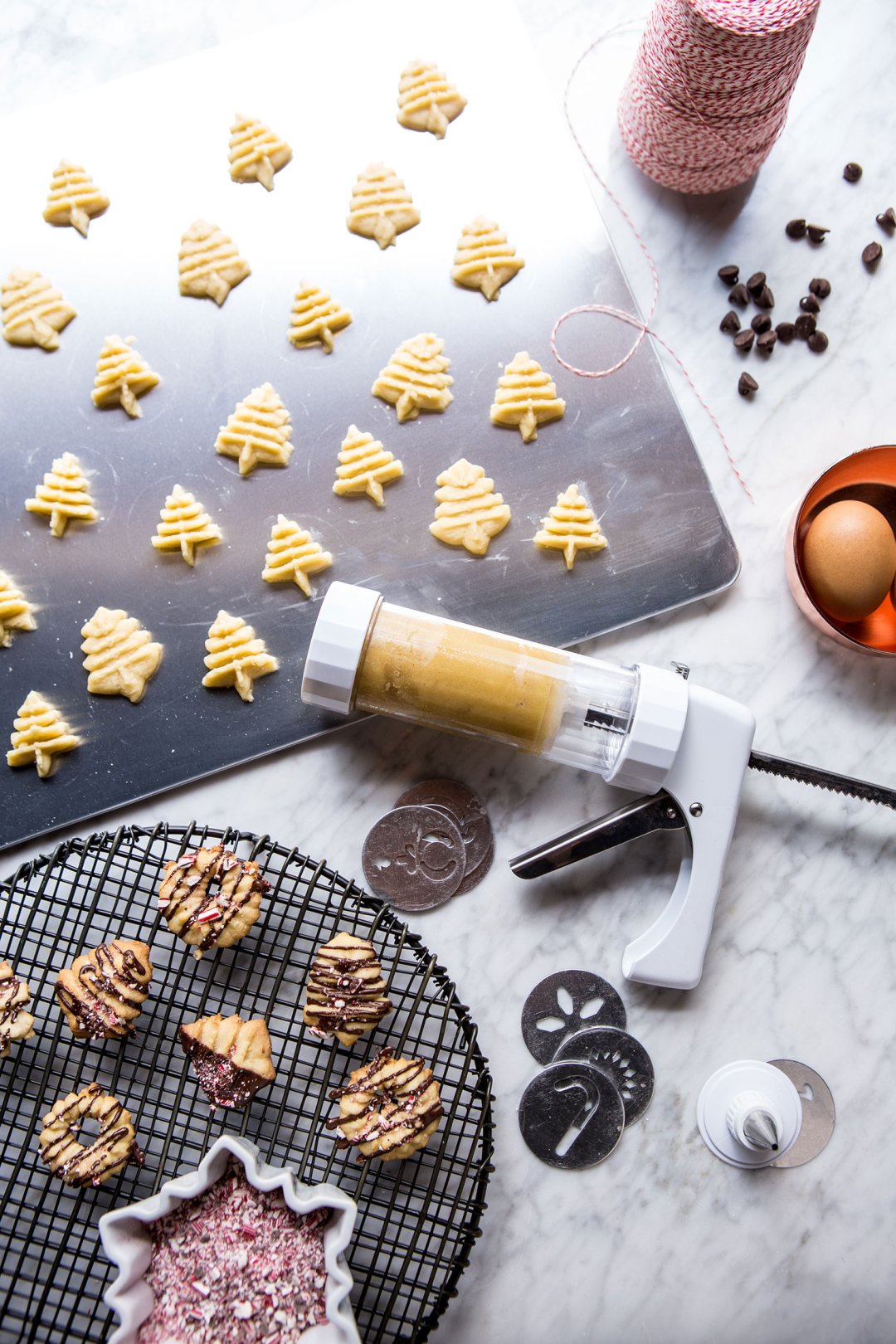 Thanks to Crate and Barrel's Cookie Press, the shapes are already made for us, which makes creating the perfect holiday cookie effortless! Got to love a holiday baking shortcut. I like to dip these cookies in a little chocolate and then sprinkle with crushed candy canes for an extra special touch. Then just place them neatly in a cookie tin and off they'll go!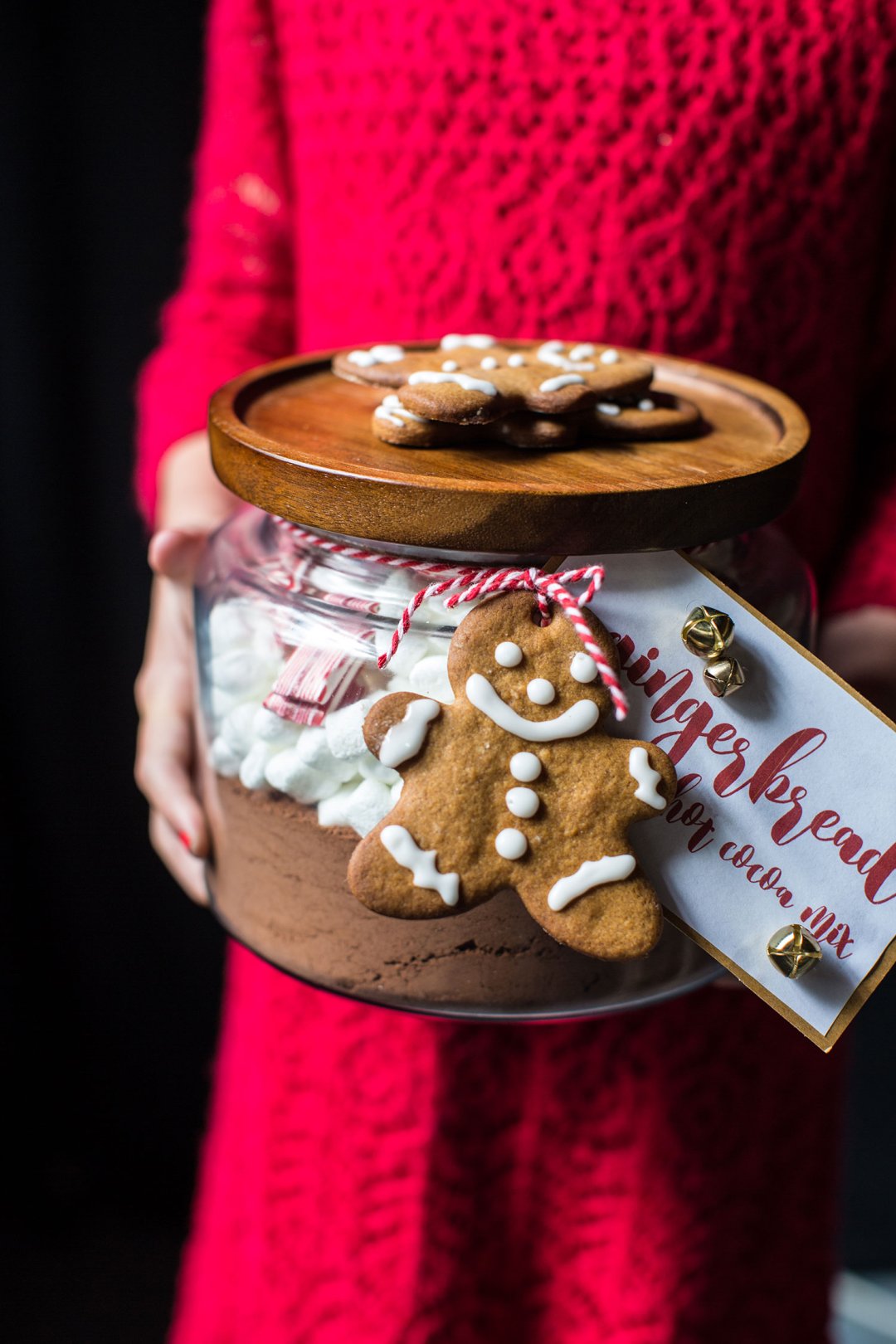 Gift Two: Gingerbread Hot Cocoa Mix
My mom has passed down a few things over the years, and one of those little things would be a deep love for all things hot chocolate. One of my very favorite things to do during the holidays is sip a steaming cup of hot cocoa while sitting by the fire, listening to Christmas music, and decorating the tree. As cheesy as that may sound, I truly look forward to this all year round. So to me, the gift of homemade hot cocoa mix sounds perfect! To keep things extra fun and festive, I love gifting gingerbread hot cocoa mix. It's just so festive and too good! The best part about this homemade gift is that it truly could not be easier. You just need a glass jar, some fun decorations, and tons of marshmallows for the top of each jar. Perfection!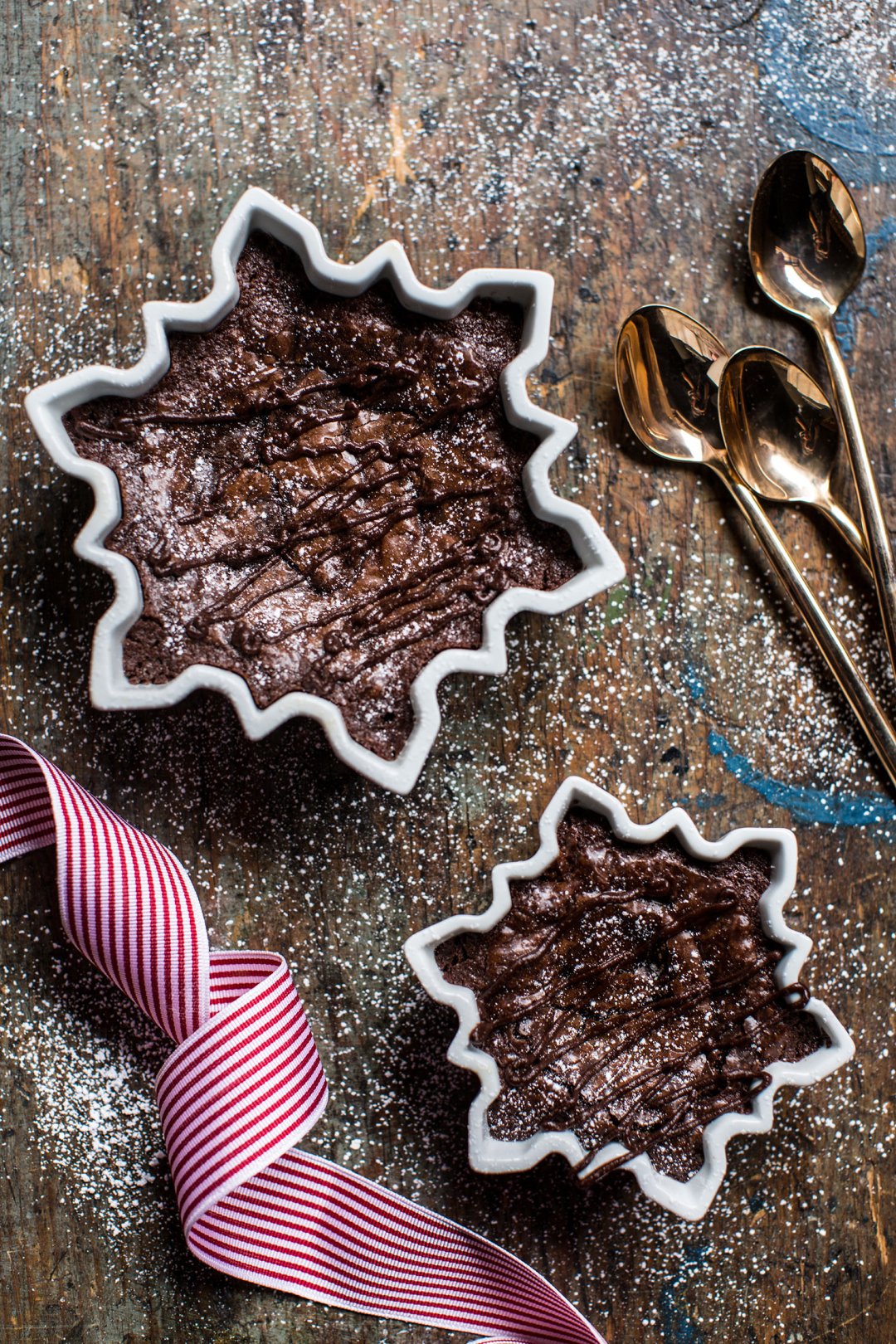 Gift Three: Milk Chocolate Truffle Brownies
YES! I feel like these need very little explanation. I mean, Chocolate. Truffle. Brownies…The name alone says everything. These are my all-time favorite brownies, and one of my favorite gifts to bring to a holiday party. I like to either bake them in a brownie pan, cut into squares and set them on a cute holiday plate, or bake them individually in Crate and Barrel's snowflake ramekins (I love these, they are so adorable!) Then just wrap the plate or ramekin in cellophane and tie the brownies up with a festive holiday ribbon. Either way, these are so fun to give, and most importantly…SO YUMMY!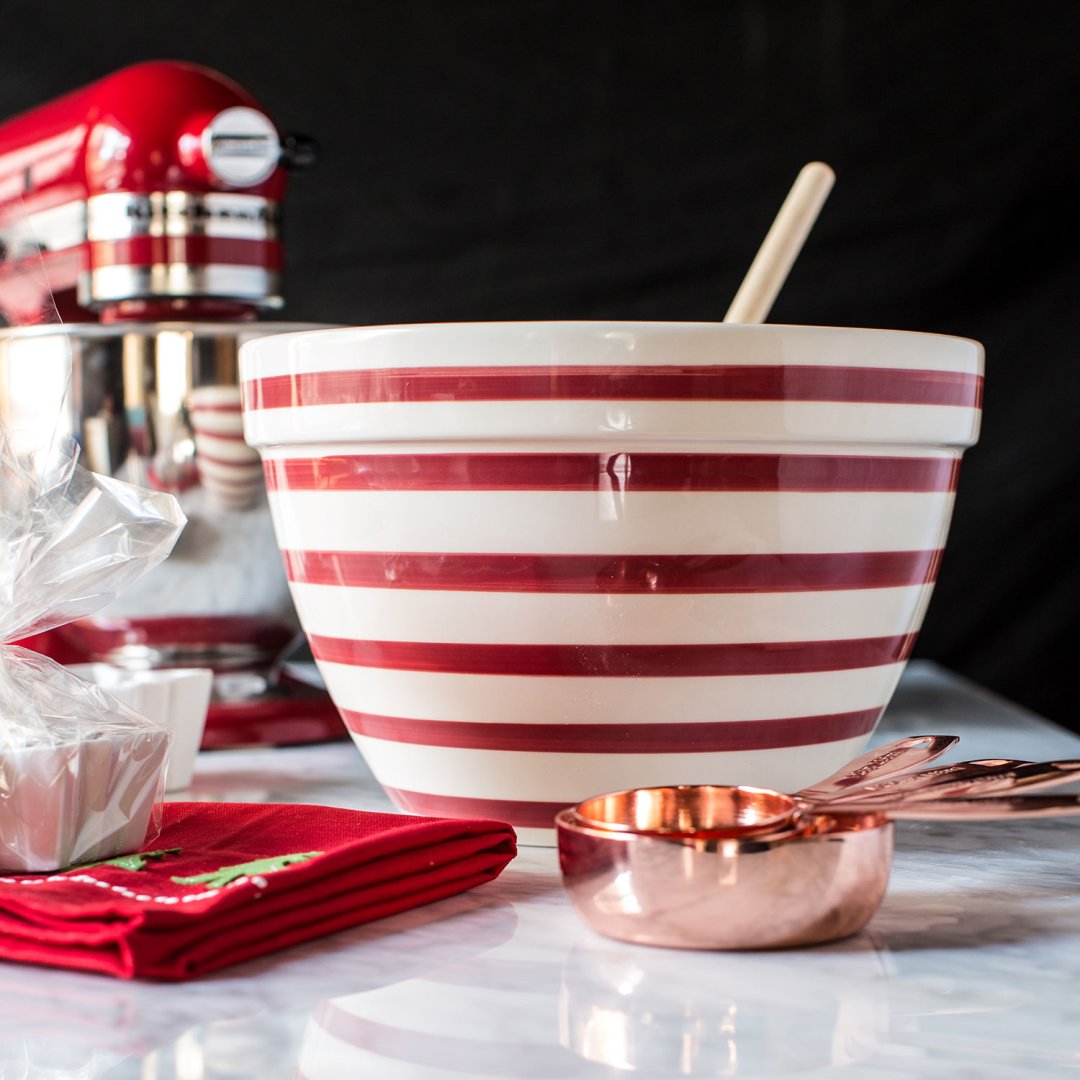 So, have I now convinced you that homemade gifts are the way to go this holiday season? I'm hoping that this inspires you to create some great gifts for friends and family, with a little help from my friends at Crate and Barrel…of course!
Happy Holiday Gifting!
Vanilla Bean Spritz Cookies
Makes about 5 dozen cookies
3 sticks unsalted butter, at room temperature
1 cup granulated sugar
1 vanilla bean, seeds scraped out
3 1/2 cups all-purpose flour
1 teaspoon kosher salt
8 ounces semi-sweet or milk chocolate, melted
Crushed candy canes, for decorating
Preheat the oven to 350 degrees F.
In the bowl of a stand mixer, cream the butter, sugar and vanilla bean seeds until light and fluffy, about a full 3-5 minutes.
Add the salt plus half the flour, beating until combined. Then add the remaining flour and beat until the dough forms a ball. If the dough feels dry to touch, add 1-2 teaspoons water.
Place the dough in the cookie press. Press your desired shapes onto an ungreased cookie sheet. Bake 5-8 minutes or until just set, but not yet golden. Remove and let cool.
Dip or drizzle with chocolate and place back on the baking sheet, sprinkle with crushed candy canes. Allow the chocolate to set or stick in the fridge for 15 minutes to help the chocolate set faster. Store in an airtight container.
Gingerbread Hot Cocoa Mix
Makes 12-16 cups of hot cocoa
2 cups cocoa powder
12 ounces milk chocolate, chopped
4 ounces white chocolate, chopped
1 vanilla bean, seeds scrapped out
2 teaspoons ground cinnamon
2 teaspoons ground ginger
1/4 teaspoon cloves
1/4 teaspoon nutmeg
1/4 teaspoon black pepper
1/4 teaspoon flaky seas salt
1-2 cups mini marshmallows
Combine all the ingredients in a food processor. If needed, do this in two batches. Process until the chocolate is finely ground and the mix looks like hot cocoa mix.
Store each mix in a glass jar or other container with a tight fitting lid. Fill the remainder of the jar with marshmallows. Label and decorate the jar as desired.
To Make 1 cup of Hot Cocoa
Add the 12 ounces steaming milk to a large mug and whisk in 2-4 tablespoons hot cocoa mix. I like to use between 3-4 tablespoons of mix, but start with 2 tablespoons and go up from there. Whisk until fully combined and enjoy with your desired toppings!
Milk Chocolate Truffle Brownies
Makes: 16 Brownies
10 tablespoons unsalted butter
2 ounces milk chocolate, chopped
1 cup granulated sugar
1 tablespoon instant coffee
2 teaspoons vanilla extract
1 tablespoon coffee flavored liqueur (optional, but so good!)
2 large eggs
1/2 cup cocoa powder
1/2 cup all-purpose flour
1/4 teaspoon kosher salt
4 ounces milk chocolate chopped
Truffle Layer:
3 tablespoons heavy cream
2 tablespoons creamy peanut butter
1/2 tablespoon coffee flavored liqueur
Powdered sugar, for dusting (optional)
Preheat the oven to 325 degrees F. Line an 8×8 inch baking dish with parchment paper or foil, let the edges overhang from the pan.
Add the butter and 2 ounces milk chocolate to a medium size mixing bowl that is microwave safe. Microwave the butter and chocolate on 30-second intervals, stirring after each interval, until melted and smooth. This takes me about 1 minute and 30 seconds.
To the melted chocolate mixture add the sugar and instant coffee, whisking until completely combined. Add the vanilla, coffee flavored liqueur and egg and whisk until smooth. Stir in the cocoa powder, flour and salt until smooth and just combined, try not to over mix the batter, it will be thick. Stir in the remaining 4 ounces chopped milk chocolate. Pour the batter into the prepared pan and bake for 25-30 minutes, until the brownies are set on top. Do not over bake, if anything under bake.
Meanwhile make the truffle layer. Add the 3 ounces semi-sweet chocolate and the cream to a microwave safe bowl. Microwave the chocolate and cream on 30-second intervals, stirring after each interval, until melted and smooth. This takes me about 1 minute. Stir in the peanut butter and Kahlua until smooth.
Remove the brownies from the oven and let cool for 5 minutes, then lift out of the pan. Pour or drizzle the chocolate truffle/ganache right over the brownies. Allow the brownies to set at least one hour in the fridge or two hours at room temperature before cutting. I personally like them best at room temp so everything is soft and fudgy. Dust with powdered sugar if desired.
Get more ideas for sweets you'll love in the Holiday section of our blog!