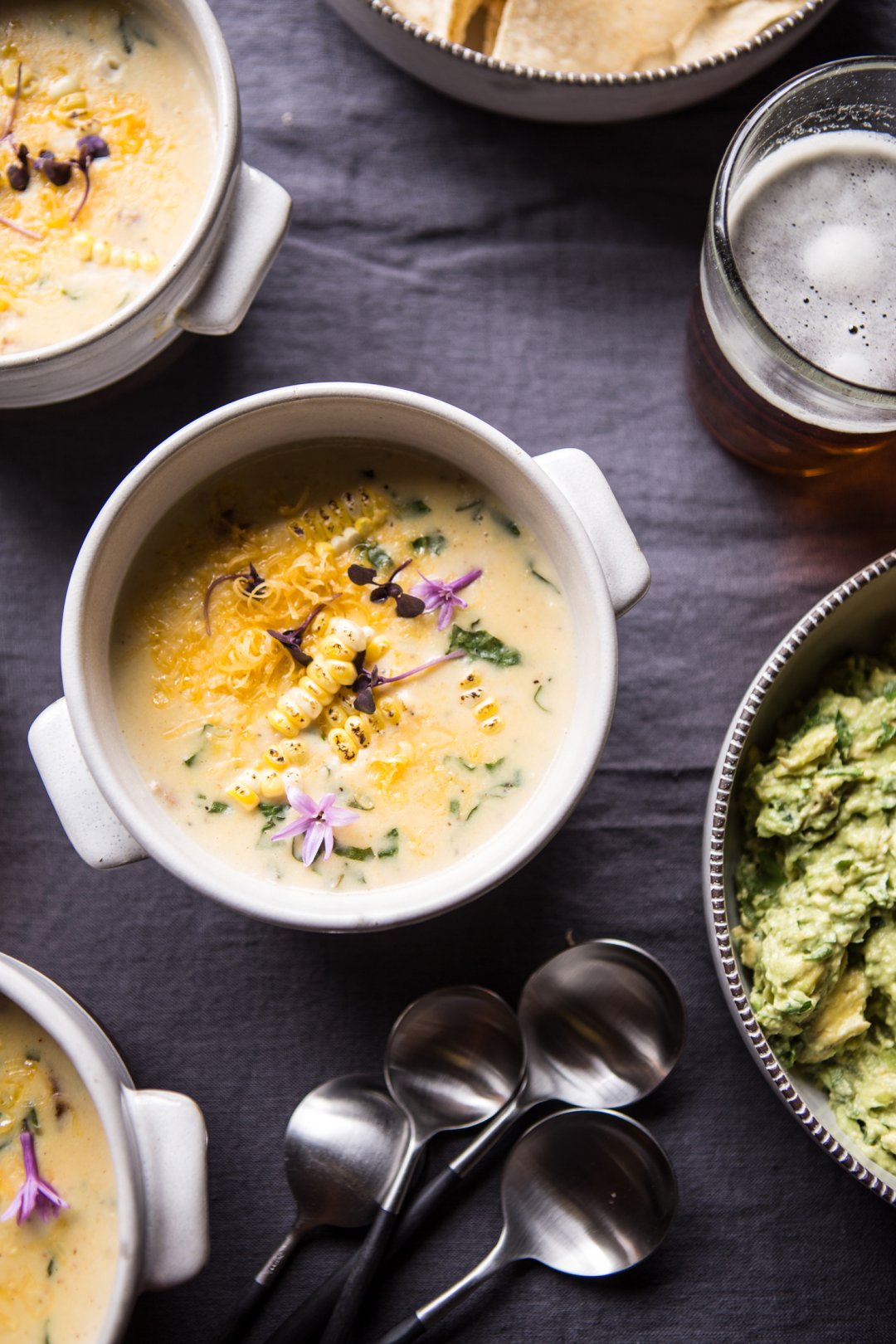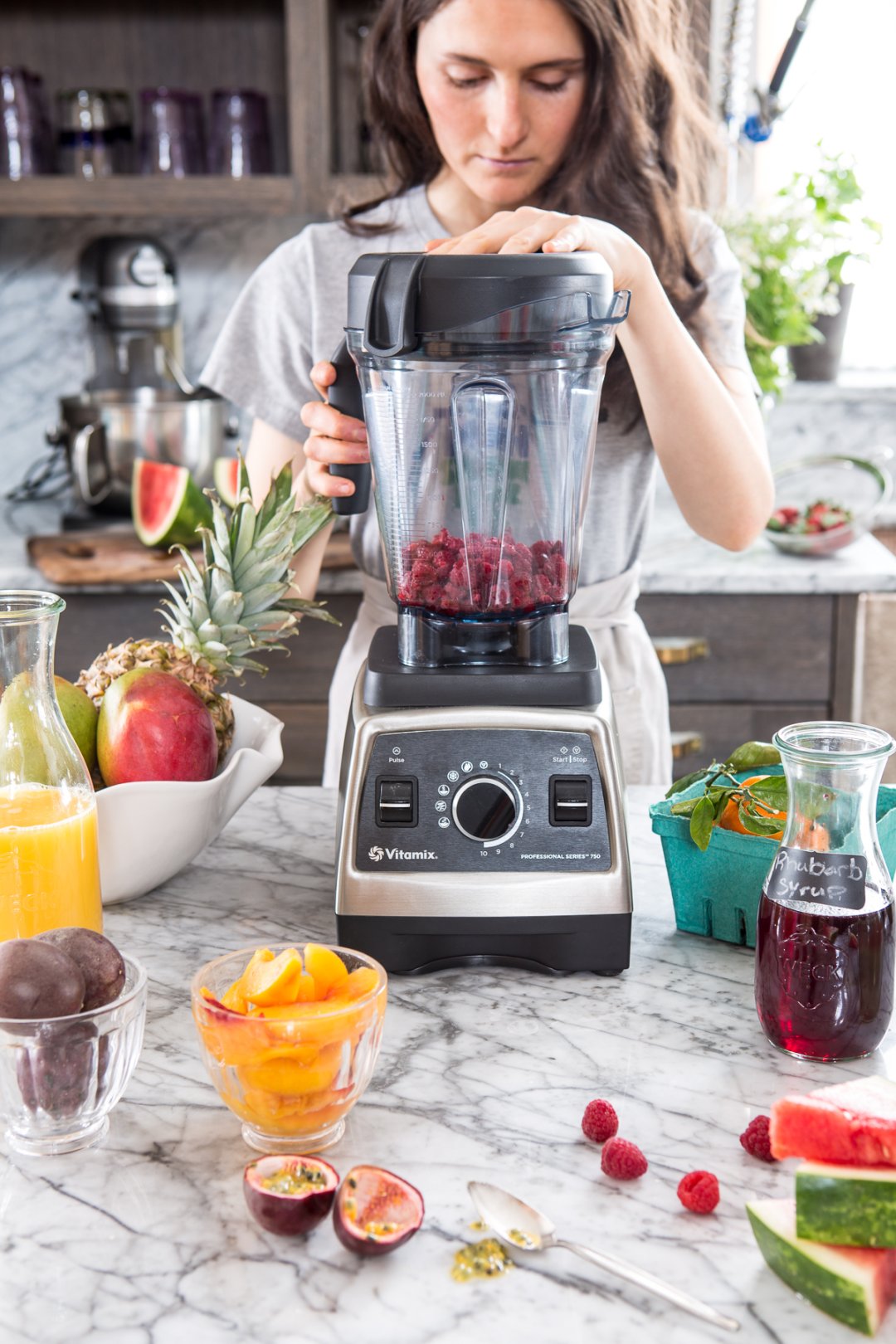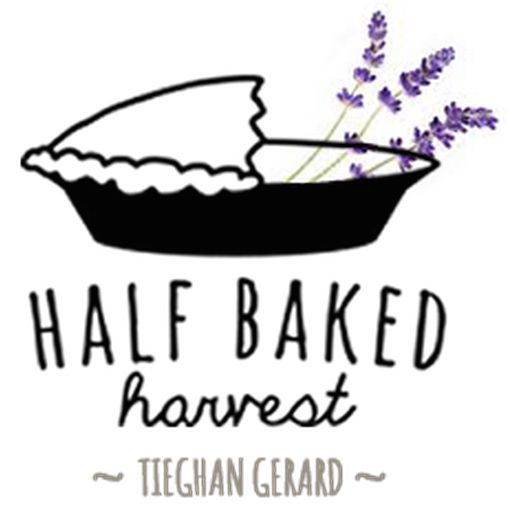 halfbakedharvest.com
This summer, we're taking a foodie road trip to visit some of our favorite bloggers, so they can share a little about what makes the food in their corner of the United States special.
Next stop? Tieghan Gerard, founder of Half Baked Harvest, in the Colorado mountains.
You guys…summer is finally here! That means a few truly awesome things for me. One – sunny skies, flip-flops and warm weather (or as warm as it gets here in the Colorado mountains…aka 72°F). Two – fresh berries galore. And three?!?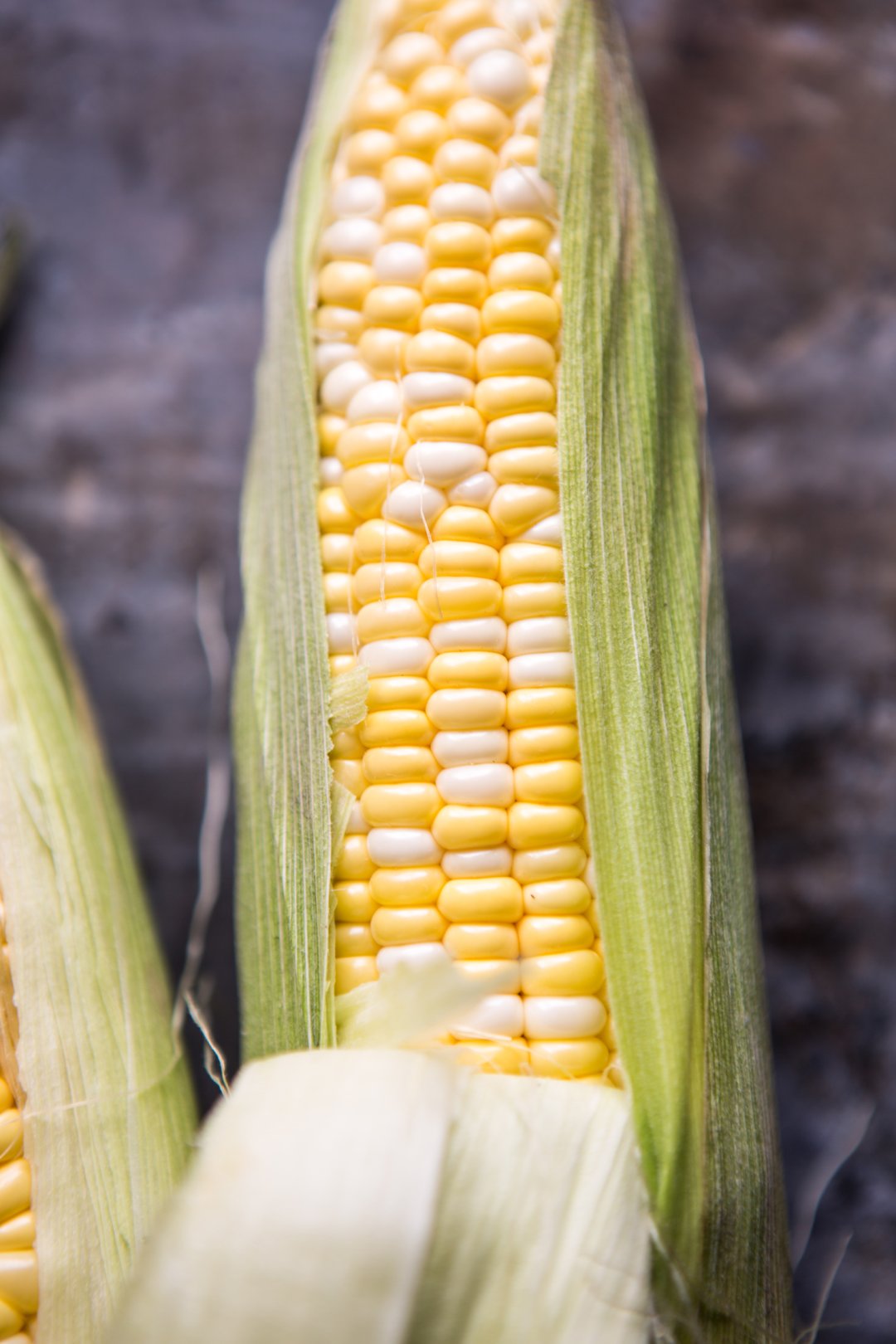 All the corn I can possibly eat in a three-month period! Gotta love sweet, summer corn!
Today I'm sharing a fun twist on the classic summer corn bisque. Living in Colorado, I get to experience a lot of southwest inspired foods. I'm talking chips and authentic guacamole, tacos, burritos, salsas, fresh tamales and summer BBQ's (one of the country's largest is held right here in Frisco). This is great for me because I love a little southwest flare!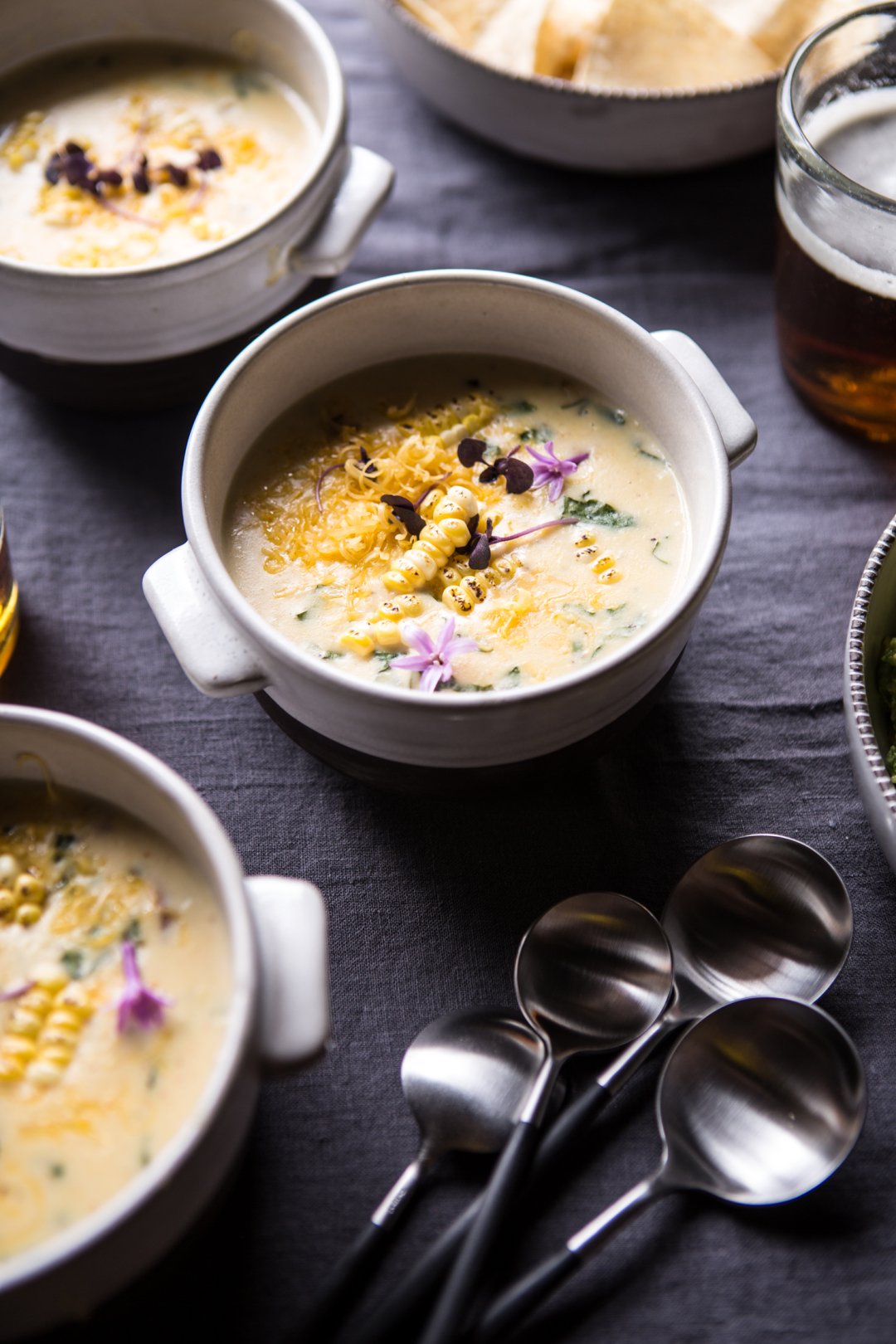 This Summer Corn Bisque is similar to the classic, but kicked up a notch with ingredients like poblano peppers, chili powder and oregano. To me, adding these ingredients just made sense. Corn is heavily used in Mexican/southwest inspired cooking, so a corn bisque with a little heat just felt right. It's not too spicy and the heat is balanced out with a little honey, making for the perfect sweet and spicy combo. What I love most about this bisque is how fresh it is. You can use the corn, peppers and fresh basil from your summer garden or local farmer's market. All the remaining ingredients are pretty much pantry staples…well with the exception of the bacon. ☺
My favorite way to serve up this bisque is topped with fresh grilled corn kernels, shredded cheddar cheese and garlic flowers and/or chopped chives from the garden.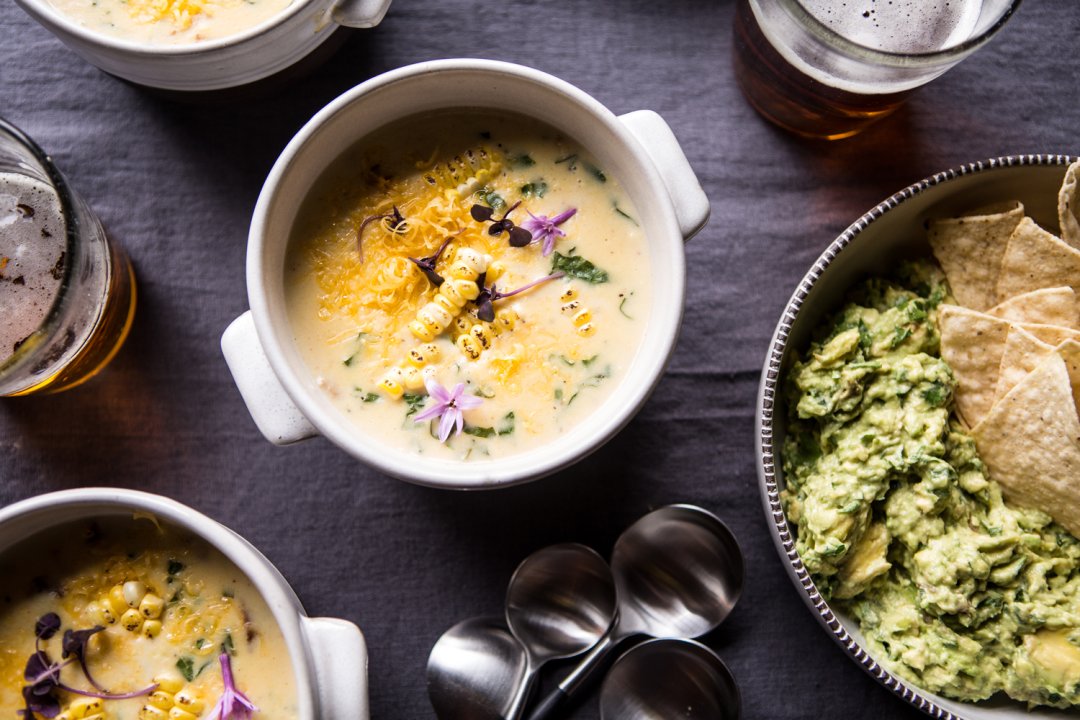 And on the side? Chips and guacamole! I mean, obviously.
This corn bisque recipe is simple, pretty and great for entertaining. The bisque can be prepared in advance and warmed just before serving. You can serve the soup as a light main with a side of beer bread (or chips, guacamole and salsa) or you can also serve it as a starter course with grilled steak, marinated chicken or any other summer inspired southwest dish.
For drinks? Cold beer, mango margaritas or a fresh watermelon agua fresca for the non-alcohol drinkers in your group! And there you go, a quick and simple summer dinner with a little southwest fun!
Summer Corn Bisque Recipe
Prep Time: 10 minutes
Cook Time: 30 minutes
Total Time: 40 minutes
Serves: 4
Ingredients
4 slices bacon, chopped
2 tablespoons butter
2 green onions, chopped
1 poblano pepper, seeded + chopped
2 cloves garlic, minced or grated
2 tablespoons flour
1 teaspoon chili powder
1/2 teaspoon dried oregano
Pinch of cayenne pepper
Kosher salt and pepper
4 cups low sodium chicken broth
2 cups whole milk
1 baking potato, peeled and cut into 1/2-inch pieces
6 cups fresh or frozen yellow corn (about 8 ears)
1 tablespoon honey
1/3 cup fresh basil, chopped
Shredded cheddar cheese, for serving
Grilled corn kernels and chopped chives, for serving (optional)
Heat a large soup pot over medium heat. Add the bacon and cook until the bacon is crisp, about 5 minutes. Remove the bacon and drain on paper towels. Set aside. Drain off all but 1 tablespoon of the bacon grease and return the pot to medium heat.
Add the butter, white parts of the green onion (reserve the green parts for later) and the poblano pepper, cook for 3-4 minutes or until the pepper is soft. Add the garlic and cook another minute or until fragrant. Stir in the flour, chili powder, oregano and a pinch of cayenne pepper (adding more or less to your taste). Season with salt + pepper.
Slowly pour in the chicken broth and milk. Add the potatoes and corn. Cover and simmer 15 to 20 minutes or until the potatoes are fork tender. Stir in the reserved green onions, honey and reserved bacon. Simmer over LOW heat until ready to serve. Just before serving, stir in the basil. Taste and adjust salt + pepper.
Divide the bisque among bowls and top with grilled corn kernels and shredded cheddar.
Miss a stop on our road trip? Catch up.