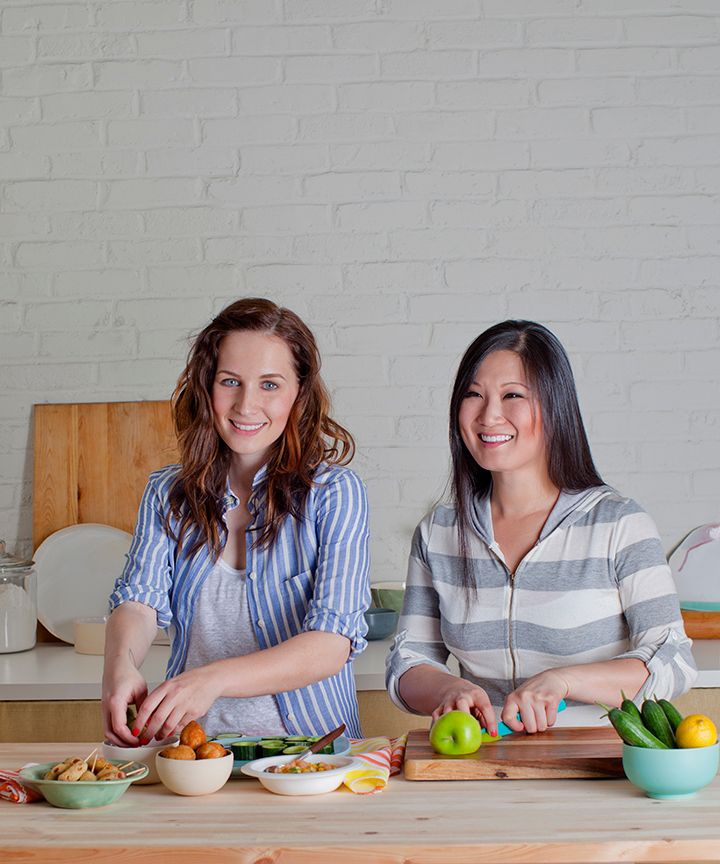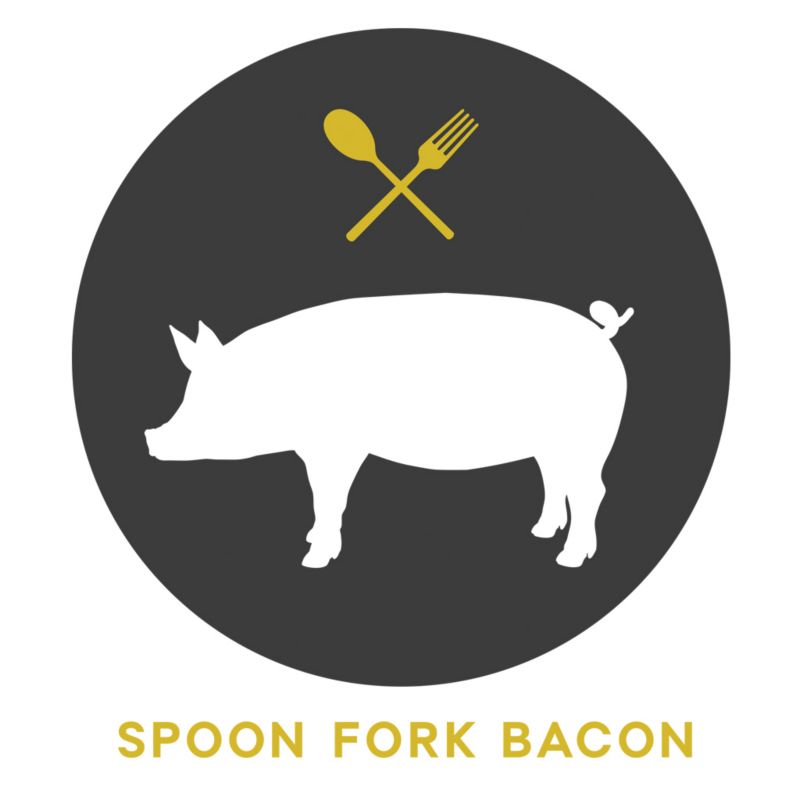 spoonforkbacon.com
Skip the traditional Halloween fare this year. We've partnered with Teri Lyn Fisher and Jenny Park, founders of Spoon Fork Bacon, to create a unique sophisticated spin on the spooky Halloween dinner party.
Hi, guys! When the lovely folks at Crate and Barrel asked us to whip something up for this Halloween, we were super excited! Halloween is such a fun time of year for kids, but adults, too, so we decided to do a little bit of a sophisticated take on a Halloween dinner party, inspired by the colors black, grey and white.

We came up with a simple, but delicious menu including a smoked white fish crudo topped with caviar and finished with shaved carrots, a white heirloom radish salad finished with fresh blackberries and black lava salt, an easy squid ink pasta garnished with freshly shaved parmesan, charcoal bread rolls finished with poppy seeds, and for dessert, luscious black sesame panna cotta topped with crushed chocolate wafers and shredded coconut flakes. Last, but not least, we served a 'tickle your nose' lemon gin fizz! Whew!

We loved creating a dramatic effect for each dish by using items such as black lava salt (found at most specialty markets or online), black sesame seeds (found at most grocery stores/Asian market and online), all natural edible charcoal powder (found at specialty markets and online) and squid ink (found at most fish markets/specialty markets and online), paired against white or other light colored ingredients. We also love keeping things easy by only using a handful of fresh ingredients per recipe to really allow the bright and bold flavors to come through. You can always create dark foods with food coloring, but we personally love using natural ingredients to create the fun "Halloween look" with our recipes.

To create our elegantly spooky tablescape, we started with several yards of cheesecloth, which was used for our tablecloth and wall decoration. It's inexpensive, creates a suitable ghostly Halloween vibe and is beautiful paired with fresh fall flowers and garland. We also dressed the table with small votive candles and an easy, but dramatic DIY fall centerpiece. If you do have time to create your own arrangement, we encourage you to visit your local farmers market or flower market for inspiration. It's fun, inexpensive and much more unique.
We hope we've inspired you to get out there and have a little fun with your Halloween dinner party this year by doing something a little different! Enjoy! ~Jenny +Teri
Lemon Gin Fizz

Makes 1
Ingredients
1 ounce gin
1 ounce fresh lemon juice
1/2 ounce orange-flavored cognac liqueur (or triple sec)
1 egg white
Ice
Rimming Salt
1 tablespoon honey
1/4 cup black lava salt
Directions
Spread honey into a thin layer on a plate. On another plate, spread black salt into a thin layer.
Carefully press the rim of the glass into the honey, then into the salt until evenly coated. Set aside.
Place gin, lemon juice, orange liqueur, and egg white into a cocktail shaker and fill with ice. Cover and shake vigorously for 1 to 2 minutes.
Carefully strain into the prepared cocktail glass and serve.
White Heirloom Radish Salad

Serves 3 to 4
Ingredients
1 tablespoon unsalted butter, melted and cooled
1 tablespoon lemon juice
1 teaspoon honey
1/4 teaspoon cracked black pepper
2 bunches of white heirloom radishes, stems removed and halved lengthwise
4 ounces fresh blackberries
1/2 cup yellow pea shoots
1/2 teaspoon black lava salt
Directions
Place first four ingredients into a large mixing bowl and whisk together.
Add radishes and toss together until well coated.
Place the radishes onto a large plate, in a single layer.
Top with fresh blackberries, pea shoots and a sprinkle of black lava salt. Serve.
Smoked White Fish Crudo

Serves 3 to 4
Ingredients
1/2 lemon, juiced
8 ounces thinly sliced, smoked white fish (such as cod or halibut)
1 heirloom purple carrot, cleaned and shaved
1/4 ounce black roe (such as tobiko) or caviar
Directions
Brush lemon juice onto the surface of the serving plate.
Lay pieces of smoked fish over the lemon juice, creating a thin layer.
Top smoked fish with the shaved carrot and roe or caviar. Serve immediately.
Simple Squid Ink Pasta with Garlic

Serves 6 to 8
Ingredients
1 lb. squid ink pasta
1/4 cup unsalted butter
2 tablespoons extra virgin olive oil
2 tablespoons squid ink
4 garlic cloves, minced
salt and pepper to taste
Garnish
shaved Parmesan cheese
lemon zest, optional
Directions
Fill a large pot with water and bring to a boil. Add a handful of salt followed by the pasta. Boil pasta until al dente, 6 to 8 minutes, stirring occasionally. Drain pasta into a colander and set it aside until ready to use.
Place a large skillet over medium heat and melt butter and oil together.
Stir in squid ink until smooth. Add garlic and sauté for 2 to 3 minutes.
Add pasta to the skillet and toss together with the sauce. Lightly season with salt and pepper. Cook for 2 to 3 minutes or until pasta is completely coated.
Top pasta with lots of freshly shaved Parmesan and lemon zest, if using. Serve.
Black Sesame Panna Cotta

Makes 3 cups
Ingredients for Black Sesame Paste
1/3 cup black sesame seeds
1/4 cup honey
1/2 cup granulated sugar
Warm water, as needed
Ingredients for Panna Cotta
1 1/4 cup whole milk
1 1/4 cup heavy cream
1/2 cup granulated sugar
4 sheets gelatin (or 1 tablespoon powdered gelatin)
1/4 cup black sesame paste (see ingredients above; save remaining paste for future use)
Ingredients for Garnish
Crushed chocolate wafers
Shredded coconut flakes
Directions for Black Sesame Paste
Place black sesame seeds into a food processor and pulse until crushed and until oils begin to release. Add honey and process mixture until smooth. If mixture is too thick and chunky, add water, one teaspoon at a time, until paste is smooth.
Directions for Panna Cotta
Pour milk, cream, sugar and black sesame paste into a saucepan and whisk until smooth.
Place saucepan over medium-low to medium heat and simmer until sugar dissolves, stirring.
Fill a mixing bowl with ice water and add gelatin sheets* to bloom. Once sheets have become soft and pliable, stir them into the milk mixture until gelatin dissolves.
Remove milk mixture from the stove and pour into six to eight-ounce ramekins. Transfer filled ramekins to a baking sheet and place in the refrigerator to set. Allow panna cotta to set up in the refrigerator for at least four to six hours or up to 2 days.
Top with crushed chocolate wafers and shredded coconut flakes, if using. Serve.
*If using powdered gelatin, bloom in about 1/3 cup of ice-cold water by sprinkling the powder over the water. After a few minutes, the gelatin will absorb the water and expand. Stir this into your milk mixture until fully dissolved.
For more ideas for a sophisticated Halloween party, check out the Crate and Barrel Pinterest board.