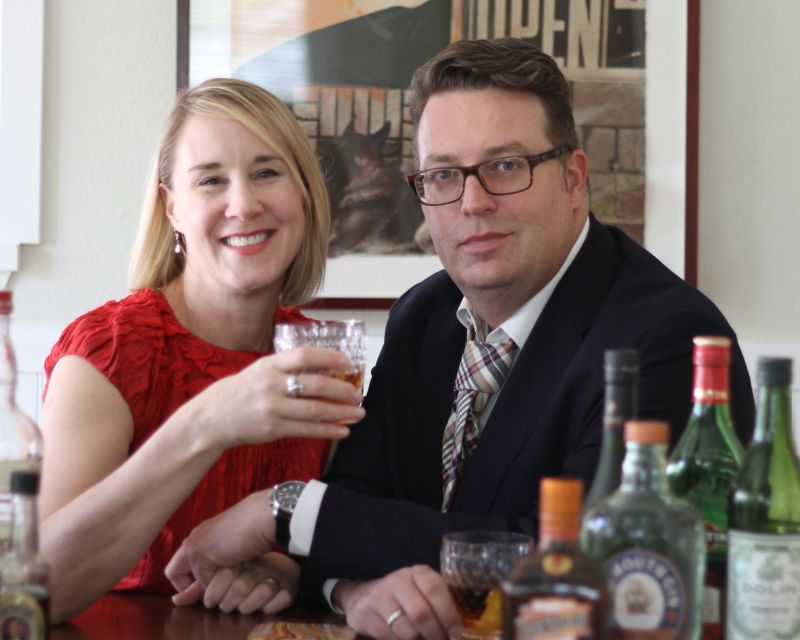 12bottlebar.com
The perfect holiday, Just Like That™. This holiday season we've partnered with some of our favorite bloggers who will be showing you new and inspirational ways to bring the holidays home.
Entertaining this holiday season? We've partnered with David and Lesley Jacobs Solmonson of 12 Bottle Bar to bring you 12 new cocktails, one each week from now until New Years. Cheers!
In the interest of full disclosure, if we had named the Montpeculiar, it likely would be called the Hail Mary. At the eleventh hour of putting The 12 Bottle Bar Book together, we were short on cider drinks, and we sent a call out to our community of bartender friends. The valiant person to answer the call first was Naomi Schimek, then the beverage director of Los Angeles' The Spare Room. The challenge we put forth was for an original hard cider recipe. What Ms. Schimek delivered was autumn in Vermont, conveniently served in a glass.
About the Montpeculiar
With the Montpeculiar, Schimek takes a traditional colonial beverage, the über-powerful Stone Fence (rum or whiskey and hard cider), tames it by lowering the hard spirit and brings in additional layers of citrus, spice and herbs. The result is nothing short of whisking your palate to the Green Mountains of Vermont, which it exactly what Schimek hopes to evoke.
If the spiciness of rye whiskey isn't your thing, other whiskeys, rum or even gin substitute very well here, and the drink easily batches for a crowd. What's not to love?
Of course, we needed a glass as opulent as the drink itself, so we used the Alegre Clear Beverage Glass as well as a set of Olivewood Coasters. We're sure you'll agree that, along with drink itself, they transport you straight to your grandma's apple orchard (even if only in your dreams). Good thing grandma didn't mind a proper drink.
Montpeculiar Recipe
Ingredients
3/4 ounce strained, freshly squeezed lemon juice
3/4 ounce ginger syrup
1 ounce rye whiskey
6 ounces hard cider
Rosemary sprig for garnish (optional)
Add the lemon juice, syrup and rye to a mixing glass, and fill the mixing glass three-quarters full with ice cubes. Cover with a shaking tin and shake until combined, about four seconds. Strain the mixture into a Collins glass with ice. Top with hard cider and garnish with a rosemary sprig.
Ginger Syrup Ingredients
8 pieces (about 1 1/2 inch each) peeled fresh ginger
4 ounces water
2/3 cup granulated sugar
Place the ginger in a food processor fitted with a steel blade and pulse for a few seconds. Add the water and puree to make a paste. Transfer the paste to a fine-mesh sieve, set it over a small bowl, and press hard on the paste with a wooden spoon to extract as much of the juice as possible, approximately 2/3 cup.
Combine the ginger juice and sugar in a small saucepan over low heat, stirring to dissolve the sugar, about five minutes. Remove from the heat. Allow the syrup to cool to room temperature and transfer to an airtight container. Store in the refrigerator for about three days.
Miss last week's holiday cocktail? Get the recipe for the Jamaica Honey Bee from 12 Bottle Bar.