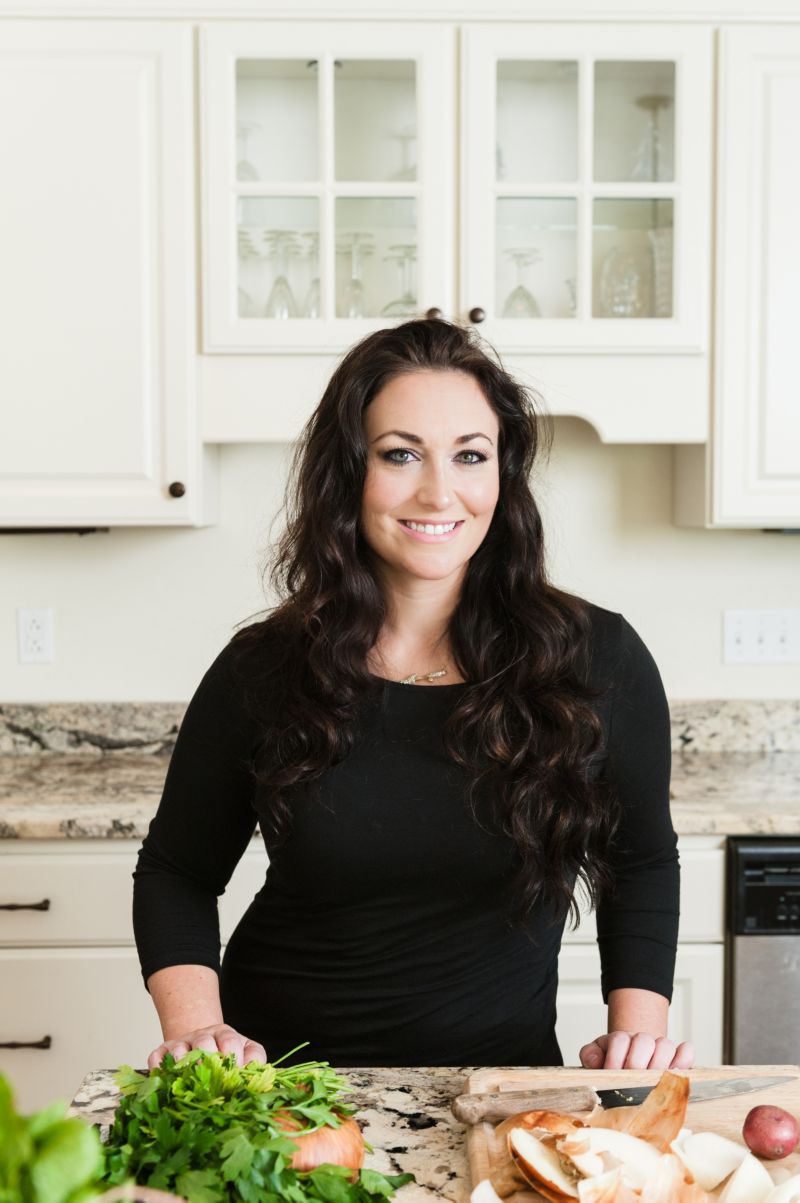 howsweeteats.com
This holiday season we've partnered with some of our favorite bloggers who will be showing you new and inspirational ways to bring the holidays home.
After appetizers comes the main event, and no Thanksgiving table is complete without turkey, stuffing and some gorgeous sweet potatoes. We've partnered with Jessica Merchant, founder of How Sweet It Is, to see how she brings a new twist to these traditional Thanksgiving menu favorites.
I'm back, I'm back! I'm back with more Thanksgiving menu twists…sort of traditional but sort of not. These are some easy recipes that are based off of my classic favorites and ones that can be whipped up for dinner–even tonight.
One of the things I have found (and still find) the most intimidating when it comes to Thanksgiving is that turkey. That big old bird. For me, personally, the best Thanksgiving food can be found among the side dishes. I will gladly down a plate full of side dishes only. And maybe follow it with dessert?
But most people are all about the turkey, and this is my solution—especially if you're having a small crowd or serving some who aren't too interested in the meat. Do a little turkey breast! It takes so much less time and is much more manageable. You can even roast two of them if you want to make sure you have leftovers for a while and a crazy day-after sandwich. Know what I'm saying?
Sweet apple cider brine and earthy sage is my favorite combo for that juicy and tender turkey. It brings the entire meal together and the entire plate too. All the flavors take on that warm autumn spice that we know and love so well.
I chose three easy sides to go with the turkey and that was…tough. I wanted to choose about ten. I'm over here all "but what about the cranberry sauce and roasted potatoes and rolls and stuff?"
Side note: I won't lie, I have a (not so) secret obsession with the cranberry sauce in a can. It's TRUE. I love it so. What does that say about me?
First up, some maple whipped sweet potatoes. These are laced with roasted garlic which is almost like caramel-y butter and adds a ton of flavor to any dish. You can make an easy gravy with your turkey drippings, but I love drizzling this with some extra maple syrup for serving! You must try. Even as a side dish tonight. Dooooo it.
Next, we have some pomegranate glazed Brussels sprouts. These are pan roasted with pomegranate molasses which sweetens up the sprouts similarly to the way balsamic vinegar would. Then, the whole mess is drizzled in brown butter (um, hi, I'm dead), covered in toasty, golden pine nuts and fresh pomegranate arils. Which are so, so pretty. This dish just screams HOLIDAYS!
Finally, we have what can easily be my favorite dish of all on Thanksgiving: the stuffing! I adore stuffing in the bird, and since this isn't technically coming out of the bird, I should probably call it dressing? It's studded with garlicky, juicy mushrooms and the best part, crispy kale. There is a ton of texture and delicious flavor, and it's everything I want to eat in life all the time.
Maple Garlic Whipped Sweet Potatoes
Serves 4
Ingredients
2 heads garlic
1 tablespoon olive oil
3 pounds sweet potatoes, peeled and cubed
4 tablespoons unsalted butter
1/3 cup half and half
¼ cup maple syrup
½ teaspoon salt
½ teaspoon pepper
¼ teaspoon freshly grated nutmeg
Directions
Preheat the oven to 350 degrees F. Slice the tops off of the heads of garlic to expose the cloves. Rub the outsides of the garlic to remove any extra papers. Drizzle the exposed cloves with olive oil and wrap the heads up in aluminum foil. Roast the heads of garlic for 45 to 60 minutes, until the cloves are golden and caramelly. Let cool to room temperature.
While the cloves are roasting, put the sweet potato cubes in a large stock pot. Cover with cold water and bring to a boil. Boil for 20 to 30 minutes, or until the sweet potatoes are fork tender. Drain the potatoes into a colander.
Put the potatoes into a large bowl or the bowl of your electric stand mixer. Beat on low speed until the potatoes break apart and start to become creamy. Add in the butter, half and half, maple syrup, salt, pepper and nutmeg. Beat again until smooth and whipped, then serve with extra butter and maple syrup. 
Pomegranate-Glazed Brussels Sprouts with Pine Nuts and Brown Butter
Serves 4
Ingredients
2 pounds Brussels sprouts, stems removed and halved
2 tablespoons olive oil
½ teaspoon salt
½ teaspoon pepper
1 tablespoon pomegranate juice
3 tablespoons pomegranate molasses
¼ cup unsalted butter
1/3 cup pine nuts
¼ cup pomegranate arils
Directions
Heat a large skillet over medium heat and add the olive oil. Stir in the Brussels sprouts and season with the salt and pepper. Cook, stirring occasionally, until the Brussels are softened and slightly golden, with some of the edges crisping up. Toss in the pomegranate juice and the pomegranate molasses and stir. Cook for another one to two minutes. Transfer the Brussels into a serving dish.
To brown the butter, heat a saucepan over medium-low heat. Add the butter and whisk constantly until it begins to bubble, about five minutes. Stir as brown bits appear on the bottom of the pan and then remove from heat. Continue to whisk for a few seconds. Drizzle the butter over the finish brussel sprouts
To toast the pine nuts, heat a saucepan over low heat. Add the nuts and cook until toasted, tossing often. Keep an eye on them the entire time so they don't burn! Top the Brussels with the toasted pine nuts and pomegranate arils.
Cider Sage Turkey Breast
Serves 4
Ingredients
3 cups apple cider
3 cups cold water
1 cup salt
6 cinnamon sticks
4 to 5 pound turkey breast
3 tablespoons olive oil
3 tablespoons brown sugar
1 1/2 tablespoons smoked paprika
1 1/2 teaspoons dried sage
1 1/2 teaspoons garlic powder
1 1/2 teaspoons salt
1 1/2 teaspoons black pepper
1 teaspoon onion powder
Directions
The day before cooking, place the turkey in a large pot or brining bag. Stir together the apple cider, water, salt and cinnamon sticks. Pour over top and brine overnight. The day of, drain the turkey and pat it dry with paper towels. Let sit and dry for at least 4 hours.
Preheat the oven to 425 degrees F.
Mix together the brown sugar, paprika, sage, garlic powder, salt, pepper and onion powder. Rub the turkey with the olive oil and then cover the entire breast in the mixture.
Place the turkey in the oven and reduce the heat to 350 degree F. Roast for 65 to 75 minutes, until the internal temperature reaches 165 degrees F. Remove the turkey and let it rest for 20 to 30 minutes before slicing. Serve with fresh sage leaves.
Crispy Kale Stuffing
Serves 4
Ingredients
1 head of curly green kale, stems removed and leaves torn
2 tablespoons olive oil
¼ teaspoon salt
¼ teaspoon pepper
2 tablespoons unsalted butter
2 shallots, sliced
2 garlic cloves, minced
12 ounces baby Portabello mushrooms, sliced
6 cups bread cubes (I like a multigrain bread)
3 tablespoons olive oil
1/2 cups chicken or vegetable stock
Directions
Preheat the oven to 375 degrees F. Line a baking sheet with parchment paper and place the kale leaves on top. Drizzle with the olive oil and use your hands to massage the oil into the kale pieces. Season with the salt and pepper. Roast for 10 minutes, then toss and roast again for 5 minutes until just crispy.
While the kale is roasting, heat a large skillet over medium-low heat and add the butter. Add in the shallots, garlic and the mushrooms, stirring. Cook until the mushrooms are softened, stirring occasionally, about 6 to 8 minutes. Season the mixture with a pinch of salt and pepper.
In a baking dish, add the cubed bread and drizzle with olive oil. Place in the oven and bake for 8 minutes, then flip, and bake for 8 minutes more. Remove the dish and drizzle with the stock. Fold in the crispy kale and the mushroom mixture. Bake at 375 degrees F for 40-45 minutes, or until crispy and golden brown.
So we have our party drink and dip, and now a few dishes to make one big main meal. That means that there is only one thing left, right? Point me to the dessert!