Prices and availability are subject to change from the time and date that you print this page.
12/21/2014 3:52:06 PM. For Customer Service, please call 800.967.6696
Streamlined style, high performance and full functionality add up to this ultimate coffee brewing experience from Breville. Triple programming sets you up for easy brewing of a cup, travel mug or carafe; innovative Brew IQ with intelligent pre-heat function and dosing system assures ideal water temperature and the perfect amount of coffee for your chosen brew size and strength. Brew your choice of ground or whole beans, which are handled by a state-of-the-art integrated burr grinder, while the front-access swing basket makes it easy to load and discard coffee. Additional features include brew-pause, top-filling water tank, ready signal with adjustable volume control and the convenience of a heat-retaining thermal carafe.
Breville® and other Wedding Registry offers
Breville® You Brew Thermal 12 Cup Coffee Maker
Breville ® You Brew Thermal 12 Cup Coffee Maker
is rated out of
5
by
20
.
Rated

5

out of

5
by
MJPimpson
from
Great coffee maker, worth the money
I have purchased this coffee maker twice because I accidentally broke my first one by getting water in the control part. Don't try to clean it as well as I did. I looked for a cheaper replacement but nothing out there comes close to how great this one is. The carafe keeps coffee hot for hours. Be sure to follow cleaning instructions and it will continue to provide excellent coffee.
Date published: 2014-11-12
Rated

4

out of

5
by
fire_monkey
from
Minor Details
The convenience and space saving feature of the integrated burr grinder and of the triple programming more than compensate for the lack of auto shut-off and the challenge of emptying the carafe to the very last drop. I considered the fit and finish in this product and expected the brushed stainless surface to be easy to maintain, but it is a fingerprint magnet. I have been pleased with the customized strength feature, but be prepared to expend a little more effort with both set up and clean up.
Date published: 2014-08-04
Rated

5

out of

5
by
kathy
from
wonderful coffee maker
I bought this for my husband. He drinks a pot of coffee every morning. He would not spend the money to buy this himself, but would not trade it now. He loves grinding his own beans. He can walk away and the coffee pot does everything for him.
Date published: 2014-07-23
Rated

5

out of

5
by
spapow
from
Now a Breville lifer
I purchased this coffee maker in Nov 2013 as a pricey gift for myself. Worth every penny! After you read the instructions and get over the milestone of figuring out the technology involved, it's simply the best gadget in my life.Sadly something happened to my YouBrew and I contacted Breville. We troubleshooted and the customer service is 220% great! I only spoke to two tech's and they both were super friendly and very helpful. I was so pleased I got a hold of my boyfriend and told him, "All our future kitchen gadgets will have to be Breville from now on", ha ha. I wasn't kidding though. The customer service made the purchase well worth it.
Date published: 2014-04-10
Rated

4

out of

5
by
TiffanyB
from
Easy coffee but not so easy cleaning
I love how everything in this product is automated, but the carafe and the blade are a pain to clean. The carafe opening is barely wide enough for me to put my hand in it with a sponge (I have small hands), and you have to be conscientious about cleaning the blade. It's also pretty loud too, but I guess it's like a regular bean blender x5.
Date published: 2014-04-07
Rated

4

out of

5
by
crystalq
from
Great Coffeemaker!
I am so happy with this coffeemaker! Breville is a great brand and I love the features on this product. Well worth the money considering I use this appliance every day!! Durability and ease of use are the name of the game!!
Date published: 2014-04-07
Rated

4

out of

5
by
elg27
from
Overall a good purchase
This coffee maker was a Christmas gift to replace a cuisinart we had for 10years! That coffee maker could no longer make a good tasting cup of coffee. I waited to write this review to really assess the pros and cons. First, I like the touch pad controls. Most are easy to use, although sometimes when I want to change brew strength it starts adjusting volume and I haven't figured out why. That being said I don't usually adjust the brew strength. The coffee seems to taste good, we do use filtered water as recommended. For me, the cleaning is the major downfall. The carafe doesn't pour as easily as it should making it a bit of a challenge to get all of the coffee out of the pot. Also, the grind holder needs to be rinsed every time (not too bad), but trying to wipe the blade that grinds the beans is a challenge and I usually only make a small dent in that. To truly get all of the beans off of the blade I would need a lot of soap and elbow grease to get it off. Not something I want to do after every pot. Also, if you are ever thinking of switching from regular to decaf you would have to remove all of the beans. No real way to do that. You can make a single cup which is a nice feature. Overall, it's a nice coffee maker, just a little tedious with the cleaning and the carafe design could probably be improved on but that is a small complaint.
Date published: 2014-04-07
Rated

5

out of

5
by
Susanne50
from
Awesome Coffee Pot
I received a coffee maker for Christmas, but it was defective so I upgraded to the Breville - You Brew! I love my coffee in the morning and this coffee maker is amazing! I love that I can preset the timer the night before, and my hot coffee is ready for me when I get up, I can brew one pot or one cup, I can use whole beans or fresh grounds, and I can adjust the strength of my coffee,and the size of my coffee cup! This has been one of my best purchases, and I am totally happy with this machine-I can't function in the morning without a great tasting first cup of coffee!
Date published: 2014-03-26
Rated

4

out of

5
by
kbristol
from
Good coffee maker
I really bought this coffee maker because of it's looks. Thankfully, it does brew good, hot coffee and is easy to use and clean as well. The carafe could be designed better. Because the pour spout is on the top and there is a lip around the top of carafe, you really have to tip it upside down to pour and getting the last cup out is tricky. However, it does keep the coffee warm for quite some time. An automatic shut off would be nice as well. I realize it probably wasn't included in the design since there is no hot plate but it would be great for it to power off once the coffee is done brewing.I feel that given it's high retail price, there should not be these basic design flaws but all in all, I'm happy with this coffee maker.
Date published: 2014-02-17
Rated

4

out of

5
by
Capelobster
from
We bought ourselves a wedding gift
We waited and waited, thinking we would let someone give this to us as a gift if they wanted to, but then we decided we just wanted to get ourselves a wedding gift.Overall, the machine seems to run well, with the exception of a few quirks:About 1 out of every 4 times the machine runs, it will shoot the grounds basket arm open after brewing, we haven't been able to discern if this is supposed to happen or notTwice now, the grinder has shot coffee grounds all over the inside of the basket (paper kind when this happens) and around the edges and down onto the pot itself and around the machine rather than into the filter where it should only be going.We've tried to research these issues on the FAQ part of Breville's website, but the links are broken and when I called they were out on holiday, so I just stopped trying.The taste and functionality of the machine is superb. So minus these quirks, which I am confident can be resolved, this was a good purchase and worth the money we feel.
Date published: 2013-02-25
Rated

5

out of

5
by
Tweevie
from
Love my coffee
We hesitated to purchase another grind and brew. We've had three of another brand in the past nine years. We love our coffee, but not the mess of grinding. We purchased this one after using my sister's. We love it, it has many options for cup and pot size, and for strength of coffee. Our household probably uses it six times a day, maybe more. So far, so good. It's a nice machine, and I will consider it worth the $$ if I get at least two years of use.
Date published: 2013-02-22
Rated

5

out of

5
by
S Moore
from
Love this Coffee Maker
I was a little concerned when the box arrived and it was HUGE. We've had it for about 6 months now, and it is a breeze to clean and make coffee. Having owned another grind/brew brand that was horrible to clean we are so happy with this purchase. Just keep the beans area full. The machine let's you know when to clean the different areas. You are even able to make single cups in your travel mugs. Don't hesitate...make the purchase.
Date published: 2013-02-22
Rated

5

out of

5
by
Lutke
from
Can't wait for my morning coffee
This is the best coffee maker ever - my coffee tastes even better than when I buy it directly from Peet's. We experimented a bit with the strength settings and we like it one shy of "strong." We love it!
Date published: 2013-01-02
Rated

5

out of

5
by
marto
from
Best coffee maker
I have been using a Saeco Odea Giro single cup coffee machine that automatically grinds the beans to make a cup. I have owned 2 of these now because something always seems to be breaking. The latest one started to make coffee that was not hot enough.Time to try a new machine. Was looking for a thermal carafe and optionally the ability to brew one cup.This machine works great. It grinds the beans and makes a great carafe or single cup of coffee. I like stronger coffee and this has a wide selection of brew strengths.Does not take any longer to clean that a standard basket coffee maker.Preheat carafe, like the instructions say, to keep the coffee hot.
Date published: 2012-12-28
Rated

5

out of

5
by
tekntonk
from
The YouBrew more than lives up to the hype!
The YouBrew more than lives up to the hype, consistently delivering an outstandingly superior cup of coffee!Positive Product Points- Brews outstanding coffee thanks to several highly-customizable strength and flavor-profile settings as well as exact water-temperature control (pre-heated automatically to the optimum temperature prior to brewing).- Easy to operate, though a manual-read-through is advised. Beautiful to look at and display. Fantastic temperature retention inside stainless-steel carafe.- Brew multiple cups of coffee straight into the carafe, brew a single cup, or brew straight into your favorite travel mug, all easily and relatively quickly.- Timer counts down until coffee brewing is complete. The YouBrew allows for mid-brewing removal of carafe, cup, or travel mug for a can't-wait sip.Negative Product Points- Takes more than a couple of minutes to clean the machine after use.- You really do have to turn the carafe upside down to get the very last bit of coffee out. Tip: Remove the lid before doing this and pour slowly. Brilliant!Detailed CommentaryPrior to purchasing this product, I had done a fair bit of research into similar machines in this class of coffee maker, and was eyeing the Technivorm Moccamaster before I learned about the Breville YouBrew. That machine matches the Moccamaster in every feature, including price point, and also allows conveniences I have come to value such as a high-quality in-machine burr grinder and an automatic timer allowing the machine to wake up and operate at a predetermined time of day. Because the YouBrew gets as much buzz and accolades as the Moccamaster (according to extensive comparative research of the two machines I studied), I decided on the YouBrew because of the inclusion of the extra features I consider vital. Additionally, I own other Breville appliances which are well-made, high-quality, and have performed in exemplary fashion.Prior to purchasing this machine, I rarely drank machine-brewed coffee, preferring to use my French Press on occasion and primarily drinking espresso and lattes I made using my Francis!Francis! X5 (which I've owned for the last near-decade and adore), but I recently decided it was diet-time and had to give up my daily latte (no, not the overly-sweetened dessert-coffee kind, but I *was* using only high-quality whole milk from the Strauss dairy in California) in favor of black coffee with just a bit of cream (I stuck with Strauss dairy for that one; no contest). Consequently, I had a pretty lackluster automatic coffee maker (Cuisinart - ugh; avoid!!) for the rare times I needed to use it, and decided it was time for a better-grade machine I planned to use daily.The YouBrew is amazing - I absolutely love it. Once I glanced through the manual, I found it quite easy to tailor the machine's settings to produce exactly the right strength and flavor-profile that suits my palate, and I have found the coffee is kept at an optimum warmth without any difficulty for several hours after brewing inside the high-quality stainless steel carafe. Reviews I read prior to purchase advised pre-heating the carafe with hot water immediately before use, but as that makes the automatic timer feature unusable, that wasn't going to work for my needs. I did try preheating as advised, however, and found it made only a slight difference in how long the coffee stays hot inside the carafe. I tend to drink the amount of coffee I brew each day too quickly for that to matter much to me anyhow. I am always highly pleased at the consistently fabulous grade and just-right taste of my brewed coffee each time I use this machine (admittedly, using only high-quality whole bean coffee freshly ground by the YouBrew just prior to brewing that is *not* sold by that major retailer everyone knows the name of probably makes a big difference).My only minor complaint (which is a bit whiny, in retrospect) is the machine takes a bit of work to clean up properly. Although the process really isn't any more involved than any other coffee maker of this type of design, because the parts are *not* dishwasher-safe I find myself spending a few minutes each day washing the parts and carafe by hand so they're ready to go for my next use. Additionally, the design of the YouBrew gives you an extra surface or two to clean -- just inside the machine is a metal 'door' that automatically opens and closes during the brewing process to act as a shield for any whole beans left in the YouBrew's hopper so steam from the brewing process does not rise up into the hopper chamber; this shield as well as the drip-and-loose-grounds-tray just below it require a wipe-down each time before the machine's next use.All told, cleaning and hand-washing the YouBrew's carafe, lid, permanent Gold-Tone filter, filter basket, the metal shield and its drip-tray takes roughly five minutes. Compared to my last coffee maker, I definitely spend more time prepping it for the next use, but I chalk this up to the sophistication and quality of the YouBrew and am more than happy to sacrifice that negligible amount of daily time in exchange for a truly superior coffee-drinking experience - it really is a small price to pay for what the YouBrew offers in return.Although I do this anyhow, it's important - no, vital - to read the instruction manual. Operation of this machine isn't rocket science, but a manual read-through will make programming and tailoring the flavor and strength profiles a snap.When considering the fantastic appearance, high-quality workmanship and design, outstanding and consistent performance, numerous easy-to-use and very effective features and customization, as well as the end-result of a very delicious cup of coffee delivered by the YouBrew, for me there really is no contest - I am a more-than-thrilled YouBrew owner and highly recommend it to anyone who is serious about the quality and flavor of their home-brew coffee ritual.
Date published: 2012-12-02
Related Products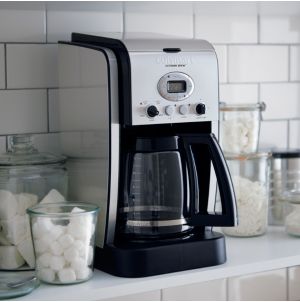 Twelve cup programmable coffee maker with re engineered extreme brew technology delivers...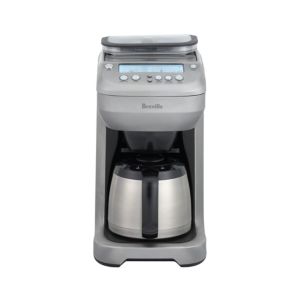 Streamlined style, high performance and full functionality add up to this ultimate...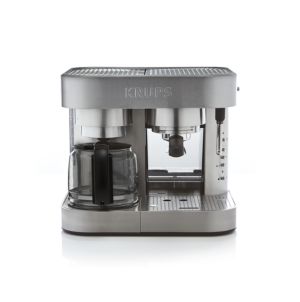 This clever combination machine serves up coffee, fast. Whether you desire a...