Prices and availability are subject to change from the time and date that you print this page.
12/22/2014 8:48:18 PM. For Customer Service, please call 800.967.6696
A unique contemporary shape in hard-anodized, heavy-gauge aluminum. Saucepan with nonstick finish heats evenly and cleans easily. Stay-cool brushed stainless handle and domed, tempered-glass lid with stainless steel rim.
Calphalon® and other Wedding Registry offers
Calphalon Contemporary™ Nonstick Shallow 2.5 qt. Saucepan with Lid
More Calphalon Contemporary™ Nonstick Cookware
Calphalon Contemporary Nonstick Shallow 2.5 qt. Saucepan with Lid
is rated out of
5
by
30
.
Rated

5

out of

5
by
Megan
from
Best item in my Kitchen
I bought this pan about 6 months ago and love it. I cook almost everything in it as it is perfect size for all my daily cooking. Food doesn't stick and it is so easy to clean. I can cook using very less oil in it, which I like the best. I hope to buy more of Calphalon products very soon.
Date published: 2014-11-17
Rated

5

out of

5
by
tacoma
from
Love this saucepan
Bought this to replace a pan I ruined (burnt sugar). I was a little apprehensive about the nonstick coating, but the pan has performed wonderfully. I also like the glass lid--easier to see product and not have to remove lid and lose heat.
Date published: 2014-11-16
Rated

5

out of

5
by
LaurenAshley
from
Excellent Nonstick Pan
I bought this pan about two months ago when I moved into my new apartment. I love the size of the pan as I am typically cooking for one or two and it is the perfect size. I also like how quick and easy it is to clean the pan due to the nonstick coating.
Date published: 2014-07-28
Rated

5

out of

5
by
yawnmower1
from
great product
I have several wonderful pans from Calphalon, including this great sauce pan. Great size for smaller soups and chili. Sturdy and first quality. But I have new respect for Calphalon now: I accidentally over-cooked, and burned, food with this pan twice and it still cleaned up with a simple washout (just be sure to let it cool down at a natural pace). The non-stick material seems virtually indestructible, and still seems good as new. Bravo -- and thanks.
Date published: 2014-06-09
Rated

5

out of

5
by
AmyL
from
This has become my first choice
I was looking for a 3 or 4 qt pot to add to my cooking set. Even though this is 2.5 qt, the shape makes it a very useful size for cooking larger portions of pastas and vegetables. 
Date published: 2013-10-03
Rated

5

out of

5
by
Deb57
from
Great little pot
I've had this pan for a while now and love everything about it.  These pans are durable, easy to clean and this size is just right for many sides and other dishes.  
Date published: 2013-10-02
Rated

5

out of

5
by
Peaches
from
Great everyday!
I've had this pan (the 2qt version) for  at least 10 years. I go to it for so many recipes. Put in an insert and its a steamer, put in a little oil and stir fry, or just cook up any sauce. The non-stick finish has held up beautifully.
Date published: 2013-09-11
Rated

2

out of

5
by
11111
from
I was quite disappointed
I own quite a few Calphalon pots and pans and love them immensely. However, this exactly product left me very puzzled.I tried to make some sauces in the pot and and was really surprised with the aftertaste my cooking had -- after first time I cooked, then after the second, then again after the third. To try it the last time and make sure I cooked the rice I cook practically every day and know the taste completely. The rice had the aftertaste and the unpleasant smell after being cooked in this pot.The shape and size of the pot are great though. I would love to find the substitution.The only reason I gave 2 stars is because I decided to stop trying now and send it back. Maybe I am reacting too soon and should try and use the pot up to 10 times - I do not know. Nobody mentions this issue as a potential challenge anywhere so I have no idea how long I am supposed to put up with the bad results before I get my *perfect pot*. :)
Date published: 2013-01-20
Rated

5

out of

5
by from
Great Pot
Bought this as part of a birthday gift for my avid cook wife. At first she wasn't so sure but after several uses it has become one of her favorite pots. I normally do the dishes as she cooks and I am having to wash this pot 4-5x a week and it remains a breeze to clean and is holding up great. Would buy another.
Date published: 2012-03-28
Rated

5

out of

5
by from
Non-stick qualities
Excellent non-stick qualities. I like to cook my grits long and slow on my gas range. This use to create a bear of a clean up effort. With this pot, let cool, soak it fo few minutes and then wipe clean with no effort.
Date published: 2012-03-22
Rated

5

out of

5
by from
I've waited years to upgrade my cookware
I've wanted CAPHALON for years an I must say I'm very Happy with this product!
Date published: 2012-03-21
Rated

5

out of

5
by
Marthe H.
from
Caphalon shallow sauce pan
Looks great, feels good, and works well. What more could a home chef want?
Date published: 2012-03-14
Rated

5

out of

5
by
JazzyRose
from
My favorite pan... period!
I purchased the 2.5qt shallow sauce pan when Calphalon first came out with it. It is my favorite pan above all the rest in my cupboard. I often wish I could afford a couple more. The shape and size and the material it's made from are just perfect for double recipes of sauces, puddings, cooking rice, sauteing onions, celery and carrots, hot cereals, cream puff dough...I could go on and on... This is just the best pan. I love the clear glass lid. I can see what's going on in the pan when I get busy fixing a meal. Thanks for a great product
Date published: 2012-03-03
Rated

5

out of

5
by from
Non-stick Shallow Sauce Pan - Special Deal
I highly recommend this item. I received this pan as a special (low price) deal. I think it's good quality at a superb price. I personally prefer it over the Calphalon 12 inch Nonstick Contemporary 'Everyday' pan cause it has a long handle over the two pot grips. It's smaller than the 12 inch pan, but that's perfect for my needs.
Date published: 2012-02-13
Rated

5

out of

5
by
yfz43
from
Great soup pan for 3
I really like the shallowness of this pot/pan for soups as the low and wide profile make it excellent for smaller batch stews and soups. I have slowly been replacing my current stock of cookset one by one with Calphalon and I am really happy with this piece. Its wide base makes it excellent for browning/searing meats prior to making soups/stews. It is also a great multipurpose combo pot/pan for pasta dishes, omeletes, etc. I have been using this pot for 6 months and apart from some chips in top received at store where it was bought from, it still looks brand new. Clean up is a breeze with a squirt of dishsoap and wipe with cloth.
Date published: 2012-02-02
Related Products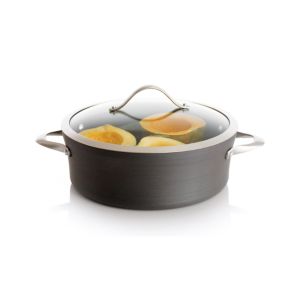 Unique new shape in maximum performance cookware from Calphalon. Extremely versatile, durable...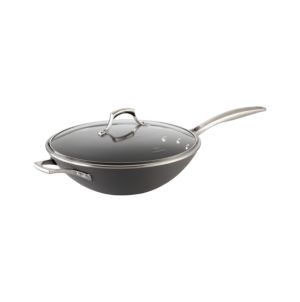 Professional performance with a revolutionary "Sear" finish that is textured to evenly...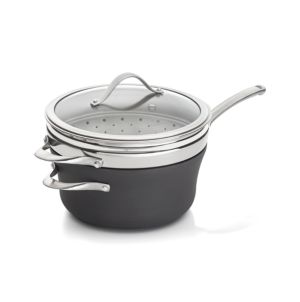 A unique contemporary shape in hard anodized, heavy gauge aluminum for precision...