Prices and availability are subject to change from the time and date that you print this page.
4/19/2014 12:07:53 PM. For Customer Service, please call 800.967.6696
Classic copper cookware, a centuries-old culinary tradition, is fashionably updated by Calphalon. Tri-ply construction combines a lustrous brushed copper exterior with satin 18/10 stainless interiors and lids.


Calphalon® Tri-Ply Copper 10-Piece Cookware Set
is rated out of
5
by
27
.
Rated

5

out of

5
by
Nana Banana
from
so worth the price
I had pondered over getting this cookwear for over a year. It is a large purchase for me. However after using the copper tri-ply I wish I hadn't waited so long. Cooking is more of a joy then ever, I look forward to cooking anythime of the day. Clean up is easy and the radiance cleaner is so fast to use. Not a problem. Everyone who enjoys cooking will experience a new level of cooking pleasure.
Date published: 2013-11-26
Rated

5

out of

5
by
Mayson
from
Great Investment
LOVE THESE! My husband and I got these from our wedding registry. They are lovely and cook things beautifully. We live in a small apartment with one of the most pitiful stoves and these pans still cook evenly! After years of dealing with crummy and scary non-stick pans that chip off I could not wait to get stainless. No regrets! I have made everything from veggies to pancakes with no problem and using no more oil than I would using other pans.We like the "aged" copper look so we have not polished them yet. Obviously, you should not let them soak and definitely dry them right away. They add interest and style to our kitchen. They are certainly the most expensive/high quality cookware either of us has owned. But, we plan to have it forever!
Date published: 2013-10-06
Rated

1

out of

5
by
potsnpans123
from
Beautiful but not ideal
The problem we had with these pots had nothing to do with the copper exterior, although we had pans that totally lost their copper color, if we didn't have the copper cleaner these would have looked awful. Our problem was that everything stuck to the pots. No matter how low the heat was at, or how much oil we used, everything stuck. After cleaning the inside of the pots they remained stained and sticky. We have since purchased non-stick and dishwasher safe pans by Calphalon and they are 100 times better..
Date published: 2013-08-17
Rated

5

out of

5
by
Matt and Meg
from
Quality Looks & Performance
This set was the first purchase my fiance and I made when we purchased first home together. Initially, we were blown away by the gorgeous copper finish. Then we began using them and found out that their performance was even better than their looks. They heat quickly, cook evenly and after a quick clean up, look amazing. We love them so much we keep them out for display and have gotten numerous compliments on them from our friends and family. We'd strongly recommend these to anyone who wants a professional cook set with a unique look!!
Date published: 2009-07-06
Rated

5

out of

5
by
csons22
from
LOVE THEM!!
My husband bought this set for me as a birthday gift. I had been looking at it a while, hoping to one day purchase it. I love this set. I have read a lot of reviews on stainless/copper cookware and have not had the problems that some state. Just follow the instructions and you won't have any sticking issues. Make sure you let the cookware heat up completely and use butter/oil before putting any food in the pot. It also helps if you don't put food in that is very cold. It will bring the temp of the pan down. I suggest taking the food out a little while before you cook it. As far as the copper maintenance, I don't think it is any more work to clean than a non-stick pot. I keep bar keepers friend on hand, and as soon as I clean the pot, I apply the BKF on the copper and it cleans it right up. It only takes an extra minute, and the bright shiny copper finish is back. Although, I don't mind the patina finish on it either.
Date published: 2013-01-29
Rated

4

out of

5
by
jesslm
from
Love the Look of Copper Pots
My husband and I were in the market for pots and love the look of copper pots. These pots have the look but with calphalon stainless on the inside which makes them much more reasonable than traditional copper pots. They look great when polished. My only complaint (which comes with any copper pots) is that you need to polish them after almost every use.
Date published: 2010-02-03
Rated

5

out of

5
by
cbrocks
from
Beautiful pots!!
These pots are so attractive, perfect if you plan to display your pots! They conduct heat excellently and they clean so easily! Food just comes right off! Everytime you cook however, the copper will discolor and stain. I actually like that because it gives them a rustic feel, they look like they're being used to make yummy food. Every once in a while though I clean the copper with the Radiance cleaner. It's super easy and they'll look brand new if you use the cleaner right!Love these pots!!!
Date published: 2009-06-30
Rated

5

out of

5
by from
Don't fret about the copper shine...
Don't you remember how to make pennies shiny?Soak in some vinegar and salt!Or use ketchup!
Date published: 2010-05-03
Rated

5

out of

5
by
Joy L
from
Loved this set and bonus!
I have had bits and pieces of copper pans through the years so I was thrilled to order a complete set finally. I absolutely love these heavy well made pots and pans and of course the even and quick heating that copper creates makes cooking meals easy and fun. The clean-up is a breeze and the copper cleaner I purchased cleans the bottom to a it's brilliant newness. The bonus dutch oven is a perfect addition and free to boot! LOVE IT!!!!
Date published: 2010-02-28
Rated

5

out of

5
by
SantaMonica Foodie
from
Solid Construction and Performance
I was looking to get a nice set of pots and pans when I decided on this. What I absolutely love about them is that I was able to get a copper set which looks amazing at a price-point that was still affordable (given how much more you can pay for copper pots and pans). I've had them for two or three years now and I still love them - you can absolutely tell the difference cooking with professional-grade products.
Date published: 2009-05-22
Rated

5

out of

5
by
HappyChef
from
Great Purchase
I recently purchased this copper set. I was initially drawn to the great value -- much less expensive than buying open stock or purchasing from competitor stores. I also loved how these pots and pans look -- they can be proudly displayed in any kitchen. After using them, I am now very impressed with their effectiveness. Using professional-grade cookware really does make a difference!
Date published: 2009-05-28
Rated

4

out of

5
by
camelia
from
they look good
these pots and pans are beautiful, but once you use them that's it! the whole copper color disapearse with ou the radiance copper shine your pots will look bad! these pots are bery high maintanance,the shine inside the pot will start looking dull and rusty. overall i was pretty dissapointed!! and what will happen when they dont sell the radiace copper shine??
Date published: 2013-11-30
Rated

5

out of

5
by
foodfan
from
Awesome cookware
For several years, I looked at this cookware when shopping and campared it to other products. I finally decided to purchasee the Calphalon (r) Tri-Ply Copper. I absolutely love how it! It looks wonderful and cooks great. Cleaning is a breeze with the Radiance cleaner. I could not be happier with my choice and I am sooo glad that I finally make the purchase.
Date published: 2009-09-19
Rated

5

out of

5
by
saavy
from
Excellent Value
We received these as wedding gifts three years ago and the performance is outstanding. The only difference between these and All Clad is that All Clad core is 2mm thickness and these are about 1.5. Everything else is exactly the same.For a home cook these are BEAUTIFUL, practical, and durable. Even my mother in law loves them and she is a tough judge!
Date published: 2009-05-28
Rated

5

out of

5
by
Biffwah
from
Impressed
Bought these pans last night and cooked my first omlet today. I was told that eggs would possibly stick but I used a small amount of oil and the eggs slid right out. Also, I couldn't believe how quickly the pans heated up compared to my old cookware.So far, there is no change in color.The pans look great and seem to heat evenly and quickly.
Date published: 2009-11-03
Related Products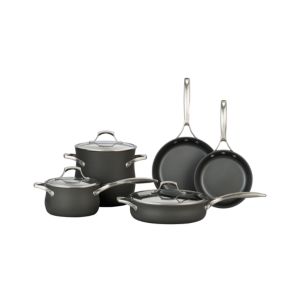 Professional performance with a choice of two revolutionary nonstick finishes for two...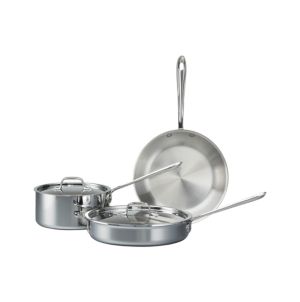 Put the cookware that's found in many four star kitchens to work...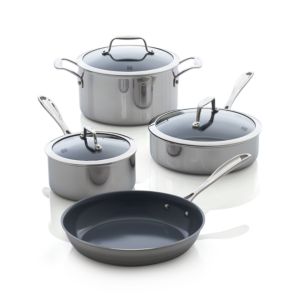 We've partnered with Zwilling J.A. Henckels, the standard bearer for premium cutlery...