Carbon Steel Mill
QUICK LOOK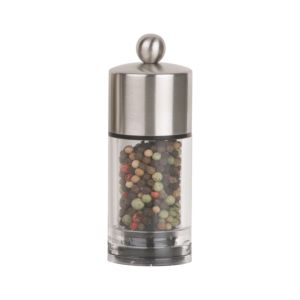 Biscayne Pepper Mill
$9.95
Stylish seasoning for the kitchen or table. Top has a beautiful brushed finish and friendly knob detail.
QUICK LOOK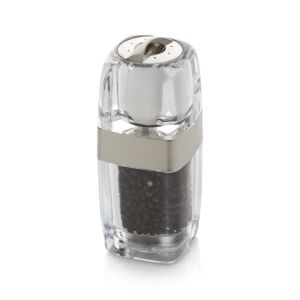 Cole and Mason Seville Combi Salt and Pepper Mill
$14.95
Retro styling brings a touch of the '70s to the table with this brushed chrome and acrylic salt shaker and pepper mill combination. Spring-loaded for even consistency, the hardened carbon steel grinder strips peppercorns, releasing the full flavor as it grinds to your choice of six precision textures. Compact size with rounded corners fits comfortably in the hand. -Brushed chrome ...
QUICK LOOK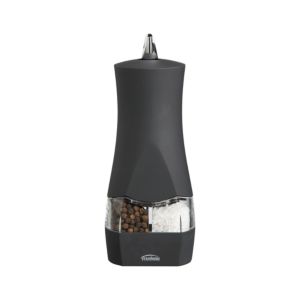 Electric Salt and Pepper Mill
$34.95
An effortless push-button grind of salt or pepper, housed in one handy mill. Black thermoplastic rubber mill has separate adjustable grinding mechanisms and clear acrylic content windows. Arrives filled with black peppercorns and sea salt.
QUICK LOOK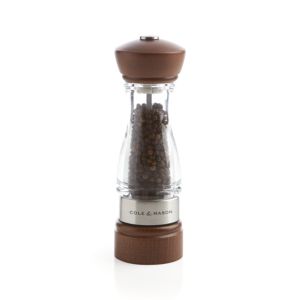 Cole & Mason Keswick Pepper Mill
$34.95
Cole & Mason's premium spring-loaded mill with hardened carbon steel mechanism and two-step, cut-and-crush process grinds superior pepper with consistent results every time. Easy-fill wood, stainless and acrylic mill with six pre-set coarseness settings provides more pepper per twist than most mills on the market.
QUICK LOOK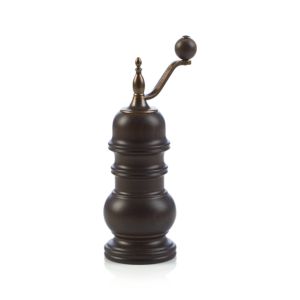 Speyer Pepper Mill
$49.95
This century-old turned wood design will never go out of style, and the patented Ceraplus six-position grinding mechanism produces the exact texture you're looking for, from cracked to super-fine. Lid and grinding handle with comfortable wood knob feature a warm antiqued finish. Ceramic is both corrosion-resistant and harder than carbon steel. -Wood with metal handle -Ceramic mechanism -Clean with a ...
QUICK LOOK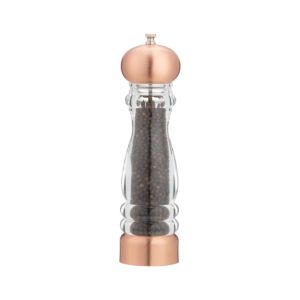 Copper Pepper Mill
$29.95
Classic copper for the kitchen or table. Pepper mill with copper-plated head and base has a view-through acrylic body. Pepper mill has an adjustable-grind mill that features a carbon steel mechanism.
Featured Categories
Shop Mills