Home
>
Clay Stoneware Dinnerware Set
Clay Stoneware Dinnerware Set
Featured Categories
Shop Dinnerware Sets
QUICK LOOK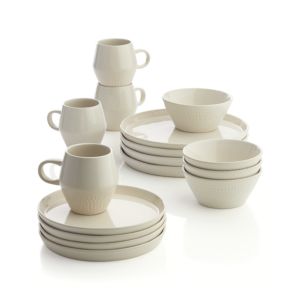 Kitt 16-Piece Dinnerware Set
$99.95
Using a selection of Crate and Barrel flatware designs, designer Paige Russell pressed the utensil ends into unfired clay, impressing the raised rims and angled contours of her unique cream-colored stoneware pieces with subtle dots and dashes.
QUICK LOOK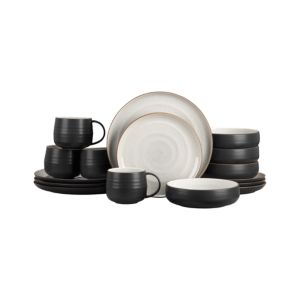 18th St. 16-Piece Dinnerware Set
$154.95
Modern and restrained in form, expressive and rustic in glaze. The artisan's hand is authentically reproduced in this stoneware pattern designed exclusively for Crate and Barrel by ceramic artist and designer Kathy Erteman at her 18th Street studio in New York City. A contemporary matte black exterior contrasts the rustic beauty of a shiny, speckled white glazed interior ringed with ...