Prices and availability are subject to change from the time and date that you print this page.
4/25/2014 2:10:12 AM. For Customer Service, please call 800.967.6696
A better scoop, one with a great grip and smooth ratchet mechanism that measures and releases even scoops of dough.


Cookie Dough and Ice Cream Scoops
Cookie Dough Scoop
is rated out of
5
by
31
.
Rated

4

out of

5
by
napalo
from
great, but somewhat flimsy
I love the scoop for cookie dough; makes cookies very easily with no need to wash my hands afterward like is usually the case when using a spoon.My only complaint is that the swiveling ratchet mechanism is weakly attached to the scooper. I have had to bend it and fastened it back into position at least twice in the few months of having the product. If you look closely at the image (see attached pic toward top of scooper), you can see that the ratchet is not locked into place and the top part of the ratchet can be removed from the scooper. Thus, when scooping hardened cookie dough (i.e., dough placed in the fridge [not freezer, of course] to save for future baking), the ratchet tends to get bent out of shape. At times, the ratchet becomes completely unattached. If using it for freshly made dough, then no problem. With chilled dough, however, I've learned to scoop it with the ratchet mechanism upward and the scooper as parallel to the dough surface as possible; this tends to mitigate the problem. A lip, pin, grommet, rivet, or some other small piece of metal securely attached (e.g., welded) to the ratchet of the scooper would be an excellent revision. Otherwise, when using with chilled dough be careful.
Date published: 2013-08-03
Rated

5

out of

5
by
karenb
from
HIGHLY RECOMMEND FOR DROP COOKIES & MEATBALLS!!
This Cookie dough scoop cuts my time at least in half when I make drop cookies. Use this scoop and NO MORE sticky, greasy hands or mis-shaped cookies.All the cookies are the same size and bake evenly!!This scoop ALSO works great on refrigerated dough that is really firm; just scoop and drop on the cookie sheet., perfect shaped cookies. I like to use this to make cookie dough balls to freeze and bake later.I also use this scoop for ice cream and making uniform shaped meat balls.MAJOR TIME SAVER!!! QUICK & EASY TO USE!!I put mine in the dishwasher eventhough it states to hand wash. I have had NO PROBLEMS with it from the dishwasher.
Date published: 2011-10-16
Rated

5

out of

5
by
Recently Wed
from
Easiest Cookies Ever!
I can't believe I never owned one of these before! This scoop is awesome for scooping up cookie dough and making small/regular uniform sized cookies. I used to just use my hands and/or a tablespoon, which was messy and the cookie dough would stick to the spoon and would make a mess. With the scoop, I just squeeze the handle and the cookie comes out clean. I love it! Plus it makes scraping out the last bits of dough out of the bowl really easy too.
Date published: 2012-11-26
Rated

5

out of

5
by
justamom
from
LOVE THIS!
I make cookies all the time but I usually make HUGE cookies , because we like big cookies but also because I only had a big ice cream scoop. This scoop has been perfect for dough as well as ice cream. (especially because I'm watching what I eat!) It's perfect for cookies for when we're having a party. everyone can have small amounts so that they get a little bit of everything. makes scooping cookies a breeze!!
Date published: 2013-11-18
Rated

2

out of

5
by
pickygal
from
Pinches your finger
As far as cookie dough scooper goes, it's fine.It works very well and does its job. However, after I'm done with scooping the dough, I always have either blister or red spot from using it. The inside of the handle is carved out so somehow, I must be getting my index finger caught in there.
Date published: 2013-05-25
Rated

2

out of

5
by
Yummy Ache
from
Ratchet mechanism gets stuck.
I used a gift card to purchase 2 Cookie Dough Scoops and 2 Ice Cream Scoops. Before purchasing one, I tested all of the scoops by checking the ratchet mechanism on all of the scoops. I also checked all the sweeping mechanisms. All of them worked differently. A lot of the scoops did not work smoothly and the ratchet mechanism would get stuck. After test driving the entire display of scoops I selected what I thought were the best ones. I got home and retested all of the scoops only to find out that one did not work smoothly. It got stuck and would not release. I had to take it back to the store to exchange it for one that worked. These are unused brand new scoops that are only scooping air. I want to use the ice cream scoop for muffins and cupcake batter so I hope these scoops can handle the much softer batter.
Date published: 2012-03-23
Rated

5

out of

5
by
Oliver4
from
Love it!
I use it every time I make cookies, the cookies are uniform size and the dough doesn't stick to the scoop.
Date published: 2013-06-08
Rated

5

out of

5
by
Lulu Larue
from
makes perfect cookies
I do not make cookies without this scoop! makes cute perfect lil cookies :)
Date published: 2011-11-05
Rated

5

out of

5
by
Birdie83
from
Must Have For Baking!
I recently purchased this Cookie Dough Scoop and I have to say that it's one of the greatest items for baking that I've purchased in quite sometime. It makes the baking process go so much faster. I found that I was able to use more of the cookie dough then when I used spoons to form the cookies. Clean up after I was finished with the dough was crazy fast and made it that much nicer in the end.
Date published: 2011-08-17
Rated

2

out of

5
by
pie queen
from
Ratchet misaligns
This item worked well until something really thick gummed up the sweep, and the ratchet skipped some notches. Now the sweep sits outside the scoop when not in use. I still use it, but it just doesn't function as well as it should. We've tried to pop the ratchet arm back in place, but to no avail. I would expect this out of a cheaper scoop, but not this one.
Date published: 2011-08-29
Rated

5

out of

5
by
Jessberg
from
Cookie's look perfect
I bought the cookie dough scoop because I hate getting my hands doughy when I bake. I dislike having to wash them between every pan, just so I can load the pans into the oven. The scoop is perfect for keeping your hands clean and for making the cookies uniform so they cook evenly and have a perfect round shape. Thank you Crate and Barrel
Date published: 2014-03-27
Rated

3

out of

5
by
sjmkl
from
Good but broke quickly
This product worked very well but after only a few uses, it popped off of the track and now the sweeper sits outside of the product. It still works but is not nearly as user friendly... I wish I could exchange this for a new one that does not have the issues.
Date published: 2012-04-13
Rated

5

out of

5
by
charitorae
from
Feels good on the hands
This scoop is the easiest way to get perfect size and shape cookies each time. It's just an easy little squeeze using your whole hand. Cleans fairly easy as well. Never using my hands or a regular spoon to scoop cookie dough ever again.
Date published: 2012-04-29
Rated

5

out of

5
by
like2bake
from
Multiple Uses
This item was purchased for my husband and I from our registry. While it is great for scooping cookie dough, I also use it for ice cream and scooping watermelon (cantaloupe) to make a nice-looking fruit salad for entertaining.
Date published: 2012-05-01
Rated

4

out of

5
by
wseaw
from
Perfect size
This scoop is very good. It is the perfect size for a drop cookie, and easy on the hand. Like another reviewer, the sweep on mine has migrated out beyond the edge, but I haven't yet put much effort into trying to adjust it.
Date published: 2011-08-24
Related Products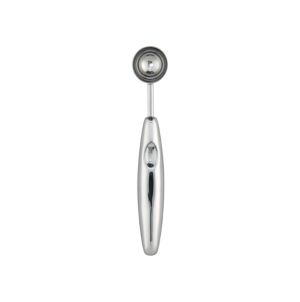 Stainless steel melon baller with ergonomic grip creates perfect rounds of fruits,...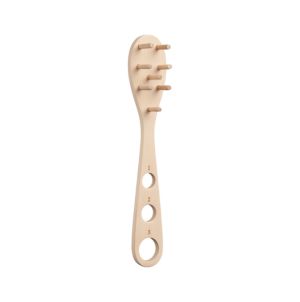 Natural beechwood tool combines the pasta scoop and portion measurer in one...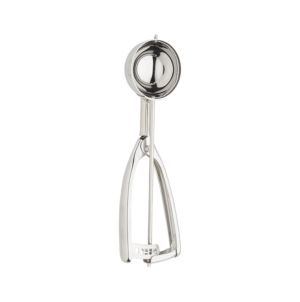 A better scoop, one with a great grip and smooth ratchet mechanism...