Prices and availability are subject to change from the time and date that you print this page.
10/25/2014 3:56:43 PM. For Customer Service, please call 800.967.6696
Crate and Barrel Exclusive
One of our bestselling classics for more than 20 years, and not just for the price. Exceptionally clear handmade glass takes shape with a clean, round sham and fine cylindrical walls, cut and polished at the rim.


Crescent 16 oz. Cooler Glass
is rated out of
5
by
134
.
Rated

3

out of

5
by
madd
from
Good glasses, but they chip
These are good glasses, but the often chip in the dishwasher. Also, a number of the glasses have gotten rough feeling on the outside, but that could be from handling. The good part is they are relatively easy to replace if there is a problem!
Date published: 2014-05-27
Rated

4

out of

5
by
KrisL
from
Everyday Glassware -- Crescent Glasses
We recently bought a few replacement glasses in this pattern for ones that had broken over the past few years. So glad that C&B still carries this design! However, you should be careful when selecting them from the display shelf -- we noticed when we got home that there seem to be two different "thicknesses" and weights to the glasses...almost like dye lots when buying yarns...not really noticeable until you really look. Also, be aware that these glasses do not stack, so if cupboard space is at a premium, this pattern may not be for you.
Date published: 2014-05-09
Rated

5

out of

5
by
sue68
from
I love these glasses
They are simple and elegant - easy to grip, good balance on a firm base...I wish I hadspace for a dozen of each size. And the price is great.
Date published: 2014-04-30
Rated

3

out of

5
by
JennyLeigh
from
Pretty But Fragile
My husband and I originally liked chose these glasses for their simple and straightforward design. They are pretty, but the downside is that they smudge easily and also seem to break rather easily. We do not have children yet and are not hard on our things, but several of ours broke within just a few months. We're going to put these away for special occasions and purchase a different set of Create & Barrel glasses for everyday use instead.
Date published: 2014-04-08
Rated

3

out of

5
by
sarah_molli
from
Beautiful glassware, not dishwasher safe!
My husband and I included these glasses on our wedding gift registry. They are really beautiful and timeless, but they ARE NOT DISHWASHER SAFE. We ran them through the dishwasher one time and I think 3/4 came out with chips. Again, they are really beautiful, but not great for everyday use.
Date published: 2014-04-07
Rated

2

out of

5
by
MUgal
from
Have had these glasses for 25 years!
We signed up for these for our wedding 21 years ago...Had 2 dozen. Loved them until just a year ago, they all started to break. Understandable..Happy to see they still carried them. Purchased another dozen...now only have about half of those dozen. Not the same quality from 21 years ago. Very disappointed..Can't find anything like them, still looking...Crate & Barrel, please go back to making them the way you used to make them!
Date published: 2014-04-06
Rated

1

out of

5
by
michelebee
from
Pretty, not practical
These have been my everyday glasses for 10 years. I've needed to replace so many over the years because of breakage and chipping--most of which happened in the dishwasher! Very fragile. I recently purchased new ones to again complete my dwindling set and these have been ruined by the dishwasher. The new ones are now partially covered in a while film that will not come off (I've scrubbed them, used lemon juice and baking soda, white vinegar, etc.). Also, the thickness of the glasses is not uniform-some are thinner and even more fragile than others. I'm going to try to return them but I'm considering switching to a different pattern. These are very pretty but unfortunately do not stand up to regular, everyday use. 
Date published: 2013-12-26
Rated

4

out of

5
by
Nursejohnson
from
Handsomely handmade!
Bought based on the pictures and not let down. Great to add to existing glass collection or first time set.
Date published: 2013-12-24
Rated

5

out of

5
by
heathgirl1
from
Simple and Beautiful !
I use the glasses daily for > 15 years and LOVE them!! I expected that a few will be broken and my family and I have. When I replaced them for the first time, it was for the reason of white film build up not for breakage. Please, do not discontinue this item. 
Date published: 2013-12-11
Rated

1

out of

5
by
jmaigw07
from
Half My Set is Now Broken!
I literally spent about an hour in the Glassware section of the Tyson's Corner store trying to decide which ones would be best suited for my home, and I regrettably went with these- picking 8 tall and short glasses. Never in my life have I broken so many glasses just from simple handling and cleaning. I'm now down to two of each glass, after experiencing the other four shatter in the dishwasher, split in half in the sink, or crack while in the drying rack. It's truly upsetting because these glasses weren't cheap and I was looking forward to them being a staple in my new home. My friends gave me gift cards to Crate and Barrel for my housewarming, and I'm disappointed that their money and my time went to waste. Now I have to look elsewhere for glasses that aren't as fragile and will last more than three months. 
Date published: 2013-11-30
Rated

5

out of

5
by
Foggyworld
from
I've had them all those 20 years!
They  are the absolute best glassware you can buy.   We use them for everyday purposes and also for company dinners.   The design is close to perfect and for the thinness of the glass, they amazingly rarely break.   I fill in a size every year or two to keep the level high enough to have a party.   Just the very best thing that Crate and Barrel sells.  You cannot go wrong with these.
Date published: 2013-11-29
Rated

1

out of

5
by
nyc2013
from
Too fragile
I'd like to echo recent reviews: these are beautiful to look at, but they chip almost immediately upon every day use. I was really disappointed, as they were exactly what I was looking for. But the rims of two were chipped after one month's use, and  simple ice cube (!) caused another to break. Another met its death when I bumped it against our porcelain sink. Do not buy. 
Date published: 2013-09-22
Rated

1

out of

5
by
Archer802
from
Don't Buy - WILL Break!!
Do not buy these glasses!!! They are certainly beautiful, but they just chip and break way too easily. We bought 10 of them about a year ago and now we are down to two! The sides are very thin and fragile; the rim of the glass is not rounded and routinely chip in the dishwasher. The entire glass will break if something lightly knocks into it during a wash cycle. The juice glass is a little sturdier - it is not as thin - but the edges still chip. We will be buying a different set of glasses.
Date published: 2013-07-20
Rated

5

out of

5
by
mimihoo
from
Good looking
I purchased the juice glass size, but use them for before dinner drinks. They fit the hand nicely.
Date published: 2013-07-05
Rated

2

out of

5
by
MKA11511
from
Nice looking glasses but chip very easily!
We had these for less than a year and they chip so easily! Now we have to throw more than half of them out and get new ones. We don't even have kids so it's just the two of us using them. They should withstand everyday use but the glass is too fragile and thin. I find that a thicker glass lasts longer in this scenario. I bought them based off the look instead of the functionality. I would not recommend buying these for your home. It was dissappointing because they were on our wedding registry!
Date published: 2013-05-21
Rated

2

out of

5
by
Newlywed0623
from
Nice style but chips easily
My husband and I got these glasses for our wedding last June. The tallest ones started chipping only a couple months after using them and they looked like they were made with the amount of glass needed for the smaller glasses (aka, very thin). I called and complained, so they let me exchange them. The new ones I got were thicker. However, they're still really fragile and we have chipped two over the past few months. I'd like to return them and get cheaper ones from somewhere else...these won't last. Beautiful, clean and simple, but don't buy them.
Date published: 2013-03-08
Rated

3

out of

5
by from
Nice but Fragile
We have both the Cooler and the Double Old Fashioned glasses, and we use both nearly every day. While the Cooler glasses have held up really well to frequent use and washing, the smaller verison has not -- the rims of the glasses have chipped over time. Overall, a nice choice but not a long-term investment.
Date published: 2013-03-05
Rated

5

out of

5
by from
Beautiful, Simple Glasses
These glasses are beautiful, simple, just the right size, and have held up perfectly after 7 months of use.
Date published: 2013-03-05
Rated

5

out of

5
by
FABbaker
from
Beautiful Glasses!
I was shopping for some simple glasses that looked great on any table, and these are exactly what I was looking for. I wound up purchasing these in lieu of other, larger glasses I had found because they appear light & delicate but were a bit thicker. They really sparkle and are practical.
Date published: 2013-03-04
Rated

5

out of

5
by
pweinroth
from
beautiful
These are beautiful drinking glasses. When we remodeled our kitchen we decided on all new glassware etc., These are just beautiful and they wash up great. You will not go wrong with this purchase
Date published: 2013-03-04
Rated

2

out of

5
by
DPUTiger
from
Too Fragile!
We registered for these glasses, but it wasn't until we started using them that we realized how fragile they are. After we broke the third one we got sturdier glasses from the C&B outlet.
Date published: 2013-03-04
Rated

5

out of

5
by
Ann O
from
lovely glassware
Crescent glassware has a clean contemporary design and is nice to hold in your hand - not too heavy - and does not tip over easily. My husband and I enjoy both the 16 oz and the 6 oz glasses.
Date published: 2013-02-23
Rated

4

out of

5
by
nicholebus
from
classic style
I have purchased these glasses twice. I am always looking for pieces to add to my kitchen that are classic and do not look too trendy. I have more of a modern style and these go great with my dinnerware and bar. They are a little fragile... I have had some chips on the rim, but I think that is to be expected with a thinner glass.
Date published: 2013-02-22
Rated

5

out of

5
by
TimA
from
Functional and Sleek
We love these glasses for everyday use. Our earlier generation of 6 had broken a bit too easily, so we were pleased that when we ordered 6 new ones, they were noticeably thicker and yet still sleek and beautiful.
Date published: 2013-02-12
Rated

5

out of

5
by
Cardinal28
from
Great everyday glass
We received these glasses as wedding presents in 2009, and recently ordered some more to replace a few and expand our set. The glasses are affordable and look great. They hold up well for everyday use. Highly recommended.
Date published: 2013-02-02
Rated

1

out of

5
by
Glass buyer
from
Easily chipped
Have lost several glasses due to chips in rim at top. Stopped wasing larger ones in dishwasher in case that was the problem. Started using only smaller classes but just noticed a chip in rimof one of them. All may be too delicate for dishwashter.
Date published: 2013-01-26
Rated

5

out of

5
by
sso94957
from
lovely...
I appreciate eastern european glassware. You cannot beat the quality + price! These glasses hold up well, and I wash them in the dishwasher. For the reviewer whose glasses are becoming 'milky/streaked', I would recommend using 1/2 the soap.
Date published: 2013-01-12
Rated

4

out of

5
by
Kyokone
from
Good in my hands
It is clear, not too heavy, but steady. Feels really good in my hands.
Date published: 2012-12-17
Rated

4

out of

5
by
Kelly M
from
Beautiful Glasses
We've only just gotten these glasses, so I don't know about durability, but they look beautiful. They are modern and practical. They are actually sturdier than I expected based on previous reviews. I am very happy with these glasses!
Date published: 2012-12-05
Rated

1

out of

5
by
jhansenfamily
from
Decline in quality
About a year and a half ago I was searching to replace my beverage glasses. I wanted something of quality that I could easily add to. I found your crescent glasses and bought both the highball and juice glass. The description appealed to me "One of our bestselling classics for more than 20 years." I was extremely pleased and thought I could count on them for quality as well as continued availability. With a large crowd coming to my house for Thanksgiving I needed more glasses, and was glad that it would be as simple as going to my local Crate and Barrel. I quickly found the glasses, picked one up and noticed that something did not feel right. I double checked the sign and decided that I was just in a hurry and this was the correct glass. When I got home and unpacked the glasses it was immediately clear that these were quite inferior to the ones I bought previously. They weigh significantly less. The walls of the glass are much thinner and the base not as weighted. I was disappointed in the decline in quality, but what could I do. Now that a couple of weeks have passed, each time we use them we notice when we have ended up with one of these low quality glasses. So disappointed.
Date published: 2012-11-30
Related Products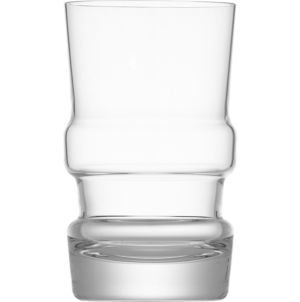 The design for this Crate and Barrel exclusive was discovered in the...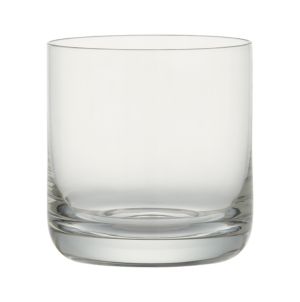 One of our bestselling classics for more than 20 years, and not...
One of our bestselling classics for more than 20 years, and not...