Prices and availability are subject to change from the time and date that you print this page.
12/18/2014 1:02:46 PM. For Customer Service, please call 800.967.6696
Twelve-cup programmable coffee maker with re-engineered extreme brew technology delivers fresh coffee up to 25% faster — with the added benefit of brew pause to grab a quick cup. Strength control brews regular or bold; calibrated glass carafe features a drip-free pour spout and comfortable handle. Water reservoir with water level display window lifts up for easy refilling. Sixty second reset recalls your setting in case of a power outage.
Cuisinart® and other Wedding Registry offers
Cuisinart® 12 Cup Extreme Brew Coffee Maker
Cuisinart ® 12 Cup Extreme Brew Coffee Maker
is rated out of
5
by
30
.
Rated

1

out of

5
by
VikiP
from
Died after 4 months!
After my first Cuisinart died after 5 years or so, I decided to put the Extreme Brew coffee maker on my wedding registry. Cuisinart always seems to receive great reviews, so I figured I'd give them another try. I've been brewing one large mug of coffee almost every day for the past 4 months, and my brand new coffee maker has already died. Since Cuisinart doesn't repair their coffee makers, they are going to send me a new one, but I have to pay $10 to have the new one shipped to me, and I'll be responsible for the postage to return the broken one. Twice burned... the lesson has definitely now been learned!
Date published: 2013-12-12
Rated

5

out of

5
by
WilliamJ
from
Cuisinart Quality
This Cuisinart coffee-maker is better than expected. We were long-time percolator users. The features and capabilities we like:- Automatic power off after a period up to 4 hours- Easy to clean – three easily-removed parts: carafe and lid, coffee basket, basket container- Gold basket coffee filter with or without using a paper filter- Multiple carafe temperature settings for brewed coffee- One to four cup brew setting- Brew strength setting – regular, bold (we use bold)- Matches our other Cuisinart appliancesI read a lot of reviews here and other places on the internet. Some reviews alluded to the top lid hinge being flimsy and the basket leaking. Neither has been found to be true. Just make sure the top lid is closed all the way. We would recommend this coffee-maker to our friends without reservation.
Date published: 2013-12-06
Rated

4

out of

5
by
dawnr29
from
great
Was struggling with my old one too long. Buying a new one makes me realize I should have bought this months ago.  The only feature I am missing is the hinged lid on the carafe.  This lid needs to be "snapped" off. Took me quite awhile to figure that out.  I feel like I'm going to break it every time! 
Date published: 2013-09-28
Rated

3

out of

5
by
Meadowland
from
Speed Didn't Help the Outcome
I love Cuisinart coffee makers and bought this to replace another brand that was making coffee that had a metallic taste. I own an older model that makes the coffee slower and I believe over all makes better coffee. This version is faster but the coffee grounds always end up sticking to the spray dispenser. I guess it you want great coffee you just need to have more patience and not order the Cuisinart that brews quickly. (This one)
Date published: 2013-04-08
Rated

5

out of

5
by
Big Jim
from
Best Coffee Maker purchase in a long time
We have owned this coffee maker for several months now and it has worked flawlessly. One of the best features is that it pours coffee without spilling. I like the auto off feature to prevent the coffee maker from burning the coffee in the pot. If you are looking for a good quality coffee maker at a decent price this is the one to buy.
Date published: 2013-03-05
Rated

5

out of

5
by
livingincolor
from
Great coffeemaker!
Looked at many different coffeemakers and read many reviews, ultimately decided on this one. To be honest, I never use any of the additional features like "bold" versus "regular" brew or change the carafe temperature, but I am very pleased with this coffeemaker. It brews quickly, quietly and having had it for about six months, haven't had any issues. Definitely recommend!
Date published: 2013-03-05
Rated

5

out of

5
by
hurleysweety
from
Easy to use and clean, great design and features
My husband and I have owned this coffee maker for about two years now and we have had no problems with any feature. The coffee maker is easy to set up out of the box and easy to schedule for fresh coffee each morning! It looks great on our counter too with the stainless steel and black design.One of my favorite things about this coffee maker is the ability to tell the appliance that you are only making 1-4 cups. Yes, you can make any number of cups on any coffee maker, but this one brews the coffee differently when you are using a small amount of coffee grinds and water. It allows you to get the same great taste that you would with a full 12 cup portion.At my office, we have an older version of this model that still runs well. It doesn't have the clean function, which I miss, and makes it harder to keep clean. However, it has to be at least 6-7 years old and still makes us all great coffee each day. My coworkers keep it on hot and drink it throughout the day and it never gets burned or starts tasting differently. The warming function in the machine does a great job of making the coffee taste fresh all day long.I would definitely recommend this machine to a friend because of the simplicity, sleek design, and the durability of the machine. I look forward to purchasing more Cuisinart products after my experience with the Extreme Brew Coffee Maker.
Date published: 2013-03-04
Rated

5

out of

5
by
Bels
from
Great gift
My husband bought this for me, one of the best gifts I've ever received! I love good coffee and this makes a really great brew. It's never bitter and my guests comment on what great coffee I serve. I'm using the same beans and water, so it must be this coffee maker.Highly recommend as a gift or as a treat for yourself.
Date published: 2013-02-22
Rated

5

out of

5
by
MissyB
from
Love it!
This is so easy to keep clean, and the coffee is great. I recommended it to someone else when I was in the store last time.
Date published: 2012-11-26
Rated

5

out of

5
by
missjoyce
from
best purchase ever bought
i am very happy with my coffeepot. i am glad i did bought this. thank you. it make great coffee. it doesnt not scratch on the surface.
Date published: 2012-11-06
Rated

4

out of

5
by
coachmom
from
love it!
Yay! Finally a coffee maker that makes strong, HOT coffee! Would give it 5 stars but don't like the fact that the time display is not lit up. Other than that, I love it and don't have a problem with "overflow" as stated by other users and I put in a lot of grounds. I don't use a paper filter as the permanant filter works really well for me. Oh, almost forgot one of the BEST features....DRIPLESS pouring!!!!!!!! Really! Buy this coffee maker!
Date published: 2012-10-10
Rated

4

out of

5
by
Wrap74
from
Good coffe maker
very fast coffee maker lives up to it's name. don't use a lot of grounds though as it seems to overflow into areas that are hard to clean. carafe nice and easy to clean stainless exterior
Date published: 2012-04-24
Rated

5

out of

5
by
Macintosh
from
Great cup of coffee
I have been using this coffee maker for a few months now and am very pleased. I especially like the 1-4 cup featurefor smaller pots. Great at maintaining heated coffee without burn smell. Was hesitatant about switching from a thermal carafe coffee maker, but have been very happy with this coffee maker.
Date published: 2012-03-12
Rated

5

out of

5
by
KCarl
from
Great Coffeemaker
After having bad luck with the new Calphalon coffee maker (junk - stopped working in 2 weeks) and then trying a KitchenAid version that also failed miserably, we decided on this one. Have had it now for 3 weeks and we love it. The side window helps you see how much water you are pouring in, the filter basket is simple. You can set the auto on timer as well as how long you want the pot to stay on after brewing up to 4 hours. The "bold" coffee feature is great as is the 3 levels that you can regulate the carafe heating element. The carafe pours without spilling. The machine is quiet when it brews and while it is on - no ticks, or weird sounds like many of the others. Makes a pot of coffee quickly. Overall very satisfied.
Date published: 2012-02-02
Related Products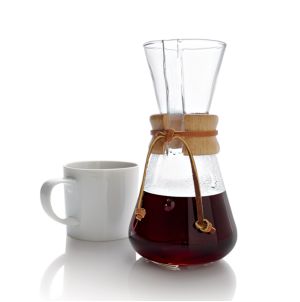 Get back to coffee brewing basics with the Chemex, originally designed by...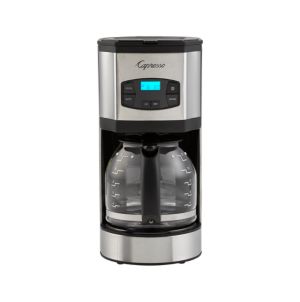 Crafted with Swiss precision for the coffee connoisseur, this programmable, 12 cup...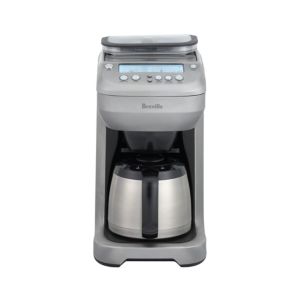 Streamlined style, high performance and full functionality add up to this ultimate...