Prices and availability are subject to change from the time and date that you print this page.
4/23/2014 10:29:12 PM. For Customer Service, please call 800.967.6696
Crate and Barrel Exclusive
An exciting development in wine storage. Exclusively ours and the first of its kind, this dual-zone wine cellar keeps up to 12 bottles at two separate temperatures on contoured, removable chrome racks. Patented electronic touchpad thermostat keeps wines at your choice of two temperatures between 39 and 68 degrees. Compressor-less thermoelectric cooling system consumes minimal energy and operates quietly and vibration-free. Fingerprint-resistant, insulated brushed metallic housing with soft interior lighting and tinted double-door acrylic viewing windows.
Cuisinart® and other Wedding Registry offers
Cuisinart® Dual Zone Wine Cellar
Cuisinart® Dual Zone Wine Cellar
is rated out of
5
by
23
.
Rated

5

out of

5
by
52013
from
LOVE IT!!!!!
I recently purchased this cellar as my home is too warm to keep wine without it turning. This is perfect size and it is so quiet when it is running. Love the dual sides for the different temps for reds/whites. Would recommend to everyone.
Date published: 2014-01-28
Rated

4

out of

5
by
FrankP
from
Great Purchase!
I love this appliance. The footprint is a real space saver and the design is stylish. The capacity is perfect for someone like me that does not have a vast wine collection but stocks up for the occasional dinner-party.The only limitation is that the shelving is not adjustable to accommodate non-standard shaped bottles.
Date published: 2013-08-01
Rated

5

out of

5
by
c6654us
from
Worth the money!
I didn't want the wine cellar to take up too much space. It's the perfect size! I love the sleek look and am very happy with having dual zone temperatures. Red wine should be chilled and being able to set to a specific temperature is great. It is very quiet and does not emit any heat. I love it!
Date published: 2010-11-01
Rated

5

out of

5
by
Bearette
from
Cuisinart Dual Zone Wine Cellar
We are so pleased with our wine cellar. We don't have space for a built it and this one works great!It was on sale and the shipping was free....what more could you ask for? If you enjoy wine, get this today!
Date published: 2010-10-27
Rated

5

out of

5
by
pickyshpr
from
Very Cool!
I've been looking for a wine fridge for a while but wasn't finding the right size. Height was a concern for me. We have undercabinet lighting in our kitchen and because of the light rail in place to conceal the lighting, I only had 16" height to work with. Most units were too tall. Then I found this wine cellar! It is the perfect height I was looking for. A bonus feature for me is the dual zone. With the dual zone you can open just one door if you choose. I have my wine on the left side at the recommended 51 deg and I 'let' my husband have the right side for his bottle beer which he has set at 39 deg. I love the way the way this cellar looks too. It looks very attractive on my counter and has the blue LED readout I wanted. Inside is subtle lighting if you choose to turn it on. The exterior goes with my stainless steel kitchen perfectly. I would say the only slightly negative thing about this cellar is that I wish it were a little bit quieter. It's not loud by any means, and I'm probably more sensitive to it than most people, but when it's quiet in the house you can hear it running. However, no big deal, really. Also, some of the 750 ml bottles will not fit on the shelf lengthwise. You have to use a whole shelf and lay the bottle kind of crossways. If you are looking for a countertop wine cellar this is an excellent choice!
Date published: 2012-02-10
Rated

1

out of

5
by
Margaret123
from
Broken X 2
We used this product for 2 months before one side stopped cooling. Tried to use the Cuisinart warranty (because it was more than a year post-C&B purchase) and they shipped us a new one for $10. Then it turned out that we had to pay $90 to ship the broken one to Arizona. We finally worked out that issue and got a new one. Unbelievably, it has also stopped working in about 2 months. I don't even know what to do from here. C&B needs to stop carrying this product. Now that I'm looking online, there are TONS of people saying that one side has stopped working for them and then complaining about the warranty.
Date published: 2014-03-25
Rated

3

out of

5
by
AmyW4
from
Nice but not great
We got this as a wedding gift and although we registered for it there are a few things I didn't notice when we registered. This is a nice compact little fridge, however, it does not hold bottles that are a wider at the bottom (like typical sparkling wine bottles) or anything without the "traditional" wine bottle shape. Even if you move shelves around it doesn't seem to work out quite right. Also, it needs a certain amount of space - especially in the back so you really have to think about where you set it up. It also, makes some noise when it's on, not overly loud but you definitely notice it. Somethings to consider...
Date published: 2013-07-31
Rated

3

out of

5
by
jen7
from
somewhat disappointing
I bought this for my husband for Christmas after looking for a quite a long time for something with good looks, decent capacity and a small footprint.Size work, looks are fine, but we were disappointed because of 2 major drawbacks.First, the durn thing is NOISY. It makes more noise than my either of our refrigerators or any other appliance in the house and can be very annoying.Second, the racking inside the cellar will NOT accomodate anything but standard, straight bottle shapes. Even the slightly larger bottles commonly used for chardonnay or pinot noir will not fit in the cellar.If Cuisinart would improve these 2 serious flaws, I'd have no problem recommending this product.
Date published: 2013-09-23
Rated

1

out of

5
by from
Buyer beware
Bought this cellar because of the dual zone feature. However, one side stopped working about 6 months after purchase. Called Cuisinart and was told they would ship me a new one at no charge. All I needed to do was return the old one in the packaging the new one arrived in. They did not mention that I would have to pay the return shipping! $78 worth of shipping from VA to CA! I had no choice but to pay it at this point. NEVER AGAIN will I purchase a Cuisinart product. Their warranty means NOTHING!
Date published: 2014-01-25
Rated

4

out of

5
by
Wilmington Wine Lover
from
Great purchase for the budding wine lover
I purchased this as Christmas present to myself. Other sites had this same unit for sale for nearly twice the price!It is virtually silent*, does a fantastic job, looks great and takes up minimal counter space.*Strange quirk: I originally had the white wine on the right and the red on the left, but the unit became noisy when trying to reach 39 degrees on the white side. I switched the wine aroound and now there is no noise. Nontheless, I highly recommend it.
Date published: 2012-09-08
Rated

2

out of

5
by
Happy in the Desert
from
Recommended with reservation
Pros: Appearance, dual zone cooling.Cons: Noise, size.I was thrilled when Crate and Barrel started selling this cooler, because I am a wine enthusiast who doesn't have room for an under-the-counter cooler. Dual zone was a must. This all turned into disappointment when I bought this cooler, because of several reasons. First, I would like to stress that it does work properly, it maintains the temperature and cools well. However, this little thing is so noisy that it would wake us up at night. At least one fan is on almost constantly, probably more than 23.5 hours a day, and if it goes off, it stays off for no more than one minute. It is noisier than my full size fridge. We finally had to move it far from our bedroom, all the way into the kitchen, although we purchased it for the wet bar in the living room. Also, I was not aware that the ambient temperature has an important impact on the functioning of the cooler. This information is not available on the C&B site, but on the instruction booklet that comes with the appliance. If you keep your house at 80 F in the summer like I do because I live in a very warm climate, the cooler will really struggle. I still have to see how that works.Lastly, the cooler is somewhat bulky, is it quite deep and it will take up almost the whole depth of a typical countertop. Keep that in mind. However, in spite of its bulkiness, it won't fit all the bottles that you may find at the store, such as the long ones, or the "fat" ones. If the bottle is the right size, though, it works very well, because you can fit it in even with a bottle stopper in it.In conclusion, we almost returned the cooler, but finally managed to find the space for it far from our bedroom, and we decided to keep it. So, mixed review at best.
Date published: 2012-06-19
Rated

4

out of

5
by
AnneG
from
Great Wedding Gift
We bought this wine cellar as a wedding gift - and the couple have been very happy with it. It is not too big and fits nicely in their apartment.
Date published: 2013-07-19
Rated

4

out of

5
by
BSO1
from
Very satisfied, so far...
Great product! It is not as noisy as some owners are saying. At least, no more than other appliances I have in my kitchen...Perfect size and internal space. I only have some reservations about the finish of the cellar. Cuisinart should be more carefull with this. The metal finish in my unit looks like it was somewhat "pressed" on both sides of the cellar ( or like someone tried to carry the cellar by holding it from both sides, and ended slightly bending them). Nothing too bad, though.
Date published: 2013-07-19
Rated

5

out of

5
by from
Great Product
I really like the functionality and design of this product. I have been very satisfied with this product, This product sits on the countertop of a butler pantry area and every time guests come over they ask where I purchased this item and I send them to Crate. Love this celler and most importantly it keeps the white chiller for my wife and red delivers at a nice 58 degrees. The dual zone is a great feature.
Date published: 2013-07-23
Rated

4

out of

5
by
Bribear8
from
Perfect fit
Its a great fit for ontop of the counter in the corner. It does run quite often if your room temperature is warmer than 72 degrees. I love the fact that it will keep both whites and reds at the perfect temperature!
Date published: 2011-12-05
Related Products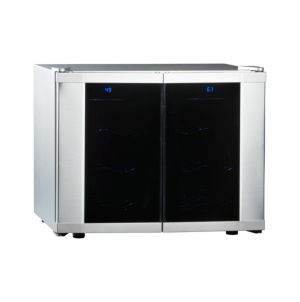 An exciting development in wine storage. Exclusively ours and the first of...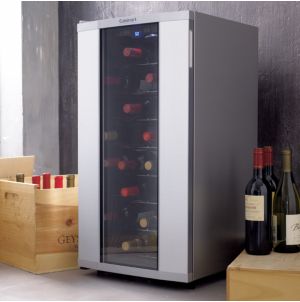 Cuisinart's sleek countertop cellar keeps up to 32 bottles of wine anywhere...