Prices and availability are subject to change from the time and date that you print this page.
7/25/2014 9:17:35 PM. For Customer Service, please call 800.967.6696
Grind and brew a stay-fresh pot right into a 12-cup thermal carafe. Cuisinart's state-of-the-art brushed stainless coffee maker does it all: just fill the 8-ounce hopper with whole beans, and the built-in burr grinder will grind them to perfection prior to brewing. Grind control and brew settings let you program from 2–12 cups, fine-tuned the way you like it—mild, medium or strong. Easy-to-use control panel features 24-hour programming, quick-pause function to sneak a cup during brewing, and a special 2- to 4-cup setting. Charcoal water filter keeps out calcium and chlorine; gold-tone filter locks in flavor. Grind feature may be deactivated to brew pre-ground coffee.
Cuisinart® and other Wedding Registry offers
Cuisinart® Grind & Brew 12 Cup Coffee Maker
More Cuisinart® Coffee Makers
Cuisinart® Grind and Brew Thermal 12 Cup Coffee Maker
is rated out of
5
by
31
.
Rated

2

out of

5
by
Lloydalicious
from
Not Worth It
When adding items to our wedding registry, I thought top of the line coffee maker with all the bells and whistles was the way to go... wrong! This machine was way more complicated than it needed to be and way too much maintenance. I ended up returning and buying a very basic machine that works just great. I would not purchase unless you were willing to clean out every single morning.
Date published: 2014-03-25
Rated

3

out of

5
by
busybaker
from
Average, but good price
I am happy with the various sizes of the bowls and they are satisfactory for my purposes. One of the bowls was broken when it arrived, but a simple phone call took care of it and they sent out another one within a few days.The bowls are pretty lightweight, but considering the price, they are o.k. I'm glad I have them, but they are not top of the line. Good price.
Date published: 2013-03-07
Rated

5

out of

5
by
DC Bridget
from
We LOVE this coffee maker!
I was reticent at first to purchase a $200 coffee maker, but this is the only one I've found with all of the features I wanted: programmable, thermal carafe, included bean grinder.We use it everyday, sometimes twice a day and haven't had any problems with it. The guide suggests regularly cleaning out the grinder with the included brush, but in 9 months of constant use, we've only had to do that once or twice.Waking up to freshly ground and brewed coffee in the morning is such a pleasant way to start the day. And it stays pretty warm even when we are a bit ambitious for when we set it and wind up not getting up for a couple more hours.
Date published: 2013-03-04
Rated

4

out of

5
by
blondienite
from
Great Purchase!
I am pretty darn happy with this coffee maker as I love that I can use whole beans or ground beans. I enjoy setting it to brew ahead of time so that I can wake up to a good cup of Joe! The only downside to this is that if you don't get up shortly after your coffee has brewed, it will be cold. The thermal pot is great but I wish there was a way for it to stay warmer (hotter) longer. If you do not use the "timer" then you can always warm up the carafe by filling it with hot water before you brew (dumping the hot water directly into your coffee maker). All in all, a good purchase!
Date published: 2013-02-08
Rated

1

out of

5
by
coffeeluvr
from
Good idea, bad machine
I wanted to like this updated 12-cup version of Cuisinart's Grind and Brew because I was a fan of the older, 10-cup model. I admit with the older one I had to replace it every couple of years because the bean grinder mechanism would die out, but at least with that one I knew what I was getting. This newer model is bad on two fronts. One, I want more control over how many beans get put through the grinder. I like strong coffee and in my opinion the machine doesn't process enough beans to make a good, strong brew even when I had it programmed for strong. Two, it doesn't heat the water hot enough to extract all the flavor from the beans. Even when I poured a cup directly after it finished brewing, it wasn't a hot cup of coffee. The best part was when I called Cuisinart customer service to ask how to make the machine work better for what I was looking for and the guy flat out just said to return it. He didn't care at all! Worst customer service experience I've had in a long, long while.
Date published: 2013-01-09
Rated

1

out of

5
by
mellor
from
Do not but this!
Had this coffee maker for a weeding present. This thing is high maintenance. I had 2 sent back because the grinder stopped working. The grinder gets clogged up all the time. After 7 months with the replacement the knob to control the brewing fell off. I called Cuisinart and told them about it, They asked for a receipt and I told them this was given as a present on the registry of crate and Barrel. The person from Cuisinart wanted me to give her a copy of the registry. I told her that the maker is only 2 years old and well within the 3 year warranty. I told her that the representative that sent me a replacement seen that the warranty was still good. The representative started screaming at me and hung up.
Date published: 2012-04-01
Rated

2

out of

5
by
Elle79
from
Great Coffee. Huge Pain in the A**.
In theory this should be a great little coffee maker. I REALLY want to like it. In reality, however, it's almost more of a hassle than it's worth.I've used this roughly a dozen times since I bought it two weeks ago and already the chute between the grinder and the basket is clogged. While Cuisinart does warn you about this in their manual and also provide you will a small brush to clean it, 15 minutes later there's no amount of poking and prodding that can truly get all the ground bean residue out.While having a machine that grinds the beans for you is incredibly convenient, I'll be going back to buying ground coffee and using the trusty, Plain Jane, drip Cuisinart coffee maker I had been using prior to purchasing this one.
Date published: 2012-03-01
Rated

1

out of

5
by
cahakgirl
from
Pass on this one.
This is our second version of this coffee maker. We have never been able to get the automatic brew settings to work. The grinder constantly gets stuck and you have to shake it as it grinds or just use a separate grinder. Pretty pricey to be so high maintenance. I am going to try to trade it in this week.
Date published: 2011-11-07
Rated

3

out of

5
by
Jamie D
from
Coffee Pot
We have really enjoyed our new coffee pot, however it can be a little bit loud while grinding the coffee and has clogged due to the oil from the coffee beans. With that said, it was super easy to clean out and it does make a great pot of coffee.
Date published: 2011-08-26
Rated

5

out of

5
by
akadisco
from
A must have for every coffee enthusiast
Let me start off by stating that I think Cuisinart makes one of the best quality, reliable and cost effective appliances out there.My wife and I have just completed a remodel of out kitchen and seriously, the final piece was this amazing coffee maker. Not only does it compliment our beautiful new counter tops but it also compliments the other multiple Cuisinart items that we have.The ability to 'grind and brew' is such a fantastic concept. I feel like I am in a genuine coffee shop each time I brew myself a cup.Whether I want 2 cups or a full pot, I can easily select the amount, grind up fresh beans (Hazelnut preferred) and start drinking within minutes.I love the fact that a lot of the parts are dishwasher safe and the rest is so easy to clean.I wouldn't trade this maker for a full time barista!
Date published: 2011-08-24
Rated

5

out of

5
by
SaraC
from
Makes mornings possible
This coffee maker makes some tasty coffee!! I love that I can program it the night before, and still wake up to super fresh tasting coffee in the morning! It is a little bit loud, so I usually set it for the same time as our alarm clocks so it doesn't wake us up (our bedroom is right off the kitchen, if it were farther away I don't think it would be an issue), Once in awhile, the machine seems to have issues lining up the appropriate chutes so it will beep excessively, but it has managed to correct itself every time and still produces good coffee. Easy to clean, and the thermal carafe keeps coffee hot for about 4 hours.
Date published: 2011-08-23
Rated

5

out of

5
by
BonjourJen
from
Time Saver!!!
This coffeemaker really does save a lot of time & energy on those mornings when you feel like you're running around trying to get everything done. Fully automated, just have to throw in the whole coffee beans, it does the rest. Keeps coffee nice & hot for a few hours & is very easy to clean. Highly recommended for fresh cup o joe.
Date published: 2011-08-18
Rated

1

out of

5
by
bionicbecky
from
Not reliable
We have never been able to get the automatic brew settings to work. Also, the grinder constantly gets stuck and you have to either stand watch in order to shake it as it grinds, stop it and release the stuck beans or just use a separate grinder. Either way, it is way to pretty and expensive to have so many issues for folks who love coffee!
Date published: 2011-03-15
Rated

2

out of

5
by
caltravis
from
Great concept, poor design
We have always been a big fan of Cuisinart products and have been pleased with all we own until this one. Two main issues - the "chute" between the grinder and the basket that holds the ground coffee gets clogged up at least twice a week, requiring you to disassemble the top part of the machine, clean the chute with an implement of your own design as nothing comes with the machine (we use the end of a chop stick, kept next to the machine for this purpose),, reassemble everything, pour out the full pot of coffee that was just made and looks like tea since none of the grounds got into the basket, and start the process all over again. Not great when you're rushing around at 6AM getting ready for work and school and thinking there's a fresh cup of Joe waiting for you. Second, as someone else mentioned, the carafe has an inner lip to it that requires you to take the top off it to get the last cup of coffee out of it. Not a big deal, but annoying. Seems like they manufactured this one without anyone at Cuisinart actually testing one for a couple weeks.
Date published: 2010-09-17
Rated

5

out of

5
by
CBShopper2721
from
Makes Great Coffee
We got this from our registry and are extremely pleased with the product. We immediately went out and got whole beans of our fav coffee. It comes out amazing every brew. The only part of this product I am not 120% pleased with is the carafe. I find it a little hard to get that last cup out. I would highly recommend this to anyone.
Date published: 2010-06-27
Related Products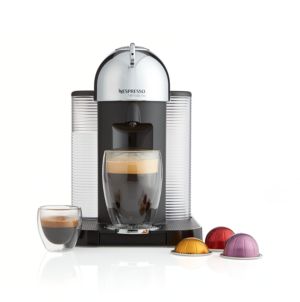 The first combination maker from Nespresso brews either an 8 ounce coffee...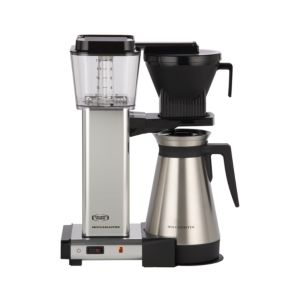 From the heart of The Netherlands, this premier coffee maker combines sleek...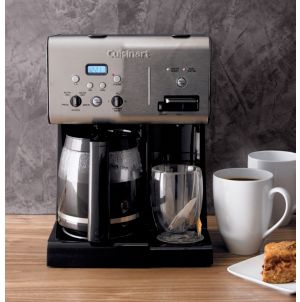 Cuisinart's programmable coffee maker satisfies the most discriminating coffee lover with pure...