Prices and availability are subject to change from the time and date that you print this page.
9/16/2014 5:41:21 AM. For Customer Service, please call 800.967.6696
Frozen treats in any flavor you can dream up are just a few easy steps away—without messy ice or salt. Cuisinart's fully automatic ice cream maker can hatch a 1.5-quart batch of ice cream, yogurt, sorbet or frozen drinks in as little as 20 minutes. Once you toss your ingredients into the spout, the heavy-duty motor, double-insulated freezer bowl and patented mixing paddle do all the work for you. Bowl must be frozen overnight in advance. The results are consistently smooth, and clean-up is a breeze.

Cuisinart® and other Wedding Registry offers


Cuisinart® Ice Cream/Frozen Yogurt Maker
is rated out of
5
by
90
.
Rated

5

out of

5
by
Anna
from
Cuisinart Ice Cream Frozen Yogurt Maker
I am having fun with this product. Saves money on yogurt and ice cream. Good Product!
Date published: 2014-06-09
Rated

5

out of

5
by
Steph2014
from
Perfect for us
Newly married couple in Texas and thought I would get this to have some nice cold treats as the summer heat cranks up. It is perfect. Easy to use, works well and instant gratification! We have been having a blast experimenting with different recipes. Our favorite so far is lemon curd frozen yogurt :)
Date published: 2014-06-09
Rated

5

out of

5
by
Barb10
from
Quick and Easy Ice Cream - With NO Hassle!
I bought this item over a month or so ago and when it arrived, first off, I was very impressed with the packaging. When I received it, it said "QUALITY"! I felt honored that Crate and Barrel took the time to package it in such a nice box and ship it so professionally looking! It was great. After opening the box, it was so pretty, I really didn't want to open it, I found my wonderful larger sized item than I anticipated and was even more happy. Once I got it out, I started out on a small recipe that I use. I do catering and thought, what a nice concept in the event that I do a small intimate dinner for 2-6 guest. I was flabbergasted. I love the brand and I especially liked the way Crate and Barrel took care of me as a shopper. I love the store and things online are even cheaper. I will recommend this store online and in-store to anyone! Signed - One Very Pleased Consumer!
Date published: 2014-06-09
Rated

5

out of

5
by
Minoscv
from
Super easy to use!
I love this ie cream maker! it is very easy to use and the kids enjoy making their own "creations". Comes with recipe book that is awesome! I recommended to 2 other people and they have since purchased it as well and are very happy.
Date published: 2014-06-09
Rated

5

out of

5
by
Jenn
from
Simple, easy, great.
I purchased this so I can control the ingredients in what I'm eating. I mostly bought this to make sorbet which is lower in calories. I love this machine. Like I said, simple, easy & great! My purchase also qualified to receive a "free" extra bowl which I got just the other day.
Date published: 2014-06-09
Rated

5

out of

5
by
Missy03
from
Great for Teens!
I bought this as a Christmas present for my teen who loves ice cream. It is easy to use and the teens have fun finding new variations. I also tried a healthy recipe using coconut milk that worked great. The extra bowl that came with my package is a must so that you always have a bowl frozen and ready to go.
Date published: 2014-06-09
Rated

4

out of

5
by
mj1014
from
Great Size for starting out
The freezer bowls (I received a 2nd freezer bowl for free with mail-in rebate – BONUS!) are small enough to fit in a regular sized fridge and allow you to make a typical batch of ice cream (2 pints). I'm able to rotate them out after using one, the other goes into the fridge so you always have a frozen bowl on hand. this is great for someone just starting to make ice cream (simple, small, non-committal) instead of a huge financial investment and tons of space on your counter.
Date published: 2014-06-09
Rated

5

out of

5
by
ReEd
from
Easy to use
The ice cream maker is super easy to use and fun to watch the ice cream thicken. I also liked that it came with a recipe booklet and tips on how to use the machine.
Date published: 2014-06-06
Rated

5

out of

5
by
alyssa
from
Very Happy!
My fiance and I recently purchase this ice cream maker and we could not be more happy with it. The directions are very easy to follow and the machine is very user friendly! Would highly recommend to others!
Date published: 2014-05-30
Rated

5

out of

5
by
rockymtnneighbor
from
Love making homemade ice cream!
My husband & I have been loving the fact that we can make any flavor of ice cream we want! We're looking forward to receiving our mail-in rebate for the 2nd bowl so that we can make more than one flavor at a time if we choose. We use a wooden spatula to scrape down the sides of the bowl to transfer the ice cream to a storage container, which is stiff enough to scrape but gentle enough on the non-stick surface. In addition to pre-chilling the mixture prior to starting the machine, we also pop the mixer paddle & the lid into the freezer with the bowl so that everything is nice and cold when we start the machine.
Date published: 2014-05-28
Rated

5

out of

5
by
royerwilliam
from
awesome
I bought this a month ago and ilove it. The ice cream comes out very creamy and the maker is so easy to use.
Date published: 2014-05-27
Rated

5

out of

5
by
skalting
from
Very easy to use, and great tasting
My husband loves ice cream, especially cinnamon. We can't find this at a store anymore, so I bought the ice cream maker last week. I made both strawberry and cinnamon ice cream the first week, and they are wonderful! The maker is very easy to use.
Date published: 2014-05-27
Rated

5

out of

5
by
MidwestMama
from
Easy and fun to use
This makes great ice cream and sorbet without all of the hand cranking. Also can be used for frozen drinks, too. A nice appliance. I recommend getting an extra bowl to keep in the freezer.
Date published: 2014-05-10
Rated

5

out of

5
by
RedOnThe
from
Super Gift
I bought this for a gift and had to get one for myself. I have been eating fabulous ice creams that are easy to make. My parents have theirs and are making sorbets. It's easy to use and I don't feel guilty for having sweets that are fresh and preservative free.
Date published: 2014-04-08
Rated

4

out of

5
by
Mfayn
from
Life is much yummier!
I purchased this the summer of 2013 and love it! It's created some very yummy ice creams for me and my loved ones! It's only a little messy sometimes...I accidentally fill it with too much base at times. You also have to remember to freeze the ice cream bowl or your grand plans will never materialize! ;)
Date published: 2014-04-07
Rated

5

out of

5
by
OnTheFarm
from
Amazingly easy to make great ice cream
I received a gift card for C&B and I did not know what to spend it on. I was not looking for ice cream maker, but I came across it and saw many high reviews and 0 negative reviews (it is rare for a product with dozens or more reviews to have 0 negative reviews). It sounded like an interesting product, and I thought it would be fun to make our own ice cream. And I was right, this is easy! We have used this several times and made great ice cream. I like it much better than store bought.We have only made vanilla, often with fresh fruit added in. It comes out nice and creamy. We use heavy whipping cream, skim milk (because that is what we have in the house), granulated sugar, and imitation vanilla. I like to pretend that it is a healthier choice, after all it is homemade. But while not exactly a healthy choice, we do know exactly what is in our ice cream.We never refrigerate the mix before making the ice cream. We simply mix ingredients, put it in the bowl and turn it on. Only once did we have ice cream not solidify; it came out more like a shake. And this was the only time I did not freeze the bowl overnight; probably frozen only 6-8 hours, instead of 24 hours or more we have done all other times. I now just leave a bowl in the freezer so it is always ready to go.I recommend this ice cream maker; a fun kitchen toy.
Date published: 2014-03-25
Rated

4

out of

5
by
emjaneking
from
Love this!
I love this ice cream maker... my only beef with it is that the bucket is small. Sometimes I have to make two batches on two different days (since I have to let the bucket refreeze). No other complaints!
Date published: 2014-03-25
Rated

5

out of

5
by
ellewoods2014
from
Great if you love ice cream
I bought this after years of thinking about buying an ice cream maker. I have been very pleased with the results - it's easy to use and the ice cream comes out wonderfully. Is this a kitchen necessity? Definitely not. But really fun if you can spare the kitchen storage space.
Date published: 2014-03-25
Rated

5

out of

5
by
soozib22
from
So easy to use and the results are excellent.
This machine replaces one we had for several years, without any issues whatsoever. When we relocated last year our ice cream maker didn't survive the move. I am so glad to have a new one.
Date published: 2013-12-22
Rated

5

out of

5
by
Lou79
from
Cuisinart Ice Cream/Frozen Yogurt Maker
I have not use mine yet..but the other one is a Christmas gift..I have used the Cuisinart Ice Cream/Frozen Yoquty Maker at a Hunting Lodge I work at..And It is great thats why I order myself one and another one for a Christmas gift.. But have not yet recieve the two free bowls yet..
Date published: 2013-12-07
Rated

5

out of

5
by
Randy7
from
Nice machine, easy to use.
Ordered one when there was the offer of a free second freezer bowl. Item was shipped fast. Sadly the motor housing was cracked. Was very easy to return. Second one received in great shape. Ice cream maker works great, and is very easy to use. And the ice cream is just delicious!
Date published: 2013-11-08
Rated

5

out of

5
by
Kristen
from
Wonderful Product!
This is a wonderful gadget and is so versatile! You can make so many healthy frozen treats in minutes! I do not regret this purchase and would recommend it to everybody.
Date published: 2013-08-31
Rated

5

out of

5
by
Fredda
from
Love it!
I have always wanted an ice cream maker and LOVE this one. It is so easy to use and the bucket is always frozen for whenever I get the urge. I have tried a few of the recipes in the booklet it comes with and they have all been great. I'm going to go have some ice cream right now!
Date published: 2013-08-06
Rated

5

out of

5
by
RoseColoredGlasses16
from
Love this ice cream maker!
I've seen the Cuisinart ice cream maker on cooking shows and hoped it would be as easy and convenient to use as Giada and others make it look--and it is! It requires some planning since the bowl has to be completely frozen for the treat to firm up properly. I simply keep mine in the freezer. I've made several batches of ice cream and sorbet with good results using the accompanying recipe book and recipes I've found online. Just be aware of the batch size since the freezer bowl can only process up to 1 1/2 quarts. It's easy to clean, a little noisy when running, but well worth it for delicious homemade treats where you control the ingredients.
Date published: 2013-07-16
Rated

5

out of

5
by
Socks
from
Easy and fun!
I purchased this after reading all the great reviews. I thought my daughter would have fun with it. The first recipe we tried was a sorbet. I substituted blueberries for the raspberries...but I didn't strain it and chilled it in the freezer instead of the refrigerator...my error. So it didn't churn in the bowl... just stuck to the paddle...still good though...more like a slurpee. Last night we tried the cheesecake recipe...a winner! Put it in the freezer for about 30 minutes to get a little firmer...then topped it with a blueberry sauce and crushed graham crackers...to die for!! Very rich though! We're anxious to try the frozen yogurt recipes next. Very happy with it!
Date published: 2013-06-21
Rated

5

out of

5
by
ande1025
from
Amazing ice cream
I started with a kitchen aid mixer attachment and there were a few things i didn't like about it. I tried this ice cream maker next and liked how when you pour the base into the machine, it doesn't get all over the place. my ice cream set up more in the maker vs attachment. The two downsides to this product are that it's pretty noisy and is 1.5 quart bowl vs 2 quart on the kitchen aid. But I'm still giving 5 stars because i was super pleased with the quality of the ice cream. I can't wait to make another batch!
Date published: 2013-06-20
Rated

5

out of

5
by
ROSAITALIA
from
new found icecream lover
I never made icecrea before. Whenever I read about ice and salt and cranking...I would just stop reading. But, I decided to try this maker based on the reviews and what seemed simple directions. So far I've made peanut butter icecream, strawberry icecream and raspberry sorbet and I am not disappointed, but rather surprised that I could pull this off. Some reviews said that one could make two types of icecream with one "freeze," but I imagine it would be somelthing like vanilla and then chocolate. I might try this; however, I ordered an extra bowl with the offer that is currenty available. When the directions say to put the product in the freezer for a harder icecream, it is correct! The icecream does get harder; at least that is the way we like it. All parts are simple to clean. And it appears the bowl freezes much quicker than what is recommend, but I have not tried making icecream before the 16 hour minimum. As far as expense compared to store bought non-premium, this is not a cheaper way to get icecream, but at least I know what is going in and what goes in regarding presevatives (as in things like chips, cookie dough, etc., is your choice). Buying by the scoop at an icecream shop is much more expensive. And, further, the icecream made with this maker is of premium quality. If this machine turns out to be durable, it's a 10 star!
Date published: 2013-06-14
Rated

5

out of

5
by
Nanaba
from
Awesome machine
First time I used it, took only 20 minutes to make the best tasting frozen yogurt. The family loved the fact that it was low calorie. Since that first use, I have played around with many combinations and have been able to make some awesome tasting frozen yogurt and low fat ice cream. Vanilla seems to be themagic ingredient in whatever you make. The machine gets turned on while we are eating dinner and by the time we have finished the frozen dessert is ready!
Date published: 2013-06-13
Rated

5

out of

5
by
Crones Nest
from
Sweet Surprise
Love that you can control all the ingredients. Low fat, sugar or indulgent. Couldn't be easier.
Date published: 2013-03-06
Rated

5

out of

5
by
fatirosemom
from
Perfect Family Gift
I bought this for my husband as a Christmas present and he loved it! He is a chef and enjoys cooking at home so this was like a cherry on the pie. It is so simple to use that even my 5-year old daughter helps his dad to make some sweet treats for the family. It turned out to be a pefect family gift since we have all enjoyed it!
Date published: 2013-03-05
Related Products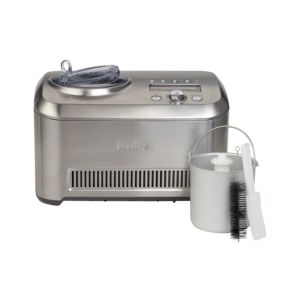 The SmartScoop rethinks the ice cream maker with 12 hardness settings and...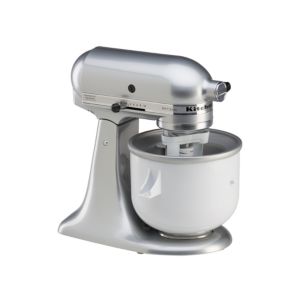 Expand the potential of your KitchenAid® mixer with this ice cream maker...