Prices and availability are subject to change from the time and date that you print this page.
9/14/2014 10:10:03 PM. For Customer Service, please call 800.967.6696
Cuisinart's programmable coffee maker satisfies the most discriminating coffee lover with pure coffee flavor, from one cup to a dozen — and now adds a hot water system for tea lovers, too. The state-of-the-art contemporary design combines a squared vertical shape and upscale, professional look with the latest brewing technology. Charcoal water filter keeps out calcium and chlorine, while the gold-tone filter locks in coffee flavor; carafe temperature control offers three heat settings. Hot water system operates independently, dispensing hot water on demand for tea, cocoa or soup. Removable drip tray allows plenty of room for taller travel mugs.

Cuisinart® and other Wedding Registry offers


Cuisinart® Programmable 12 Cup Coffee Maker with Hot Water System
is rated out of
5
by
53
.
Rated

1

out of

5
by
FairReivewer
from
Poor design
I'm a big fan of Cuisinart products and have bought several coffee makers over the years because they are flawless: carafe pours flawlessly, aesthetically pleasing, functionality and controls are designed well and they last for years. Unfortunately, they got it all wrong with this model: The neon blue led screen lights up a dark kitchen in a very bad way and blinds you as you enter the room. The beeping signal when finished brewing is loud and annoying versus previous versions. The auto start program worked at first and then started turning itself off either prior to start time or before it finished brewing. The carafe, visibly identical to all other models, never poured smoothly. It either dripped down the side or occasionally would catch the top of the lid causing it to stream over the cup pouring hot coffee onto your hand holding the cup. Love the concept with the hot water feature which worked fine. Its possible mine was a lemon but too many deal breakers between the disturbing neon blue screen, nerve grating beeping and the water or hot coffee not pouring where you aim. Hope they make changes and get it right on the next version of this model.
Date published: 2013-05-12
Rated

4

out of

5
by
Kukush
from
Very good purchase
This is our second coffee maker but the first one was with 10 cups, we trust the brand, we like that this one has an area just to heat water, like for a tea or something else. The only thing is that we would have prefer that instead of glass should be thermo to keep it warmer.
Date published: 2013-03-14
Rated

5

out of

5
by
drae
from
What a great coffee maker...
For the price, this machine does the trick and more. Plus it looks good. I use the hot water feature more than I thought I would and it makes a great cup of coffee.
Date published: 2013-03-05
Rated

4

out of

5
by
CAS82
from
Great coffee maker
My husband and I registered for this for our wedding and it has been a great addition to our kitchen. With daily use for the last 6 months we haven't had any issues. The only con is if you live in a smaller apartment or in the city like we do, it does take up a lot of counter space.
Date published: 2013-03-04
Rated

5

out of

5
by
Deb1
from
Great Upgrade!
My ten year old Krups coffee maker finally fizzled out, and as sad I was to let it go, I am thrilled with my new Cuisinart Coffee and hot water system. The system is easy to use and I love the convenience of the separate hot water tank for tea that I have never had before. Looks great in the kitchen too!
Date published: 2013-02-24
Rated

2

out of

5
by
cmlaj
from
Simple Problem
We registered for this coffee maker due to all of the features. We love the features but, unfortunately, it is dreadful pouring water into the machine every day. The water reservoir is positioned awkwardly in the back of the machine and it is difficult to pour the water in. The water drips down the side of the carafe and makes a huge mess. I would not recommend this coffee pot due to this simple problem.
Date published: 2013-02-11
Rated

1

out of

5
by
GreenGirlNYC
from
Worst coffee maker I've ever had
I got rid of this coffee maker this morning after over a year of annoyance and malfunction that started the moment this came out of the box.First off, the hot water side was useless from the start. The water that came out was always tinny/plasticky in flavor. I ran water cycles, vinegar cycles, lemon juice cycles, replaced the filter repeatedly... nothing helped. Online research showed me that many people have this issue with this machine.Around a year into its life span, the programming feature stopped working. I'd program it, turn on the buttons, and the coffee maker just wouldn't come on in the morning.Shortly after that, the burner or heater element (or both) stopped working. In addition to having to manually start the pot in the morning, all I could get out of this thing was tepid, bad tasting coffee.Aside from all the malfunction, the engineering/design of this machine leaves much to be desired. The design of the top makes it a hassle to pour the water in without spilling everywhere/soaking the coffee in the cone. Additionally, there should be a button you press that just means it is set to go off at the same time every morning. With this machine, you have to set the knob to "program" and remember to turn on the on/off button. I realize it sounds straightforward but it's annoying to have to remember to press two buttons every night of your life. My old Krups machine just had a setting where it knew that you wanted to coffee to start every morning at 7 (or whatever) and you just had to replace the water and the grounds at night and be done with it. That makes a lot more sense to me.I replaced this with a Hamilton Beach machine and lugging this thing down to the trash this morning was the best thing I've ever done with it. Do NOT waste your money on this badly made, poorly conceptualized item.
Date published: 2013-01-09
Rated

4

out of

5
by
lovesteaandcoffee
from
great product
I needed a coffee maker. I read lots of reviews on many coffee makers. I came across this one and I knew it was the best for me. I would recommend this to any coffee lover or tea lover. The hot water is really hot as long as you don't have water in the coffee section waiting to brew. I love the fact it has an auto brew and you can also set the temperature of the hot plate. You can also set the auto off bottom to your liking. I would highly recommend this product. Hope when you purchase one you would enjoy it as much as I have.
Date published: 2012-12-31
Rated

1

out of

5
by
ml525
from
Pool of Water
I was so excited to use this coffee maker which I received for Christmas. Once I poured in the water, there was a leak and a pool of water formed from under the machine. I can't tell where the water is coming from but somewhere in the bottom. Huge disappointment.
Date published: 2012-12-30
Rated

2

out of

5
by
No crybaby
from
Tried twice
First coffeemaker arrived missing parts. Crate&Barrel was excellent and replaced it immediately with another unit......which leaked all over the counter. Again C&B was great and gave me a refund. Got a Hamilton Beach coffee/hot water machine elsewhere, which works fine and makes hotter water.
Date published: 2012-12-29
Rated

4

out of

5
by
mosk
from
Satisfied.
Hot water feature is excellent. Fast,efficient.Two minor issues.1. Bean grinder not included. I suppose it would make unit too big. Having to grind seperately is a minor nuisance.2. Hot water drain plug is hard to remove. Maybe this will improve with time.
Date published: 2012-12-13
Rated

5

out of

5
by
TERIBERI
from
GREAT PRODUCT
ABSOLUTELY LOVE IT WE ARE BOTH COFFEE AND TEA DRINKERS . WE ALWAYS HAD TWO SEPERATE POTS NOW BOTH IN ONE IS PRACTICAL AND LOOKS GREAT ON THE COUNTER LESS CLUTTER
Date published: 2012-11-06
Rated

1

out of

5
by
unhappy tea drinker
from
coffee taste in tea water
The coffee brew side of the unit and the hot water side both operate fine, but my wife drinks tea and she says after we make coffee in the coffee side her tea water side tastes like coffee. There doesn't seem to be a seal between the two sides that would keep the coffee flavor from migrating over. It therefore makes the whole unit a waste of money for us.
Date published: 2012-09-28
Rated

5

out of

5
by
CCOXRN
from
Easy to use
We got this coffee maker as a wedding shower gift and LOVE it! We make coffee every morning. It is so easy to set up and use and we lot the hot water feature!
Date published: 2012-07-23
Rated

5

out of

5
by
Candimac
from
Excellent
We just got this as a gift for our wedding and we absolutely LOVE IT! It's by far the best coffee pot we have ever had! We love our coffee and tea so this is the perfect combo.
Date published: 2012-05-12
Rated

4

out of

5
by
Carolina coffee couple
from
Great concept but is ours flawed?
We love Cuisinart and the dual-purpose design of this product. Even so, we have a daily frustration that no other reviewer has mentioned: a sizable puddle of water forms every day under the machine, whether we've used it or not. It's not from spillage while pouring in the water, but we cannot identify a leak or crack either. This has happened since we first used it at Christmas 2011.Any suggestions would be welcome.
Date published: 2012-05-08
Rated

5

out of

5
by
Hinoeuma
from
Clever
I drink coffee in the morning, but the rest of the day I drink tea. So this machine has both what I need and elminated one more clatter from my kitchen counter - tea kettle is vanished. I like it a lot because of it's affordability and convenience. A clever product.
Date published: 2012-05-07
Rated

5

out of

5
by
csmlynne
from
absolutely love it
this is my third cuisinart coffee maker over the last dozen years, and the brand has proved itself to me!!! I love love this coffee pot. It is easy to make only a couple cups or the whole pot and the hot water for tea is perfect. I also love the built in and easily changed filter...
Date published: 2012-05-05
Rated

3

out of

5
by
airal
from
too many flaws
There were just too many flaws in this product to justifiy the price. First, pouring water into the machine is really ackward (requiring a funnel to be accurate)- a real pain. Secondly, the hot water feature (i thought my wife- a tea drinker- would love) left the water tasting like rubber or worse. Now the electronics have failed and the it stops half-way through the brew. The machine is only 2 years old. That said; the coffee tastes very good and the carafe is drip free. still...
Date published: 2012-05-05
Rated

4

out of

5
by
snw1128
from
Great Tasting Coffee
This machine takes time to brew the coffee, resulting in a better tasting cup o' joe. Two reasons that this product rates one less star: 1. A bit awkward to fill the coffee water reservoir. 2. We wish the water would heat faster....we're used to the Hot Shot, where the water would come to a near boil in under a minute. Otherwise, love the look of the machine and convenience of two-in-one.
Date published: 2012-03-11
Rated

5

out of

5
by
jan g
from
Cuisinart remains a winner
Cuisinart continues to be king in coffee makers; our old one was used out (but still good enough for the garage). Our daughter bought this one and recommended it, so we bought too and like her, we love the hot water feature as we mix up drinking coffee, hot tea or cocoa. Our coffee pots get put to the test in our house and always comes up a winner.
Date published: 2012-03-10
Rated

5

out of

5
by
argar
from
Great purchase
The hot water feature is very convenient - you just have to fill it up and press a button. Tea for lazy people. And the coffee tastes great. I had to have a programmable coffee maker so coffee would be ready in the morning. I don't have any complaints.
Date published: 2012-03-10
Rated

5

out of

5
by
Tina 62
from
Best beverages
I adore this machine! We drink both coffee and tea and it even helps with the warm/hot water I add to the dogs food without having to turn on the stove. The coffee brews slow and really gets all the flavors from the beans and the hot water is ready in seconds at times. The only downside is that the water level is difficult to see while your poring the water into the coffee side. The tea side is perfect.
Date published: 2012-03-10
Rated

5

out of

5
by
hawkeyefan
from
Best Coffee Pot we've owned!!
Our last coffee pot would not keep the coffee hot at all, time to replace. I asked around and the name Cuisinart kept coming up!! so I found the pot I liked that we now have. It makes wonderful coffee and I like the extra hot water feature.No microwaving just put in the water you need and there it is!! We could not be happier with this coffee maker!!
Date published: 2012-03-10
Rated

5

out of

5
by
LEESH09
from
Best Coffee Pot!
I got this coffee pot for Christmas and have used it every day since. It makes really good and hot coffee. My husband is thrilled with the hot water dispenser because he drinks tea A LOT. I have to disagree with an earlier review that said that it takes a really long time for the hot water to get hot. Our's is MUCH faster than waiting for a kettle on the stove and we have stopped using our kettle altogether because it is so much faster. Also it holds enough for us to each have a big cup of tea. It really is a great coffee pot that is worth the money if you enjoy both coffee & tea.
Date published: 2012-03-09
Rated

5

out of

5
by
CurlySue
from
works as promised
read all the reviews for this coffee maker and can now say I agree with all, it's great. Nice to have hot water option, it heats much faster than my tea kettle. My only comment would be that I must slide it out from under the upper cabinets to fill with water and the rubberized feet make it a bit difficult to slide. A perfect solution would be to add a bottom that allows the coffee maker to slide while the bottom remains in place, without adding height to the unit. one can wish, right?
Date published: 2012-03-07
Rated

5

out of

5
by
Assured
from
A great Christmas gift!
Bought this for my husband for Christmas. I don't drink coffee, and so he is the one in charge of coffee in our house. He is hard to buy for (never wants anything) and I struggled trying to think of the perfect gift for him. A few days before Christmas I just happened to receive an E-mail from Crate and Barrel promoting this coffeemaker. That's when I remembered that he had mentioned that his current coffee pot burned his fingers every time he poured a cup, so my problem was solved. On Christmas morning he was not thrilled when he opened his gift. But after he made the first pot of coffee he remarked about how good the coffee tasted. As he has used it ever since, he has mentioned several times how nice this coffeemaker is. He says it's easy to operate, the coffee is really good and that it never burns his fingers. We've both used the hot water side to make a cup of soup or hot chocolate or hot tea very quickly. This is a very nice product and I highly recommend it because it's performance has benefited me with several hugs and kisses from my very grateful husband!
Date published: 2012-02-28
Rated

5

out of

5
by
welcometomyhouse
from
Dependable Coffee Maker
I purchased this back in December (2011) when I broke the carafe of my old coffee maker and used the excuse to get a better product. This has been easy to use and is a quality product. I also really enjoy the added benefit of having hot water on demand for tea. Comes in handy in the winter when you need to cup to keep the chill off.
Date published: 2012-02-28
Rated

3

out of

5
by
aerok
from
water
hot water taste seems to get contaminated with the taste of coffee. Also difficult to pour water into the coffee maker, because of very small orifice.
Date published: 2012-01-07
Rated

5

out of

5
by
Tuxon2002
from
I love it!
I traded my previous Cuisinart coffee maker for this beauty and I am so happy I did. The coffee tastes great and stays hot and fresh in the carafe. The hot water system is perfect for the teenagers who want tea or hot chocolate or whatever it is teenagers want. It works for my family!
Date published: 2012-01-04
Related Products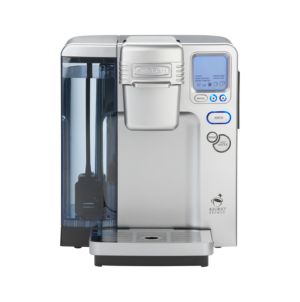 This state of the art coffee maker combines Cuisinart and Keurig technology...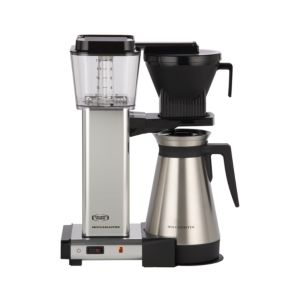 From the heart of The Netherlands, this premier coffee maker combines sleek...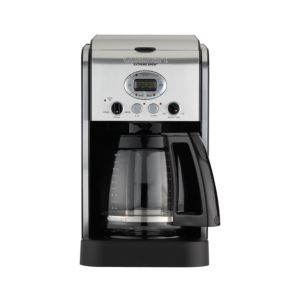 Twelve cup programmable coffee maker with re engineered extreme brew technology delivers...