Prices and availability are subject to change from the time and date that you print this page.
12/17/2014 8:28:00 PM. For Customer Service, please call 800.967.6696
Crate and Barrel Exclusive
Pickup View warehouse pickup options in your cart
Dramatic sweep of European white oak pales in modern shades of grey. Subtle tones are achieved by "fuming," a technique which reacts with the wood's natural tannins to alter the color without stain. Undulating angled edges sanded smooth follow the tree's natural profile, exposing natural wood tones. Base features two clean-cut wood planks at each end, separated by a ½" channel of interest.


More Dakota Dining Furniture
Dakota 77 Dining Table
is rated out of
5
by
76
.
Rated

5

out of

5
by
mst00
from
Beautiful Table
We bought this table for our dinning room, and paired with the white leather chairs... it looks so beautiful. We really like the quality of the material and it is super easy to clean.
Date published: 2014-06-09
Rated

5

out of

5
by
DanC
from
Beautiful Piece of Furniture
My wife and I took over 6 months to choose the right dining table for our new home, and we kept coming back to the Dakota. The new table arrived just a few days ago and we are SO!! Happy we chose this table. The wood is beautiful, and the quality is everything we hoped it would be. Dont be scared, hit the purchase button, you'll be so glad you did.
Date published: 2014-06-06
Rated

5

out of

5
by
Noel
from
Table is Wonderful
I love this table and I love that it seats 10 people comfortably. I love it's natural color and it's sturdy construction. As usual you won't find anything like it in another store. Love it, Love it, Love it.
Date published: 2014-05-31
Rated

5

out of

5
by
agisiek
from
Beautiful Table!
This is an amazing high end table made out of solid wood. Beautiful piece!
Date published: 2014-05-27
Rated

5

out of

5
by
apache20
from
Compliments!
The 94" inch Dakota able is absolutely the size to buy if you have room. I also have 1 bench and combined with Miles chairs. I luv this table and plan on owning it forever!
Date published: 2014-05-27
Rated

4

out of

5
by
bickeler
from
Love the table!
We bought this table about 6 months ago for our anniversary (5 years... wood). And it's just beautiful. The only thing keeping me from giving it 5 stars is that the wood shows wear and tear. I knew it would, and I have 3 year old twins. I'm not surprised, but it's worth warning people with young children... it's going to show cup rings and spills. We use bees wax on it pretty regularly, but we're finding that the wood definitely shows that it's been 'loved' by a young family.
Date published: 2014-05-27
Rated

5

out of

5
by
mark_d50
from
Table envy
My wife and I recently bought a first home and had a big empty spot in the dining room (we had no space for a dining table in our tiny apartment). After years of buying mediocre furniture with a terrible life expectancy, we decided to buy something decent that we can care for and will last a long time. Upon visiting the local C&B store, we saw and fell in love with this dining table. The wood is gorgeous, the table is sturdy, the detailing along the edge lines is beautiful. We bought simple wooden chairs to pair with it and the whole set up looks excellent. We've only had it for two weeks, but we've had three people independently walk in to our new home and the first thing they mention is the lovely table - without any prompting. This table has resulted in some serious table envy.I noticed some comments regarding scratching etc below, but this is true for all furniture - we bought some Daddy Vans beeswax and treated the wood the day we got the table delivered - and it really brought out the grain and has added some level of protection to this lovely piece. While I dont want everyone to have the same dining table as us, I cannot recommend this table highly enough!
Date published: 2014-05-27
Rated

5

out of

5
by
DrewM
from
Unique and Natural looking Table
I was on the market for a nice dining room table that was had a rustic and natural feel. Can't get any closer to that with this. Fell in love when I saw it at the store.I ordered the larger size bench because it just made sense that for the extra 100, you get another place at the table. When it arrived in my narrow Row Home, it felt like it took over the room. As much as I loved the table, I thought about returning it. However, I figured I'd exchange just the bench for the smaller one and I'm glad I did. The larger bench took over too much and the smaller one is just right. If you're thinking about the larger bench, just consider your space. If you've got a huge space for this table, then it might not be a factor but it was for me. (and they did the exchange at no additional delivery or return cost, gotta love their Customer Service).This is a table that will require some care. I've only had this table for about a month and I mostly eat at my island counter so this table doesn't get much traffic. As soon as I got it, I ordered Natural Bee's Wax and applied it to the table and bench. Had a party the other weekend and no water stains/marks (although I was careful to make sure any dripping cups had a coster underneath.Otherwise, this a very sturdy and unique table. Get compliments on it every time. This is a table I see getting passed through the next generation.
Date published: 2014-05-27
Rated

5

out of

5
by
Jojoba
from
Clean contemporary design + beautiful rustic wood
The table is beautiful, stylish, elegant and sturdy.Highly reccomended.
Date published: 2014-05-27
Rated

5

out of

5
by
kristenH
from
Inviting table!
We bought this table a few months ago and love it! The table is a great balance between modern and rustic and we are very happy with it.
Date published: 2014-05-27
Rated

5

out of

5
by
mnickel
from
Excellent aesthetics!
We bought this a year ago and love the look! It is not sealed so we have to use place mats to keep it from staining, but the sales clerk warned us about this. It is a natural look, which is exactly what we wanted!
Date published: 2014-04-08
Rated

5

out of

5
by
AdrienneK
from
Beautiful design.
I bought the Dakota table for my Florida Condo. It has a beautiful modern look without feeling sterile and cold. It was just what I was looking for.
Date published: 2014-04-07
Rated

5

out of

5
by
stephb72
from
Beautiful table- online images don't do it justice
We saw this in the store and fell in love. It was the shape/size we were looking for, and we loved the bench option. Much more beautiful in person- I don't think I would've noticed it if I was only doing my shopping online. Every piece is unique which made matching the bench a little tricky but we finally got a pair that were aligned. We love!
Date published: 2014-04-07
Rated

5

out of

5
by
Caringcricket
from
Beautiful piece
Looks great, even in a small room. My hesitation was the functionality of it since it is unfinished wood. I haven't noticed a problem but also make sure to clean up spills promptly. Was also hesitant to spend the money, but this is a quality piece of furniture that will last us our lifetime.
Date published: 2014-04-07
Rated

5

out of

5
by
samd1970
from
Beautiful, unique table
I looked for a table for about a month before I decided on the Dakota table (and bench). It was worth the wait and so far worth the price. It's a very beauitful table and fits wonderfully in our home (both in terms of decor and size/shape). We have a 7 year-old, so at first I was a little worried about spills, but we usually use placemats and just wipe anything up quickly, so it hasn't been a problem. Almost everyone who comes to our home comments about the table saying that it's beautiful and unique and nobody can resist touching it. We bought the 77" table and the longer bench for more room. You can't fully push the bench in, but it really doesn't stick out much, and I would definitely recommend that combination. You can easily sit 3 on the longer bench.Worth the wait and we absolutely love it. It's a great investment in our family's dining experience!
Date published: 2014-04-07
Rated

4

out of

5
by
catlady1108
from
Simple & Solid
I was in the market for a Jacobean dining set but couldn't find one that I liked as much as the hand-me-down set my parents had when I was a kid. After 2 years of searching, I decided it would be all or nothing. If I couldn't find a cupboard, fat legged trestle and chairs, I'd just get a slab of wood and plop it on a base of some sort until I found the set of my dreams. My local C&B outlet had a slightly damaged, deeply discounted Dakota and the simple but ample outline attracted me. I figured it would be easier to buy it instead of making my own and that I could sell it as soon as I found the table of my dreams. However, the Dakota grew on me. After 2 weeks I did't care about a Jacobean set anymore. The table is easy to clean and maintain and I love the fumed finish. The only thing I don't like is the way the table legs block outstretched feet
Date published: 2014-04-02
Rated

5

out of

5
by
loveCB
from
Great table!
Great looking, great quality and great price! Love this table!
Date published: 2014-03-26
Rated

4

out of

5
by
Howard
from
Gorgeous table but darker than expected
Although we love the solid oak construction of the Dakota Table and its beautiful character, we were a little surprised in the coloration of the table we received. Unlike the sample in the store, the table we received was a much darker piece, almost like a walnut stain, with less variegation in wood color. Perhaps our table was left in the "fumer" for too long.I know each piece is unique but it would be nice to have a little more consistency in terms of color depth and shading. Nevertheless this table still looks fantastic in our dining area, and has prompted plenty of interest from friends and family alike.
Date published: 2013-12-25
Rated

5

out of

5
by
Candbparamus
from
Go to the warehouse!
I would highly recommend going to the warehouse to choose your table if you are able to.  They pulled 3 for us, and each was very different.  The one that I saw at our local c and b ( paramus) looks very different than the one displayed on the website.   They are all beautiful but very different!
Date published: 2013-12-20
Rated

5

out of

5
by
Nikkik
from
Love it
Goes really well with my purplish-grey walls and the sand linen French chairs! My ecclectic look all came together! Can't wait to have people over to use it! I'd have to say the table looks much better at home than it did in the manhattan showroom- I didn't like it the first time I saw it.
Date published: 2013-10-13
Rated

5

out of

5
by
thewhites
from
Dakota Dining table is beautiful.
We searched for a new table for a long time. We considered buying a wood slab and building our own, when we discovered this table on a design website. I was able to see the table on display in the store and was so impressed.We just picked up our table today. We chose to pick it up so we could select the actual table due to variations in grain, color, knot holes, etc. We were told we would have three to choose from, when we arrived at the warehouse, we actually were able to choose from six. The employees at the warehouse were extremely helpful and patient. We finally decided on the one we liked best, the table was then re-boxed and loaded. It looks amazing in our dining room, everything we were looking for. I highly recommend this table for its beautiful, unique characteristics. The table is very solid and heavy, will last and be passed on.
Date published: 2013-09-07
Rated

4

out of

5
by
danilo
from
Looks great but stains easily
It's been almost a year since we bought this table. I was initially concerned about the finish, and some initial testing with water showed that the wood absorbs water if it is not wiped off in less than 5 seconds. I considered putting on a more protective finish than wax, but the fact that it already had wax on it meant that I'd have to strip it first which seemed like too much work at the time.Nevertheless, we bought the table and have used it daily for almost a year. It is now pretty heavily stained - mostly oil stains from food that landed on the table and wasn't immediately cleaned. It actually looks pretty bad because of the stains so I decided to refinish it. I wiped it vigorously with mineral spirits for about 30 minutes, followed by a kitchen spray cleaner and water. This removed most of the wax (evident as brown stains on the rags with which I wiped off the mineral spirits). This process also lessened the contrast of the food stains, but they are still visible. I plan to repeat the procedure 1-2 more times and apply a satin gel urethane finish, which from experience is really durable.The bottom line is - the table looks great and may crack with time (mine now as two cracks which seem to be growing), which adds more character and enhances the rustic look. However, you must either be very careful about spills, or refinish it with something more protective than the factory wax finish. I would recommend this product with this one reservation.
Date published: 2013-09-07
Rated

5

out of

5
by
jkRob
from
A table to call our own
We have had a "hand-me-down" table in our kitchen for 25 years. It was time to get the one we always wanted - just couldn't find it. The Dakota table met my need for something funky and unique and my husband's need for something not "too unique". It's beautiful! Our new kitchen is large enough for the 99" and has worked wonderfully for 10 people.
Date published: 2013-05-18
Rated

5

out of

5
by
kvalentine
from
Gorgeous
This table is simply AMAZING! We had been looking for the perfect table for about 5 years, and finally found it! It is well constructed and beautiful. It is defiantlya statement piece in our home. We paired it with the Lyle side chair and I could not be happier. Can not wait to buy our living room furniture next.
Date published: 2013-03-04
Rated

5

out of

5
by
Luvtodine
from
Wonderful table!
We purchased this table before the holidays last fall and couldn't be happier! Love the rustic touches on the sides--the wood is so beautiful and it requires very little maintenance. I polished with a little bees wax right after it was delivered and it stood up like a champ through several holiday dinners. Everyone compliments it when they see it! Very unique.
Date published: 2013-03-04
Rated

5

out of

5
by from
Absolutely stunning!
Since this table has been in the store, I had visited it on a regular basis for months. My kitchen was redone in the fall and just before Christmas, you offered the furniture sale and free delivery. I snatched it up. Just as I envisioned, it looks perfect. The table is so well made. Very solid and easy to care for. After many hours of research, we used 2 coats of Watco Danish Oil on it, giving it a matte finish. Now I'm waiting on the bench to go with it and chairs. Thank you
Date published: 2013-03-04
Rated

5

out of

5
by
kKoko
from
Love this table
We have oiled this table with a clear produce that left it looking natural, exactly as we purchased it. It makes the table less likely to stain. The table is the centre of the room. So many comments on how wonderful it looks. The raw edges make this table stand apart from others. Highly recommend the table.
Date published: 2013-02-23
Rated

4

out of

5
by
Ladys Mom
from
Love it
This is a beautiful table. I love the color. I love the legs. I love that it's rustic, yet elegant.I've read about the rings left behind for others, but that is part of owning a piece with a natural finish, and I'd say that is a positive. I've yet to wax mine, as I need to sand some rough spots first. The other reason I gave it four stars is because one long edge is 90 degrees and isn't as uneven as the other, and I rather like the unevenness. I turned the 90 degree edge toward the wall, and that helps.I paired it with high-back, cream linen chairs with brown stained legs. I need to either refinish the legs of the chairs or get a runner with some brown in it to bring it all together. Otherwise, I love the play between the more formal high back chairs and the simple table. The natural linen looks gorgeous with the wood and the river blue/green of the walls. No regrets. Just need to get out that sandpaper.
Date published: 2013-02-08
Rated

5

out of

5
by
Devan
from
Just purchased this table and have received numerous complements. Love it!!
Date published: 2012-12-29
Rated

5

out of

5
by
Mko1
from
Wonderful, but care needed
The table is just delightful - we couldn't be happier. But great care is needed to prevent staining - like others have pointed out, putting a wet glass or bottle on the table will create a ring that is very difficult to remove. We have since treated it with Vans bees wax, but I am not certain that this will eliminate the problem from happening.We did have one ring that I managed to effectively eliminate by carefully placing a dry cloth over it, and using an iron. I basically ironed on the cloth, heating up the table, and the ring almost disappeared (with no damage to the table). But I did feel uncomfortable doing this, and would hope that I wouldn't have to repeat it again. I basically now take care to ensure that rings don't happen by placing a coaster or placemats on the table.Nevertheless, this has become our most prized piece of furniture - we see it as an heirloom. Highly recommended.
Date published: 2012-12-29
Related Products
Start with the perfect base. Clean simple lines in four dining sizes...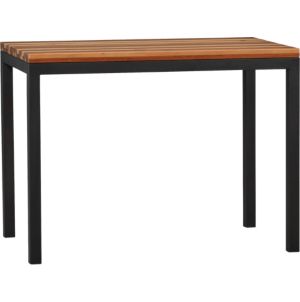 Clean simple lines in hot rolled steel hand welded and ground at...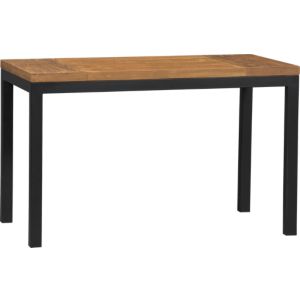 Clean simple lines in four dining sizes are made of hot rolled...