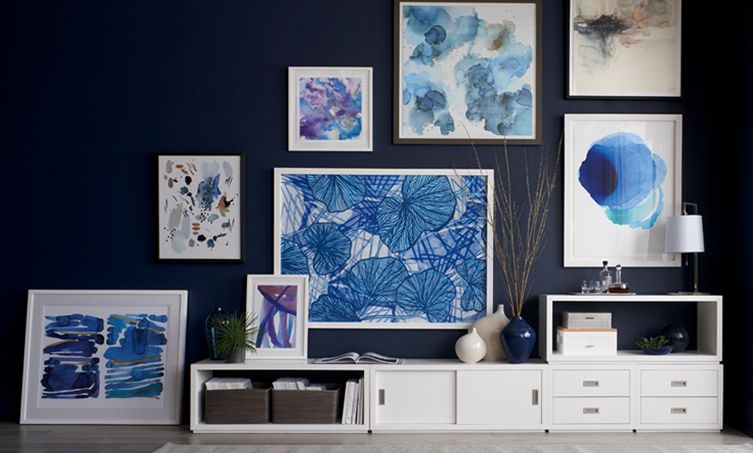 Complete your space with wall decor from Crate and Barrel. From artist prints to on-trend mirror shapes, we offer a full range of designs for decorating your walls. We also offer other wall decorations, including clocks, picture frames and shelves. Learn more about our wall decor options.
Wall Art
From starburst wall mirrors to circle wall hangings, we have a full range of stylish wall art designs for your home. Choose from art in classic and contemporary styles.
Mirrors
Add a beautiful reflective surface with one of our mirrors. Beautiful and versatile, our mirrors transition well from room to room and can make a small space feel larger. We have wall mirrors in a variety of shapes, including rectangular, round and square. We also offer floor, tilting cheval and over-the-door mirrors for convenient full-length views. More than just functional, many of our mirrors also double as unexpected works of art.
Prints
Our carefully selected wall art collection complements your furniture and home decor. We have a variety of giclée prints for your home. Giclée is one of the primary ways to reproduce original works of art and photography for limited distribution. Small jets of archival or fade-resistant inks are sprayed in tiny drops onto paper, canvas or textured vinyl and stretched over a rotating drum. Special software is then used to manipulate the digitized image to achieve the artist's requirements. It is then transferred to an Iris Printer or another printer, which uses advanced technology to create lustrous, continuous-tone, digital prints.
Clocks
More than just for telling time, our beautiful clocks add a touch of style to any space. Choose from our wide selection of contemporary and classic clock designs. We also offer specialty clocks, including wood, bronze, chalkboard and marble styles.
Picture Frames, Display Shelves and Picture Ledges
Showcase your favorite pictures in our frames, ledges and shelves.
Picture Frames—From matte black and white to brushed silver and gold, we have the frames you need. Choose from beautiful frames in a variety of sizes, including 4x6, 5x7, 8x10, 11x14 and more. We also have specialty styles, including document, shadow box, collage and gallery wall.
Display Shelves and Picture Ledges—Looking for a unique way to display your photos? Our picture ledges provide a sleek, minimalist look for showcasing your favorite pictures. They can also be used to showcase wall art, small vases and decorative accents. Picture shelves and ledges allow you the flexibility to change out your displays without the need to install hanging hardware with each piece each time.
Shop our selection of wall decor and mirrors to find just the right accent for your room.