Prices and availability are subject to change from the time and date that you print this page.
10/1/2014 8:01:29 PM. For Customer Service, please call 800.967.6696
Delta Side Chair and Cushion
More Delta Items
Delta Side Chair and Cushion
is rated out of
5
by
72
.
Rated

3

out of

5
by
Tonit
from
Light weght chairs
I bought four of these chairs for my kitchen table. They look great. i like them because they are very light weight and easy to clean. They look more solid in the picture but still a good chair.
Date published: 2014-04-08
Rated

5

out of

5
by
DallasAnna
from
Cute color, good solution!
After buying the Delta chairs, I realized I needed a cushion because the chairs can be a bit chilly in the morning. I ordered the cushions in the yellow color and they're perfect. Easy to attach to the chairs and the splash of color against my antique black table is just what I was looking for.
Date published: 2014-04-07
Rated

5

out of

5
by
DallasAnna
from
Super stylish, great price!
After looking and looking for a stylish and affordable dining chair, I decided on the Delta and I love it. They pair beautifully with my antique library table and farm bench for our kitchen nook. The chairs added the modern edge to my rustic decor, creating an eclectic look that I love!
Date published: 2014-04-07
Rated

4

out of

5
by
Mariale
from
Great look and light
The chair gave my dinning room the look I was hoping for. They are sleek and light. I first purchased them without the cushions and they were too cold. With the cushions they are great!
Date published: 2014-04-07
Rated

4

out of

5
by
JohnnyFM
from
The retro counter top stool is cool!
I bought three of these chairs several months ago. Made of aluminum, they are lightweight and sturdy. Should last much longer than some cheap wood or wood fber product. They are also suprisingly comfortable with the molded "tush" hollow. I do recommend seat cushions because the metal will leave your bottom rather chilly without.
Date published: 2014-04-07
Rated

5

out of

5
by
Olseniteachem
from
Unparalleled stylish value!
I have always loved the look of these chairs, but the originals are far too expensive for my budget. I am so thrilled to be able to afford a look-alike at a great price. Not to mention the construction quality--these chairs look and feel well-made. So happy i bought them. Nothing else at this price point even comes close to the way these look and hold up. A-mazing!
Date published: 2014-03-28
Rated

5

out of

5
by
Olseniteachem
from
Love, love, love everything about these cushions!
First of all, they compliment the Delta chairs perfectly. They are easy to take on and off chairs with the Velcro fasteners. And...they're GRELLOW! I was not sure about the color until I picked them up from the store....but they're the perfect shade of yellow in a modern palette.These chairs are used by two of us...me and my nine-year-old son. I'm admittedly a little bit fussy about how he treats the furniture, but I have no concerns about them holding up. I used a spray protectant on them. I know other reviewers have felt that the cushions don't stand up to kids....but I'm not sure that any cushions for hard chairs CAN stand up to excessive wear and tear....especially if little kids are climbing in and out of chairs, pulling them back and forth against the back of the chair for leverage. Unfortunately, there aren't many products that can withstand the daily wear and tear that kids dish out. To think otherwise is probably expecting too much.For the price, these can't be beat. They're a GREAT value. So many hard chair cushions are unattractive or uncomfortable, and I think these are just perfect. I'm thrilled with my purchase!
Date published: 2014-03-28
Rated

5

out of

5
by
JimBSantaFe
from
The perfect choice
We also needed to update the seating around our board table. We had some great classic Herman Miller chairs that just took up too much space and weighed too much for our aging population to handle well. The Delta Side Chairs are lightweight, very comfortable and provide plenty of "walkabout" room in the board room. We couldn't be happier with our purchase.
Date published: 2014-03-25
Rated

5

out of

5
by
Yvette
from
Cool chair for home office
I was looking for an extra chair for our home office. I painted the walls a light grey color so I wanted this chair. I really like the chair and since it's on carpet, I never really had the concern of wobbly on a hard surface. It's true that the chair is cold. I bought a cushion at another store and the cushion is trendy and has grey stripes. I think the chair looks very nice in our office. I needed a chair that was not another computer chair for guests!
Date published: 2014-03-25
Rated

1

out of

5
by
Mama2Three
from
Initially look great but very, very low quality.
These do not hold up to regular use of kids. They don't wash well with or without the cushions removed, as both were suggested by C&B reps. I bought 3 cushions initially, had to have 2 replaced. 2 of the 3 have come pulled apart at the seams, disconnecting itself from the Velcro attachment that holds the cushion on your chair. Literally. The Velcro circle is detached from the entire cushion and is in two separate pieces now. :( I bought these to go with the Delta Aluminum chairs I purchased here from C&B and these scratch easily & the scratches are not removable. A little wear is understandable but these aren't long term, or even low-traffic areas.
Date published: 2013-12-31
Rated

4

out of

5
by
nearmountain
from
Comfortable, sleek, narrow chair - with issues
The chair is comfortable, sleek, and narrow. Unfortunately, there are some manufacturing quality issues. We purchased four of these chairs that had to be sent to us because the store did not have enough in stock. We were excited to get them only to find that two of the four rocked back and forth - one of the front legs were shorter on each chair!  It is disappointing to see this lack of quality control from something that Crate & Barrel sells. Fortunately, Crate & Barrel were quick to make things correct - they are sending us two new chairs and the exchange process seems straight forward.If you are going to purchase these at a store, open them up and try them out before bringing them home. 
Date published: 2013-10-27
Rated

5

out of

5
by
atljan
from
GREAT chairs, bad cushion covers
We absolutely love these chairs. They wipe clean, are absolutely indestructible and beautiful. We have six of the chairs and two of the bar chairs. Love, love, love!!We've had them for about two years, I'd guess. The only downside is the cushion covers. We have them in black. The covers come off the cushions, which is great, so that they may be washed, but unfortunately they are all coming apart and the zippers are broken. I'd love it if I could buy some other covers to fit, maybe ones that are better made. T
Date published: 2013-06-12
Rated

5

out of

5
by
anaj
from
love them
Delta side chairs are beautiful. They're small and light but sturdy and comfortable, retro, traditional, and modern. What more could I ask for? They add a soft glow around my light oak colored kitchen table, and I like them so well I ended up ordering a couple more, plus the yellow cushions. Yes, they're cool to sit on but not a problem in the SoCal summer heat. Plus, since they were designed for commercial use I expect them to age gracefully. All in all a good buy!
Date published: 2013-05-31
Rated

5

out of

5
by
Raleighwoodgirl
from
Great seat cushions!
I love these seat cushions. They fit my bertoia side chairs perfectly! I ordered these in-store and they arrived very quickly.
Date published: 2013-05-06
Rated

5

out of

5
by
Oxshopper
from
Love these yellow cushions
I love the color and fit of these cushions. Beautifully made. It is a beautiful yellow, very calm and not too harsh or bright. Mixes with almost anything.They add comfort and also help make up for the fact that the Delta counter height stool is a little too low for optimal counter seating height.
Date published: 2013-04-28
Rated

5

out of

5
by
FrenchMod
from
Just enough modern
I bought these chairs to go with a vintage french table. They look great and are very comfortable. I bought four, but I plan to buy two more now. None of the chairs I received were wobbly - they are in perfect condition.
Date published: 2013-03-05
Rated

5

out of

5
by
SAndrea
from
Delta Side chairs are a hit!
Love the sleek clean lines and they look so "in".. Paired them with a sleek black table. Don't forget the cushions for a splash of color.
Date published: 2013-03-04
Rated

5

out of

5
by
Nora77
from
Great Look & comfort
Bought 4 of these chairs, counter height, for a small Kitchen with a Stainless and white wood table. They look great and are very comfortable.
Date published: 2013-03-04
Rated

5

out of

5
by
drlynn
from
love it
I totally love this shiny, comfortable chair, which adds a little spark and muscle to my eclectic decor.
Date published: 2013-02-24
Rated

5

out of

5
by
jjessup
from
Perfect
LIght weight but still sturdy. The yellow cushions are great!
Date published: 2013-02-22
Rated

4

out of

5
by
Showguy
from
Just what we needed
It was time to replace the chairs around our conference table at the office, and while I love the Emeco Navy Chair it was too dear for our budget. The Delta Side Chair is a nice alternative, and a great value for the budget. The chairs look much better and are a lot more comfortable than one might expect for the price, and we are very happy with them.And it was great to be able to see them in a store before making the purchase - I would have been reluctant to purchase six chairs online from only a photo.
Date published: 2013-02-22
Rated

5

out of

5
by
Ladys Mom
from
Like
Pretty, comfortable, light, modern. The brushed metal looks gorgeous against my cream walls and next to my red granite, especially in the morning sun. They are cold to sit in, but that's easily fixed, even with a thick, woven placemat. My only complaint is that I'm now dreaming of a new table, though they look great with the unstained birch table I already have.
Date published: 2013-02-08
Rated

5

out of

5
by
tallgirl
from
They fit Emeco Chairs!
Finally, I found cushions that fit my aluminum Emeco chairs! Most cushions are too big to fit the smaller dimensions of the seat...these fit perfectly and are very comfortable! Well, made, washable with zipper covers.
Date published: 2013-02-02
Rated

2

out of

5
by
bluebell143
from
weird silver color
I ordered these chairs because I love how they looked online and I have all silver fixtures in my kitchen. However, these chairs are gleaming white silver. They are so bright that sometimes in the right light, the look white. I was hoping they would have more of a patina and finish on them. They are also very matte so they are hard to slide on and off of. BUT, if you like the finish, they are really comfy, even without chair pads.
Date published: 2012-12-20
Rated

5

out of

5
by
Happy 1
from
Great chairs
I love my new Delta aluminum side chairs! Besides looking stylish, they are lightweight and comfortable even without the cushion. I can used them as spare seating in my den or anywhere I need it and they look great and do not take up a lot of room.
Date published: 2012-09-09
Rated

5

out of

5
by
MinervaAnne
from
Great kitchen chair
Retro style looks great in my kitchen. Light weight, durable.
Date published: 2012-09-09
Rated

5

out of

5
by
Tom D
from
Bar Stools
We wanted to update the look at our kitchen counter and these stools were perfect.
Date published: 2012-09-08
Rated

5

out of

5
by
WheelinCMH
from
great chairs!
I put eight of these around an antique farm table. I love the contrast of metal with wood. The chairs are lightweight but sturdy. They are easy to keep clean and comfortable to sit on. I will be buying the pads before winter because the metal will feel cold, I am sure. The customer service at the C&B store where I picked them up was awesome! They were very helpful and went out of their way to get the chairs loaded in my car.
Date published: 2012-09-08
Rated

5

out of

5
by
rosearbor
from
Great product
These barstools are wonderful. They have great style and are very comfortable. The best thing is that they are so lightweight you can move or carry them easily. It's a great extra chair for kids or grand kids because it sits higher than a regular chair. Love everything about it.
Date published: 2012-09-01
Rated

5

out of

5
by
luvtoshop12
from
Awesome Chairs
Purchased five of the delta chairs for my kitchen table and they are perfect. They are extremely light weight, but not in a cheap way. Had them for about two months now and they match perfectly with my other decor.
Date published: 2012-09-01
Related Products
Tie on an extra layer of comfort custom fitted to our Cabria...
A new dining dress code. All weather wicker with a java brown...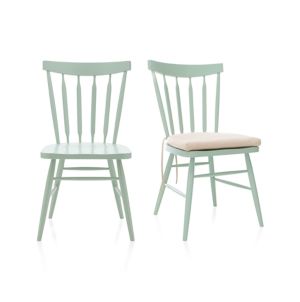 The ever popular Windsor chair sits up and gets noticed in frosty...