Prices and availability are subject to change from the time and date that you print this page.
4/21/2014 1:20:59 AM. For Customer Service, please call 800.967.6696
Rojo Tall Cabinet
Rojo 46" Media Storage Cabinet
Rojo Red Tall Cabinet
is rated out of
5
by
153
.
Rated

5

out of

5
by
RojoAmor
from
Absolutely Fabulous!
It was love at first sight and I absolutely could not stop thinking about this furniture piece when I went home without purchasing it! I told myself (while I was at the store), that I would "sleep on it", because it was and is a bit pricy. Well, the problem is that I could not sleep! LOL... I think I even dreamt about it. This is all I ever wanted to store my beautiful collection of Tequila Bottles. I will try and share a picture with you guys. It looks absolutely amazing! I definitely reccoment this piece. Do not sleep on it, haha. It is sturdy and becomes the Main Attraction of the room where you place it. A must have!
Date published: 2012-04-15
Rated

2

out of

5
by
Susan S
from
An Uncertain Purchase
Buyers beware! Be sure to inspect the cabinet inside and out before the truck leaves. You are buying a piece of furniture with a "distressed" look not a "broken" one. Previous Rojo cabinets delivered to us had nail split cracks in the boards of the shelves from 6"to 18" long, they were not board seams!. The black interior is covered with a lot of over spray paint dust, which will take a while to wipe clean. We accepted a cabinet only after three others were rejected for broken shelves, etc.I believe there is poor quality control at the manufacture. The piece is well designed, but the quality of the construction doesn't match the design quality.
Date published: 2014-03-11
Rated

3

out of

5
by
InChico
from
Make a statement with this piece.
This is a big piece, with a deep, aged, shade of dark red. The men who delivered it were timely and considerate. I am disappointed with what I'd call the assembly part of the piece, though. There was a swipe of dark stain on the glass itself, as well as on a cpl of other random places on the front. The most noticeable thing, was the crooked gap at the top of one of the lower doors when it is closed, (which is always). It just looks like someone hastely put it together. I waited about a month between purchase and delivery, and delivery was free on the day I bought it, so I've decided to live with the flaws. I just expected more considering this store's high reputation, and, for the price.
Date published: 2014-03-11
Rated

5

out of

5
by from
All my friends try to steal my cabinet
I love my cabinet. It's in my kitchen stacked full of my white crate and barrel 'essential dinnerware'. The effects of of the white clean dishes against the red rustic cabinet is stunning. I order the cabinet and it came in a tiny bit damaged. I have had great experiences with crate and barrel customer service in the past but decided not to follow up. This cabinet can get banged around and it really just lends to the rustic appeal.Other have complained of the smell, which does linger for a while. It didn't really bother me and I put little bowls of savory herbs inside the cabinet which helped. Most the smell disapated within a month. I have purchased random import wood pieces before, and they all have a similar smell. No biggie.
Date published: 2013-08-05
Rated

5

out of

5
by
Sarah P
from
Really excited about this piece!
This was our first piece of furniture as newlyweds. We needed to put the china somewhere! It is a beautiful piece that we are using for books and our nice new silver/china. We have a set of encyclopedias, the Great Books set, our china and some serving pieces. It's in a hallway, but we move frequently and could see it almost anywhere in the house, except a bedroom. We did buy some shelf paper given the comments and recommendation from C&B. Lighting would be nice for presentation, but without glass shelves and for the price, we are thrilled! Wish I could put it in the snow. I love that photo!
Date published: 2013-12-03
Rated

5

out of

5
by
WeLoveCLE
from
Great China Cabinet
I initially went into Crate and Barrel to look at a smaller piece, but I'm so glad that we ended up buying the Rojo Cabinet! Our dining room isn't large, so we appreciate that the cabinet is deep enough for large dishes, but it doesn't stick out from the wall too far or make the room feel small. All the glass brightens the room and the red gives a pop of color without being too bright.The two men who delivered the cabinet were amazing! They had it out of the truck, up the driveway (on a snowy day) and into our dining room in 5 minutes! We really appreciated the excellent customer service.
Date published: 2013-05-25
Rated

5

out of

5
by
AK Mom of 4
from
Awesome Office Storage
I ordered this piece for my office from the website without ever seeing it in person. The minute it came out of the box I knew it was everything I had hoped it would be and more. I use it for storing books and office supplies. Most people think it's an antique. It is warm and slightly rustic without being too "cutesy." Almost everyone who comes into my office comments on it immediately (even a guy who was lost and at the wrong office). In order to hide my collection of pens, spare folders, paper etc. I took pictures of my kids and fit them into the glass panes of the lower doors. That way I can show off some of my favorite photos and hide the bottom storage. Like I said in the tite, this is an awesome piece.
Date published: 2010-10-30
Rated

1

out of

5
by
jand
from
you need to know
This cabinet and matching media unit are very high maintenance. The pieces were delivered during hurricane Alex and proceeded to bleed red paint on my carpet. The shelves were crooked in the media cabinet and a warning arrived after I contacted customer service- anything placed in units should be protected from interior paint. Not suitable for book or linen storage. Also- the cabinet must be secured to a wall stud because it is top-heavy and could fall over. The only plus was C&B customer service that promptly had my carpet cleaned.
Date published: 2013-08-13
Rated

5

out of

5
by
JustSuzy
from
Exceeded my expectations!
I purchased the Rojo cabinet solely on the reviews posted here (despite that I could have see in a nearby store) and couldn't be more happier with my purchase! The cabinet is massive as stated and well built. I have it in a 25'x30' room and it's size remains stately. I am having a tough time putting anything in it as it's just too beautiful and I love looking at it! The delivery gentalmen were just that, very couteous and professional. My only concern is the annchoring parts that came with the unit; they do not appear to be suitable for this size of a cabinet.
Date published: 2009-11-11
Rated

5

out of

5
by
Copie
from
A+ Rating for Experience & Product
From placing the order - to the inhouse delivery of this product, I am extremely pleased. The Rojo cabinet is an outstanding buy. I had actually seen the cupboard on the sitcom "Gary Unmarried" and thought if I could find it for sale, it would be the perfect cupboard to accent my Fiestaware. I found it at Crate & Barrel! My purchase was handled by an efficient sales rep who answered my myriad of questions. The delivery happened in less than four weeks. The gentlemen who brought it into the house were courteous and careful. Thanks to all who were involved!
Date published: 2011-07-21
Rated

5

out of

5
by
MelisB
from
A favorite piece
I absolutely adore this cabinet, it is one of my favorite pieces and really fits in with our antique-filled home. I purchased it on October of 2006 and have used it in two homes so far and continue to love it. It currently brightens up my dining room by showcasing two very extensive sets of china and crystal from my late grandmother. It is a great complement to the antique pieces I have in the room and also provides a lovely, rustic, charm. I love the unexpected pop of red color as well, without being overly bright. The cabinet did need to be wiped down in the interior prior to putting our dishes in, but I didn't mind that. I do it anyway. I know we will be enjoying this piece for years to come.
Date published: 2011-10-21
Rated

4

out of

5
by
DebLyn
from
Third Times a Charm
I have wanted this cabinet for the last 4 years ever since I saw it at a relative's house. I have to say there is no comparison to that cabinet and what is being delivered today. I hesitated ordering it based on the reviews I read. I finally decided to get it. I could not find anything with the amount of storage that this cabinet has for the the size. I know this cabinet is meant to be rustic. However, there is rustic and there is defective. Having seen the one at my relatives, I returned the first cabinet due to a number of issues. The second cabinet was worse than the first. I kept the third one. There were no issues with an odor that others have mentioned. Considering the amount of dirt on the outside of the cabinet, I have to assume that it was sitting in a dirty warehouse for ages. I have never had to spend so much time cleaning a new piece of furniture. Expect to spend a significant amount of time cleaning it. I spent hours scraping glue off the inside and outside of the glass. The color is perfect for our decor. I am thrilled to finally bring my dishes up from the basement and have them close by. With some re-arranging I know I can find more room when I need it. The cabinet is very solid and sturdy. If you can get passed the cosmetics, and overall poor workmanship, this is a cabinet that you will be very happy with. One last note, please beware of splinters.
Date published: 2014-01-29
Rated

1

out of

5
by
Beth37
from
Disappointing. Horrible, not at all like the image
The exterior of the product was not at all as pictured and looked horribly damaged rather than distressed. Besides the exterior looking very cheap rather than like a nice piece of furniture, the delivery men could not get the shelves installed and had to use a drill to get the bits to fit inside the holes, rendering the shelves permanent at the selected height rather than adjustable - and they did not even lay flat once installed! Lastly, I have Verizon Fios and tried to put the cable box inside the media console. However, the remote does not work through the glass. Overall, totally disappointed.
Date published: 2014-03-06
Rated

4

out of

5
by
VillageRez
from
Lovely but stinky
I ordered this cabinet and the low media cabinet in December and received them in January. They are terrific, attractive pieces of furniture but they do stink even five months later. I followed customer service's suggestion to place aquarium charcoal in containers inside and that removed a bit of the smell. I keep china and pottery in the large cabinet so that's not a problem and I leave the doors open often but I was going to put books in the low cabinet. I'm afraid they will absorb the pungent odor. Even my husband who is not usually sensitive to odors has asked when it will go away.
Date published: 2010-06-09
Rated

5

out of

5
by
sandstreet
from
I adore the way it looks in my dining room!
I am so very happy with this big purchase. I ordered it last Sunday and it arrived today, one week later. The delivery guys were in and out very efficiently. The hutch has a rustic/elegant look. Very sturdy. I like the big wide shelves and the black interior. 100% satisfied!!!!!!!
Date published: 2013-11-26
Related Products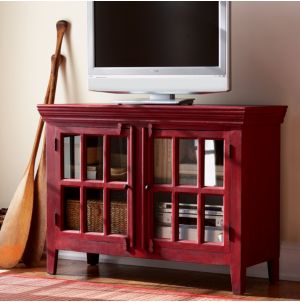 With all the warmth and rustic charm of a one of a...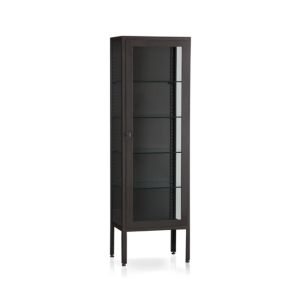 Straight from the apothecary shop arrives a new classic, retrofitted sleek and...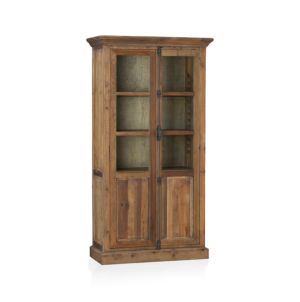 Reclaimed pine from buildings no longer in use in China give our...