Prices and availability are subject to change from the time and date that you print this page.
10/31/2014 1:30:20 AM. For Customer Service, please call 800.967.6696
A refresher course in retro storage and service. These classic lidded glass jars have been in production since the 1940s, the perfect see-through container for snacks or for ladling up beverages like lemonade or sangria.


Heritage Hill 256 oz. Glass Jar with Lid
is rated out of
5
by
159
.
Rated

4

out of

5
by
Jw0924
from
Love! But fragile...
I recently purchased the 256 ounce and 64 ounce sizes to round out my collection for my kitchen. Unfortunately the 256 arrived with a chip in the rim so that is a disappointment that I just put towards the wall and try to ignore. Otherwise I really like them.
Date published: 2014-02-09
Rated

5

out of

5
by
Lucy94
from
Perfect size!
I wanted canisters with openings wide enough to spoon flour into a measuring cup without getting it all over the counter.  The 128 oz is perfectly sized for that AND it is a good size for sitting out on the counter. At first I bought the 256 oz size -it was HUGE!  Way too big to keep out - probably holds st least 16 lbs. of flour. The 128 oz. size holds approximately 8 lbs.
Date published: 2013-11-11
Rated

5

out of

5
by from
Love, love, love
Received shipment well packed, nothing broken. Ordered three all in the same size, look great in my newly renovated kitchen. Heritage Hill Glass Jars, a great price, always thought Crate & Barrel were expensive, will look at their web site more often.
Date published: 2013-08-17
Rated

5

out of

5
by
I love Jesse
from
Decorative and functional!
My dog's food storage has never been so decorative! It's the perfect size to hold a decent amount of food (I put in 40 cups of dry dog food!), and it looks really nice! I'm buying 2 more to hold food for my cat and other dog. :)
Date published: 2013-06-07
Rated

5

out of

5
by
SleepyMom
from
Exemplery Customer Service
Ordered 6 jars of varying sizes. They came extremely well packed! However, one small jar was still broken which I suppose can happen when you have a box full of glass. One quick easy phone call to Crate and Barrel and a replacement jar was on its way to me. The jars come with the lids attached by a plastic band, but my replacement jar had the band removed and each piece wrapped in copious amounts of paper separately. Their flat rate shipping is a steal considering the care they take in the shipping process. The jars look great on my counter!
Date published: 2013-05-25
Rated

4

out of

5
by
Gamblina
from
Love It
I bought the largest sizes glass jar with a ladle and use it for beverages. It was much less than the glass jars with spouts (that also have a stand to purchase), and everyone comments on how great it looks. My only suggestion would be to have a lid option with a divit so that when the lid is on it would still lay flat with the ladle being inside. I still love it, but having that feature would make it perfect when using to serve beverages.
Date published: 2013-05-16
Rated

5

out of

5
by
Petemos
from
Awesome Jar
I purchsed this jar to hold my cat's food. I had her food in a tupperware storage container, and she always seemed to be getting sick after a few days of her food being in that container.Now the jar is perfect. And she isn't getting sick anymore. Plus I can see the level and plan when I need to purchase more food. And it looks rather classy.
Date published: 2013-04-24
Rated

5

out of

5
by
Nash
from
Awesome Terrarium and Assortment of Other Things
This jar works amazingly well for exactly what I was looking for. It makes a great terrarium. It doesn't seal fully with the lid but it seals well enough that moisture will condensate on the inside of the jar. This jar is incredibly useful for a wide range of other things if I decided to scrap the terrarium so I feel that this really is an excellent purchase especially for the price. I got the largest of the heritage jars.
Date published: 2013-04-21
Rated

5

out of

5
by
AdamK
from
Heritage Hill Jars
Good solid jars! I think they are ideal for storing flour, sugar, oatmeal and other dry goods. I keep mine on the counter and aside from being handy, they look great. Highly recommend them for any working kitchen!
Date published: 2013-04-07
Rated

5

out of

5
by
Beachgal24
from
Beautiful Jars
These jars look absoultely beautiful on my counter top. I bought the 128oz & 96oz jars and I am going to order the 256oz jar. The glass is thick making them very solid jars. I was quite suprised at how quickly they arrived and how nicely packed they were.
Date published: 2013-03-13
Rated

5

out of

5
by
Maureen
from
Must Have
This jar is very large, substantial, and attractive. Find space to leave it out in your kitchen, and you will find many uses for it: sundries storage, lemonade receptacle, a terrarium, whatever strikes your fancy. Even if it just sits on your counter and serves no earthly purpose for a spell, it is way cool. Don't hesitate. And it's made in the U.S.A. - another fine attribute.
Date published: 2013-03-05
Rated

5

out of

5
by
BlueHouse
from
Nice Solid Glass Jars
I bought the 64oz one and am planning on buying the 128 oz one too. I am not using them for food storage but the lids are tight fitting so you could def. store food in them.Great jars, especially for the price!
Date published: 2013-03-05
Rated

5

out of

5
by
haye
from
Great gift item
I purchased these jars for Christmas gifts and they were perfect. Great quality and exactly what I was looking for.
Date published: 2013-03-04
Rated

5

out of

5
by
DJJB
from
Love these Jars
I purchased three of the 256oz. heritage hill jars with lids. I love these jars one has cereal in it, one has sugar with one of the metal scoops that are for sale on this site and the other candy. The jars are really well made and heavy and if there is ever a problem the customer service team at crate and barrel is top-notch, One of my lids had a small defect, called customer service and the next day I had a new lid. I see myself buying more of these jars in the future the possibilities are endless for the things they can be used for....
Date published: 2013-03-04
Rated

5

out of

5
by from
great quality!!
I was thoroughly impressed with how wonderful the quality of this jar is. It easily has the quality if something that would have been purchased 40 years ago, and now a days that is extremely rare. Would recommend to anyone!
Date published: 2013-03-04
Rated

5

out of

5
by from
Wonderful addition to the pantry
I bought 12 of these jars so far and I'd like to buy about 30 more. They are a wonderful way to store dry food and they look great with any kitchen style. Plus they are inexpensive and durable.
Date published: 2013-03-04
Rated

5

out of

5
by
JeaLax3
from
Handy and Beautiful
These are an amazing addition to our kitchen. I was looking for jars to hold my flours and sugars. Since I spend alot of time in my kitchen I wanted something that would look nice and stylish. I love the way they look on my counters, so classy and stylish. They seal wonderfully and are heavy duty. You cannot go wrong with this purchase! My husband even raves about them. I would highly recommend for any style house/kitchen, they wont disappoint.
Date published: 2013-03-04
Rated

5

out of

5
by
Grace M
from
LOVE, LOVE, LOVE!!!
I bought 6 of these jars, and love every one of them. They look fabulous on my counter and make it so easy to see what I am running low on.
Date published: 2013-03-04
Rated

5

out of

5
by
MissEl
from
They Were Thrilled
My daughter and son-in-law listed Heritage Hill Glass Jars on their wedding registry. Since they didn't receive at that time I gave them as a Christmas gift. They were completely thrilled. They are beautiful and functional.
Date published: 2013-03-04
Rated

5

out of

5
by
Worst Cook
from
great product
I live in humid Houston, TX, and I was concerned that these glass jars didn't have a sealing lid. But the lids are nice and heavy and sit tightly on the top. Moisture doesn't seem to be a problem. My flour and sugar are perfect. I bought 4 sizes and they're great looking too!
Date published: 2013-02-27
Rated

5

out of

5
by
JenCS
from
Great addition to your counter
I bought these jars to house cereal and granola which we seem to go through at a never ending rate in our house. I originally purchased the 256oz one after reading the reviews about how lovely they looked on the counter - be warned the 256oz jar is HUGE much too big if you have a smaller kitchen and not much counter space. I then purchased the 128oz and 64 oz ones and they look lovely on my counter. The jars are excellent quality and I was impressed at the packaging used by C&B to ship them (unharmed). These are classic and will fit nicely into any kitchen!
Date published: 2013-02-23
Rated

5

out of

5
by
catz
from
Great for organizing for every room.
I have purchased these fantastic Heritage Hill Glass Jars in every size. They are great for the Kitchen, I store some of my favorite teas in two of them. Dog treats in one and pasta in another. I plan to purchase another set as well. They are great for the bathroom to give yourself your very own spa retreat. They are great to store soap's, Bath salts and more. In your bedroom you can put just about anything in them. Display some of your favorite scarfs or layer some winter hats or gloves in the large jar. Laundry room store your dryer sheets, baking soda to remove stains and it gets your clothes cleaner. So many ideas and so many uses!
Date published: 2013-02-23
Rated

5

out of

5
by
Cfabrocini
from
Great for storage
I purchased two medium (64 oz) jars because I just love the look of these for items in the kitchen. The came packed tightly and securely.
Date published: 2013-02-22
Rated

5

out of

5
by
smidor
from
Great Purchase!
Recently purchased these very pretty jars for the counter and they are just fabulous! I will add them as my new collection!
Date published: 2013-02-21
Rated

5

out of

5
by
dada
from
Heritage Hill Glass
Crate and Barrel packed the item very professionally, and the jar arrived in perfect condition. It is a great jar, stores more than 10 lb of flour, and looks great on the kitchen counter!!!
Date published: 2013-01-19
Rated

5

out of

5
by
brewerswife
from
great deal
I purchased six of these jars in various sizes. Shipping was fast and everything arrived safely. They are a great value.
Date published: 2013-01-05
Rated

5

out of

5
by
Kimberly Anne
from
Storage
Absolutely love the jar & price. It's just what I was looking for. However, I should have ordered the smaller version. I wanted something to hold my flour and sugar. I can put almost 10 lbs in each. It's perfect if your looking for only 1 on your counter as it does take up a lot of room. Wish it had a lid.
Date published: 2013-01-03
Rated

5

out of

5
by
Lady With Class
from
Great Purchase
I had been looking all over the place for the canisters that "The Barefoot Contessa" has in her kitchen on the Food Network Show. I finally found them after googling them & to my surprise that Crate & Barrel were the ones who had the exact canisters. I have already made several purchases with Crate & Barrel so after I thought about it a little bit longer, it made complete since that Crate & Barrel would be the store that would have them. I am madly in love with this store as probably many of you are as well. I wanted to purchased "two" of the 256 oz Glass Jar's (since this is what The Barefoot Contessa has) but I was a little reluctant on the size without seeing it first and after reading some of the reviews,so I decided to purchase one of the 256 oz jars and a 128 oz jar. I received them and immediately fell in love with the 256 oz jar. I ordered another 256 oz jar, and together they look beautiful in my kitchen. The smaller one (128 oz) I have decided to use for dog treats since I have two dogs, one little dog and one very large dog. Each dog has different size dog treats so the canister well be perfect. Again to anyone out there who is looking for the "Barefoot Contessa's" canisters these are the perfect ones. Buy the two 256 oz jars and fill them half way up and than look at how nice they look.
Date published: 2012-12-31
Rated

5

out of

5
by
tronathon
from
Perfect for the Laundry Room
I was looking for various containers to store products out of their ugly bulky containers in my laundry room. I use this one for powder detergent such as oxy-clean. I paired it with a cute metal scoop and it looks great in my room and functions perfectly keeping the powder dry.
Date published: 2012-12-31
Rated

5

out of

5
by
Hope8
from
Great Jars
I love this size jar! I ordered 3 to store my flour, sugar and tea bags on my kitchen counter top. I do not have a lot of counter space, so these 3 of the same size fit perfectly. I had ordered the set with 2 larger sizes, but they were much to large for my space. These are perfect and great quality! I definitely recommend!
Date published: 2012-12-28
Related Products
All purpose modern storage essentials with clean lines in view through glass...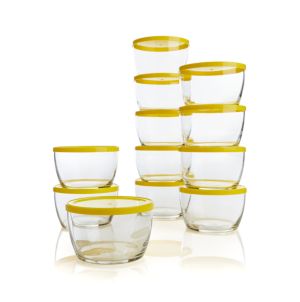 Heat, serve and store in the same durable glass bowl outfitted with...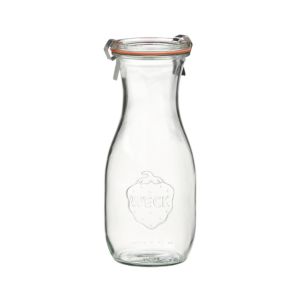 With the rise in home canning and preserving, it's only natural we'd...