Prices and availability are subject to change from the time and date that you print this page.
9/17/2014 12:55:53 AM. For Customer Service, please call 800.967.6696
Crate and Barrel Exclusive
Clark 5-Piece Placesetting
is rated out of
5
by
61
.
Rated

5

out of

5
by
elsbels82
from
classic
I couldnt be happier with this silverware set. Very high quality and doesnt show wear.
Date published: 2012-03-10
Rated

3

out of

5
by
LCarpenter
from
Nice looking, Tarnishes Quickly
We got these for our wedding registry and loved the way the felt and looked. They are beautiful! However within less than a year we started to notice rust spots on multiple pieces. This is decent silver and do not feel that you should have to battle tarnish after that short of time. What happen to the years of our grandparents and parents having the same set for 20+ years!?
Date published: 2012-03-10
Rated

5

out of

5
by
debbbay
from
Absolutely Perfect Flatware Set
I cannot stress enough how much I love the Clark flatware set. I put it on our wedding registry after using our close friends' Clark flatware that they received for their own wedding, and received one 20-piece set.I love the weight of each piece- it is substantial and you can feel the high quality.I love the rounded bowls of the spoons that contribute to the modern, simple and yet elegant look of the whole set. It is a modern style that will not go out of fashion and at 18/10, I am confident that it will last a lifetime. I purchased 2 more sets in addition to the 1 20-piece set and the 4-piece hostess serving set that we received for gifts.The pointedness of the forks is really nice, too. They are long and pierce food perfectly- not all spaced out like cheap silverware.I also love that there are no bands or lines or other unnecessary decorations on each piece. They are simple, clean, and bold in shape.We wanted a heavyweight, simple, modern flatware set that would match with virtually anything, and we definitely got it with the Clark flatware set.One thing- water spots will appear after washing a bit, but are easily erased with a damp, lintless soft rag.
Date published: 2011-11-14
Rated

5

out of

5
by
bride11
from
great gift
Love this placesetting. It is a brushed sliver that has a modern twist on tradidtional. This set is slightly on the heavy side, but it feels comfortable in your hand! dishwasher safe a plus. Almost everyone that gave this as a gift said they are thinking about buying it for themselves as well!
Date published: 2011-10-16
Rated

4

out of

5
by
rieditor
from
Nice flatware set
I was a bit hesitant to register for this set last year after I read some of the reviews, but I'm glad I did. We only received two place settings, so we bought the rest ourselves and we've been very happy with them. What struck me most about the Clark set was their heft; they are heavy and sturdy and we both liked that about them. Also, I far prefer the matte/stainless finish to a shiny one. We have not had any problems thus far with rusting or spotting, and it's been almost a year. However, we don't have a dishwasher so they are washed by hand and left to dry in the drainer.
Date published: 2011-08-31
Rated

4

out of

5
by
BlueeyedAmber
from
Flatware is Awesome!
I was trying to decide where to purchase our flatware whether to go with a higher quality and higher price or a lower price but lower quality. To my surprise this set was not higher in price like I thought it was right in line with the cheaper versions. So I opted for a higher quality item. I really love this set specifically because of the spoon shape. It's great for cereal and soup. There is nothing worse that a spoon that doesn't hold enough soup or cereal!
Date published: 2011-08-30
Rated

5

out of

5
by
Modern Classic Style
from
Nice Flatware
We love the clean design of this flatware. It is heavy and nice quality. The brushed metal also seems to wear well. Highly recommended.
Date published: 2011-08-23
Rated

5

out of

5
by
Michele A
from
LOVE!
This place setting is very well made. It is cast in one piece so it is very durable. The finish looks like polished nickel and is very contemporary.
Date published: 2011-08-18
Rated

4

out of

5
by
ClemsonTiger2010
from
Love this flatware, but...
We got this silverware as a wedding gift. I picked it out in the C&B store because I love the simple design of this flatware, as well as how heavy it was and the satin finish. I still love the way it looks and feels, however, we have had a major issue with them rusting in the dishwasher. We had our water tested to make sure it wasn't hard and causing the rust, but that wasn't the problem. I did research and found that it was likely because of the satin finish of the flatware.I need to clean the whole set with Barkeeper's Friend once every 3-4 months, and the knives more often than that (their composition is slightly different to keep the blades harder). The upkeep doesn't bother me much, but know that it will likely be necessary for anyone who buys this set.
Date published: 2011-05-13
Rated

1

out of

5
by
aabrams
from
Disappointed
I received 12 place settings for my wedding in October. I have had them only about 5 months and I am noticing some small rust spots and some major scratching. I am hoping that I will be able to exchange them for something else, we'll see. I would not buy not only this flatware, probably any flatware with a matte finish. It is poor quality.
Date published: 2011-03-17
Rated

5

out of

5
by
kmariek
from
Love the look.
I really enjoy this flatware. My husband and I have a modern-ish look and we both agreed that these were perfect. We've been using them for half a year and are A-okay in the dishwasher and look great.The only thing that I'm not too fond of is how heavy they are. They knock over little bowls if I leave a spoon in it. But I guess that means they're quality!
Date published: 2011-02-06
Rated

4

out of

5
by
KEGG
from
Nice Flatware
We just received this as a wedding gift and we really like the flatware and serving pieces. They have a nice weight and shape. The finish has been scratched/ worn a little already. I can't tell if its from using the scratchy side of a sponge or not. Its not super noticeable unless you look closely. We are happy with them though.
Date published: 2010-10-12
Rated

5

out of

5
by
kmariek
from
I love this set!
Registered for this flatware set for my wedding. My husband and I couldn't be happier. They are the perfect weight and quality, and also very stylish.
Date published: 2010-08-24
Rated

5

out of

5
by
Rachel J
from
Classic, Modern and Simple
I love this flatware! Its weight is wonderful. Classic.
Date published: 2010-07-17
Rated

4

out of

5
by
SoontobeBride13
from
Great if you don't put in the dishwasher!
We got these off of our registry, we've been very careful with washing them by hand and drying them before storing them, since all if not most of the reviews say these are prone to rust. We love the style, and the weight of them, and they are very easy to use. They are stylish but also useable. We just chose to not put them in the dishwasher and hope that will help not rust.
Date published: 2010-07-02
Rated

5

out of

5
by
nancynm
from
Love this flatware!
This is beautiful, graceful-looking flatware, high quality, substantial weight, well-balanced, comfortable to use. Glad I got it!
Date published: 2010-04-22
Rated

4

out of

5
by
lbutler
from
clark flatware
love the look and design of these. also, love the weight- hate using light flatware, enjoy something more substantial. so these totally work. some of the pieces seem huge to me (big fork & big spoon), and when using in a salad bowl they sometimes pop out due to their weight and length. but again, i prefer substantial.after a little bit of time some of the pieces started rusting. not a lot of rust, like some of the reviewers seem to have problems with, and not on tons of pieces. they came clean with bar keeper's friend with no problems, and hardly ever notice rust these days.. but still, rust, which annoys me, since the sales lady told me they would not rust, period.
Date published: 2010-03-20
Rated

1

out of

5
by
Ki33
from
Rusty Clark Flatware
My husband and I received ten place settings of the Clark flatware when we married five years ago and I have been very disappointed with the quality. This flatware is supposed to be dishwasher safe and durable enough for everyday use but it was not for us. The first rust spots started appearing on the butter knives after about a year and half. I buffed them out at first thinking it was just an anomaly but they kept appearing on new pieces. After five years, only about half of the entire set is rust free. In addition, the matte finish didn't age very well and is now a mixture of matte and scratches. I am unfortunately replacing the entire set after only five years.
Date published: 2010-02-10
Rated

2

out of

5
by
joeschmo
from
low quality finish
Excellent design, low quality finish.Like the other reviewers have stated--these things are rust magnets. Beyond the rust, the finish does not withstand the test of time. Not even 12 months.4 stars for design.Negative 5 stars for quality.
Date published: 2010-01-27
Rated

4

out of

5
by
MIA Cris
from
love the look and feel, but
the finish doesn't hold up over time; you really notice when you buy additional pieces and see that the others look banged up, and I've had the set for just under 2 years. But it is a matte finish and it's hard to expect that to last too long. Zero problems with rust though as someone mentioned. And, even though the finish does fade a bit, I would buy them again because they still look good enough, and the weight is what feels great; not flimsy at all. I prefer heavier flatware (can't stand lightweight ones) and this one fits the bill.
Date published: 2009-12-31
Rated

5

out of

5
by
mselliot
from
Clark flatware
Love the feel & look of this set. Using for everyday, but perfect for any occasion. This set exceeded my expectations - so much so, we are treating it like fine dinnerware and washing/drying immediately to keep the flawless finish finger print free, even just for our own use.
Date published: 2009-12-16
Rated

5

out of

5
by from
Clark flatware smooth sheen
Clark has been a great household investment for me. I use this flatware every day it it really exhibits international, functional design with fashion. It really fits the human hand in use. Each piece of flatware is consistently weighted and sleekly styled to mark it's utility with grace.Clark, as a design, compliments a wide range of china and stoneware. Clark has a true contemporary flare and easily works from breakfast to elegant evening dining and entertaining. After over three years of constant use, my set of flatware remains new looking and totally functional.
Date published: 2009-09-03
Rated

5

out of

5
by
MDBride
from
Great buy
We registered for these utensils for our Wedding and we love them. We wanted something basic that we would be able to use on a daily basis but would still look nice for guests. These fit the bill perfectly! Very heavy duty and almost industrial looking. Love them!
Date published: 2009-07-07
Rated

5

out of

5
by
Ashleyd911
from
Love It!
We received this flatware as a wedding gift and we couldn't be happier with it. Love the style and shape of each piece.
Date published: 2009-07-06
Rated

5

out of

5
by
Saxxy
from
Love this Flatware
I love the look and feel of this flatware and that it is dishwasher safe.
Date published: 2009-07-02
Rated

5

out of

5
by from
Just lovely.
For some reason I really like a good fork. This set is not just a good fork, it's a great set all around. We get a lot of compliments on them and they have been very durable and always look like new.
Date published: 2009-07-01
Rated

5

out of

5
by
brain
from
beautiful
Such a beautiful Set. Well balanced and comfortab le to use, Beautiful design. We love the silverware because it's suitable for everyday and special occassions.
Date published: 2009-07-01
Rated

5

out of

5
by
Kids Doc
from
Sleek lines, sustantial heft.
I received this flatware for my wedding and absolutely love the modern lines that can still be paired with a wide range of dinnerware. I haven't had any problems yet with discoloration, but the flatware does come with a warranty from the manufacturer that covers this problem.
Date published: 2009-06-30
Rated

5

out of

5
by
designingMom
from
good value
We registered for and received this flatware for our wedding 2 1/2 years ago. I still love it! Yes, it will spot a little in the dishwasher, but it is dishwasher safe and cleans up easily when hand washing. It's sturdy and simple.
Date published: 2009-06-22
Rated

5

out of

5
by
Jennifer K
from
I love my flatware
The Clark style flatware is elegant and simple and goes with everything. We had friends over and I was actually complimented on it - on flatware of all things.
Date published: 2009-06-20
Related Products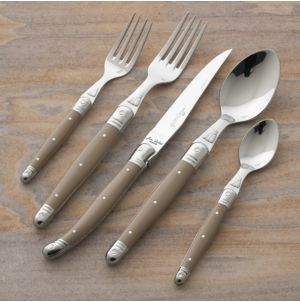 Classic French flatware sports beautiful plastic taupe handles, tastefully embellished with stainless...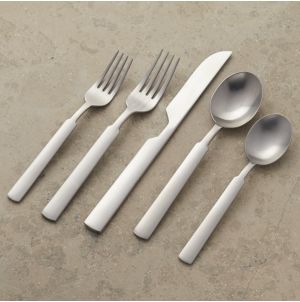 Fresh and modern with a soft, brushed finish, this distinctive pattern was...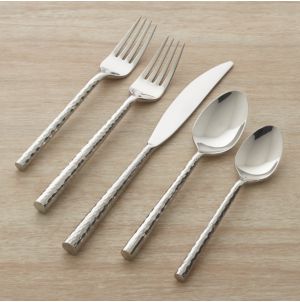 A blending of generations brings a contemporary new shape to the classic...