Prices and availability are subject to change from the time and date that you print this page.
9/21/2014 5:29:18 AM. For Customer Service, please call 800.967.6696
Crate and Barrel Exclusive
This sculptural flatware features an implied hourglass shape with a beautiful brushed finish. Hefty yet comfy, the well-thought-out proportions are suitable for every day and entertaining. Handles feel molded to the hand. Available in our exclusive 22-piece set.


Dune 22-Piece Flatware Set
Flatware Care
Dune 22-Piece Flatware Set
is rated out of
5
by
69
.
Rated

5

out of

5
by
Fresh start
from
Beautiful shape, substantial feel
I recently purchased this flatware in order to replace an older more classical style. I went to the store to choose the new set and was pleasantly surprised to hold these in my hands and feel how substantial they are. The style is modern and elegant and got rave reviews from my 20-something children.C and B does not disappoint with a great product for a reasonable price.
Date published: 2013-03-04
Rated

5

out of

5
by
countrymom
from
Best silverware set
We registered for this set 13 years ago and am still in love with it. My husband's favorite part is that he can scoop ice cream right out of the carton and the spoons don't bend! It has also held up to years of washing and abuse. I have only had to replace spoons because they've accidentally been thrown away. Darn those kids! Thankfully, I was able to get more with open stock :)
Date published: 2013-03-04
Rated

5

out of

5
by
Betty Anne
from
Wonderful flatware
We waited a long time until we found the Dune flatware. It is perfect - classy, good weight and easy to hold. We love it.
Date published: 2013-03-04
Rated

5

out of

5
by
echeung18
from
Great flatware
I love this flatware! I bought a set in 2008 and they are still in great condition (2013). I actually have another set just in case, but I can't imagine ever finding a reason to replace them.
Date published: 2013-03-04
Rated

4

out of

5
by
jq104
from
Great wedding registry item
We received Dune Flatware for our recent wedding and we absolutely love it. We especially love the shape and weight of the spoons...very unique. The entire set seems high quality and durable.
Date published: 2013-02-24
Rated

5

out of

5
by
Kate 418
from
Favorite flatware ever
I've had my set for over 7 years, and I still love it. I can only repeat what everyone else has said--it's elegant, weighty, feels great in your hand, and looks more expensive than it is.However, I can also say that in contrast to what a few others have reported, my set has never tarnished or stained or looked anything less than perfect. I've never polished it, yet due to the brushed finish, it's hard to tell it's not new. I have never washed in a dishwasher, so that may be a factor.
Date published: 2013-01-27
Rated

5

out of

5
by
Bookwomyn
from
Dune Flatware
I love the Dune pattern. The set is nice and heavy - easy to hold. The forks don't hurt your hand when you are trying to cut something. I recently lost a fork so just ordered a replacement and a spare. Got a couple of spoons while I was at it as I'm sure to lose one or need an extra someday. I've had the set for many years and appreciate that it is open stock. Thanks C & B.
Date published: 2012-12-23
Rated

5

out of

5
by
Jimpgh
from
Great Set
Affordable and I love the matte finish and the pieces are heavy and well constructed.
Date published: 2012-09-09
Rated

5

out of

5
by
Malonea
from
Looks and feels expensive
I received this flatware as a wedding gift from a relative who knows I love to host dinner parties! I have received tons of compliments! The sleek modern aesthetic and the weight of the pieces makes them seem very elegant and expensive!
Date published: 2012-09-08
Rated

5

out of

5
by
CnB Addict
from
Comfortable to use
My husband has pretty large hands and was very picky about our flatware. He finds this flatware has a nice size and weight for him. I like this set as well!
Date published: 2012-09-08
Rated

3

out of

5
by
Tomasa
from
The knives are different
Overall this is a handsome, heavy set with a beautiful simple design. But the knives have a slight difference in design, not very noticeable, and are not marked 18/10 as the other pieces are. Disappointing. Also this set is not an exact match for the set I purchased several years ago. It's not a big deal for me, but may be for some people.
Date published: 2012-09-08
Rated

2

out of

5
by
huskerfan1
from
Knives are wrong material
The knives in this set are susceptible to corroding or staining. The knives aren't made from the 18/10 stainless steel (300 series alloy) as advertised, they are made from a 400 series alloy stainless steel that doesn't have the nickel in it. Besides the lack of nickel, 400 series stainless steels typically also have lower chromium so will often have lower corrosion resistance.The easiest way to tell if the knives and the spoons/forks are the same material is to put a magnet to them. If the knives are magnetic and the forks/spoons are not (as our set was), then they aren't the same material.If they aren't the same material, be wary that your knives (and other magnetic grades of stainless steel) may corrode or stain in the dishwasher.
Date published: 2012-06-29
Rated

5

out of

5
by
Lake Gal
from
Love My Flatware
I have had the Dune Flatware for maybe ten years. We chose it to replace another lighter weight set and loved the weight and feel of the pieces. It looks great to this day, but it does get water stains on it even though I decided recently to hand wash it to try to keep it from staining and spotting. Guests who use it often comment on the nice feel and weight. I am also glad I can add to my two sets. Recently lost a fork that I was able to replace.But I wish it still had the Serving Fork, Wedge/Pie Server and Slotted Serving Spoon that once were available . Now am purchasing a set for a daughter who loves it, too.
Date published: 2012-06-28
Rated

4

out of

5
by
PhilipNS
from
Nice design, attractive & functional
These were bought to complement older pieces by a different maker, and did that nicely. They're very nicely balanced, with a nice heft, and the shape is pleasing while offering the hand something to grasp. That said, they are just a little bit "clunky" -- thick throughout where they could be pared back a bit for a finer design.
Date published: 2012-05-20
Rated

5

out of

5
by
Tcan
from
Best Purchase Ever
This silverware set is heavy and perfect for my busy family..
Date published: 2012-05-16
Rated

3

out of

5
by
SHAR70
from
22-piece Dune Flatware
We bought this flatware set for everyday after our original flatware began to disappear after 13 years of marriage. We like the weight and shape of this set. It has gone through the dishwasher well - although I can tell that we will need to polish it occasionally to maintain the brushed look. I would prefer NOT to have to polish it, but...this is a good everyday set for our large family with MANY young kids.
Date published: 2012-05-06
Rated

5

out of

5
by
CBFan222
from
So far so good
Great flatware! I was reluctant to purchase these after reading other reviews of staining but so far they are in great shape. I put them in the dishwasher and they come out spotless.
Date published: 2012-05-05
Rated

5

out of

5
by
suchan
from
Great flatware set!
I love that the flatware feels substantial but is comfortable to hold. I also love the brush metal look. My only qualm would be that the care instructions suggest you either hand wash and dry the flatware or take it out of the dishwasher before the dry cycle and hand dry, otherwise the flatware may discolor.
Date published: 2012-03-11
Rated

3

out of

5
by
Spike555
from
Mixed Feelings
I have very mixed feelings about this product.I love the look and feel, the heft and solidity. But the spoons are tarnishing even though I rinse them immediately after use. And the knives need to be wiped completely clean with a dishcloth (paper towel won't do it) before I can put them in the dishwasher. I've had far less expensive sets of stainless that never had these problems.I've decided to keep using it even if I do have to pre-wash by hand, but I'd sure like the set better if it were less 'sticky'.
Date published: 2012-03-10
Rated

5

out of

5
by
roadskipper
from
Love this flatware!
I was a little nervous to buy flatware online because I wanted something right the right weight and feel. I couldn't be happier about this purchase! It is heavy and smooth and feels perfect to hold. It is also a little different than most flatware, which is something else I like about it. Can't go wrong with this flatware!
Date published: 2012-03-10
Rated

5

out of

5
by
Dog Hair Damsel
from
Love this flatware!
Just purchased 2 sets and am running back to store for more. Love the contemporary shape with matte finish and solid, ergonomic feel. My husband likes that they feel heavy in his hand.
Date published: 2012-02-28
Rated

5

out of

5
by
yellowranchgirl
from
table shinery
Love the modern design and the feel of this flatware. It has gone thru the dw for 2 months with no staining or spotting. It is hefty which I like; goes great with larger dinnerware.
Date published: 2012-02-28
Rated

5

out of

5
by
A2JetSet
from
Great Everyday Flatware
I've had this flatware set for about 10 years and it still looks great. Love the weight & the feel in hand.
Date published: 2011-08-19
Rated

4

out of

5
by
Amy Rose
from
Good Quality
This flatware is a nice weight and quality for everyday use. We love the brushed finish, too. The only downfall is that small discolored spots have appeared on several pieces, but we've heard that the C&B polish should remove it.
Date published: 2011-08-16
Rated

5

out of

5
by
eohippus
from
Solid, well-balanced flatware
I've owned this flatware for years. My kids keep throwing spoons away and every time I notice there are too few in the drawer to host company I think about just starting over with some other style or brand of flatware, but I always come back to Dune. I love the simple, contemporary styling, but also the weight and balance. They are not too heavy, nor too flimsy. They are rounded on the edges and don't dig into the fingers. They feel just right in your hand. They are substantial, especially for the price: you can dig into a gallon of ice cream with the tablespoon and not worry about bending it.I also like that these can be purchased open stock. We were recently down to 1 teaspoon and about 5 tablespoons again, and so I just bought what I needed -- no need to buy a whole set.
Date published: 2011-08-16
Rated

5

out of

5
by
Mckmom
from
Excellent Quality for an Excellent Price
I received the Dune flatware set for my wedding almost 12 years ago and they have stood the test of time. I am getting ready to add 2 more sets because after 12 years and 3 kids, pieces have gone missing! They are a great weight and shine. They are a matte shine which I really like and goes with the silver/nickel in my kitchen.
Date published: 2011-08-16
Rated

5

out of

5
by
newly married me
from
excellent!
We received 2 of these Dune flatware sets off our registry and they are amazing! They are heavy, smooth, look great, and just have a different feel than any other flatware I've used. Mine didn't come flawed as one of the previous posters had mentioned. I haven't experienced any staining as others have mentioned also. I love this flatware!
Date published: 2010-10-19
Rated

5

out of

5
by
bookwoman
from
My all time favorite flatware
For durability and comfort in the hand this flatware is the tops. I've had my set for years and years and it's as nice today as when I bought it. I'm thinking about buying a set for a friend.
Date published: 2010-05-22
Rated

1

out of

5
by
oranji
from
so-so
i love the design and the feel of this flatware, but they do not hold up well to normal use. my set is 3 years old and numerous pieces are stained. i often hand wash or use the dish washer. the description says it is dishwasher safe so i'm not sure why my flatware is getting stained. very disappointed.
Date published: 2010-02-04
Rated

1

out of

5
by
love to travel
from
Surprised
I had seen this flatware at a Crate and Barrel store and was very impressed with the quality and price. I decided to order 2 sets anticipating ordering 2 more sets. Unfortunately, some of the pieces I received were poorly finished (rough edges) or pitted. It doesn't seem that this is the norm based on other reviews. Perhaps I received some rejects. For now, I have decided to continue using my 25 year old Dansk flatware which still is not pitted. Perhaps at a later date I'll try again and buy it in the store rather than ordering online. I still like the looks and weight.
Date published: 2010-01-17
Related Products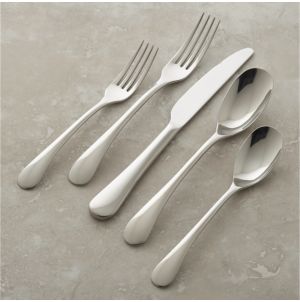 Graceful curves reshape a timeless setting into a classic for today. Smooth...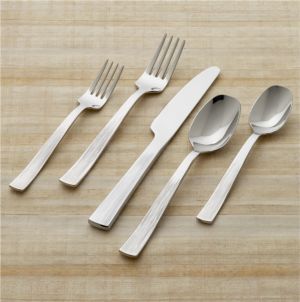 Fine textural pattern inspired by feathery prairie grasses etches modern flatware with...
Simply beautiful Italian flatware with slender necks, elongated heads, teardrop handles and...