Prices and availability are subject to change from the time and date that you print this page.
9/16/2014 3:57:55 PM. For Customer Service, please call 800.967.6696
Crate and Barrel Exclusive
A tall, cylindrical bowl with a flat base has a dramatic, contemporary look that lends an elegant edge to the enjoyment of bubbly.


Edge Sparkling Wine
is rated out of
5
by
78
.
Rated

5

out of

5
by
BellaSpruce
from
A Registry Favorite
In the flurry of adding items to the registry, we weren't sure what we will really enjoy and what we were adding as a "necessity." Fortunately, these flutes are both. We are careful with them, but they have held up well over the last couple years. They are so elegant, yet functional - they look beautiful with Champagne, but it's just as fun to get them out for "Chinese take-out and sparkling wine night."
Date published: 2014-04-07
Rated

5

out of

5
by
lisag
from
Celebratory yet mod and stylish!
Love that these are not as traditional as standard flute stemware. They are more stylish and sturdier.
Date published: 2014-04-07
Rated

5

out of

5
by
cathyjeann
from
elegant yet modern!
I received these elegant glasses as a wedding gift and since then they've been the star of many dinner parties (and even a few brunches). They are very well made with no flaws or weak points and shine next to even my fine china. They are a treasure to me so I do hand wash them. Guests always ask where I got them!
Date published: 2014-04-07
Rated

4

out of

5
by
katrina322
from
Gorgeous!
For the price, these are extremely modern, elegant champagne flutes. They are our favorite and we love the design. The only reason I didn't give them 5 stars is because they are extremely delicate, especially the stem, so you must be sure to handle with care! That's the nature of the design, though. We love them and we would buy more in a heartbeat.
Date published: 2014-04-07
Rated

5

out of

5
by
Monicaa
from
Beautiful, timeless!
I bought the Edge sparkling wine glasses and love them. They are modern, beautiful and timeless. I get compliments on them all the time!!
Date published: 2014-04-07
Rated

5

out of

5
by
Beeb99
from
Deliciously elegant
I had been looking all over Hong Kong for cylinder shaped wine glasses and flutes, but found that only Crate&Barrel would offer these, so ordered some. The glasses are simply stunning and go with all table settings (pic's don't do them justice). They look and feel fragile but if they were made any thicker, they would loose their elegance and be too clunky. Drinking out of these champagne flutes is a joy, they make you feel elegant.
Date published: 2014-04-05
Rated

5

out of

5
by
VolGal1919
from
So elegant but unique
I'm so very pleased with these glasses. They are very elegant but contemporary. The stems are very delicate though so handle with care.
Date published: 2014-03-29
Rated

5

out of

5
by
KCham
from
Elegant design
I had been eyeing these flutes for a very long time and finally recieved them for Christmas last year as a gift. I LOVE them! Their shape is original enough to stand out, yet elegant enough to add simple sophistication to any party. Worth the money every day of the week :)
Date published: 2014-03-26
Rated

5

out of

5
by
Erin1220
from
Date published: 2014-03-25
Rated

5

out of

5
by
larebecka
from
Modern Classic
I bought these for a friend's housewarming - she's a non-traditional kind of gal, so I thought these would be the perfect twist on a classic flute. (She agreed and now we drink champagne cocktails every time I visit.) But by the time I actually gave them to her I was so jealous and wanted to keep them for myself, so it's time that I buy them for myself now too! Love these!
Date published: 2014-03-25
Rated

5

out of

5
by
Accview54
from
sleek & stunning
I purchased these along with the wine glasses as they are inspired by the Rosenthal origionals as a change from my cut stemware- everyone is amazed by their beauty and they are very dishwasher friendly!!
Date published: 2014-03-25
Rated

5

out of

5
by
ellewoods2014
from
Perfect flutes!
I've been on the hunt for champagne flutes for a long time, and I finally purchased a set of these. So glad I did - they are light and look even better in person. I've bought some for wedding gifts since. The only con is that they are difficult to clean.
Date published: 2014-03-25
Rated

5

out of

5
by
LilBit2477
from
Love Love Love
I brought these a month ago--they are great--everyone state how much they love them--I truly love them--LilBit2477
Date published: 2014-01-21
Rated

5

out of

5
by
blue1078
from
My Secret Santa came thro'
I had been wanting these champagne glasses for some time now. I had seen this shape of flute in several movies and thought they were super elegant! They were gorgeous when we brought them out for New Years, so I had to get another set of 4. They were complimented with the glass champagne bucket beautifully.
Date published: 2014-01-06
Rated

5

out of

5
by
noho
from
Simply Elegant
I bought these two months ago.  They are well-made and very beautiful to look at.  I am glad they are made in Slovakia and not China.  My friends have enjoyed sparkling wine from these and have commented on how chic and fun they are. 
Date published: 2014-01-06
Rated

5

out of

5
by
Rhodes5Grlz
from
Sheer Elegance!
I rented these for a formal murder mystery dinner last week. They were absolutely fabulous! I cant believe I found them here! I cant wait to purchase them this this friday!
Date published: 2013-11-20
Rated

5

out of

5
by
MeKT
from
Lovely
I'd actually been looking for these over a decade, when I saw flat bottomed glasses on Will & Grace tv show.I bought a 4 set last year of the champagne and 15 oz wine. 1 flute does have a flaw in the glass. It was a while before I noticed, so I haven't done anything about it.However, I do still love this style and all the rest were clear and perfect. I've come back to buy another 4 set of the 2 types. IMO they can go either modern OR traditional, because of the simple elegance.
Date published: 2013-05-25
Rated

5

out of

5
by
junebride8
from
Perfection.
I registered for a set of 12 for my wedding and was very happy when we received them all. Clean lines, modern yet practical price point for our guests. I knew I didn't want fancy shmancy waterford champagne flutes that look very dated to me. These are gorgeous and I know I will use them for many years to come.
Date published: 2013-03-30
Rated

5

out of

5
by from
Beautiful Champagne Flute
I bought a set of 12 as a housewarming gift (for myself). Since we've moved in, we've used these religiously for toasting to the new house, having company over, and celebrating birthdays. These flutes are so clean and so sharp.
Date published: 2013-03-05
Rated

5

out of

5
by
Picky always
from
Best flutes ever!
I purchased two flutes for a wedding gift for the bride and groom. When I opened the package I was in awe. These flutes are so beautiful and a very nice size. I am giving them as a gift plus purchasing more for myself.
Date published: 2013-03-04
Rated

4

out of

5
by
CarrieW
from
Great looking flutes!
I coveted these flutes for months before biting the bullet and purchasing. They are great looking, and have a great feel to them in your hand, too. They are a stunning, modern addition to your barware.I haven't had any problems with breaking/chipping that others mentioned, but the delicateness of the stem was part of the appeal for me in purchasing these glasses.I would definitely recommend.
Date published: 2013-03-04
Rated

5

out of

5
by
ChampagneGirl
from
Fast, easy service
Beautiful champagne flutes to enjoy some wonderful bubbly. Even with a big snow storm in the East, C & B managed to get these glasses to my doorstep in 3 days for my daughter's engagement party. Made up a lovely basket with a nice bottle of champagne. I know I'll be shopping at Crate & Barrel in the future.
Date published: 2013-03-04
Rated

5

out of

5
by
lfll
from
Love these glasses
Bought these for the holidays and just love the lines of the glass, also holds alot more than it appears
Date published: 2013-03-04
Rated

4

out of

5
by
katherineyon
from
elegant flutes
I adore these champagne flutes. They are different and incredibly elegant. However, they are extremely fragile. Knock one over on the counter and it is dunzo. I've managed to break 4 and they aren't cheap! Hopefully the rest of you aren't as clumsy as I am! They are gorgeous and worth the money.
Date published: 2013-03-04
Rated

5

out of

5
by
ChiTBag
from
Beautiful glasses!
Purchased these to add to our champagne glass collection. They are beautiful! Hold a decent amount of champagne. Glass is not too thick nor too delicate. Very happy with the purchase for the price!
Date published: 2013-03-04
Rated

5

out of

5
by
javaprincess
from
Classic but modern
I love these flutes. They are classic enough in style to last for several years but interesting enough at the same time to be different. The glasses fell sturdy on their base and will not easily be knocked over. Also the stem and glass itself are not so thin that they will easily shatter upon a "cheers".
Date published: 2013-02-22
Rated

5

out of

5
by
Shorthills Style
from
Perfect
The whole Edge line is great but the Sparkling Wine / Champagne Flute is the showstopper. The always receive a compliment and dresses up a cheaper Cava beautifully. They go right into my Miele dishwasher without a problem. Really a great look!
Date published: 2013-02-22
Rated

5

out of

5
by
LalaW
from
Beautiful Flutes
I purchased these flutes for my brother and his partner. They were recently engaged and I thought these flutes would be a great way to celebrate their engagement. I love the look and size of the flutes. I believe they can be used for any special occasion or for just a simple glass of champagne.I plan on buying some for myself very soon!
Date published: 2013-02-22
Rated

5

out of

5
by
HappyinCO
from
Stands the Test of Time!
I am so delighted to see Crate & Barrel still carries these glasses after 5 years!We bought a set of 12 back in 2007 so we could entertain in style. Fast forward to today and these glasses are just as "hip" and gorgeous as the day we brought them home and placed them lovingly in our stemware cabinet.These glasses just make you feel fancy, even if you're not fancy. A little hitch in your giddy-up seems involuntary once you fill it with bubbly goodness and hold it up for a sip. You feel important. Royal, almost.They're not cheap, at $13 a piece, but neither are you. These have been around for so long because sometimes people just like to feel important. Adored. Admired. Why would Crate & Barrel deny its customers? They wouldn't, which is why I'm ordering 6 more. Just in case.Disclaimer: Glasses are VERY thin and not suitable for the dishwasher unless you love anxiety. A bit of a pain to towel dry the inside, but so worth it when the sun dances through the glorious flute.
Date published: 2012-12-08
Rated

5

out of

5
by
megscacci
from
Perfect gift
These were one of my favorite registry items from my wedding. They would make a perfect gift for someone! Modern, light weight, easy to clean. I love them!
Date published: 2012-09-10
Related Products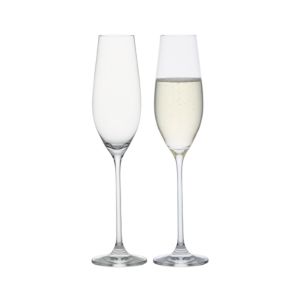 Enjoy a long, cool glass of champagne in this elegant flute, tall...
Elvis Swift's expressive doodles etch filigree hearts on classically elegant stemware, functional...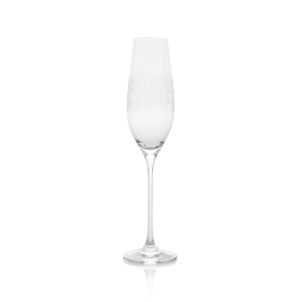 Deeply engraved florals lace classic, tulip shaped stemware with easy elegance. Pulled...