Prices and availability are subject to change from the time and date that you print this page.
11/22/2014 11:36:01 AM. For Customer Service, please call 800.967.6696
Crate and Barrel Exclusive
Crisp white oversized coupe shape in durable porcelain goes casual for everyday, or sophisticated for formal dinners.


Essential Dinner Plate
is rated out of
5
by
432
.
Rated

5

out of

5
by
Alex
from
LOVE!
We recently purchased this set of dishes. We love them. The clean white is perfect. All of the pieces are fairly large. We found that we use the smaller salad plates more often than the dinner plates and decided to purchase a set of smaller bowls from another collection to have on hand when the essential size is a bit too much. We are very happy of the quality of these dishes in relation to the low price. We are very satisfied with our choice to purchase this collection.
Date published: 2014-10-28
Rated

5

out of

5
by
nickdank
from
Simple, minimal, goes with everything
Got a full set of these from our wedding registry and use them every day. The name says it all - these are essential.
Date published: 2014-10-28
Rated

5

out of

5
by
Jg57
from
Love them! Buying more!
I purchased this set 3 years ago for everyday use. Not a single chip or crack. I'm extremely happy with them and plan to add more place settings to use this Thanksgiving for our growing family.
Date published: 2014-10-10
Rated

5

out of

5
by
C Ray
from
Classic Style
I bought these as well as the bowls a couple of weeks ago and they are fantastic! I love the classic look and they wear very well for everyday use. You can dress them up or down.
Date published: 2014-09-22
Rated

5

out of

5
by
Amanda
from
Bring back the smaller bowl also
I love these 7" bowls, but would love to have the smaller bowls that used to be available when you don't need such a big one. Please have both sizes available!!
Date published: 2014-09-16
Rated

4

out of

5
by
etejoie
from
slightly too big
I had bought a whole set of the essential dinner dishes and the dinner plates were a bit to large to fit in my dishwasher, so unfortunately i had to take them all back.
Date published: 2014-09-01
Rated

4

out of

5
by
Off Mngr
from
Simple but classy
We purchased the Essentials salad plates and bowls for our office, which consists primarily of men. After 4 months of use, we have 1 plate with a chip but otherwise they have held up nicely. While the details about the product say that they are microwavable, please note that these plates or bowls are quite hot to the touch after being microwaved. You need to use a towel or pot holder when removing from microwave.
Date published: 2014-08-11
Rated

5

out of

5
by
Bob and Kathy
from
Great Value
My wife and I decided to replace all of the mis-matched every day plates and bowls with a new set. We purchased a service for 12 of the Essential Dinnerware set and we're thrilled with it after having it 6 months. The soft white color against our colorful place mats and table cloth make the dinnerware look more expensive than it really is. We really happy we decided to by them.
Date published: 2014-08-05
Rated

5

out of

5
by
nicematters
from
Perfect for every day
I put heart and soul into the search for good, reliable and attractive dishes for every day. This style fits just right. I purchased additional salad plates and use these with my kids. Six months in this family and still very satisfied. A smaller bowl would be an added bonus. The coffee mug fits for a kid-sized cup of soup but this would not be my choice to use with guests.
Date published: 2014-08-05
Rated

5

out of

5
by
Klv5580
from
Love this dinnerware!
I have had this dinnerware for a couple of years now. It is very simple, but elegant. It has held up well. Will be using for years to come!
Date published: 2014-08-04
Rated

4

out of

5
by
Kathy
from
Essential dinner plate and salad and salad bowls
My daughter got these for me last Christmas. Loved how they don't chip and how microwave safe they are . Also food always looks better on white plates.
Date published: 2014-08-04
Rated

5

out of

5
by
MelD
from
Classic every day plate
I bought these over a year ago and still love them. They're light weight, easy to clean and versatile. They look great no matter what you serve or how you dress your table!
Date published: 2014-08-03
Rated

5

out of

5
by
Clarissa B
from
Classic set
Registered for a set of 12, and they are wonderful to have and to use.
Date published: 2014-07-29
Rated

5

out of

5
by
azzurrikicks
from
Love my new dishes!
Ordered a set of 8 for my newly renovated kitchen and really like these. Clean lines and they go with my antique Depression glass as well as some other mix and match serving pieces. Hopefully they keep this line available in case I need more!
Date published: 2014-07-29
Rated

5

out of

5
by
Angela
from
Perfect Everyday Plates
We've had these for a couple months and they have not disappointed. They are simple, clean, slightly modern, and mix well with other dishes.
Date published: 2014-07-28
Rated

5

out of

5
by
Pucca
from
Great Everyday Dishes
We got rid of all our dishes and purchased the Essential Salad Plates, Dinner Plates and Bowls. We love them. They are well made and rather elegant in their simplicity.
Date published: 2014-07-27
Rated

5

out of

5
by
Maria
from
Great investment.
I have two homes and i bought this set for each. Everytime i get a broken plate i just go to the store and get another one. So basic, practical. Plus the food looks better on white.
Date published: 2014-07-25
Rated

5

out of

5
by
Courtney
from
Lovely
We received these dinner plates (as well as the bowls, salad plates, and mugs) as a wedding gift. I love the weight of these plates. The last ones we had were way to heavy to handle and the dipped in the middle so everything would just run to the center of the plate. I actually never used our old plates (I bought cheap plastic ones to use instead) but we use these every night. My husband says dinner tastes better now because of the new dishes!
Date published: 2014-07-24
Rated

5

out of

5
by
kj8957
from
Timeless Dishes
I received this set of dishes for my wedding and absolutely love them! The look of them is timeless and they are very solid, sturdy dishes!
Date published: 2014-07-22
Rated

5

out of

5
by
Pauline
from
Simple = Elegance
Love, love, love my new dinnerware! Heavy but light enough, doesn't stain like some white china or porcelain does and simply white, which makes all your food look fabulous! You can also match other colors or patterned serving ware perfectly.
Date published: 2014-07-22
Rated

2

out of

5
by
mike
from
Great plates, but chip easily and the mugs stain
We've used the essentials set for a few years now, and overall they are great plates, very functional and great for every day but also special occasions - have pulled the china out only once or twice since purchasing this set. Two problems, though - the plates chip very easily, at least half of our plates are chipped now. And all of our mugs are heavily stained from both coffee and tea. No amount of scrubbing can remove the stains (and yes, they are used and cleaned daily in a dishwasher). Can't figure this out, my coffee is not THAT strong!
Date published: 2014-07-14
Rated

3

out of

5
by
Nanook
from
Perfect, so why all the discontinued sizes?
My husband and I received the Essentials dinnerware set for our wedding 5 years ago and we have loved them. No chips, cracks, etc. and we use this stuff daily. We recently broke a plate and one of the small bowls. We went to C&B to replace them only to discover that the plates are now 1" smaller and the 6" bowl is no longer available. We were able to substitute the Aspen bowl for the missing 6" bowl (it is slightly bigger, but a reasonable substitute), but the 11.5" plates are simply unavailable since they were discontinued. The reason we picked out these plates in the first place was because of the extra large plate size and usable plate space (no large rim, etc.). This set has been perfect for us. We really wanted to be able to replace the plates as they break or as we need more for larger gatherings, but there is such a drastic difference between the 11.5" and the new 10.5" that the new one's don't work as replacements. I wish we would have known they'd be discontinued because I certainly would have stocked up on extra plates and small bowls. It is frustrating that a line called Essentials would change so much in a short amount of time.
Date published: 2014-06-23
Rated

5

out of

5
by
Lisa
from
Great, Versatile and Durable
I purchased 2 sets of the Essential Dinnerware in 2008. I have been nothing but pleased. I've never had a crack or chip or scratch. They are used everyday and I both hand wash and wash them in the dishwasher. I have very colorful platters and serving bowls and these pair with them wonderfully. If you are looking for simple and classic at a great price, this is the set for you
Date published: 2014-06-20
Rated

2

out of

5
by
Alison
from
Gorgeous plates but constantly crack
We purchased these plates about 10 months ago. They seemed to be exactly what we were looking for: simple, elegant, large area for food with nice big mugs and bowls. However, soon after we started to use them, we would find small chips in the bowls. We had to return to Crate & Barrel every month or two to return a bowl or plate. We do not mishandle our dishes, but we started to be extra careful with them. That didn't seem to do the trick. We finally could not take the constant chips, so we returned our entire set. This was a huge disappointment after I spent months looking for the perfect dinner set. Beware! These plates are beautiful, but they do not last!
Date published: 2014-06-17
Rated

5

out of

5
by
123456
from
Best dishes ever!
I bought these when my youngest child turned 3 and I was ready to be done with plastic dishes. With 3 little girls eating on these, clearing the table, loading and unloading the dishwasher we haven't had any chips in the first 6 months. Like all dishes, they do break if you drop them, but they are inexpensive to replace and always in stock. I wish there was a small bowl in this set but I found a style I liked elsewhere and use those for the kids cereal, etc. These dishes make me happy everyday.
Date published: 2014-06-10
Rated

5

out of

5
by
sanfranciscoshopper
from
Great everyday plates
I got these for my apartment and they are great, simple and do the job. Good sized plates and fit into the dishwasher (which was an issue for another brand of plates I looked at).
Date published: 2014-06-09
Rated

5

out of

5
by
Dpevans03
from
Essential Dinnerware perfect!
We bought two sets of this dinnerware for our new home and it is perfect. Very clean lines and substantial capacity. Customer Service was outstanding as we had two chipped items that were immediately replaced.
Date published: 2014-06-09
Rated

4

out of

5
by
jgjohns
from
Great classic plates
We registered for the "essential dinnerware" and have had the plates, mugs, bowls, and salad plates for over 2 years and not a broken item yet! These stand up to constant washing.
Date published: 2014-06-09
Rated

5

out of

5
by
jlbartlett
from
Love this set !
I purchased my set of Essential Dinnerware approximately a year ago after searching for a set of white dishes for a few months. I am pleased with how versatile the dishes are and my family loves the size and shape of the mugs for our morning coffee.
Date published: 2014-06-09
Rated

5

out of

5
by
Cindy
from
The BEST investment in dinnerware!
I reviewed these dishes when I bought a complete set almost 2 years ago, since that time I have purchased the 7" bowl to complete my set. The 5.5" bowl is no longer available ( in which many people want you to bring back) the 7" bowl has fit my needs perfectly, this dinnerware is great for everyday as well as holidays. I have been a food stylist & I always revert back to a white plate to make the food you prepare look FABULOUS! I love these dishes & I love everything I have ordered from C&B......now complete my "dreams" & build a store in Boise, ID!!!!!
Date published: 2014-06-09
Related Products
Crisp white oversized coupe shapes in durable porcelain go casual for everyday,...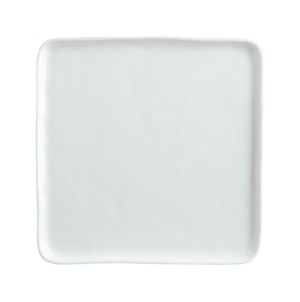 Contemporary porcelain whiteware represents a fusion of refinement and rusticity. Square slim...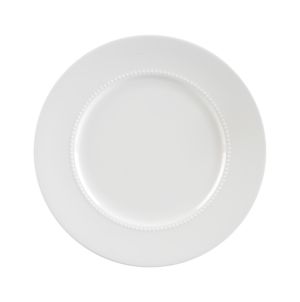 Inspired by the simple elegance of a pearl. Beautiful embossed dots on...