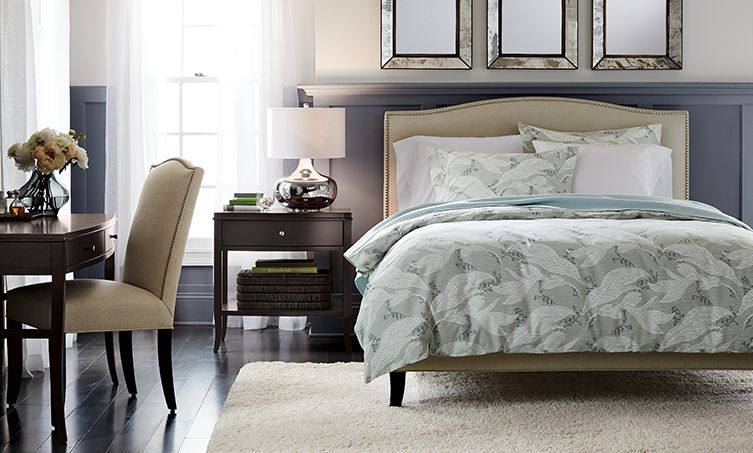 Create the perfect place to get a good night's sleep with bedroom furniture from Crate and Barrel. From beds and headboards to nightstands and dressers, we've got the latest looks in furniture for your bedroom. Whether you choose individual pieces or a complete bedroom set, you'll find what you need to redesign your space. Learn more about the furniture options we offer for your room.
Bedroom Furniture Pieces and Collections
With our selection of bedroom furniture, you can find pieces that fit your style. Choose from our collection, including:
Beds—From reclaimed wood and upholstered bed frames to specialty styles such as four-poster and storage, we have the bed options you need to create a beautiful space. Our beds are available in full, queen and king sizes. We also offer twin and California king beds for some of our designs.
Headboards—Dress up a bed frame with one of our beautiful headboards. We have a variety of headboard styles for your bed: upholstered, tufted, brass nailhead, curved and more. Pair with our bed frames or one of your own with available hardware.
Mattresses and Box Springs—Get a good night's rest on one of our high-quality mattresses by Simmons. Our mattresses have individually-wrapped and pocketed coil systems, foam layers and knit fabric covers for a comfortable feel. We have a variety of mattress sizes, including twin, full, queen, king and California king. We also have low- and high-profile box springs to position the sleeping surface just where you want it. Box springs also are available in half-queen, half-king and half-California king sets to move them in tight spaces with ease.
Nightstands— Our nightstands are multifunctional pieces that can be used as storage as well as a bedside surface.
Dressers, Chests, Wardrobes and Armoires—Find a space for your clothes in our storage furniture pieces for bedrooms. Our dressers, chests and armoires are the perfect places for dress shirts, suits, under garments and other pieces of clothes.
Bedroom Benches—Add a convenient seat to the foot of your bed with one of our beautiful benches. Not just for bedrooms, these pieces can add extra seating in entryways, living rooms and other spaces in your home.
Mirrors—Brighten up your bedroom with one of our mirrors. From wall mirrors with decorative borders to full-length floor mirrors, we have a full range of styles great for your space.
Bedroom Collections—Whether you're looking for just one piece or a complete bedroom set, you'll find what you need in our great selection of bedroom furniture. Our furniture pieces for bedrooms are available as individual options or as part of complete collections. Give your bedroom a cohesive look, or mix and match different styles to create a one-of-a-kind, collected look for your space.
Small Furniture Pieces—In addition to our standard sized furniture, we also have furniture pieces such as twin beds and narrow dressers that are great for a guest bedroom, kids' bedroom and other smaller spaces.
Durable Materials and Construction
At Crate and Barrel, we craft all of our bedroom furniture pieces from high-quality materials. Our bed frames and storage furniture pieces are constructed of solid and engineered woods, including poplar, peroba, European white oak, acacia, mindi, mango, walnut, teak and more. Headboards are available in durable upholstered fabrics. All pieces are designed to last for years of use in your space.
Shop our selection of beds, headboards, dressers and other pieces of furniture for bedrooms.