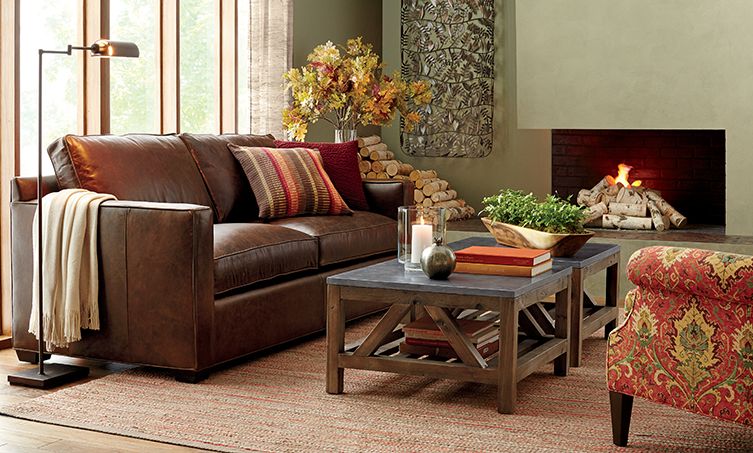 Create the perfect living room with furniture from Crate and Barrel. From sofas and accent chairs to media centers and other multifunctional storage items, we have all the pieces you need for your space. Our living room furniture offers style and comfort for any budget. Learn more about the pieces we offer.
Types of Living Room Furniture
As you outfit your living room, you'll need to consider the types of furniture pieces you'll need—seating, table surfaces, storage and more. You'll find it all at Crate and Barrel, including:
Sofas—Whether you need a sofa, loveseat, sectional or sleeper style, we have the selection you need. Choose from sofas in a variety of soft fabrics and smooth leathers—all in a full range of on-trend colors.
Accent Chairs—From classic shapes to mid-century modern designs, we have a full range of chair styles that will complement your other living room furniture pieces.
Benches and Ottomans—Our versatile benches and ottomans are essential furniture pieces for your living room. Use them to store extra blankets or to add additional seating to your space at a moment's notice.
Tables—Easily bring an extra surface to your room with our selection of tables. Find the table style you're looking for, including coffee, side, console and more. Many of our coffee and side tables have compartments great for storing magazines, books, remote controls and coasters.
Media Consoles, TV Stands and Storage Cabinets—When you need more storage options for your living room, these furniture pieces are the perfect solution. Our media consoles provide a stylish platform for your TV, DVD player and other home theater or audio components and media. We also have cabinets, bookcases, shelves and storage consoles that can display and store art glass, books, home accents and more.
Bar Cabinets and Carts—Our bar carts are great for creating a drink station that can move from room to room, while our cabinets are timeless staples for your living room, dining room or any other space. We also offer wine storage options, including bars, towers and cabinets.
Stackable Storage—Our collection of stackable storage pieces can be arranged in whatever configuration you need. Place them side-by-side, or layer them on top of one another to create the ultimate storage piece for your home.
Furniture Styles, Designs and Colors
No matter what style you're looking for, you'll find what you need in our collection of living room furniture. Whether you prefer pieces with a traditional style or those with a mid-century modern feel, you'll find what you're looking for in our selection. Choose from upholstered furniture in timeless fabric colors, including shades of black, white, grey, brown, blue, red and more. We also have furniture in rich upholstered leather that brings a classic look and feel to your space. Because our furniture is created with high-quality construction techniques, it's designed to last for years of use in your home.
Find furniture for living rooms that will make you feel right at home. Shop our complete collection of sofas, coffee tables, media consoles, ottomans and more at great prices.