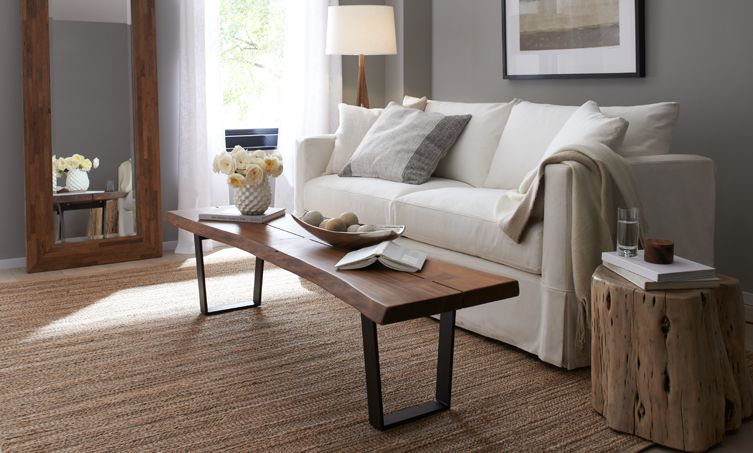 How to Choose Living Room Furniture for Your Home
1) Determine Your Furniture Needs
To begin choosing furniture for your living room, decide what you need from it. How much space do you have with your living room layout? Can you add in large-scale furniture, or will smaller designs best suit your room? Determining how you'll use your living room will help you decide what styles you need.
Once you know how you'll use your living room, you'll need to decide on the type of sofa you want. A quality sofa is the foundation of every great living room. As you choose yours, contemplate what features matter most to you. What do you prefer in terms of seat height, softness and depth? Are you looking for a sofa with an upright sit or one with a more relaxed feel? You'll also need to take size into consideration. For smaller living rooms, a compact loveseat might be the best fit. Bigger rooms can support full-sized or oversized sectional sofas. If you frequently entertain guests, sleeper sofas or sectionals could be a better option. You may also want to include more than one sofa. Two matching sofas facing one another creates an attractive symmetrical look—and encourages conversation.
Don't forget to add chairs, such as a swivel chairs, recliners, gliders or accent chairs. To complete the room, you can also add chaises, loveseats, ottomans and accent tables.
You'll also need to consider how you'll use the furniture. This is especially important for choosing upholstery. White or neutral colored fabrics are ideal for lighter use, while darker fabrics are better for frequently-used items. Dark fabrics, as well as those with machine-washable slipcovers, are also good options for those with pets or kids. Bonded leather furniture has a lasting durability that makes it ideal for heavier use with proper care.
2) Consider Style
Before you decide on your living room furniture, you'll need to decide what style you'd like for the room. Do you prefer classic, timeless designs? Traditional furniture, such as tufted sofas and wingback chairs, might be best for your room. If you are drawn to a more on-trend look, you may opt for modern or mid-century modern designs. Somewhere in the middle? You can always mix and match items from different sets for a transitional look to create your own style.
You will also want to consider color schemes. Furniture in light, neutral colors make even small rooms feel larger, while darker ones lend a stylish and dramatic look. Keeping your big investments like sofas neutral and accessorizing them with color is a good bet.
3) Consider Storage
When considering storage options for your living room, media consoles and TV stands are the perfect place to start. Media consoles provide a stylish platform for your TV and other home media. If you prefer to conceal DVD players and other equipment, pick a console with plenty of storage space and shelves. Closed storage in drawers or behind doors keeps things dust free.
Cabinets, bookcases and shelves are also great options for displaying books, home accents and more. For a space saving option, consider stackable storage. Stackable pieces can be arranged in whatever configuration you need—place them side-by-side, or layer them on top of one another to create the ultimate piece for your living room.
When you need storage with multi-functional use, you may want to add ottomans to your room. These living room furniture items serve many roles—adding impromptu seating, providing a catchall for magazines and remotes, or simply acting as the focal point of a room. Larger ottomans with trays can also be used as impromptu coffee tables, and some have concealed compartments to tuck away blankets and other large items.
4) Incorporate Table Surfaces
Once you've decided on the seating for your living room, you'll need to add table surfaces. Depending on the style you chose for your room, you may want a classic wood accent table or more modern options constructed of glass or marble. Strategically place your end tables near chairs to provide a surface for drinks (don't forget coasters), remotes, books and more. For more spacious rooms, try adding a console table behind a sofa. This provides an extra surface for table lamps and decorative accents.
5) Add the Finishing Decorative Touches
Now that you've chosen your living room furniture pieces, you can make the room your own with decor and home accents. Area rugs tie the room together and give it a warm, cozy feel. A floor lamp is perfect next to a reading chair, while a table lamp acts as a functional accent piece for end tables. Match lighting bookend-fashion for classic symmetry, or mix and match coordinating lamps and end tables for a collected look.
Want to make your living room look bigger? Floor-to-ceiling drapes accentuate the vertical space in a room, making it feel more open. A large mirror or mirror arrangement can also add light and lend a spacious feel.
Finally, small home accessories, such as candles, botanicals and artful sculptures, round out the look. Decorative pillows and cozy throws are also must-haves for your sofas and chairs. To accent the living room walls, try eye catching art and prints, or add a personal touch with family photos arranged in a sleek gallery wall.