Prices and availability are subject to change from the time and date that you print this page.
10/22/2014 10:24:21 AM. For Customer Service, please call 800.967.6696
Cuisinart's programmable coffee maker satisfies the most discriminating coffee lover with pure coffee flavor, from one cup to a dozen — and now adds a hot water system for tea lovers, too. The state-of-the-art contemporary design combines a squared vertical shape and upscale, professional look with the latest brewing technology. Charcoal water filter keeps out calcium and chlorine, while the gold-tone filter locks in coffee flavor; carafe temperature control offers three heat settings. Hot water system operates independently, dispensing hot water on demand for tea, cocoa or soup. Removable drip tray allows plenty of room for taller travel mugs.

Cuisinart® and other Wedding Registry offers


Cuisinart® Programmable 12 Cup Coffee Maker with Hot Water System
is rated out of
5
by
53
.
Rated

4

out of

5
by
kto33
from
Really liking it!
We got this as a gift from our wedding registry about two months ago. Cons: the water can be a little difficult to pour in on the coffee side (not really that big of a deal), and I've only used the hot water side once but I did pick up a little bit of that "metal-y" taste that some reviewers have mentioned. Pros: pretty much everything else! We use it every morning and have loved it so far. I especially love that we no longer need to buy coffee filters. I would definitely recommend it!
Date published: 2014-09-11
Rated

5

out of

5
by
Faith
from
Perfect!
One of the best purchases I have ever made! Love the various timer options, never have to worry about whether I left the coffee pot on, and my daughter loves the hot water function for after school snacks!
Date published: 2014-08-04
Rated

5

out of

5
by
Jarah314
from
LOVE IT!
We received this as a bridal shower gift. I dont know what the negative post are all about..."the blue light is too bright.." " it spills when pouring"...I mean I guess the blue light is REALLY bright if you are sitting there staring at it! lol And there are no issues with "spilling" when I pour my morning cup of joe. It is also NOT "noisy" unless you consider the slight sound of water brewing to be obnoxious....I also love that I can set the timer for coffee to begin brewing while Im getting ready for work. Also the 5 beeps, which alerts you that your coffee is done, are really loud. but then again....it is a "alert" sooooo its supposed to be loud. So basically what Im saying is ....BUY IT!!
Date published: 2014-07-31
Rated

5

out of

5
by
Mallory
from
Great purchase!!
I purchased this a few months ago and love it! I'm not a big coffee drinker but I am always having dinner parties or family over and they live there coffee. I bought this because I love how I can have hot water ready for tea or hot chocolate for me and have the coffee brewing for them:) Very versatile and looks pretty!! Would def recommend this product.
Date published: 2014-07-29
Rated

5

out of

5
by
Rich13
from
Simple for Decent Coffee!
I bought this Coffee Maker in January 2014 and have been using it regularly since. It's a great fit for me since I'm more of a tea drinker learning about coffee and my girlfriend is an avid coffee drinker. While it won't produce the best coffee, its decent enough given how convenient and easy it is to use. To get a better tasting coffee or expresso, you'd have to spend at least 2-3 times as much for a more dedicated machine.
Date published: 2014-06-09
Rated

4

out of

5
by
Shopper07
from
Very convenient
My husband and I had a cuisinart coffee maker (model that is identical but without hot water) for over 6 years and when we registered for our wedding, last year, we saw this and decided we had to have it. We are both coffee and tea drinkers and this is just perfect. Water comes out hot and holds quite a few cups of water. We regularly clean ours out and run a cycle of water and a tiny bit of white vinegar once a month to keep things running smooth. We have never had our tea water taste like coffee as others have noted. Highly recommend. Only reason I didn't give 5 stars is the noise it makes when it's "done" isn't consistent each time. Not sure why...
Date published: 2014-05-28
Rated

5

out of

5
by
JoyG
from
Love the Cuisinart Coffe Maker and C & B Online
I bought this for our office about 6 weeks ago. I own the coffee pot portion for my own kitchen and have been so pleased with it. I love the timer (coffee when you rise in the morning is a MUST)! The ability to raise or lower the temperature of the carafe is so nice. And at home, I enjoy being able to brew a perfect single cup of coffee by using the "Brew 1 - 4 Cups" button. Adding the hot water to all of this makes it perfect for the office. Our team uses it to make oatmeal in the morning, or a cup of soup. When we host a small meeting, we can fill a teapot in a jiffy. All of this AND the seamless Crate & Barrel online experience.
Date published: 2014-04-07
Rated

4

out of

5
by
maqi45
from
IT WORKS
I got this coffee maker right around Christmas time 2013, and so far it has held up. After reading through reviews and looking at other machines I decided to go ahead and purchase this one.CONS-water side doesn't hold as much water as I would like especially if you get a C&B mug. It is difficult to pour water on the coffee side.PROS- Looks great in kitchen, has programmable feature which we use each morning for coffee. The water side, heats up really fast so it makes up for lack in capacity. I like that the coffee lid actually comes off making easy to clean pot.I also purchased it because it came with a coffee grinder at the time. I didn't want a machine that had the grinder in it in case it went bust.
Date published: 2014-04-06
Rated

5

out of

5
by
hutchae
from
Great!
I got this as a wedding present and it works great! I do not have trouble with the plastic taste that other reviewers mention.
Date published: 2014-04-04
Rated

5

out of

5
by
mbnick
from
Good purchase
Have had this unit for almost 2 years. Hot wtare side is farily quick and take the water to just below boiling. The coffree side works well. Pretty of features.Only negative is a bit hard to fill the coffee side. Lids lift up so you need some overhead clearance.
Date published: 2014-02-23
Rated

5

out of

5
by
SusieM
from
looks so nice
Love it ! Have had so many other brands over the years seems as if this one is going to hold up much better.
Date published: 2013-12-27
Rated

5

out of

5
by
lizmo
from
Love this one
We've had this for a year now, and absolutely love it. It's beautiful, goes very well with the other stainless appliances in our kitchen, and has all the functionalities I need. I especially love that it has the coffeemaker and water boiler in one system, and we don't have to have two machines for these two purposes. I hate an overcrowded kitchen!
Date published: 2013-12-15
Rated

5

out of

5
by
alietz
from
Love it!
We love this coffee maker!  Haven't had any problems.  You can change the setting so the warmer stays on for 2-4 hours.  The hot water feature is nice...perfect for a cup of tea, hot chocolate, or a bowl of oatmeal.  
Date published: 2013-12-08
Rated

4

out of

5
by
Coffee Lover11
from
Great coffee!
I just received this from our wedding registry and we love it! So far we have not had any negative experiences with our Cuisinart; everything seems to work as it is supposed to. I did read the directions about 4 times before I started setting it up.Some other reviews talk about water spilling when pouring... This coffee pot pours a bit slower and more precise so if you rush it, it definitely spills.I was sad to give up our old Mr. Coffee, but this Cuisinart far exceeded my expectations!
Date published: 2013-08-03
Rated

1

out of

5
by
AwLo
from
Really...?
Aparently, this machine should have come with an expiration date. It died today and we have only gotten use out of it for the past 5mo. WAY to much to spend ($99) on a coffee/hot water maker that only lasts 5mo. Granted, this was a gift from our registry but it was still someone's hard earned money.Hot water side: tastes funny dispite several cleanings and using filtered water. Heats up quick but the curvature makes it awkward to place certain dishes under it without leaking - i.e. filling an oatmeal bowl provides quite the challenge.Coffee side: A few simple logistical things make it a bit inconvenient - i.e. filling the water in the back corner is difficult, the pot itself dribbles when pouring, and the lid of the pot doesn't just flip up. One needs to remove the entire lid to fill the pot with water. In my opinion it should be attached for convenience.And just this morning (the morning I need coffee the most) the coffee side won't even turn on - it is dead. Nothing. No lights, no sign of life.5 months?! Really? It's dead after five months? I've had a magic bullet last me longer than five months and that only cost me 3 easy payments of $9.99 and a 3am phone call to commit my payment.Bummer.
Date published: 2013-05-19
Related Products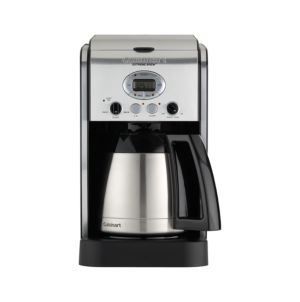 Ten cup programmable coffee maker with re engineered extreme brew technology delivers...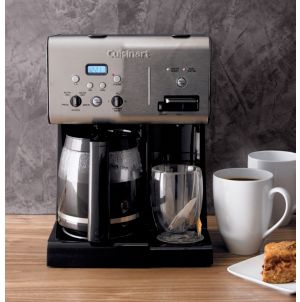 Cuisinart's programmable coffee maker satisfies the most discriminating coffee lover with pure...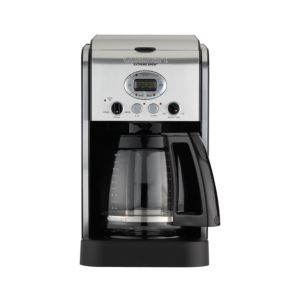 Twelve cup programmable coffee maker with re engineered extreme brew technology delivers...