Prices and availability are subject to change from the time and date that you print this page.
8/22/2014 1:17:54 PM. For Customer Service, please call 800.967.6696
Crate and Barrel Exclusive
Pickup
Outlet Item. Available for Shipping Only.
Day or night, our Nuit glazed stoneware combines hues of twilight and midnight for a striking two-tone tabletop effect. Minimal modern styling allows the color drama to take center stage. The shapes are both casual and elegant; a unique glazing process ensures that no two pieces are exactly alike. The satin exterior finish has a "cast iron" appeal. Quality and integrity of design from one of France's original ceramic factories, Jars Ceramics.

Please note: This pattern is discontinued. When our current inventory is sold out, it is unlikely we will be able to obtain more.


Nuit Cup
is rated out of
5
by
75
.
Rated

1

out of

5
by
gforce96
from
Looks nice, but not durable.
Too fragile for everyday use! We have had a full set of Nuit dinnerware for 8 years. In that time, 2 to 3 plates per year have broken per year, forcing us to $60 or more each year on replacements.In one instance, a plate shattered when I accidentally dropped my fork on it (from a height of, perhaps, three inches) while sitting at the dinner table. Another time, I accidentally set a plate down on the counter too hard, causing it to break.From this point forward, I won't be replacing my plates as they break. They simply cost too much to replace, and I'll get new plates elsewhere.
Date published: 2012-10-11
Rated

5

out of

5
by
Debbcat
from
Great everyday dinnerware
Great color and holds up well in the dishwasher. So happy with this set.
Date published: 2012-09-09
Rated

5

out of

5
by
Marf
from
Beautiful Stuff!
I bought a set of 4 for my daughter. This stoneware is beautiful. My daughter uses it every day. It is beautful to look at.
Date published: 2012-09-08
Rated

5

out of

5
by
cfjs
from
Great Everyday Plates
We received this dinnerware set as a wedding gift 2 years ago, and we still love them! They are both attractive and durable.
Date published: 2012-08-25
Rated

4

out of

5
by
KWB70
from
Nice dishes
These are very nice looking. The bowls are are a good size. Not too large. Mugs are perfect size too. Plates are rather "bowl-shaped" which you don't notice until you are eating from them. We have had for a few weeks and at least 4 occurrences of people cutting something and the plate tipped over. I've never experienced that with another plate. They are good quality and wash well in the dishwasher though, so we did not return them.
Date published: 2012-05-05
Rated

5

out of

5
by
AliKat30
from
Great durable plates!
These plates are awesome!! We put them on our wedding registry and loooove them! They don't scratch at all!! Go get 'em :)
Date published: 2012-05-03
Rated

5

out of

5
by
jmns
from
Great everyday china
Received this china as a wedding gift, and so far it's held up fine to everyday use, including dishwasher and microwave. We haven't had an overwhelming problem with plates tipping; would definitely recommend these plates if you like their look.
Date published: 2012-02-28
Rated

5

out of

5
by
TiaBia
from
Great for everyday
Great everyday dinnerware - really durable, good sizes and nice color - they can really mix in nicely with other pieces.
Date published: 2011-08-24
Rated

4

out of

5
by
Mase
from
Great look
I really love this set. The color, shape and functionality of the entire line is amazing, and I've already received many compliments. The only downside is that while they are "microwave safe", they do heat up considerably, so I wouldn't use them in the microwave. That said, I'd buy them again and recommend them to anyone.
Date published: 2011-08-23
Rated

5

out of

5
by
Christina Grey
from
So Glad We Picked These!
We chose Nuit as our dinnerware to start our dinnerware collection. We don't have a dishwasher in our new apartment, but this dinerware is so easy to clean and so perfect. It doesn't scratch, it's nice and heavy so even when I hand wash it and it may hit the side of the sink, it doesn't chip or crack. The issue of the plates titling has not been a problem for us. The small bowls are perfect for a side salad. All in all I love this dinnerware.
Date published: 2011-08-21
Rated

5

out of

5
by
2BinBoyce
from
Lovely Tea Cups
Uncomplicated and beautiful these tea cups put some extra fun into serving tea! The matte glaze on the outside is beautiful.
Date published: 2011-08-18
Rated

4

out of

5
by
LeahH
from
Love the dinnerware except...
We love our Nuit Dinnerware. It's attractive and stands up to the microwave and dishwasher with no chips or breaks. The only problem is the dinner plates have a small base and if you try to cut anything around the edge of the plate it will tip over.
Date published: 2011-08-16
Rated

5

out of

5
by
DoctorsWife
from
Love!
We purchased this set over 6 years ago and still love.I have not experienced tipping issues. Sure if you are attacking your food, the plate is going to tip.My husband is clumsy and broke a couple pieces so, I was pleased to see the dishes are still around and look forward to purchasing more.
Date published: 2011-01-14
Rated

5

out of

5
by
Ginny2Cali
from
10 years and still going strong!
We registered for this for our wedding 10 years ago and still love it as much as I did then. It has the look of pottery but is very durable. Classic and timeless. I just ordered another set and I do like the updated style but I have to admit that the slight tipping of the plates while cutting food never bothered me.
Date published: 2010-12-02
Rated

1

out of

5
by
yardflower
from
looks great, performs poorly
We really loved the look of these plates, but have been very disappointed. We had 2 bowls break in a one minute cycle in the microwave, despite being listed as microwave safe. But more frustrating is the design of the plate. They have a very narrow base, and any time you try to cut or even fork into food that is not in the center of the plate, rocking the plate, making lots of noise and sometimes launching food.Looks great! Mugs, small plate, and bowl are functionally great, but the dinner plate is a total disappoint.
Date published: 2010-10-31
Rated

5

out of

5
by
Lauren C
from
Wedding Registry MUST!
My husband and I couldn't be more thrilled with our 8 piece set... actually 9 piece. We received an extra one at our wedding and figured the more the merrier. The color scheme is beautiful and pictures really don't do it justice. It's a classy style that will pass the test of time. It's not too trendy and rumor has it that the color blue acts as an appetite suppressant... so it also helps with portion control :) I read reviews saying that the plates tend to tip when food is at the edge. This is true, but it is really easy to control. It isn't as traumatic an event as described. We couldn't be happier!
Date published: 2010-07-17
Rated

4

out of

5
by
SoontobeBride13
from
Great Design/Color/Style
We love these plates, we registered for these on our wedding registry. We love using the plates. As others have reviewed in the past these plates are a little hard to eat out of when you're cutting a piece of meat and it's not in the middle of the plate, but we've found ourselves accommodating it and having/cutting our meat in the middle, etc. Another thing to note is the bottoms of the bowls scratch easily since they are hand made. But I still love them either way!
Date published: 2010-07-02
Rated

1

out of

5
by
CoCo414
from
Looks great but...
The base of the plate is too small and the plate tips all the time!!! Great to look at but that's about it. I'm very disappointed.
Date published: 2010-06-22
Rated

5

out of

5
by
skilid8
from
Redesigning the product!
I just spoke to employees at Crate & Barrel who told me the design of the dishes are being completely redone soon!! They are making the base bigger and the plate more flat, so as to remove the tipping problem that so many others have had. I don't know exactly when the new plates are coming out, but it's worth checking with a store or online because as soon as the new plates are out, they sound like they'll be perfect!!
Date published: 2010-05-23
Rated

2

out of

5
by from
base is too small - plates tip- food flys!
this set is beautiful to look at, however not very functional! the base on the plates are too small so food fly's off and the plates bang side to side. it is very embarrassing for our guests and we have been trying to warn people that you have to cut and eat all of your food from the very center of your plate or else food will fly or the plate will tip. Its too bad, because they really are pretty!
Date published: 2010-03-21
Rated

3

out of

5
by
vt girl
from
ok dinnerwear
If you are considering this set, look at it in person. As others have mentioned, the base of the dinner plate is very small. This makes the plate tip easily when cutting on the outer-half of the plate. We also have to warn our dinner guests about the tipping problem. C&B - PLEASE CHANGE THE DESIGN! Otherwise, I love the set. We have had this dinnerwear for over 5 years now, and they have held up wonderfully. We've only had one bowl break, and that was because our 3-year-old dropped it in the sink. I would give 5-stars if the plates didn't tip.
Date published: 2010-03-15
Rated

5

out of

5
by
Shoofly
from
Love them!
I love the color and shine of these plates! We put them in the dishwasher and they haven't lost their shine at all. I haven't noticed the tipping of the plates. We get tons of compliments on them.
Date published: 2010-03-03
Rated

5

out of

5
by
traimle
from
Beautiful!
The Nuit dinnerware is great! It goes from dinner table to dishwasher beautifully. And, the colors are gorgeous...the online pictures can't show you the depth of the blue/gray.The Nuit dinnerware looks great with so many settings...different napkins, tableclothes, etc.
Date published: 2010-01-25
Rated

2

out of

5
by
cle452
from
pretty but impractical
I registered for these but found them to be very difficult to eat off of. They are shaped more like bowls so food slides to the middle. They also easily tip especially if cutting on the edge of the plate. I returned my entire set.
Date published: 2010-01-17
Rated

4

out of

5
by
AngelDog
from
Not great for meals that require cutting
We love the look and durability of this set - it's very solid and holds up well to both dishwasher and microwave and we're always getting compliments on it. HOWEVER, the plates are awful for meals that require any cutting (ie. steaks, chicken etc). Because of the high lip, the plate will tip when cutting the piece of meat (pretty messy if there is a lot of sauce/gravy involved). We have since bought a wide-based dinner set that we use for dinner partys and use this set for everyday. On a plus note, the high lip prevents sauce from oozing over the edge ( handy for meals in front of the TV).
Date published: 2010-01-03
Rated

1

out of

5
by
dee p
from
disappointing
Loved the set at first. Received 8 place settings as a wedding gift that we registered for. Unfortunately we did not see the set in person. The bowls were very small, but not too bad. I would've kept the set but the biggest disappointment was the fact the plates are made with a small center base so whenever you try to use the outside of the plate to pick up food or to cut food on the plate, it tips off balance. The food also falls to the middle because of the center being lower than the rim.I did love the fact it was my only set I ever owned that didn't chip or break. But in the end, I had to buy another set because my husband and I couldn't take tipping them over anymore.
Date published: 2010-01-03
Rated

1

out of

5
by
sammyd
from
Nice, but...
poor design. Sturdy, yes. Beautiful, yes. Small base causes plate to tip when you put pressure outside of it (e.g., if you're cutting on the edge of the plate. Base is about 3" diameter, plate is 10" (guess). Thst makes for a lot of useless cutting space. Took them back.
Date published: 2009-11-05
Rated

5

out of

5
by
chicbride2010
from
Stylish and durable
I love these dishes. My parents bought all our plates and bowls of this collection for our house warming gift. I've had them for over a year now and they've never chipped, cracked, scratched or anything when I've accidentally hit them hard against each other or against our granite counter tops. We use them all the time and stick them in the dishwasher to clean. They look wonderful.
Date published: 2009-10-31
Rated

3

out of

5
by
CrateandBarrelRocks2009
from
More beautiful than functional
We registered for these dishes for our wedding 5 years ago. I still love them and they have held up beautifully over time. The only complaint- and it's a significant one- is that the base is very small. When you cut your food or press the plate anywhere outside of the center, the plate tips. My husband doesn't like that all the juices collect in the middle, either. Anytime we use the dishes with company, we have to give fair warning about plate tipping and instruct everyone to cut in the center of the plate. Not a good design!!!
Date published: 2009-10-27
Rated

3

out of

5
by
SandS
from
Nuit Dinnerware
We love the color and style of this set but have had issues with the design of the dinner plates. The base is too small which causes it to tip when you put pressure on the outer half of the plate. If it wasn't for that, we would give these 5 stars. Unfortunate.
Date published: 2009-10-19
Related Products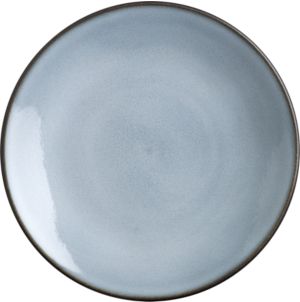 Day or night, our Nuit glazed stoneware combines hues of twilight and...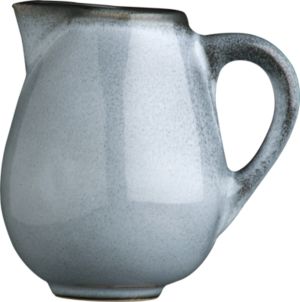 Day or night our Nuit glazed creamer combines hues of twilight and...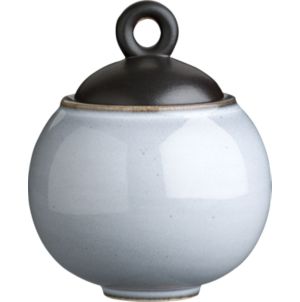 Day or night, our Nuit glazed sugar bowl combines hues of twilight...