Prices and availability are subject to change from the time and date that you print this page.
11/27/2014 7:49:43 PM. For Customer Service, please call 800.967.6696
A unique modern shape that harks back to the charm of old-fashioned dairy bottles, this clear glass spice jar has a tight-sealing lid to keep your favorite flavor accents fresh. Not just for the pantry, it's attractive enough to use on the buffet or dinner table.
Glass Spice Jar
is rated out of
5
by
119
.
Rated

5

out of

5
by
AA89
from
Cute and simple
Ordered these spice jars for a gift basket and filled them with my desired ingredients, then tagged. Jars were the perfect size and sealed easily.
Date published: 2014-05-27
Rated

4

out of

5
by
artnun
from
perfect size and price
I make my own mustard for holiday gifts and this lovely jar makes for a great presentation without spending a fortune. The seal is not super strong for traveling or shipping, but then I just bolster it with a little tape. and put it in a zip lock.
Date published: 2014-05-27
Rated

5

out of

5
by
Meet
from
Awesome
I bought 6 spice jars a couple of weeks ago and I just love it. They are not only so great to look at, they are very useful for storing spices in small quantities, especially the ones that you want to store airtight to maintain the flavor.Great product at a great price.
Date published: 2014-05-27
Rated

5

out of

5
by
Artiesmouse
from
Clean, modern design. Easy to clean
I bought 20 of these and labeled them on the lids. They fit perfectly in a shallow drawer all in alphabetical order. I will probably buy about 15 more.
Date published: 2014-05-20
Rated

5

out of

5
by
annylb
from
Great little jars!
These little jars are perfect for just the right amount of spices and little items. They fit perfectly in my utensil drawer and are easy to label and see the contents. I also use them for thumb tacks, rubberbands, spare nails, picture hangers, screws, etc. So far I've purchased 42 jars and they are all being used.
Date published: 2014-04-08
Rated

5

out of

5
by
Kwhit83
from
Great size, seal and looks beautiful
I bought these about 3 months ago. I drink a lot of tea and have several different sweeteners I like to use. Stevia, monks fruit, brown sugar and occasionally white sugar. These are perfect for keeping my sugars. They are airtight, fit a decent amount of product and look wonderful. I will keep buying them. I hope someday to replace my entire spice collection with these. I have on occasion had a hard time getting the lid off but I just take that to mean it seals well and I probably overfilled it. Great product
Date published: 2014-03-26
Rated

5

out of

5
by
nicolaroy
from
Perfectly cute!
Got these for yogurt. Like to mix my own using plain live culture yogurt and these 1/2 cup glass jars are perfect containers, with sealed lids.
Date published: 2014-03-26
Rated

5

out of

5
by
Sheryl
from
Great quality
Cute little spice jar with nice tight-fitting.  Same excellent quality as the other things I buy from Crate&Barrel.
Date published: 2014-01-31
Rated

5

out of

5
by
SpiderGirl42
from
Perfect for storing tea!
I drink a lot of tea, and I have collected many different flavors.  So I bought a whole bunch of these to store my tea in air-tight containers with a little bit of style.  They work perfect!  They hold a great seal, keeping my tea fresh.  They hold about 1oz of tea each, depending on what kind of tea it is (some tea leaves are a bit fluffier than others).  Therefore if you drink a lot of one kind, opt for a bigger size, but if you have lots of small amounts of tea like me, get these!!  You won't find a better value.
Date published: 2014-01-22
Rated

5

out of

5
by
snortinshatzie
from
Spice Jars are neat
I do think they are a bit small, but good for most size families.
Date published: 2014-01-21
Rated

5

out of

5
by
Shoshanna48
from
Love these!!!
I grow my own herbs and these little spice jars keep all of them so fresh. The rubber seal on the lid is unique to most spice jars. They have a unique look to them as well. I bought ten of them for myself and have bought many more as gifts for friends. They love them as well. You won't be disappointed if you purchase these sweet jars. They are also the perfect size!
Date published: 2013-12-20
Rated

5

out of

5
by
simgirl500
from
Fabulous for small item storage all over the house
I bought these several years ago and luckily I forgot to remove the sticker from one of the jars because I dropped one while cleaning and needed to replace. I was sure they wouldn't be around anymore as I bought them around 2007. I was happily wrong! They are still available!We buy our vitamins and headache medicine in bulk and those containers are huuuuge and ugly. I wanted something that was small with a sealed lid to store a decent amount of pills on our counters. When I found these C&B glass jars I knew I had found the ideal container.Why are they wonderful for bathroom storage?- Air does not seep in so the pills stay clean and fresh- Each jar can hold about a month's worth of vitamin-size pills- One can fit several on a shelf for easy access (we have 6 on our étagère)- The glass is very sturdy (I've accidentally dropped them several times without breaking; today's drop was just that perfect angle for breakage)- The price is fabulous---if you do happen to break one (which is quite hard to do) you don't feel too guilty about buying moreOne of the reviews mentioned they did not know what they could use this size jar for; aside from our bathroom, we also have the jars for my desk (paper clips, rubber bands, folder clips and push pins in the jars and "hide" in my top drawer) and in all the bedroom closets (a jar for safety pins, loose buttons and loose coins from pockets).They are small, but if you have a lot of small things they are beyond functional!
Date published: 2013-10-18
Rated

2

out of

5
by
doyledomain
from
Way too small
While I think it's got a great look to it; it's super small I have no idea what you'd keep in this thing. In their defense I'm sure the dimensions are accurate and it's my fault thinking it was going to be larger and actually usable.
Date published: 2013-09-17
Rated

5

out of

5
by
Chosita
from
Good looking and practical
I love these jars, they look good and don't have to hide them. People asked me where I got them.I'll be buying more pretty soon.
Date published: 2013-03-25
Rated

5

out of

5
by
Njme
from
Nice look
I like the look of these jars. I have not used them yet. They will eventually come in handy.
Date published: 2013-03-11
Rated

4

out of

5
by
Rebecca
from
Beautiful but delicate
I purchased several of these for the spice rack in my tiny kitchen. They're really adorable, but also very breakable. My last collection of glass spice jars was really sturdy, so I was surprised at how these shatter if you drop them.I've purchased several extras because...well...I drink when I cook.
Date published: 2013-03-07
Rated

5

out of

5
by
molasses2
from
Love these!
Great spice jars! I've printed out spice labels, on Deb from Smitten Kitchen's recommendation, and affixed them to the tops. Now I keep all of my spices in a well-organized drawer, and can see what I have just by pulling it open!The jars are good-sized - more than enough room for most spices, and when you buy in bulk, you can buy smaller amounts more often, so you ensure you always have fresh spices!
Date published: 2013-03-06
Rated

5

out of

5
by
jennie50000
from
Great Spice Jars!
I absolutely love these spice jars! They are exactly what I was looking for when I wanted to change from spice carousel on the counter to jars on shelves on the walls. They have a great seal and hold the perfect amount of spices to have on hand.
Date published: 2013-03-06
Rated

5

out of

5
by
DiamondGirl11
from
Love it!
Very attractive spice jar, looks really nice over my stove and has a great seal so the spices stay fresh.
Date published: 2013-03-05
Rated

5

out of

5
by
Aumd
from
Love it
I love these little jars. They are exactly what I was searching for for my little spices. And they look lovely on my kitchen counter. I love crate & barrel!
Date published: 2013-03-05
Rated

5

out of

5
by
Amanda Beth
from
Easy Open Spice Jars
I love these spice jars. I bought twelve of them a few years ago and have always though that they were the best looking and feeling of my large collection of spice jars. Lately my hands have become much weaker because of arthritis. I am only 52 and know that I have years of great cooking ahead of me, but the majority of my spice jars had tough plastic lids that were become really hard for me to open. For Christmas I got some for my 80 year old mother-in-law and splurged and got 45 jars for myself and then turned my whole collection over to these jars. They keep everything fresh, are easy to open, and look great. Thanks.
Date published: 2013-03-04
Rated

5

out of

5
by
Anusha
from
Great product
I had been looking for spice jars for quiet some time. Wanted practical yet modern style. These fit the bill perfectly. I had them shipped. Came before time, great quality, value for money. Fit in the drawer nicely, look nice and my husband jokes that food has started tasting better ( coz all the spices are close at hand and easy for me to experiment more)I would highly recommend them.
Date published: 2013-03-04
Rated

5

out of

5
by
BulldogMom
from
Perfect Size
I bought 30 of these Glass Spice Jars, needless to say I will be buying more. They are the perfect size, seal well, and make my cupboard look very organized. I will also be using them for other types of storage and for gifts too.
Date published: 2013-03-04
Rated

5

out of

5
by
Brownies wife
from
just perfect
These are great little spice jars. The price is very good too so you can order plenty for a large variety of spices. I have found that these are great for my office as well. Perfect for paperclips, rubber bands, push pins, etc. and they are shallow enough to fit in my top desk drawer.
Date published: 2013-03-04
Rated

5

out of

5
by
CaitMonster16
from
Great Little Jars
I bought 3 of these jars to hold vitamins, and they are great! The seal is very airtight, and the jars look sleek on my open shelving.
Date published: 2013-03-04
Rated

5

out of

5
by
lebeclinda
from
So pretty when filled!
I received my 45 Glass spice jars , quite promptly I might add. I filled them with the spices I have and used a P-touch to label the bottoms. They are so cute, I didn't want to ruin the effect with labels..I definatly need to order more. Ran out before I could finish the job..the little cream jar I purchased is also a perfect size. The shipping materials were marvelous and I received every single jar intact..This was my first purchase from Crate and Barrel and am thouroughly impressed by the fast service..Thank you so much. I will be recommending you to my family and friends..
Date published: 2013-03-03
Rated

5

out of

5
by
sherilly
from
Great Little Jars!
This little jars are great for storing spices. The price is also good, though they could be discounted for bulk purchases. I bought ten and then realized I need five more. What I especially like is that there is a bit of a 'lip' on the jar, so spices shake out really well. Good job, Crate & Barrel.
Date published: 2013-01-02
Rated

5

out of

5
by
Cindy
from
Perfect size & shape!
I made a batch of lemon citrus salt & used these little jars along with a small spoon. They made great Christmas gifts for my co- workers & friends. As always C&B was quick to ship & everything arrived intact!
Date published: 2012-12-16
Rated

5

out of

5
by
CarolC
from
Handy little spice jars
I purchased these jars because I recently found a spice shop that sells really fresh spices in zip-top bags. You order what you need, and because they haven't been sitting around in jars forever you know they're fresh. What I love about these jars is that they're compact, and they have a tight seal that keeps the spices fresh. I know I will definitely order more of these!
Date published: 2012-11-18
Rated

5

out of

5
by
DB35
from
Love These!
So glad I purchased these Glass Spice Jars. Just what I was looking for. They fit perfectly on my little carousel I have in my pantry. I ordered 22 of them and will order more for all of my spices. Definite must have if you like to be organized.
Date published: 2012-11-06
Related Products
The choice of many gourmet food purveyors, these French preserving jars are...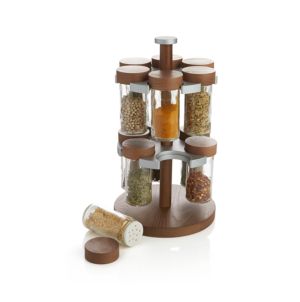 Created exclusively for us by industrial design maven Carter McGuyer, this high...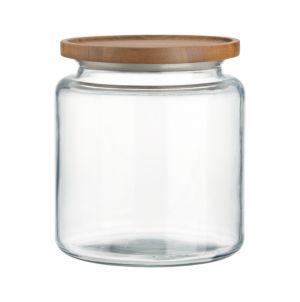 A beautiful acacia wood lid adds natural warmth to the classic glass...