Decor
Outdoor Lighting Ideas
On warm nights with soft breezes, there's no better idea than moving the party outside. The quickest way to set the stage for festive al fresco gatherings is to get the lighting right, so try our outdoor lighting ideas to update your space, illuminate the celebration and set the mood in style.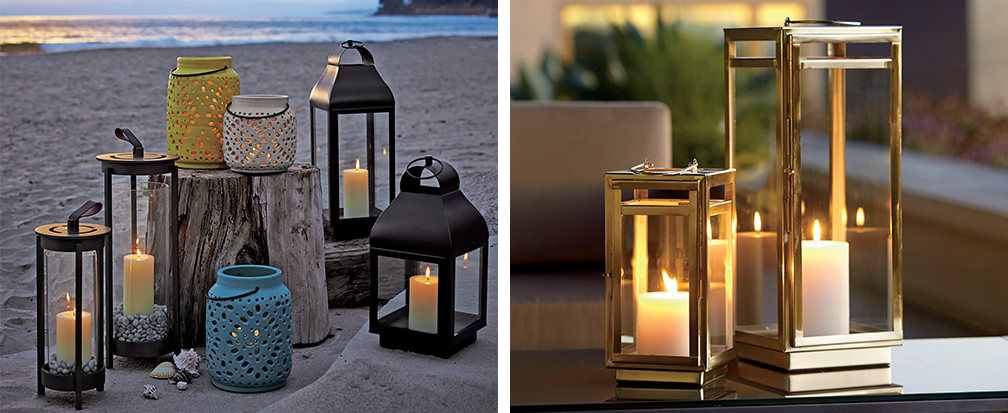 Lanterns
Outdoor lighting is the ultimate shortcut to ambiance, but it has a practical purpose, too. There should be enough lights so that your guests can see to safely walk around, interact with one another, mix cocktails at the bar and balance their plates. Lanterns are an easy solution thanks to their sturdy proportions and glass enclosures that keep flames from flickering out. Space them along a backyard path to light the way, use them to guide guests up and down steps on your deck, and scatter them in strategic spots on patios and porches with uneven surfaces. You can also try placing a lantern on top of an accent table situated next to a lounger, hanging a couple beneath an outdoor umbrella or suspending them from hooks along a roofline. For an enchanted forest effect, hang a few lanterns from the lower branches of a stately backyard tree.
String Lights
Recreate the romance of a Parisian bistro at night by hanging string lights—the ones with old-fashioned clear globe or Edison-style bulbs are the most charming—in a crisscross pattern under your porch roof or from tree to tree in your yard. Use string lights with smaller bulbs (similar to the holiday variety) all year round to wrap tree trunks and dress up deck railings, picket fences or wrought-iron fences and stair railings. A newer type of string lights are made of tiny bulbs strung along a delicate wire wrap. Because the wire can be shaped to hug a branch or other surface very tightly and the bulbs are so small, they seem to glimmer in the darkness like a pack of fireflies.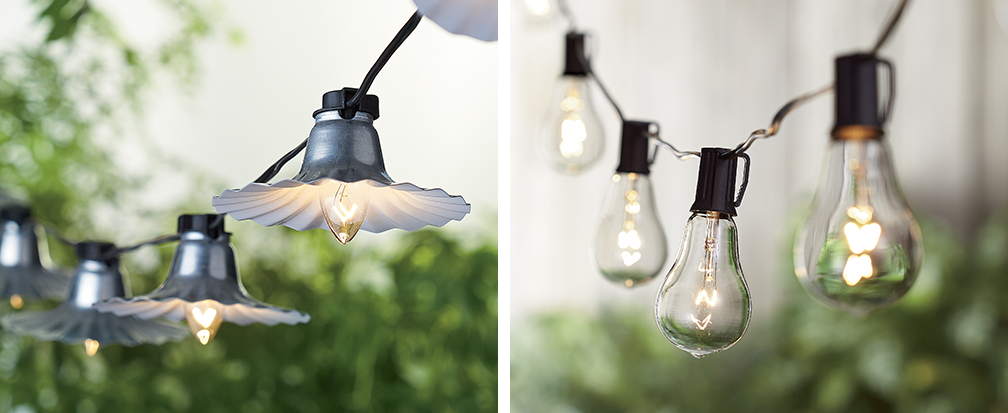 Tiki Torches
Especially for events in large spaces—a spacious yard with lots of room to roam, for instance—tiki torches are big on drama and cast a wide glow. They can also be used two or three at a time in smaller yards, and when you fill them with citronella fuel, they'll do double duty lighting the festivities and keeping pesky mosquitoes away from your guests.
Flameless Candles
These battery-powered wonders are one of our favorite outdoor lighting ideas. They look like the real thing but won't snuff out if a sudden gust of wind or a few raindrops come along. The plastic pillars turn on and off with the flip of a switch—some even have a timer function—and they're designed to flicker realistically so none of your guests will be the wiser. Place flameless candles inside hurricane vases or lanterns, or group them in different sizes on a tray to create a glowing centerpiece for your outdoor dinner table.
Glow in the Dark
Pick just one way to light your outdoor space for a cohesive look, or combine several types of lighting for a relaxed, boho-inspired atmosphere. Either way, the flattering glow will make your guests want to stick around all night.
What are your favorite outdoor lighting ideas? Let us know by using the hashtag #CrateStyle.
Back to Top