The Best Basics for Your Bed & Bath
At Crate and Barrel, we've thoughtfully edited our bed and bath collection to help you create a relaxing retreat—a carefree zone where you can escape the day's busy pace. You can make your bed with a colorful spectrum of 100% linen bedding that gets softer with each wash and never needs ironing. Or cozy up in a peaceful oasis in pure all-white, layering smooth, all-cotton percale sheets and duvet with a beautifully embroidered quilt. You'll find just the right pillow for a good night's rest, from all-down to down-alternative, and plush spa towels that are soft and inviting.
It's also the finishing details that set our quality bedding and bath towels apart. We appreciate and take time to finesse the finer things like elegantly finished hems, beautiful hand-dyed yarns and hand‑stitching on quilts. Just a little something we dreamed up, just for you.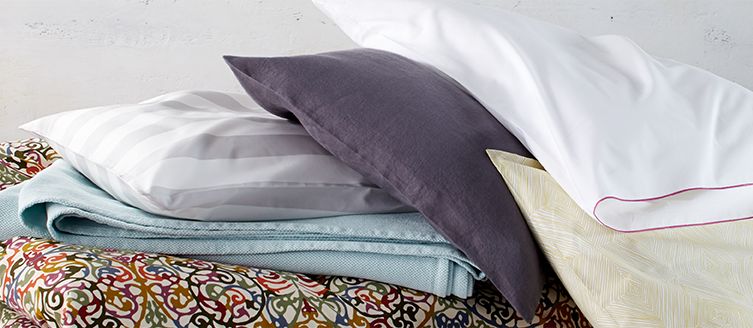 Sheets and Pillowcases
Layering the Bed
When shopping for bed linens and quality bedding basics, consider the design, type of fiber, feel preference and care required to maintain the look. Choose a fitted sheet that can accommodate even a plush mattress (our fitted sheets are a generous 16" deep). If your preference is for patterns and solids, it's a good idea to also have one or two sets of white or neutral bed linens that can work as a simple underlayer. We recommend two sets per bed...and don't forget the guest room.

The Perfect Foundation
Percale
Our essential, everyday 100% cotton percale bed sheets have a tight weave for a crisp feel. They are cool to the touch with a smooth, matte finish that feels barely there against your skin, making them a good choice for warmer months. Percale sheets wear well over time, becoming softer with each wash.
Thread Count
The number of vertical and horizontal threads per square inch determines thread count. Contrary to what higher numbers suggest, an extremely high thread count can be too delicate a weave and may not be as durable over time. Our experience is that the softest, longest-wearing bedding begins with high-quality cotton, which you can count on at Crate and Barrel.
Customize Your Look
Coverlets
Our contemporary spreads make the most versatile beds. They are a comfortable light weight that can replace quilts or duvets in warmer climates. You can also layer these spreads under quilts or duvets, folded over at the top edge for a more interesting look. Or use them folded to dress the foot of the bed. Coverlets also store more compactly and are great to have as a standby for guests.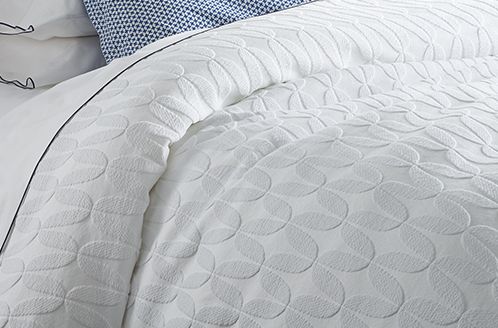 Quilts
At Crate and Barrel, our quilts are art for the bed. Many of our high­quality quilts display skillfully stitched patterns to keep the mid­weight inner batting in place. Featuring a fresh use of color and pattern, our quilts offer a modern take on traditional comfort.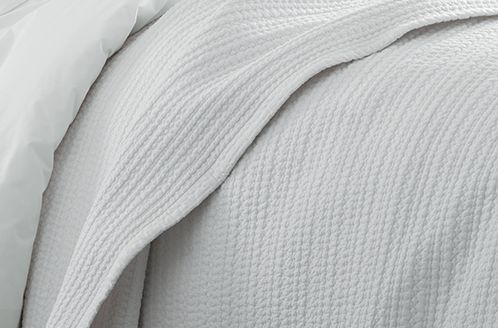 Duvet Inserts
Our European-style poufs top the bed in either a premium snow-white domestic down fill or an allergenic-free Italian synthetic microfiber alternative. While they add a luxurious fullness to the bed, our medium-weight duvet inserts are perfect for all seasons, adjusting to body temperature for just the right degree of warmth.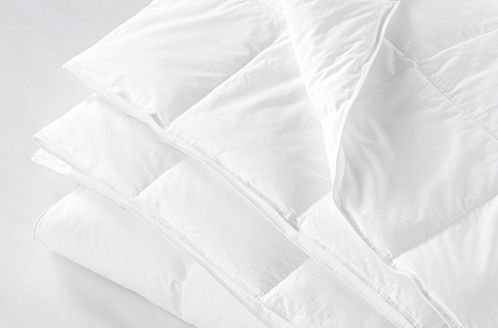 Duvet Covers
Think of the duvet as your central statement piece, the focus of your space. Dress it up or down with decorative pillows, accessorize with a rug, and add lighting, art and furniture to complement and complete the look.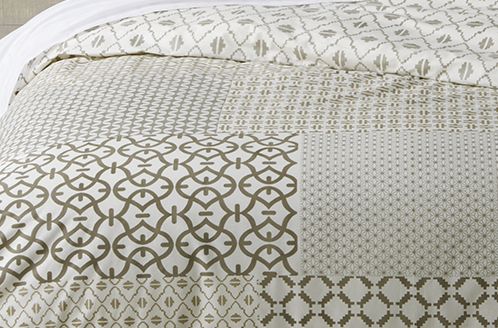 Bed Pillows
A variety of bed pillows adds depth and dimension to the finished bed. Our designers suggest you arrange them in the following order starting from the headboard: Euro, standard, sham and optional bolsters.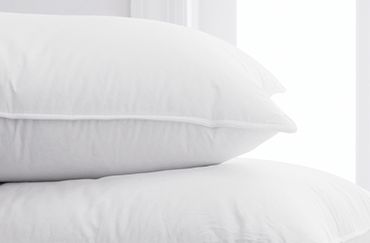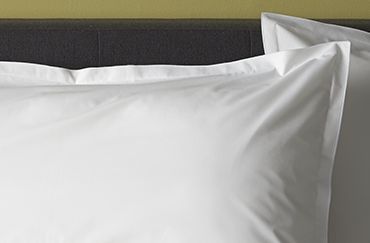 Pillow Construction
We prefer pillows with a core support of white duck feather wrapped in the fluffy luxury of snow-white domestic down. Allergen-free, plump down alternative pillows are filled with Italian synthetic microfiber for a down-like experience.
Shams
We tailor our pillow shams with details such as flange seaming or piped edgings to add depth and dimension. While shams traditionally match the top of the bed, our designers also like to contrast a solid bed cover with print shams. We also like to give a queen bed a more contemporary look with the extra width of king or Euro shams.
Mattress and Foundation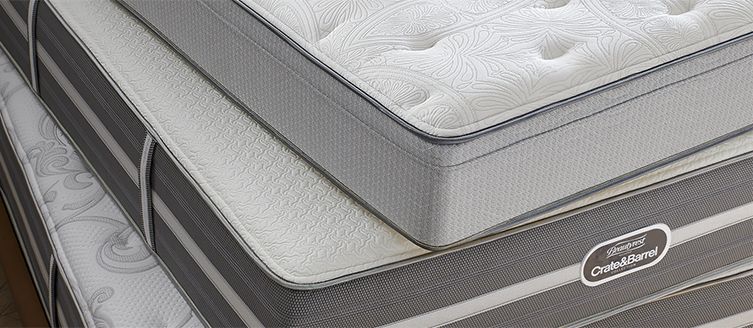 A high-quality mattress is the foundation of a comfortable bed. Look for construction details that will help you sleep well, such as a coil system to reduce the transfer of weight and movement from one side of the mattress to the other. To help the mattress breathe, look for a mesh border that will help improve airflow.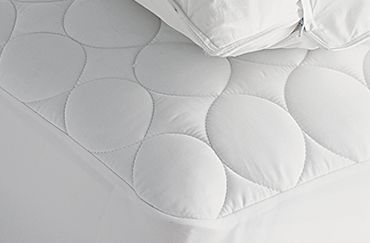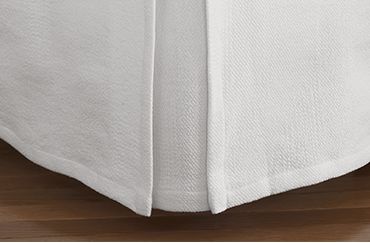 Mattress Pad
Sleep in cushioned, hygienic comfort with a soft-as-silk mattress pad that keeps you warm in winter, cool in summer, wicks moisture away, and naturally inhibits mold and dust mites.
Bed Skirt
For a pristine presentation, skirt the issue of unsightly framework and under-bed storage with cotton bed skirts tailored with split corners to work with most bed frames.
The Spa Bath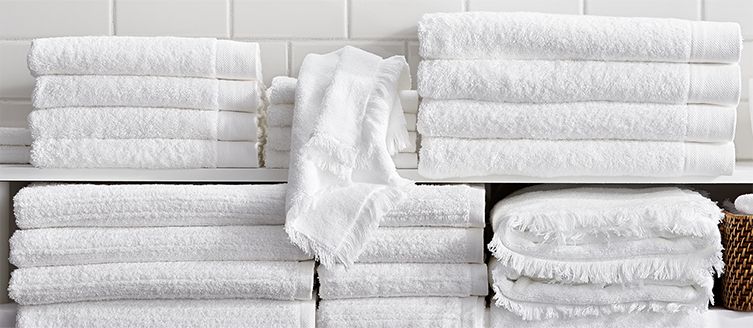 Quality Bath Towels
Our exclusive collection of soft, absorbent towels in high-quality cotton completes the bath. We offer several Turkish varieties, tightly woven in durable double-ply yarn with soft terry loops customized in size, length and diameter. A complete set of bath towels per person (and don't forget guests) should include two each: bath sheets or bath towels, hand towels and washcloths, all with a luxurious touch.
Gram Weight
Grams per square meter is a fabric standard of measurement for weight and quality, ranging from 300 grams up. We loom our bath towels to luxurious weights, striking the perfect balance of thick, fluffy and absorbent yet light enough to be quick-drying.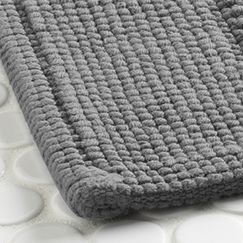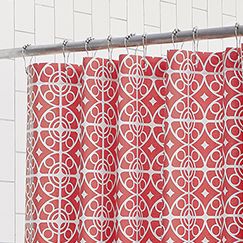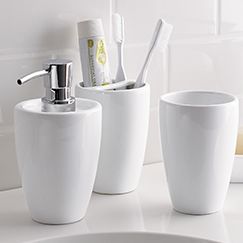 Bath Rugs
Step out onto plush 100% cotton bath rugs in a range of sizes, styles and colors.
Shower Curtains
Whether you choose a shower curtain designed to coordinate with our bath linen collections or a versatile neutral, take time to notice the details that create a more luxurious finish. The high-quality fabrics we choose drape beautifully with the fullness of window curtains. Reinforced buttonholes handle the stress of everyday tugging and pulling.
Bath Accessories
Complete the master bath, guest bath and powder room with contemporary amenities designed to complement our textile collections. Accessories we consider must-haves include soap dishes, bottle pumps, tissue holders, trays and wastecans.