Holiday
Thanksgiving Entertaining Ideas: How to
Host Thanksgiving Dinner
Hosting a Thanksgiving dinner is a rite of passage. From the turkey prep to the table settings, nerves and expectations are high. But, there's no reason why Thanksgiving entertaining—whether it's your first year or your 20th year—shouldn't be gratifying and fulfilling for you and your guests.
Here's how to host a Thanksgiving dinner in five easy steps.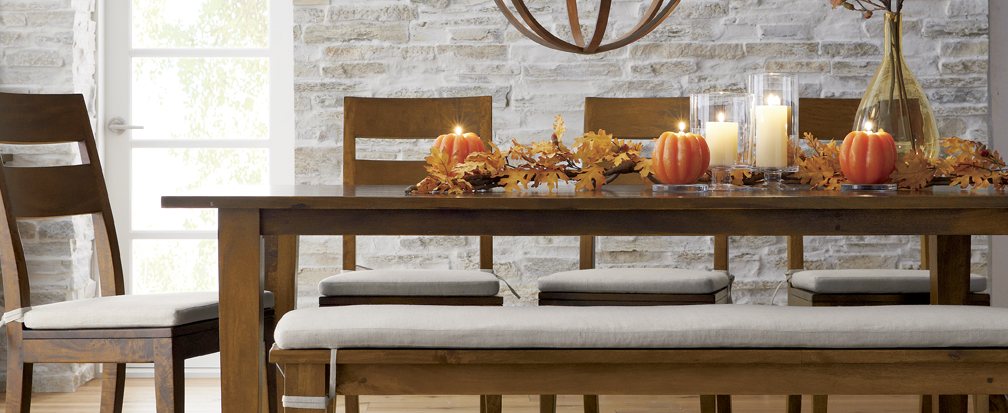 Step One: Set the Table
Thanksgiving entertaining ideas naturally lend themselves to autumnal colors and themes. Think the rich golds, oranges, browns and greens of the changing landscape. Capture the tones of the season with a selection of pumpkins and gourds gathered in a woven basket at the center of your dining table. Instead of individual placemats, place seasonally appropriate runners down the sides of your table and sprinkle miniature pumpkins throughout for color and interest. Add candlelight to your table with a selection of small glass votives, but remember to fill the votives with unscented candles. You don't want the aroma of candles overpowering the incomparable smell of your sweet potato casserole.
Step Two: Give Good Service
Thanksgiving entertaining naturally lends itself to buffet style service. By presenting your meal as a self-service experience, your guests have an opportunity to taste each of the dishes and, of course, load their plates up with any favorites. Additionally, consider making both your bar and appetizers self-serve. Creating stations for both will allow you, the host, to focus on the work that needs to be done in the kitchen as your guests arrive. And remember, although the Thanksgiving menu is a combo of your family's traditional recipes, you can help your sideboard feel cohesive by using all white serving pieces.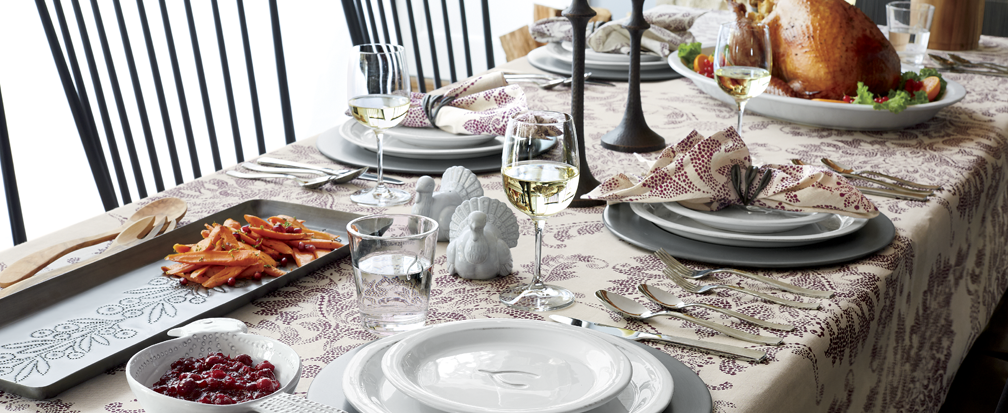 Step Three: Exhibit Kindness
Capture the spirit of the day by keeping your guests first and foremost in your thoughts. When setting the table, remember to keep table decor below eye-level so that guests can see each other across the table without having to look around a floral arrangement. Anticipate their needs by placing pitchers of water on the table, extra hand towels in the guest bath, and cocktail napkins on the bar and appetizer stations. And finally, use place cards to help take the guesswork out of where you want your guests to sit. Group your guests together in a manner that facilitates conversation and makes them feel at home.
Step Four: Make a Sweet Ending
At Thanksgiving dinner, dessert is as much a part of the main event as the turkey. Use a variety of cake stands and pedestals to elevate the display of pies and desserts to star status. Get hands on with cookies and brownies by passing them around the table in baskets. And remember to fire up coffee and tea, the best antidotes we know to end the feast.
Step Five: Stay Awhile
The true sign of a successful Thanksgiving celebration is how long your guests linger after the meal has been served. Don't forget to make the rest of your home as inviting as your dining room table. Add poufs and stools for additional seating. Place floor pillows around the living room and family room to allow guests to lounge comfortably. And don't forget to put your own feet up and relax. After all, you deserve it.
What are your favorite Thanksgiving entertaining ideas? Share them with us by using the hashtag #CrateStyle.