Prices and availability are subject to change from the time and date that you print this page.
4/20/2014 10:01:48 PM. For Customer Service, please call 800.967.6696
Crate and Barrel Exclusive
The comeback of a Scandinavian quaffing classic. Iittala's textured Finnish pub mug designed by Oiva Toikka in 1973 features a friendly broad shape, smooth polished rim and embossed measurements. Freezer-safe for the frostiest brew.


Iittala Krouvi Beer Mug
Iittala Krouvi Beer Mug
is rated out of
5
by
72
.
Rated

5

out of

5
by
lovemy4kids
from
I LOVE THESE!!!!
these are by far the best thing ever. these make beer taste SO COLD. the beer just never felt cold enough for me until i discovered these babies. since my purchase (i bought the set for myself) i have bought another set and split them up 2/2 for 2 friends for a little "pick me up" gift. they were thrilled to pieces!!! i have received more than one text from them when they are having a brewsky out of their mug straight out of the freezer. one of which was, "omg, i just drank my beer in 5 min. it was so good!!!" if that doesn't tell you something, i don't know what will. you won't be disappointed in these!!!
Date published: 2011-06-26
Rated

2

out of

5
by
chaffee336
from
Be Aware
I greeted the news that they were re-issuing these mugs with great expectations.I ordered some over the internet then couldn't wait and went to the store in Manhasset. Bought 8 . Sorry I did. They are not the same as the previous issue. Although on the previous issue the handle was the strong point this newer offering has a very uncompfortable handle with a sharp edge on the inside of the grab area.. The glass is cheaper too, you can tell when they hit each other.(Don't know how else to describe it.So Be Aware of the changes this is NOT the quality of the previous issue. I will send the internet ordered ones back and keep these as a lesson learned. Very much less Quailtytoo bad ! ! ! !
Date published: 2013-10-21
Rated

5

out of

5
by
cagrant
from
Love These Mugs
We received these mugs when we got married 23 years ago. We loved them so started giving them as wedding gifts/shower gifts/housewarming gifts etc to everyone we knew. THEN...they quit making them and we were so disappointed. BUT...in the last year, they were being offered again. We are THRILLED. They can be used for beer, pop, ice cream, hot drinks - just about everything. Hopefully, they will be offered for many years to come.
Date published: 2011-06-26
Rated

5

out of

5
by
Looloo
from
Iittala Krouvi Everything Mug
My father had these mugs in the mid 70's when I was a kid and I loved them then so I was thrilled to see them back in action. They are quite possibly the most perfect and useful kitchen accessory. They can hold beer, coffee, soup, act as a mixing bowl or perhaps even just become your kitchen hold all for coins, pens, rubber bands - anything!I haven't met an Iittala product yet that I didn't love and this is no exception - plus, at $24 for a set, you can't go wrong. The fact that they hold a sentimental place in my heart is a bonus!
Date published: 2010-03-03
Rated

5

out of

5
by
Moosie
from
Great mug!
Just like the product description claims, these are the best mugs to put in the freezer to frost. They seem to coat themselves in frostiness. I love that they hold a lot of drink, so I use them for sodas and ice water all of the time. I am so glad that my husband put these on our wedding registry.
Date published: 2011-06-26
Rated

5

out of

5
by
almostnewlywed
from
Love
I really love these. They are nice and sturdy and I love that handle! Keeps my hands from freezing. Been using these a lot of pina coladas because of the awesome handle.
Date published: 2012-10-31
Rated

5

out of

5
by
mom of boys
from
Iittala Krouvi Beer Mug
LOVE these mugs! They are great for a cold beer! I keep them in the freezer so they are ready to go! I also like that it will hold the enitre beer!
Date published: 2011-08-12
Rated

5

out of

5
by
Anderson
from
Great Buy
We initially bought a set of four and found the mugs to hold up very well for frosty mug use, so we decided to buy two more sets. When the order arrived there were two cracked mugs. We called the store and they immediately shipped replacements which were in great shape. The product is of high quality and the price point is matched accordingly. We extend a huge recommendation for anyone interested in drinking beer from a frosty mug. Delicious!
Date published: 2010-05-30
Rated

5

out of

5
by
Scandinavian simplicty fan
from
Kudos to Krouvi
THE best mug to serve up frosted - even holds two cans worth! I grew up with these mugs for floats, registered for 'em as wedding gifts, stood asparagus up in the fridge, and mixed many a dip in them. My husband loved them so much that as our collection disapeared over the years, I've been looking for replacements. So glad to find them back in time for his birthday! Cheers to Crate & Barrel for offering this weighty, wide mouth favorite!
Date published: 2009-08-04
Rated

5

out of

5
by
tribeca
from
great mugs
We were pleased when I read Crate&Barrel was restocking this mug. We had bought our original ones in Finland in the late 1970s and replenished our supply from Crate&Barrel when we broke a few. The quality of glass is markedly different in these newer ones, but that doesn't disturb me; in fact they seem to refract light more, making them glisten.It would be nice if the smaller version (.33 liter) were reissued as well.
Date published: 2010-01-11
Rated

5

out of

5
by
QBshopping
from
Love these mugs!
I purchase two off the instore clearance racks only to find when I ordered another two they were on back order until early March... : ( I love the two I have though, my husband uses them for beer, me for iced tea, water, and chilled in the freezer with a little chardonay! They are very multifunctional and heavy duty mugs. You'll love them if you buy them!
Date published: 2010-01-23
Rated

5

out of

5
by
loyalcbgal
from
Greatest Wedding Party Gift Ever!
I was in a wedding and the bride and groom gave these mugs as a gift to the wedding paryt! It was the best wedding party gift I have ever received! We keep our mugs in the freezer and so does everyone we know from that wedding. It's great to have a frosty mug when you grab a beer. I have fond memories of that wedding everytime I drink from this mug!
Date published: 2012-04-29
Rated

5

out of

5
by
JaneS24
from
The best beer...
...deserves a great mug and these are the best. My parents have them and I have been looking for them for years! I am so excited to have a set of my own. They fit a full beer without having the liquid anywhere near the edge - for those of us who are sloppy - this is wonderful. They are easy to hold too!
Date published: 2009-08-13
Rated

5

out of

5
by
beermom
from
Best mugs ever!
We LOVE these mugs - we use them for beer, and they're big enough that the foam doesn't overflow, even if the beer is poured wrong. They stay frosty in the freezer, AND we use them for coffee / cafe au lait almost every morning. They're the new go to big glass in our house, and I'm ordering more.
Date published: 2013-01-30
Rated

5

out of

5
by
Bruce388
from
Great mugs
The mugs I had been using for over 20 years were disappearing due to breakage. These mugs have the capacity I like for iced tea, plus their wide bottoms make them stable.One of the reviews I read complained about the sharp handles, but these seem smooth to me.
Date published: 2013-01-19
Related Products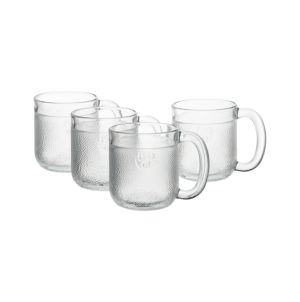 The comeback of a Scandinavian quaffing classic. Iittala's textured Finnish pub mug...