Prices and availability are subject to change from the time and date that you print this page.
10/30/2014 7:42:11 PM. For Customer Service, please call 800.967.6696
Crate and Barrel Exclusive
Meet with a Furniture Design Expert at your local store
Handsome ash wood cabinetry with modified steamer-trunk styling conceals a compact workspace. A clever contemporary design with repeating horizontal panel insets and hidden handles has the ability to make your home office disappear. Hidden assets like a laptop/keyboard/writing desk pullout, file and storage drawers, one adjustable/removable shelf for CPU or open cubbies with cord management cutouts give new meaning to the work "cubicle." Printer shelf extends on convenient glides.


Incognito Ebony Compact Office
Incognito Ebony Compact Office
is rated out of
5
by
57
.
Rated

5

out of

5
by
Jewelsie80
from
Great solid piece
This a great piece of office furniture. I searched high and low for a compact office set-up. I found many others that were less expensive than this one, but in the end, this one was the best thought out. I love that it has the printer shelf (who wants to stare at a printer in a room?), plus the storage cubies and hanging file space. I own a small consulting business, and this desk is perfect for my work!I will say that the drawers/sliding printer shelf are a little stiff to open, but I think that coming years of use will loosen it up nicely. This thing is well made with dovetail joinery and a nice finish.
Date published: 2012-11-01
Rated

1

out of

5
by
jbruck
from
not worth the money
I've had the desk for a little over three hours in my house and the bottom draw already broke. one of the screws wasn't put in correctly and the other is missing. their wasnt even any thing but wires in the draw. now i have to go out and buy new screws to fix it.
Date published: 2012-09-18
Rated

5

out of

5
by
Sereia
from
Great office for shared spaces
The piece is beautifully made, sturdy and with a smart design to fit our home office completelly incognito.At our new house we needed to have the office space in the living room and the incognito office works perfectly. We bought the ebony and it looks great with a sleek black monitor on top,
Date published: 2012-09-08
Rated

5

out of

5
by
Zozo
from
Perfect purchase!
Like some reviewers, the price had me hesitating for few months. The tipping point for me was my trust in the quality of PBS products, the simple elegance of the piece, and it's functionality. I have had this piece for over 2 years and it it still looks brand new. I have also moved this secret office in several rooms. It is now in the breakfast nook as we use the computer to check anything discussed over breakfast, lunch or dinner. This piece hides a large laptop, a printer/scanner/fax, files for everyday bills and such, stationary items, paper for the printer...and anything that needs to disappear before the first guests arrive!
Date published: 2012-09-02
Rated

5

out of

5
by
Little time
from
Lives up to it's name
Love my new desk. I had a lot of trouble keeping my desk organized...not any more. There's a place for everything and even if it's not neat and tiddy you can close the doors and you don't have to look at anything.
Date published: 2012-05-07
Rated

5

out of

5
by
Hesitant Shopper
from
Great Purchase
After months of hesitation due to the price, my husband and I decided to purchase the desk. It looks great, it hides cords, and has plenty of room for your office needs. Our printer even fit perfectly.
Date published: 2012-05-06
Rated

5

out of

5
by
junejyjp
from
Beautiful desk
Although the desk price is quite expensive, if you really like this desk you will not be disappointed. The desk may be compact but it can still store a lot of items like a printer, desktop, and lots of desk paper if you use the left bottom cabinet as a filing cabinet. The desk is beautiful and great quality.
Date published: 2012-03-12
Rated

5

out of

5
by
KCBChiTown
from
Help Desk
All libraries have help desks - a place you can go to for needs/answers. This is my answer to the "Help Desk." I have a OK sized room in my home dedicated as my office. However, the last thing I wanted was an office looking space. I wanted a library/den feel - a comfy lounge chair, good lighting, bookcases, and of course a desk - but something that didn't look like a desk, something "Incognito," if you will. This piece of furniture is awesome and was the perfect answer to my vision. I am able to hide away that ugly printer, keep my laptop on the slide out tray, was able to get ride of a separate filing cabinet that was taking up space, and keep office supplies hidden. I keep a lamp on top with pictures and other decorative accessories. I love how clean and organized my room looks when I have everything put away and the desk doors shut! I do not want to be reminded of work stuff (paper work that needs to be filed, something to print from the computer, more paperwork) on a daily basis but when I need to do something I know my Help Desk is there for me.
Date published: 2012-02-29
Rated

5

out of

5
by
LinaZ
from
Stylish and compact
This desk has small foot print with big punch unit interior quality. All of the draws inside the unit have smooth glide and "lock" in place (once in it's place the final push has a smooth lock into position mechanism). Given the price of the desk it's well worth every penny. Allows all the small office essentials to fit into a non invasive design. With small kids in my house hidden handles and doors that hide all of the office hardwear keeps them guessing and out of harms way. Great addition to my living room without a clutter of an open desk space. Absolutly love it!
Date published: 2012-02-28
Rated

5

out of

5
by
caligirl20
from
My favorite piece of furniture!
I lived in a tiny study in NYC, and this was perfect. I needed a desk but had very little space so wanted it to be multifunctional. This fit all my work stuff on the inside (laptop, printer, files, etc.) but then I could close it up at the end of the day and not feel like I was still "at the office". I had my TV on top, and it looked just like a regular living room piece. My favorite thing about it was surprising everyone who came over with how it opened up to a desk.It's a GREAT piece for small spaces (maybe even one-of-a-kind), and it pairs well with the shift black media console/bookcases. I bought three bookcases for a divider wall, and it all looked very cohesive with the desk. As a bonus, they wear well. I just moved cross country to CA, and everything is still in tact looking great in my new, more spacious place!
Date published: 2011-08-28
Rated

5

out of

5
by
cr27
from
Great Computer Desk
Great computer desk! It's perfect for hiding printer, etc., is extremely functional and, moreover, very attractive. The doors do need a bit of room to swing open.
Date published: 2011-08-24
Rated

5

out of

5
by
MamaGardener
from
Great Compact Desk
I bought this desk for a small space in a high traffic area (breakfast area). It works perfectly to keep junk out of site but easily accessible. It easily stores a printer and external backup drive on the pull out printer shelf. The file drawer is spacious and convenient for keeping paper clutter at bay. I have a laptop on the top with a keyboard in the pull out tray. The cords remain mostly out of sight thanks to the holes in the back of the desk. The finish is a lovely almost black color and wears well. I've had mine for more than a year and there is no obvious wear and tear. All in all, I would highly recommend this desk for anyone who needs something small and convenient.
Date published: 2011-08-23
Rated

5

out of

5
by
Gonzigone
from
Love it!!!
I live in a one bedroom apartment and when I found out I'd be working from home, I went on a search for the perfect desk. With limited space, it was difficult to find a desk that would fit and also give me enough space to work on. This desk is PERFECT! It is sturdy and beautifully made. The drawers pull out so I can easily access my printer and files. The best part is that when I close it up, no one can even tell I have a desk in my living room. Love it!!
Date published: 2011-08-23
Rated

5

out of

5
by
Travel partner
from
Good choice
I needed some place for my things other than my husbands office. I placed this in my living room and it makes a nice accent piece. It hold everything needed for my personal household office.
Date published: 2011-08-22
Rated

5

out of

5
by
jmj57
from
Sturdy with both function and form
We have a small house, so I needed a piece of furniture that could house a computer, printer, office supplies, etc., yet also serve as a decorative piece in the living room. The front doors swing all the way to the side to allow full access to computer and printer when needed. It is solid and well built, shelves all pull forward for easy use. The ebony color is a beautiful accent to our other maple cabinetry in living room.
Date published: 2011-08-19
Rated

4

out of

5
by
mccormrm
from
Media Center/Extra Desk
We bought this last week and are so happy we did. We have a tiny 750 sq ft. apartment that can't handle traditional sizes of anything. This fits wonderfully in our living room and multitasks the following: entry way console for lamp; temporary living space for stuff heading out the door, storage for board games, cd's, dvd's, extra cords, mail; charging station for electronics; an extra desk for when laptop use would be better done not on a lap; media center (for TV, amp, dvd player, digital converter, mac mini). The best is that with the doors closed, no one needs to see this piece of furniture hard at work. Negatives: it has been off-gassing slightly and the doors are hung crookedly (soon to be correct by C&B with minimal effort on my part). Otherwise appears to be well-made and very well-designed.
Date published: 2010-06-18
Rated

5

out of

5
by
WenWen
from
Very Satisfied
This piece of furniture is very stunning! My delivery experience was one of the best ever; the gentleman arrived earlier than expected and were so professional and pleasant!I only wish it had been a little cheaper but it is definitely worth it; the quality is excellent and solid. The color fit perfect with all the other pieces in my living room. Highly recommend the investment!
Date published: 2010-06-07
Rated

5

out of

5
by
Pleased Princess
from
Love this desk
This is so much more than a desk, it's a piece of furniture. It's incredibly well made and I was amazed to find EVERYTHING fits! Printer, tower, files, LOTS of space!! I have a 19 inch monitor and I keep my laptop on the desk's surface as well. The keyboard tray pulls out to allow plenty of room for my legs to fit comfortably underneath.I've had many desks...but I've never had one quite like this. Extremely pleased!! Highly recommend.
Date published: 2010-05-31
Rated

4

out of

5
by
DCFed
from
Almost Perfect!
A sturdy, sleek, innovative piece of furniture and oh so close to perfection! Highlights: the sliding printer shelf; the two drawers for supplies and the fact that it closes to hide all of the home office clutter. The minor issues I've identified:- My CPU barely fits. I had to flip the removable shelf upside down to eek out enough space and even with that adjsutment, I still have to lift the shelf to get to the on switch. (I'll get accustomed to it)- It would have been better to have designed the file drawer so you can load and view files facing forward. It's awkward trying to find files while looking at them sideways. (I'll get used to it)Overall, I'm very happy with this desk.
Date published: 2010-03-24
Rated

4

out of

5
by
WarEagTigPlainsman
from
Not much to improve on
This piece is in my family room and does a great job of concealing my computer, keyboard, mouse, and printer. I was surprised at how generous the interior space was, considering how compact the package is. My monitor, camera, and speakers are sitting on top. The piece is also beautiful with the doors closed. I am VERY pleased,Two issues: it would have been nice to have the sides extend beyond the back in order to more fully conceal the cords. In addition, the doors swing out, so you need a couple of feet on either side to fully fold the doors against the sides.
Date published: 2010-03-21
Rated

4

out of

5
by
Yujiao8
from
OK, but what about ...
Where to put your legs? You can't put them under the desk as you would normally. I love the looks of it, and you can't argue with 20+ 5-star reviews, but doesn't the lack of leg room drive you crazy?Gave it a 4 as I freely admit I don't own this piece and didn't want to drag its rating down ...
Date published: 2010-02-13
Rated

5

out of

5
by
Lindella
from
Elegance and Functionality
I could not be more thrilled with this purchase. I live in a condo and have no place for a desk other than near the front entrance. Everything I need is in it: room for a printer, keyboard, hanging folders, copy paper and plenty of room for office supplies. There are several cutouts in the rear of desk, so that all wires are hidden. The best part is that it is so elegant and beautiful, and no one would guess that it houses all I need to work comfortably.
Date published: 2010-01-25
Rated

5

out of

5
by
Twin Lakes
from
Perfect for a livng room family computer setup
I love this desk. It lives up to it's Incognito name. It houses the family computer in the living room. The quality is great. Very sturdy & heavy, yet still easy to move.
Date published: 2010-01-22
Rated

5

out of

5
by
Meowzebub
from
Compact and Elegent
I replaced a huge seven drawer desk with this and a Spotlight Ebony Credenza. I now have more storage than I ever needed and the corner of my living room where my desk is located looks sleek and elegant. I love it! The drawers and doors move smoothly and the overall construction feels solid.
Date published: 2010-01-15
Rated

5

out of

5
by
EH in Atlanta
from
Love It!
I needed a compact desk for a small space. And I needed a piece of fruniture that did not look like a desk. I found both of my requirements in this piece. I love it! It looks great, hides all the ugly office equipment and is so sylish. I highly reccomend it.
Date published: 2009-11-21
Rated

5

out of

5
by
Conway
from
Love It! Love It! Love It!
Just want I needed for my new home office. Compact in size, large in features - Good looking in the room. The interior spaces are extremely functional. I recommend highly!
Date published: 2009-11-18
Rated

5

out of

5
by
AnnNYC
from
Great Purchase
I am very happy with this desk. It has a nice clean sophisticated look. It was definitely worth the money.I have it in my living room with a large woven bowl on top - and I get raves from my friends. They can't believe it when I show them how it has eliminated my personal office clutter.
Date published: 2009-11-15
Rated

5

out of

5
by
Shrink
from
Solid piece
This is an attractive desk, solid, heavy. Hinges allow the doors to fold back completely against the side of the piece - nice feature. Was missing some minor hardware inside, but a call to customer service resolved this. Very pleased with this very solid piece. Many compliments.
Date published: 2009-09-24
Rated

5

out of

5
by
batgirl05
from
Love this Desk!
I love the Incognito desk. I have it in a corner of my living room and it is perfect at concealing my laptop, printer, and other office stuff when not in use. It is a very solid piece of furniture and I could not be happier with it.
Date published: 2009-09-18
Rated

5

out of

5
by
mins20
from
Perfect desk
I love this piece, it fit perfectly in a small space where I did not want a true office/desk look. Everything can be easily hidden in there and it takes a ton of stuff. The one drawback that I have had is the hanging file holders in the drawer tend to fall off frequently.
Date published: 2009-09-17
Related Products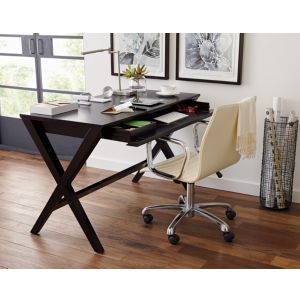 Contemporary, refined take on the classic campaign desk with elegantly crossed legs...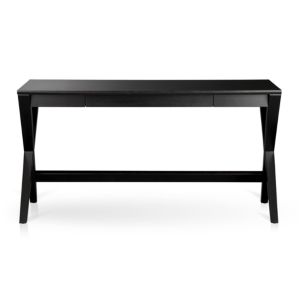 We've scaled up our clean lined contemporary take on the classic campaign...