Prices and availability are subject to change from the time and date that you print this page.
10/26/2014 12:52:15 AM. For Customer Service, please call 800.967.6696
Sturdy charm and utility meet in these all-purpose, Crate and Barrel classic drinking glasses. Superior durability holds up to years of regular use. Glasses have a faceted appearance with a rolled rim at top. Optional white lid is sold separately.


Large Working Glass
is rated out of
5
by
213
.
Rated

5

out of

5
by
kimberlyg
from
The most awesome glass in the cabinet
I purchased the working glass and lid set x 6...for the second time!So versatile...drinking glass, storage, great for liquids or solids, my family loves this glass! Thank you!
Date published: 2014-05-28
Rated

5

out of

5
by
CameronBuyer
from
Nice everyday glasses
We bought 6 of these glasses for everyday use and they are sturdy, nice to drink from with their wide rims, and easy to wash. Love them!
Date published: 2014-05-27
Rated

5

out of

5
by
Kpspeech
from
THE BEST GLASSES EVER!!
My husband and I bought these glasses at a Crate and Barrel in Maine 18 years ago. Would you believe we still have them and love them so much that we bought 12 more for our new condo we just bought in FL. They are large, sturdy, and don't break ( with 2 boys and their friends, it's amazing we haven't broken any!!). We still get compliments even though they are a little cloudy now. We still love them and haven't found any other glass that is as large, sturdy, and pretty!!
Date published: 2014-04-07
Rated

5

out of

5
by
Katie4169
from
I've been looking for these
I love these glasses and have been looking for them for a while now. There great as drinking glasses or as extra storage.
Date published: 2014-04-07
Rated

5

out of

5
by
BargainShopper2014
from
Durable, functional, "working"
I dropped the small working glass while I was washing it. It fell about 20 inches into my stainless steel sink and bounced! I use the glasses with lids for storage of items that are very spicy. The seasoning and aroma will not attach to the glass like it can for some stoage plactics.
Date published: 2014-03-28
Rated

4

out of

5
by
Chris888
from
Great Glasses.....
Recently purchased new set of 6 glasses each in small and large, very happy with my purchase. These glasses are wide so they are easy to keep clean all the way to the bottom. The diameter of the glasses feels comfortable in the hand and they are sturdy. The packaging for this product was very thorough and all glasses arrived without a scratch. Be careful if cooling these glasses in the freezer because they will crack between extreme temps (I've had these glasses before from another supplier). Overall A+
Date published: 2014-03-25
Rated

5

out of

5
by
Grandma54
from
Great Glasses
I have been using these glasses with the lids for years. They are durable, practical and great for every day use. You can store leftovers, liquids, etc.The lids make them a very useful product. They are dishwasher proof, too.I have been using them since the 1980s and find them to be the best glasses ever!!!
Date published: 2014-03-25
Rated

5

out of

5
by
All7ofus
from
Great for Families
We have a large blended family and we are ALWAYS breaking kitchen items. Over the years other items had dwindled but not these.. we had just some of these in our cabinet (but not enough to set a dinner table) and everyone fought over them. I was so happy to find these at Crate and Barrel.com as I don't live near one anymore. I purchased 6 large, 6 small and 6 lids. When my husband opened them Christmas day from "Santa" even the kids were excited! Now we can set a table without arguments. We love how sturdy they are and the kids also love that sometimes I will use the smaller ones to make desserts..covers come in pretty handy for that. :-) I highly recommend these for anyone that doesn't want to replace their set every year.
Date published: 2014-03-25
Rated

5

out of

5
by
leslie01
from
Love these!
These are solid, sturdy, economical and so useful. I love that they are made in the USA. I use them for leftovers in the fridge and also bring them to the store to fill from the bulk isle. I am trying to avoid using plastic so these are perfect.
Date published: 2014-03-25
Rated

5

out of

5
by
simple1
from
casual elegance
Had them for yrs. I hope they will never become extinct... lol.. hint: don't transfer from 'frig to microwave for reheating they will break
Date published: 2014-03-05
Rated

5

out of

5
by
Bristol
from
Great glasses
I have used these glasses for years I am so glad that Crate & Barrel still has them in stock, and the price is great. The size and grip is perfect for drinking. An added bonus is that you can purchase plastic lids for these glasses. They work great for small amounts of leftovers, and you can see what you have in the container.
Date published: 2014-02-25
Rated

5

out of

5
by
organizeandfindmore2
from
perfect single serving size
Perfect size for taking single serving sizes of oatmeal, soup, and various lunch items to work. Can go straight in the microwave without bringing extra dishes. Lids fit well.
Date published: 2014-02-11
Rated

5

out of

5
by
wtschriks
from
The Ultimate Glass
I needed to restock after twenty years my original twelve had suffered a few chips, and a few accidental drops. Unlike everything else in the world Crate & Barrel has maintained this classic design throughout the years. These glasses are exceptional, they are sturdy, they have a simple elegance, and you have the option of getting a cover for them. I hope they keep making them forever.
Date published: 2014-02-04
Rated

3

out of

5
by
Sherkie
from
Nice idea but they leak
Nice style and if you don't fill the glass to the top they work fine. But if filled to close to the top about 1/4" from the top, they leak.
Date published: 2014-01-30
Rated

4

out of

5
by
AnnieBB
from
Classic
These are my husband's favorite glasses. We were down to our last 2 when we found these on sale. They are a classic and the price is right. The fitted lids making them versatile.
Date published: 2013-12-31
Rated

5

out of

5
by
EastBayBear
from
GREAT for the glasses !
Theses lids turn the glasses into storage units that are great not only for small amounts of left leftover food but also for coffee, tea, spices, etc. They also keep bugs off the glass rim if you're outside enjoying the day or evening.
Date published: 2013-12-01
Rated

5

out of

5
by
malformica
from
Love these glasses!
I love these glasses!  They are great. I love that they are thicker glass and more sturdy.  They are the perfect size for juice, milk, or anything else really.  I have the bigger glasses too and love them just as much.  I like the weight to them.  They clean up easily, are a timeless style, and don't chip/break easily.  Love, love, love them!
Date published: 2013-11-15
Rated

5

out of

5
by
GaryinHercules
from
Old Faithful!
So glad that these glasses are still available all these years.  I full in after they are chipped and broken.... they are the best and so multipurpose. would recommend them to anyone need an everyday glass.
Date published: 2013-11-09
Rated

5

out of

5
by
Proctor
from
The Best!!
I bought these 20+ years ago by the dozen then another dozen after loosing some.  Now, I have porcelain tiles and two big dogs.....time to order more!!   
Date published: 2013-10-27
Rated

5

out of

5
by
tnsockmonkey
from
VERSATILE
I have used these glasses since they first came out -- have always been happy with the simple lines -- so much so that my last purchase was for a friend's shower!
Date published: 2013-10-02
Rated

5

out of

5
by
Marita
from
I these covers
These covers are for the glasses when my kids friends come over they can write their name on the cover
Date published: 2013-09-15
Rated

5

out of

5
by
josie88
from
Staple in my kitchen.
They are called the working man's glasses for a reason.  They are so substantial in my kitchen for serving and storage.  I have had the same glasses for many years and every once in a while, I need a replacement and it's so nice to be able to add to the sets I still have in the kitchen.  I even use them when I set an elegant table.  
Date published: 2013-08-12
Rated

5

out of

5
by
Searchingforcobaltblue
from
Best Glasses Ever!
I bought two sets - one large and one small - almost 20 years ago. They are fantastic! The mouth is large enough to fit your hand for easy cleaning. They are dishwasher safe. In 20 years only one has been broken. I don't know what he did, but my cat somehow managed to break one sitting in the sink. It sounded like an explosion when it broke and all that was left of it was a pile of cobalt blue dust in my sink. LOL! I've dropped them on the floor, in the sink, in the car, and had all kinds of accidents with them that would have shattered other glasses, but like one reviewer said these seem to just bounce and never break. I would give anything to know what my cat did to break that one glass! I'm looking for a replacement for it. Unfortunately, mine are the Cobalt Blue, so I'm just going to have to keep looking! Great glasses though! You can't go wrong with them.
Date published: 2013-08-09
Rated

5

out of

5
by
ValGal2
from
very useful
I use these glasses as storage containers- they are just the right size for yogurt parfaits. The lids fit snugly and the thick glass provides a bit of insulation.
Date published: 2013-06-16
Rated

5

out of

5
by
MartieM
from
Have loved these for years.
A relative has had some of these glasses for years, and I have always loved them. They hold a lot, are very stable sitting on the table, are easy to handle, and easy to clean. I finally bought both large and small working glasses of my own. I love them.
Date published: 2013-06-14
Rated

5

out of

5
by from
THE classic
Have used these for years, ordering additional when needed. They are very sturdy, and my husband loves the size.
Date published: 2013-06-10
Rated

1

out of

5
by
Abfeller
from
Working glass
I was disappointed that they were not the original working glass. The quality and color were not the same.
Date published: 2013-06-06
Rated

3

out of

5
by
Kori1978
from
Love these but be careful with washing!
I adore these glasses. I have them in both of the regular sizes. I have now had them for 6 years and my dishwasher and my husband have beat them up terribly. The rims have gotten tons of chips. That being said after 6 years, 2 kids, and a husband who must throw them around the kitchen or something most of my glasses have survived and I am going to buy more to replace the ones that need it.
Date published: 2013-05-07
Rated

5

out of

5
by
Bernie4444
from
Too much time spent just looking at them
I know this is a product review but I cannot help myself in mentioning the excellent experience with Crate&Barrel. The packaging was most excellent it looked more expensive then the glasses that came in the box. I almost feel guilty for just looking for a few inexpensive replacements. I now feel compelled to buy more.Now to the glass it's self. I had purchased a set Luminac working glasses now going on 30 years. A hand full over the years broke due to mismanagement. Looking for a replacement I did not have room for another dozen or so. Crate&Barrel are one of the few sites offering individual glasses for a reasonable price. So I bought a hand full just as an experiment.The glasses turned out to be much better than planned. First they are thicker and make the original look almost plastic. Second they have that rich translucent green glass look; again making the original look cheap. I find myself looking at the glasses as much as using them.If you have not tried this design there are at least two advantages. First they are easier to hold than a smooth rounded exterior. Second you can get your hand in it for cleaning. O.K. third they are esthetically fascinating.After comparing glasses it looks like I will eventually have to replace the originals even if they are still functional.
Date published: 2013-05-05
Rated

5

out of

5
by
dijana
from
Perfect storage
Love these glass cups with lids, they are perfect for storing sauces, salad dressings, etc. It is so easy to use them and the lids work so well. Highly recommend it.
Date published: 2013-05-05
Related Products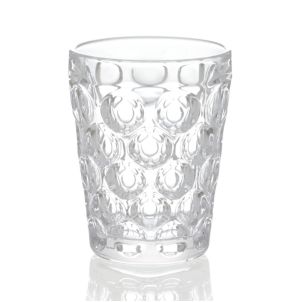 Dimpled, molded glass adds vintage pressed glass character to versatile, stackable clear...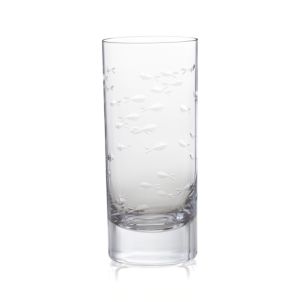 This exclusive Crate and Barrel favorite is back by popular demand. Featuring...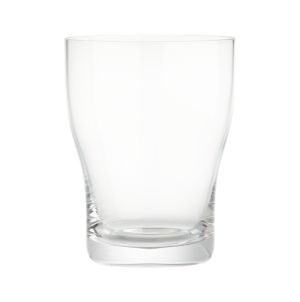 Conceived with the thought of friends and family coming together and enjoying...