Prices and availability are subject to change from the time and date that you print this page.
4/20/2014 1:19:10 AM. For Customer Service, please call 800.967.6696
Grandma was on to something with the timeless cast iron skillet, preferred by many chefs. Ready-to-use pre-seasoned pan gives that homespun cast iron appeal and solid performance. Renowned for its superior heat retention, cast iron also keeps its cool to serve chilled salads, desserts and cold dishes.
The Perfect Outdoor Cookware
Because of its extremely high heat retention, cast iron is a versatile material that can be used on almost any heat source—even over a grill or campfire. From pan-fried fish to cornbread, and pizza to bacon and eggs, cast iron skillets, griddles, pans and woks cook up an outdoor feast. This heavy-duty cookware serves up sides, too.
More Lodge® available via special order. Please contact your
local store.
Lodge® Cast Iron 12" Skillet
More Items
Lodge® Cast Iron 12 Skillet
is rated out of
5
by
58
.
Rated

5

out of

5
by
CaliTexan
from
The single most essential pan for your kitchen.
Cast iron cookware is unmatched in heat retention and even heat distribution. You can super heat this pan without damaging it the slightest bit. Try doing that with stainless steel or Teflon and you will ruin the pan. Seasoned cast iron is naturally non-stick so it makes for healthful cooking. Cast iron cookware is actually very versatile. It can sear, pan fry and simmer very well.The key to cast iron cooking is to cook over a medium to medium low flame. Because it retains heat so well, cooking at higher temperatures will likely result in burnt food. You simply cannot get a better piece of cookware for the cost of cast iron. And, it's made in America which always makes me feel good.Buy this pan. You will not regret it.
Date published: 2013-09-14
Rated

5

out of

5
by
cutemarc
from
They way it aught to be
This cast iron pan is great. As I have gotten older I realize the generation before me had it right all along. I got caught up in the "teflon" phase and realized those pans cooked unevenly and the negative health consequences from using them. God knows what chemicals we are allowing in our body when we cook out of those things. Well this pan is different. The food cooks evenly and fast. I can go back to using metal utensils without the fear of scratching the coating. The 10 inch pan is perfect and is not nearly as heavy as the 12 inch pan. In fact I would recommend this pan over the larger one because it is easier to maneuver. All in all this is a great pan that should last a couple of decades.
Date published: 2014-01-31
Rated

5

out of

5
by
Nina46748
from
Great pan!
The pan I purchased is about 10 3/8 inches around (minus the handle) and two inches deep. This is the 10" pan measurement. The thing I love best about the pan is that it was pre-seasoned. I received the Lodge pan in great condition and ready to use. Keep in mind that you should never use "soap with these pans. Also, be sure to dry completely before putting it away. I like to apply a very thin coat of cooking oil before putting my pan away.
Date published: 2013-09-23
Rated

5

out of

5
by
firemonkey
from
Look No More
This is the skillet to have on a number of fronts. The extra handle makes for both easier and safer handling. The pouring spout assists in draining excess liquid or oil, and allows for venting yet minimizes spillovers, if covered with a lid. I prepare a lot of stir-fry requiring even cooking at high temperatures, and have not needed a wok. And I couldn't make my crispy bacon skillet bread without cast iron. So, for versatility and reliability with extra details, this is the skillet to beat!
Date published: 2013-08-02
Rated

4

out of

5
by
kayl
from
Good for those without indoor grill
I have a Jennair grill in my cooktop, however it's dying & I'm planning a kitchen remodel. It would be easier to just use a grill pan rather than putting in the built in. I purchased the grill pan to see if I that would meet my needs. Since I cannot help but compare the two I must say that I was disappointed. It just doesn't give you that grilled taste.Having said that for those who do not have the option of an indoor grill I think it is a good substitute. Lodge makes high quality items. I did not find it that hard to clean (much easier that the built in grill!!)
Date published: 2010-01-28
Rated

5

out of

5
by
Mmac
from
Love this pan
I have 2 other cast irom pans that I use for everything. I took my large pan to my daughters and forgot it when I traveled back home. She has been using it and loves it, so I just replaced mine and told her to keep it and enjoy it. I made the purchase on line and picked it up at the store. Everything went very smoothly. Thanks Crate & Barrel..
Date published: 2013-06-08
Rated

5

out of

5
by
Ali L
from
Fabulous Pan
I have a 10" Le Creuset Fry Pan and when I could not get the 12" in the color I wanted, I decided to try Lodge. I believe I prefer the Lodge to my Le Creuset and not just because of the size-- even heat, minimal oil needed, and simply beautiful. I love this skillet!
Date published: 2013-05-25
Rated

5

out of

5
by
ali c
from
well made and works like a charm!
I've purchased Lodge products in the past and have never been disappointed with the craftsmanship and performance--if you understand how to clean and season the pans, you will be rewarded with cookware that will last a lifetime!
Date published: 2012-11-14
Rated

5

out of

5
by
DC1016
from
Big, beautiful pan
Favorite item from the registry so far! It is heavy, like other reviewers said but that almost makes it feel so much more substantial than other pans. Made well, easy to cook in and easy to clean up. Love it!
Date published: 2011-02-09
Rated

3

out of

5
by
almostaugust
from
Could be better...
This is the first cast iron pan I've ever bought. I love the weight of it and the way food does not stick even though it doesn't have the nonstick coating. The only problem is that it doesn't seem to cook as evenly as I'd like it do, which I always thought was the main benefit of cast iron. I've also only had it for a couple weeks and it has already developed a few nicks even though I take excellent care of it. Decent for the price, but I am sure there are better ones out there...
Date published: 2009-07-27
Rated

5

out of

5
by
ejstoff
from
Amazing!
Cast iron is truly amazing. This pan is huge and makes everything taste better. Some things from the past should have never been done away with!
Date published: 2013-08-03
Rated

5

out of

5
by
MrsNewlywed
from
Great Product!
I recieved the 12" round skillet, small oval skillet and the cast iron grill for gifts at my bridal shower and all of them are amazing! I use them much more than my All-Clad cookware, especially the skillets. They cook beautifully, and clean up is a breeze. I would suggest buying a cleaning brush for cast iron pans, it helps to clean them really well! Also, make sure you dry them completely, the bottom of my grill got a little rusty because my hubby didn't dry it all the way.
Date published: 2013-01-11
Rated

5

out of

5
by
abby1
from
Skillet
First and for most most of the item at crate and barrel are awesome, this iron skillet is perfect size and obvious the extradionary skillet
Date published: 2013-02-14
Rated

5

out of

5
by
smartgal75
from
Best pan ever.
We use this pan for cooking almost everything. Seasoning was easy, and the more we use the pan, the better it gets. It heats up quickly, evenly, and holds the heat nicely. It's great for searing meats, sizzling bacon, and everything else really. AND if you have low iron, you actually get iron into your diet from the pan! It's also extremely easy to clean up. I highly recommend this pan for any cook.
Date published: 2009-06-22
Rated

5

out of

5
by
MarsMcD
from
Great pan. I have a gas stove and the heat distribution is excellent with this pan. I bought this pan to get more iron into my kid's food (both have an iron deficiency). But my husband thinks the food taste better too. i agree. I have been simmering sauces and soups in this pan (even making the kid's mac&cheese in it) and the flavor is great and the pan cleans very easy.
Date published: 2012-12-17
Related Products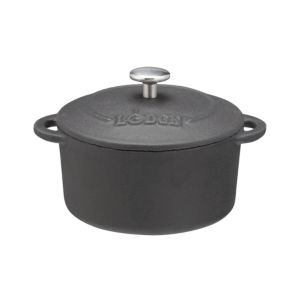 Grandma was on to something with the timeless cast iron skillet, renowned...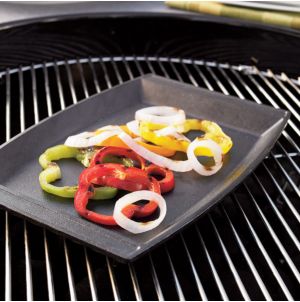 Preseasoned cast iron skillets are a sure fire favorite for searing and...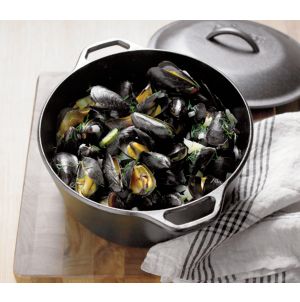 Grandma was on to something with timeless cast iron, preferred by many...