Prices and availability are subject to change from the time and date that you print this page.
11/22/2014 3:51:41 AM. For Customer Service, please call 800.967.6696
Crate and Barrel Exclusive
Clean, contemporary design in pristine white porcelain is highly versatile for dining and entertaining. This stylish, affordable dinnerware in a wide variety of shapes is sophisticated yet fun with asymmetrical edges on dinner, salad, low bowl and platters.

Please note: This pattern is discontinued. When our current inventory is sold out, it is unlikely we will be able to obtain more.


Madison Cup
is rated out of
5
by
61
.
Rated

1

out of

5
by
marriedwchildren38
from
Lacking Quality
There is no doubt this dinnerware is beautiful but out of my 12 bowls, all most all are cracked or chipped; plates too are becoming just as beat up. My husband and I are the only ones using these plates at the time being so i hate to see what happens to them once our now toddlers start to use them. DO NOT put these dishes in the microwave and handle with great care. These are too pricy to have this kind of wear and tear after less then one year.
Date published: 2012-12-10
Rated

5

out of

5
by
WNY Kat
from
Excellent purchase!
This is the second half of my purchase of new dishes. I ordered the first half in July, and we've been using them for a few months. I'm so happy with them that I ordered another set of 4 place settings, completing the set for 8. Great shipping, great packaging, fast service, and the dishes are perfect! C & B... always a winner!
Date published: 2012-10-29
Rated

5

out of

5
by
JGMessina
from
Great Modern Dishes
I've had these for 2 years now and I couldnt be happier. I have a 16pc place setting and the serving bowls and they have all held up well in the dishwaher and microwave.Love the design.
Date published: 2012-10-21
Rated

5

out of

5
by
elyod2010
from
Modern All Star Dishes!
I love these dishes! Very classic, modern, great lines. The asymmetrical edge is actually perfect for our Bosch dishwasher - the higher edge keeps them straight without moving and potentially chipping. Cereal bowls are great and do double duty for dips and such. And serving pieces are lovely as well! Love it!
Date published: 2012-09-10
Rated

5

out of

5
by
Kat8888
from
Great dishes!!
Just received these today; they're great. Love the offset on the edges. The packaging was terrific, everything perfect. Fast shipping, as well. Can't wait to add pieces! We will be using these to replace our everyday dishes; expect them to last a long time.
Date published: 2012-07-12
Rated

4

out of

5
by
PBFT
from
Elegant + Practical
I have just purchased Crate and Barrel's Maison porcelain dinnerware to use as my "best" china. I chose it because it is dishwasher and microwave safe and a friend has had this pretty white dinnerware for several years and it still looks brand new. Although this was a significant investment I am glad I chose Crate and Barrel because of the excellent customer service I received. When several Maison items arrived with imperfections, sales associates at C&B's Flat Iron Crossing, CO store spent lots of time selecting and sending replacement pieces that I am very happy with. I am looking forward to my next visit to Crate and Barrel to select companion serveware items.
Date published: 2012-04-28
Rated

1

out of

5
by
brisacarol
from
Not durable
Got this the Madison dinnerware set and after only 6 months, 2 of my dishes have cracked after putting in the microwave for only 2 minutes. Not happy at all!!!
Date published: 2012-04-23
Rated

5

out of

5
by
Teacher1
from
Wonderful dishes
These dishes are gorgeous. They are wonderful because they go with anything. You can mix and match with colored or patterned dishes. You can also use them alone and they are stunning. Would definitely buy more!
Date published: 2012-03-10
Rated

4

out of

5
by
leylabaltimore
from
Pretty pieces, but...
We put this set on our wedding registry, and really do like each piece. However when we were in the store looking at the plates we didn't realize the slight incline on the "feet" of the plates. It's just an extra step to consider when putting the plates out during meals, if you want the plate to sit properly "facing" the person eating. The only other thing-- which is a much bigger issue for us-- is that the curved edges on the plates make it much easier to chip the pieces when loading/unloading the dishwasher and putting them away. Otherwise, we really like the look of all these pieces.
Date published: 2012-03-10
Rated

5

out of

5
by
Tough customer
from
It's a classic
I needed some additional place settings , I had service for 10, and after 20 years, you still have the elegant dinner ware. So I now I have service for 12, replaced one broken set and have a complete lovely set again. Keep it in stock, it's beautiful. Thanks. Tough customer
Date published: 2011-12-10
Rated

3

out of

5
by
teddysue
from
Too Fragile
Pro's: Clean, modern designWhite can go with many different occasions. Can dress up or dress down.Con's: Can chip easily. I've had these for 2 years and I've had 2 plates have a hairline crack in them while in the microwave; both of which occurred just a few days from each other. If you want plates that are sturdy and will last you years and years, these plates are not your choice.
Date published: 2011-11-19
Rated

5

out of

5
by
New MRS
from
Very unique, but totally love them!
My husband and I registered for several pieces of the Madison Dinnerware for our wedding and didn't realize at the time the unique design. Our style is very contemporary, so when we received them it was no big deal because it made us love the dinnerware that much more. I can't express enough how much we LOVE the fact that the dish is higher on one side then the other!! We have had so many compliments when we entertain and are so happy with our dinnerware! Its very durable and stylish and we highly recommend!!
Date published: 2011-08-29
Rated

5

out of

5
by
Allie M
from
Favorite dishes ever!
My husband and I registered for these dishes for our wedding and though it took us a while to get used to the way they stack (a little angled), we absolutely love everything about them! We love the shape and rounded edges which makes them a little more unique and fun than typical white dishes. They also hold up really well to my husband's clumsy dishwashing and our many dinner parties with friends. And we've had no problems with them in the microwave or warming them in the oven pre-food. They can also be dressed up for holidays or used as casual BBQ lap resting plates. They have turned out to be one of our favorite wedding gifts!
Date published: 2011-08-26
Rated

5

out of

5
by
LEB2011
from
Madison Dinnerware
My husband and I registered for the Madison Dinnerware to use as our everyday china- we LOVE it! It's clean, classic, and durable! It's dishwasher safe which is wonderful. It has just enough weight to it so it stay in place on a table, yet it's not too heavy to carry. Great product!
Date published: 2011-08-23
Rated

5

out of

5
by
in love
from
love that we get to use these everyday
My husband and I chose the five piece setting, plus deep bowls and various serving pieces in person for our wedding registry. We love their clean, modern design. The off-center cup circle on the saucer is a smart, practical thing for a designer to do. It's a place for a spoon, or a cookie.We've had 2-3 pieces break. The strangest incident was when I placed a small plate with lasagne in the microwave; heard it crack within seconds.They clean well in the dishwasher and continue to look new and shiny.
Date published: 2011-08-19
Rated

4

out of

5
by
JGraham058
from
Clean and Simple
This set is perfect if you're looking for something that's a cross between modern and traditional style. The white really goes with anything, but the bowls and plates have a subtle curve and bend to them that makes them more interesting than a plain dinner set. The detail is so sleight you not even notice it at first.Otherwise, all the pieces are very sturdy and hold up to everyday use.
Date published: 2011-08-16
Rated

3

out of

5
by
YvonneSD
from
Probably wouldn't recommend
They are beautiful, but I wouldn't buy again. I registered for these online sight unseen and wish I would have chosen a different set. Somewhat fragile...I replaced a couple coffee cups and I have a hairline fracture in one of the plates. The thing I dislike the most about these plates is that they do not stack very well in the dishwasher because of the shape.
Date published: 2011-04-22
Rated

5

out of

5
by
kreilly
from
Great Set!
We received the 4 piece place setting of these dishes for our wedding. LOVE them! We also got 1 large serving bowl, 2 small serving bowls, and the sugar and creamer. They are all fantastic! Chose not to register for the serving plates as they were rather small (take a look in person).For those that aren't sure on the asymmetrical aspect of the dishes - take a look at them in the store. We love the quirkiness and don't find it it a hassle or problem!GREAT dishes!!!
Date published: 2011-04-05
Rated

4

out of

5
by
CathyO
from
Great set!
My husband and I registered for these for our May 2009 wedding. The only complaint is that in the past year and a half we've broken 3 bowls. 2 were chipped at the same time against a metal hinge and one was elbowed and hit the floor from at least 3 feet up. We use these as our everyday pieces and seem to look as good as new (ie no noticeable scratches from utensils or dishwasher). I love how we can use these with nice table linens and automatically have a classic, gorgeous entertaining set. I personally think that the asymmetrical design is beautiful. So all in all, as long as you aren't clumsy with them, they should hold up and last well!
Date published: 2010-12-13
Rated

5

out of

5
by
Bear Bounty
from
Love these!
Beautiful, modern, quirky. I love how the plates are slightly asymmetrical because it gives them a bit of character. Heavy but not too heavy for the dishwasher top rack. I adore them!
Date published: 2010-09-16
Rated

5

out of

5
by
urbnchic
from
Exquisite
We had these dishes on our wedding registry, which we did online. When I recieved the first batch as a wedding gift prior to the wedding, I was shocked to see that they were asymmetrical. I was worried that it would not be a fit for my home. I like contemporary, but lean more towards classic. I put them back in the box and was ready to return them. Then I pulled them out again, set it all up on the table, and they are just AWESOME! I love them and I am keeping this style. I have my Waterford crystal glassware to accent them and the Boulder Flatware from C&B also, perfect fit!!! These are A MUST for contemporary brides! :)
Date published: 2010-06-30
Rated

5

out of

5
by
ribbongirl
from
Modern but retro and timelesss all the way
The 8 oz coffee cup was what really sold me on this set. So modern but retro and timeless all the way. I'm not one for colored or patterned dishes because I tire of them after a couple of years. With this clean fresh design I know I will have these dishes for year and years. The lip of the plate lid's are asymmetrical which some people here dislike, but I find a charming and unique feature.
Date published: 2010-04-06
Rated

5

out of

5
by
The Little Shopper
from
High Quality Placesetting
My husband and I registered for this pattern almost 5 years ago, and we were lucky enough to receive 12 placesettings. To this day we have NOT had ANY issues with the quality of this dinnerware. In fact, it has been quite the opposite. We have yet to have any chips or cracks in any of the pieces that one might think would happen after a period of time, but we've been fortunate. What makes this placesetting a great choice is the versatility of the white dinnerware, but also the uniqueness of the asymmetrical shape of each piece. Also, it was a plus that these plates offered a bit of a change-up from our china pattern, which has the typical rim around the plates. These particular plates just swoop upwards, adding a nice touch to what would otherwise be the usual boring white plate.
Date published: 2010-02-03
Rated

5

out of

5
by
LauraR
from
Madison pattern
We got these dishes for our wedding 6 years ago, and they are all still in great condition. Love the asymmetrical shape and that the plates have small rims around the edges. No chipping, we use the dishwasher, and the only one I had to replace was one that my husband dropped. They make a beautiful table setting when having company, and we've had no problems eating on the couch in front of the TV.
Date published: 2010-01-29
Rated

1

out of

5
by
greenspartan
from
FRAGILE!!
My husband and I registered for this set for our wedding in 2008. Within the first 3 months there was a crack in the salad plate, 3 coffee cups chipped and two cereal bowl have chipped too. I had initial reservations as the edges come to a pointy tip and the top seemed to be missing glaze but we fell in love with the pattern and the assymetrical shape that some reviewers dislike. Overall, I am upset that my uncle (who bought the entire set for us) spent his hard earned money on something that won't last us many years.
Date published: 2010-01-18
Rated

5

out of

5
by
Sunnyside Girl
from
Perfect
I noticed another reviewer said that they didn't notice that the plates were asymmetrical and were disappointed. We didn't realize they were asymmetrical either but it was the best surprise. They are so unique, lovely and classic all at the same time. We've had these dishes for over 5 years and haven't chipped one yet. They are extremely versatile. Casual or Formal. Kudos to the designer. We love our dishes and continue to add pieces to our collection.
Date published: 2009-12-20
Rated

5

out of

5
by
Crate and Barrel Customer Susana
from
Very Durable and yet looks classy!
I got this set for my wedding almost 5 years ago and it has been through the ringer! No chips and no cracks...and I am the clumsiest person ever! It's a very nice casual set and looks beautiful when you dress it up for special guests...I absolutely love it. I am buying more today!!!!!
Date published: 2009-11-29
Rated

2

out of

5
by
Hola
from
Warning: ASYMMETRICAL
We received Madison dinnerware for our wedding in June. It is very beautiful and contemporary, which is exactly what I wanted. However, I did not realize that the plates were asymmetrical. I am very disappointed on how silverware (especially C+B's Oona flatware) falls off the plate or into the food if you are eating on the couch or carrying the dirty dishes to the kitchen. It drives my husband absolutely crazy! If you eat on the couch in front of the tv, this might not be the pattern for you. This issue should motivate my husband and I to eat at our beautiful Crate & Barrel table, but I think we'll just buy new plates instead. :(
Date published: 2009-11-05
Rated

4

out of

5
by
AIR BOSS
from
Great Wedding Present
This a classy and thoughtful wedding gift.
Date published: 2009-09-06
Rated

4

out of

5
by
Boltonite
from
Stylish but fragile
We've had this dinnerware for 3 months and have chipped 2 pieces already. I wasn't anticipating needing to be so careful. Also, the cereal bowls take up a lot of space in the dishwasher. It bugs me a bit to have to set the table worrying about having the tall edge face the back and adjusting them to be just perfect. I totally love the contemporary look and how the table looks all set. I wouldn't have changed my decision but wanted to warn future purchasers.
Date published: 2009-08-02
Related Products
Your table will be dressed for success in this tailored cousin to...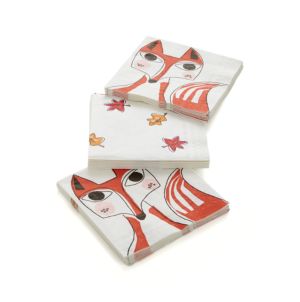 Whimsical fox poses on fall themed napkins with a spill of fall...